February 1995 Articles
Cover Story
Rick Mattingly
Features
Henry C. Mayer
Columns
Berk Bryant
Jim Galipeau
Mike Stout
Paul Moffett
Keith Clements
Todd Hildreth
Duncan Barlow
Henry C. Mayer
CD Reviews
Kory Wilcoxson
Bob Bahr
Dallas Embry
Kory Wilcoxson
Berk Bryant
Todd Hildreth
Kory Wilcoxson
Mark Clark
Ninette Shorter
Mark Clark
Bob Bahr
Mike Stout
Performance Reviews
Henry C. Mayer
Mike Stout
Calendar
Bob Bahr
News Item
Michael Campbell
Jean Metcalfe
Photos
LASC
Jean Metcalfe
Cindy Lamb
Paul Moffett
Blogs
Got Shows?
Send Them To Us
Bookmark Louisville Music News.net with these handy
social bookmarking tools:
Available RSS Feeds
- Top Picks
- Today's Music
- Editor's Blog
- Articles
Add Louisville Music News' RSS Feed to Your Yahoo!

Issue: February 1995
A Unique and Unforgettable Contribution
It has been some time since this writer heard the compliment "he is a scholar and a gentleman." That is the way we might want to remember Moritz Bomhard, the founder and for years the guiding genius of Kentucky Opera. He recently left us to live in the city most associated with his favorite composer, Mozart; the city of Salzburg, Austria.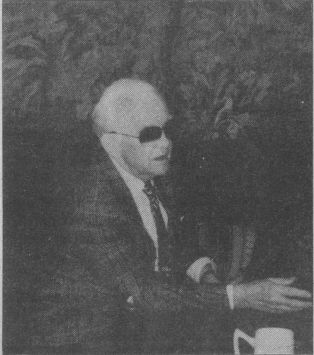 Moritz Bobhard
Bomhard came to us in the aftermath of World War II; he found us without an opera company even though operas had been delighting local residents since 1851. He put his whole self into giving us an opera company which produced several dozen of the world' s well-known and not-so-well-known. He secured any number of promising and talented artists and so it is unfair to name some without omitting others. He took a special delight in giving us the chance to know and relish his favorite, Mozart; I especially smile in recalling the talented artist who took the part of the Pasha's chief servant in Abduction From the Seraglio (Harem); there was the tenor named Diaz, now a prominent member of the Metropolitan Opera, who was a believable Don Giovanni. He brought an equally talented and well-known artist, Johanna Meyer, who made his 1974 production of Wagner's The Flying Dutchman an unforgettable experience. He gave us such 20th century classics as the works by Gian Carlo Menotti, Leos Janacek and Carl Orff. He pioneered locally in presenting operas for high school students; it would be interesting to know how many of our recent audiences first learned to delight in opera from these youthful experiences.
In doing all this, he continued to do his work with a quiet dignity and deep faith. In many ways, he combined the better elements of European and American cultures and we benefited immensely from his dedication and musical knowledge. In a way, he continued the work of any number of German Americans who enriched the music life of Louisville. Perhaps the full story of Moritz Bomhard will be told and one might hope from the Jan. 15 article by Courier Journal Staff Critic Bill Mootz that Bill will be the one to write it.
•
Louisville music in a special way is experiencing a great loss in the recent death of Thomson Smillie's mentor, Sir Alex Gibson. He will be remembered for his musical talent, personal dedication and desire to give his very best.