February 1995 Articles
Cover Story
Rick Mattingly
Features
Henry C. Mayer
Columns
Berk Bryant
Jim Galipeau
Mike Stout
Paul Moffett
Keith Clements
Todd Hildreth
Duncan Barlow
Henry C. Mayer
CD Reviews
Kory Wilcoxson
Bob Bahr
Dallas Embry
Kory Wilcoxson
Berk Bryant
Todd Hildreth
Kory Wilcoxson
Mark Clark
Ninette Shorter
Mark Clark
Bob Bahr
Mike Stout
Performance Reviews
Henry C. Mayer
Mike Stout
Calendar
Bob Bahr
News Item
Michael Campbell
Jean Metcalfe
Photos
LASC
Jean Metcalfe
Cindy Lamb
Paul Moffett
Blogs
Got Shows?
Send Them To Us
Bookmark Louisville Music News.net with these handy
social bookmarking tools:
Available RSS Feeds
- Top Picks
- Today's Music
- Editor's Blog
- Articles
Add Louisville Music News' RSS Feed to Your Yahoo!

Issue: February 1995


Bluegrass Beat
As I have mentioned, probably several times, when you do something like this [column], you sometimes have to skip up and back and around. The deadline thing, you know. Somehow nobody has figured out yet just how to make all events take place within the time periods of deadlines. So, with all of that alibiing, let's skip back to Christmas to start.
Christmas night on my program, Sunday Bluegrass, (WFPL, 89.3 FM, 8:30 p.m.), with the blessings of manager Gerry Weston, I called some of the artists that I often play on the program. Those that I reached were Randall Hylton, Roy Harper, Ron Thomason (Dry Branch Fire Squad), John Hartford and Brother Oswald (Pete Kirby.) Locally, Cyndi Ruff called in. My special thanks to all of these who graciously allowed their Christmas evening to be interrupted to take part in my program. A sincere THANKS to all of you.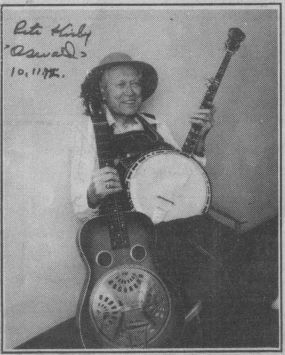 The Grand Ole Opry newest inductee, Oswald
Also, we gleamed a couple of good tidbits from all of this.
John Hartford has some new recordings to look forward to, including a "live" album.
This bit may come as a surprise to many of you, but January on 21, Oswald was made a member of the Opry. I can just hear it now. Well, my gosh, I thought Os was a member of the Opry. As I understand it, the "stars" — that is, the band leaders — become the members and the sidemen who make up the bands are not automatically members. Easy to think after 50 years at the Opry Os would be a member. All I can say is, congratulations, Os, it is about time — and loooong overdue. I suppose all of this time you've been on trial and they finally decided to keep you.
Unfortunately, on-again, off-again, iffy weather was responsible for a rather light turnout for Ralph Stanley at Shepherdsville on January 6 for the first '95 bluegrass show. Those who turned out were treated to a good show. Ralph has a young man from Kentucky filling in on the banjo for awhile. As Ralph explained, it's been a little difficult on that break he suffered last year holding that "fifty-pound banjo" for the period of a show. Ralph did take it on near the end of the show for his clawhammer segment, which always proves to be an audience pleaser. Brought on a standing ovation, deservedly. Hang in there Ralph. I must mention, too, that young Ralph is on stage with his dad again and is doing real good, real good. He is learning well from a master. Ralph also had an out-of-the audience guest. Danny Jones sang a couple, much to the delight of the crowd. Good going, Danny.
Alright, let's talk festivals. They're on the way. For this time let's talk Otter Creek Park festival. No whining about gate prices. The lineup as of this writing promises to be one of the best bargains in bluegrass festivals. It includes, but is not limited to[You're sounding like a lawyer, Berk. —— Editor.] Bill Monroe, Ralph Stanley, Carl Story, Dry Branch Fire Squad, Charlie Sizemore, John Hartford, Laurie Lewis, Josh Williams & High Gear, The Reno Bros. and Gary Brewer. There are more, including a special surprise guest, if schedules can be worked out.
Now pay attention to this. Your destiny is in your planning. ADVANCE tickets, ADVANCE being the key word.
ADVANCE 3-day ticket, until March 15, is a bargain S20 $30 from then until May 15; $35 at the gate. This 3-day ticket includes camping in the rough. Before the whining starts, pick up any of the bluegrass publications — BU will do for starters — look at the festival ads, be honest and it is a bargain. Get — remember the key word — ADVANCE tickets. All of this happens May 26-28 at Otter Creek Park. Think again, that's less than $7 a day and there aren't many times or places you could see any one of these, especially the top-name acts, for 7 bucks. Think about it. Someone's birthday Coming? Advance ticket. Some other special event for a gift? Advance ticket. Call 502-583-3577 for tickets and information.
In the meantime, keep prepped with the live bluegrass available on a regular basis in they area. Every second and fourth night there are bluegrass gatherings at Henryville, Ind.; every third and fifth Saturdays at Scottsburg, Ind.
Then there are the Friday-night shows at Shepherdsville: Carl Story on February 3; Sam Wilson & Bluegrass Colonels, February 10; Dean Osborne & East Bound, February 17; and Furman Boyce & Harmony Express, February 24. March 3, Jr. Blankenship & Ernie Thacker with special guest Johnny Collins.
Then there is C.R. Wilson's Saturday night concerts at White Acres Campground, Bardstown. That will be The Sunnysiders with Cyndi Ruff on February 4; Eastbound, February 18. March 4, Ernie Thacker & Jr. Blankenship w/Johnny Collins.