April 1989 Articles
Cover Story
Staff
Columns
Paul Moffett
Staff
Performance Reviews
Keith Clements
Dallas Embry
Jean Metcalfe
Paul Moffett
Jean Metcalfe
Calendar
Staff
Errata
Staff
LASC
Jean Metcalfe
Jean Metcalfe
Staff
Staff
Karen Le Van
Dallas Embry
Jean Metcalfe
Jean Metcalfe
Dallas Embry
Staff
Diana Black
Industry Review
Paul Moffett
Music Business News
Staff
Staff
Paul Moffett
Staff
Staff
KYANA Blues Society
Rocky Adcock
Cartoon
Dan Colon
Louisville Homefront
Dallas Embry
Staff
Sara Pratt
Staff
Staff
Staff
Staff
Blogs
Got Shows?
Send Them To Us
Bookmark Louisville Music News.net with these handy
social bookmarking tools:
Available RSS Feeds
- Top Picks
- Today's Music
- Editor's Blog
- Articles
Add Louisville Music News' RSS Feed to Your Yahoo!

Issue: April 1989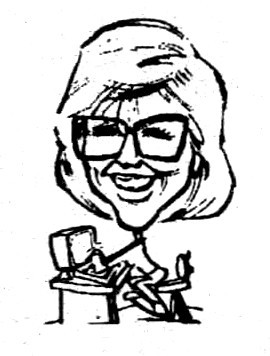 Newsical Notes
L.A.S.C. members played a major role in the success of Layton Howerton's first "Writer's Night" at the Butchertown Pub on March 14. Those who performed included Marie Augustine, Becky Bennett, David Evans, Hugh Hill, Willie James, Paul Moffett and Kelly Wilkinson. They also provided audience support, as did Dallas Embry and this writer and her husband.
Paulette Logsdon sent us a short note to tell us that she and co-writer Vince Emmett received Honorable Mention/Top 10 Percent in the Amateur Song Division, Country Category, of the Music City Song Festival's recent contest for "Tell Me How It's Gonna Be."
She also sent along a picture of three of her children posing with Hank, Jr. at his Hank, Jr. Enterprises headquarters in Paris, Tenn. Paulette says that the photo will appear in the Spring issue of "Bocephus News."
Paulette travels so much that when she is not on the road she stays at home with her family, and that is why she has not been attending membership meetings lately. She asked us to say hello to everyone for her.
Papa Gene Adams taped a brief radio interview via telephone on March 1 with L.A.S.C. friend Ron Smith of Eastern Kentucky University. The radio spot coincided with the last day that Vietnam veterans could sign up for a share of the settlement made to servicemen exposed to the defoliant Agent Orange.
Gene was exposed to Agent Orange in Vietnam and he still suffers from the effects of that exposure. His story came to Ron's attention some time ago as the result of a local newspaper story featuring Gene and the songs he wrote and recorded about his Vietnam experiences.
Ron has been very good to L.A.S.C. He has included Co-op members on his television interview show "Encounters" three times over the past couple of years. Thanks, Ron.
Congratulations to Steve McIntyre, recipient of Five Star Productions' Demo Production Award for the month of March for his song "I Guess I Just Don't Have the Heart."
Word has reached us that Prince Phillip Mitchell is planning a concert tour in Spain this summer. Stay tuned.
We understand that as the result of an appearance on a recent L.A.S.C. Monday night open stage at The Rud, Susanne Wood was booked for a gig at Tewligan's. You never know what might come along when you take advantage of the several opportunities that are available to perform around town.
It was a real kick to see Kix Brooks on "Nashville Now" on March 9. He was there to publicize his new album for Capitol Records, and he sang two of his songs -- "Walk On By" and "Last Rodeo." I recognized the latter song (an especially nice one), as Kix had performed it at our Rudyard Kipling showcase following the seminar he conducted for us on June 6, 1987.
Good luck, Kix. And thanks for shedding light on the origin of your first name. Keep on kickin'.
Lucille Wills -- what a lady! Back in December of last year I attended a 50th Wedding Anniversary celebration for her and her husband Harry. It was a very nice party, and it was obvious that the couple had a great many friends and relatives who cared a great deal for them.
My token to them that day was a hastily-written poem and a couple of choruses of old songs that I had personalized with new lyrics for Lucille and Harry. Now what did Lucille do? She sent them to the Portland Anchor, and they printed up the whole shooting match. But that's not all. Lucille also sent along a photograph -- one of the honored couple, you'd guess? But, no, the photograph was of this writer, and the newspaper printed it as well. Just another example of how Lucille is always thinking of others.
Our thoughts are with you, Lucille and Harry, on the loss of Harry's mother this past month.
Becky & Kelly (Becky Rhea Bennett and Kelly Render Wilkinson) were the winners in Do Drop Inn's weekly talent contest on Sunday, February 26. That win earned them $50 and a chance at the semi-finals on March 19. They won that round, also -- plus $100.
B&K, who had never been to Do Drop Inn prior to the February contest, related that the nice folks who frequent the establishment come there to dance and be entertained, and that they (B&K) are looking forward to competing in the finals there later in the year.
Becky & Kelly are trying to break into the commercial jingle field and they recently did two speculative jingles at a couple of local recording studios.
"Train Wreck of Emotion" has apparently peaked at No. 20 on the country charts. The song, recorded by Lorrie Morgan, was written by L.A.S.C. Honorary Member Alan Rhody. Ms. Morgan also did a video of the song, which has been shown on The Nashville Network's "Video Country" several times.
Alan has been performing "Train Wreck" at his recent concerts, and in the last several weeks Becky & Kelly have done an excellent version of it on several local stages.
By the time you read this, Debra Tuggle's 11-song album of her original songs should be "on the market." Saw Vince Emmett, producer of the album -- Evertime My Heart Goes Home -- at Butchertown Pub on March 14 and he said that they would be doing the mix-down a couple of days later.
We wish Debbie much success with the new album. She's certainly worked hard to make her dream become a reality.
And we wish for Vince continued good health after bouncing back from an infection that landed him in the hospital recently.
Saw Tom Flood at TRK on March 11 and he told me that he has co-written with Charles Williams a "cowboy theme song" called "The Renegade." There is talk of it being included on an upcoming album by Williams and a couple of other people who call themselves the Tennessee Flyers.
Tom also spoke about meeting and being invited to hang out one evening with some of Johnny Rivers' associates. He said that they gave him a lyric sheet of "Secret Agent Man" and that he had "a great time."
Claude Wayne continues to stay busy these days gigging with his great ventriloquist's dummy "Mini Minnie." On Friday, March 3, he and Mini Minnie were summoned from the audience by "Nashville Now" host Ralph Emery to surprise Minnie Pearl during the "Let Minnie Steal Your Joke" segment of the popular TNN show. Claude and MM were a big hit with the real-life Minnie and everyone at the show, and also at the Country Music Radio Seminar that Claude was attending at the beautiful Opryland Hotel in Nashville.
On March 11 he and Mini Minnie made three well-received appearances in a few hours. Starting with a spot on Pee Wee King's portion of the benefit for local flood victims held at the Bullitt County (Ky.) Fairgrounds, followed by a stop at the Dixie Jamboree at the Sun Valley Country Club in Southwestern Jefferson County, he finished up in Shepherdsville, Ky. at the Country Music Show. Whew!
A contest on March 18 at the Lincoln Jamboree in Hodgenville, Ky. was Claude's next stage to conquer. He was one of three contestants to be selected from among 19 who were vying for a chance to advance to the March 25 finals. Claude has developed his Mini Minnie routine to include "dueling impersonations." We wish Claude much luck on March 25, and will be cheering for him as his career gains momentum.
A last-minute telephone call from Claude brought the news that he and Mini Minnie have been booked for an appearance on the Renfro Valley Barn Dance on April 1. No foolin'!
Bill Ede traveled to Nashville recently, and had the good fortune to be able to spend time with a well-known singer/songwriter while there. I'll let Bill fill you in on the details -- don't want to spoil it for him.
Our heartfelt sympathy is extended to L.A.S.C. President Paul Moffett and family on the death of his mother in Tyler, Texas on March 21.
Hamilton Meggs, now of Nashville, was in Louisville in late February to direct "Cockroaches." That's a play, of course. Prez Paul and his wife Beth attended the performance at Bunbury Repertory Theatre on February 24.
West Point, Ky. has a new bicentennial song -- "Rivertown" -- and it was written by Co-op member Alan Morris. With "Roszelle" on the flip side, one thousand copies of the 45 rpm have been pressed and a May 1 release is anticipated.
Hope the record is a huge success. West Point is a nice little town, and this writer has done some genealogical research there, with valuable assistance from the town's historian, author and then-postmaster, Richard A. Briggs.