March 1994 Articles
Cover Story
Bob Bahr
Features
Paul Moffett
Paul Moffett
Bob Bahr
Columns
Henry C. Mayer
Berk Bryant
Jim Galipeau
Jan Winders
Paul Moffett
Keith Clements
Todd Hildreth
Darrell Elmore
Elaine Ford
Duncan Barlow
Alan Rhody
CD Reviews
Kevin Gibson
Allen Howie
John Goodin
Bob Bahr
John Goodin
Allen Howie
Bob Bahr
Allen Howie
Kevin Gibson
Mark Clark
Todd Hildreth
Performance Reviews
Berkley Harrington, Jr.
Paul Moffett
Mark Clark
Kevin Gibson
Calendar
Staff
News Item
Staff
Preview
Bob Bahr
Staff
Errata
Staff
Photos
Jean Metcalfe
LASC
Holly Watson
Paul Moffett
Staff
Jonathan Miller
Jean Metcalfe
Staff
Jonathan Miller
Blogs
Got Shows?
Send Them To Us
Bookmark Louisville Music News.net with these handy
social bookmarking tools:
Available RSS Feeds
- Top Picks
- Today's Music
- Editor's Blog
- Articles
Add Louisville Music News' RSS Feed to Your Yahoo!

Issue: March 1994
Tortelvis, King of the Hill
By Kevin Gibson
May the gods forgive me, but there is a question nagging me:
What do you get if you cross Elvis Presley with Bob Marley and Jimmy Page?
A: Dread Zeppelin.
Actually, for anyone unfamiliar with this California-based band, that answer is still incomplete.
Try this: Imagine a mid-1970s Elvis Presley, lip curl greatly exaggerated and belly protruding like a mound of ice cream inside a blue, Vegas-style jumper. Backing him are musicians ranging from a dreadlocked reggae percussionist to a circa-1970s metal guitarist. "Misty Mountain Hop" wails from the amplifiers.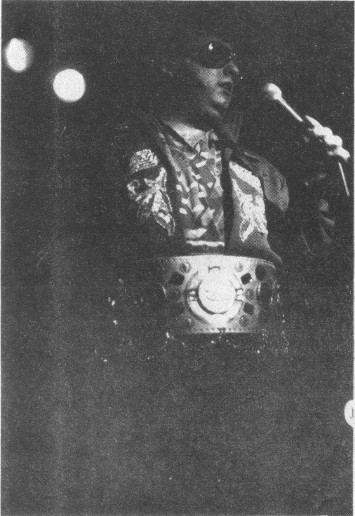 Tortelvis
That, my friends, is Dread Zeppelin.
Zep wowed a packed Phoenix Hill Tavern Feb. 17, parlaying parodies of three completely different styles of music into one paradoxical but somehow winning package.
Lead singer Tortelvis bounded about the stage, a leisure suit-clad assistant named "Charlie" at his beck to wipe his brow, bring water, and keep the elusive mic stand within reach. Tort played his role to perfection.
Sideburns seemed to reach down to his ankles. Black pompadour appeared bouffant-sized atop his head. Cape and rhinestones moved fluidly with Tort's portliness.
His gaze hidden mysteriously by gold-rimmed shades, he gripped the microphone with a ringed hand, the other thrust skyward, fingers bent into a claw, quivering with intensity.
One could only guess if it were the King himself or another Elvis impersonator he was impersonating.
Hearing him glide through tunes like "Unchained Melody" and a juiced "Heartbreak Hotel" seemed natural enough. The kicker came when the band ripped through its own reggae-sliced, electrified versions of Led Zeppelin tunes.
Seeing Elvis sing "Black Dog" is a treat only available through a live Dread show.
The six-member ensemble (not counting Charlie) blended wonderfully on "Whole Lotta Love," "Heartbreaker," "Kashmir," and a selection of other Led Zeppelin songs.
Along the way, they threw in originals such as "Do the Claw" and "Hot & Spicy Beanburger," the title track from their latest CD.
Adoring fans bowed before the stage, doing the claw along with his majesty and shouting praises such as "Tortelvis rules!"
Conga player and co-band leader Ed Zeppelin took his turns at lead vocals as usual, adding the Marley flair, while bassist Butt-boy grooved in pornographic fashion atop an amplifier in cosmic stun guitarist jah paul jo's shadow. It was blissfully bizarre.
Finally, Dread wrapped things up with whirlwind encores of "Stairway to Heaven" and (what else?) "My Way."
When all was said and done, The King waved to his admirers and exited stage right. As he was all night, Charlie was there to remind him that the stage door was located to the left.
Then the dreadful realization struck the crowd: "Ladies and gentlemen, Tortelvis has left the building . . .."