July 2018 Articles
Cover Story
Paul Moffett
Columns
Eddy Metal
Eddy Metal
Opinion
Jean Metcalfe
Blogs
Got Shows?
Send Them To Us
Bookmark Louisville Music News.net with these handy
social bookmarking tools:
Available RSS Feeds
- Top Picks
- Today's Music
- Editor's Blog
- Articles
Add Louisville Music News' RSS Feed to Your Yahoo!



I've Got A Mind To Ramble
What a great idea, to have a regional blues band with Chicago connections come to town for a series of concerts during February and feature several Chicago bluesmen with the band. This is what the Backstage Cafe did with Snapper Mitchem and the Chicago Blues Legends.
Snapper started out playing bass in the house band at Queen Bees (now Lee's Unleaded Blues) in the '70s on Chicago's South Side. Then he became Son Seal's bass player and band leader until he left Chicago for Dayton, Ohio, in 1985.
I can clearly remember Snapper playing in Son's band during his occasional concerts in Louisville. Snapper was not your usual bass musician who typically stands motionless and stoically keeps the beat. There was just too much emotion in his playing, bobbing from side to side and his eyes darting back and forth. It seemed at some point in his career he had to break away.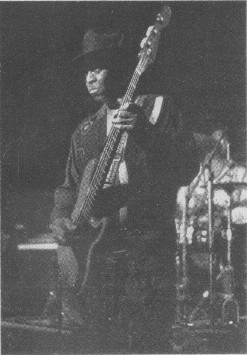 Snapper Mitchem at the Backstage Cafe
Snapper has been touring throughout the Midwest and his first cassette, Born In the Ghetto, has been reissued this year on the Family Man label. The record logo depicts a gal whacking across the face a guy who had been hitting the bottle. I guess she is enforcing the family man rules. Snapper will soon release another new recording with Phil Guy which will feature mostly original material.
Phil was the first Chicago bluesman for the concert series that started February 3 and 4. Phil has lived under the shadow of his brother Buddy, for Phil's style isn't as flamboyant, but he has matured into an inspired solid singer and guitarist. He is always in control as opposed to some of Buddy's performances when you never quite know what he is going to do.
Snapper started the evening off with several nice instrumentals and vocals backed by Geary Williams on guitar and Jeff Casen on drums. Geary is a real guitar technician, playing his solos in "Help Me" with clear, precise notes. When he is not playing with Snapper he leads his own group in Dayton.
Snapper sings with a lot of intensity using his high-pitched voice that is somewhere between Jimmy Johnson and J.B. Lenior. Snapper admits that his voice has gotten a little rougher over the years due to his smoking.
Playing his Fender characteristically slung off his right shoulder, Phil took over. One of his best songs, which he played at a slow tempo, was "I Once Was a Gambler," about the dangers of chance. Back in December 1987 Phil put on a great show at the now-defunct Hugs with his own group, Chicago Machine, and I've seen him perform many times at the Chicago Blues Festivals.
At break time I asked Snapper if he has kept in touch with his mentor, Son Seals. He said that Son suffers from diabetes and had a mild stroke several years ago so he only travels out of Chicago about four weeks a year. The second set included a nice variety of blues like "Mustang Sally," "Sadie" and "Floodin' Down In Texas."
I missed the next concert series on February 11 but was back for round three which had Phil and Geary, with Top Hat Robinson on drums and vocals, for Feb. 17 and 18. Top Hat is no stranger to Louisville for he used to play with the Homewreckers. Snapper had hoped to also bring Muddy Waters Jr., a stalwart guitarist from Chicago's south side who usually plays at the Checkerboard Lounge. Unfortunately he had just suffered a stroke. Snapper, Top Hat and Phil took turns performing "Tin Pan Alley," "Drivin' Wheel" and "Rock Me Baby," respectively. Top Hat demonstrated his diverse vocal range when he sang "Stand By Me," mimicking many of the Motown and soul singers.
Snapper said he would try to bring in Johnny Dollar for the Feb. 24 and 25 concerts. This arrangement has been working out well with the band for they have been performing at the Slippery Noodle Inn in Indianapolis each Tuesday night in February.
l
Another concert is in the works at the Backstage Cafe that will feature the hot Austin, Texas, band of Gary Primich. He was a headliner at last year's Waterside Arts and Blues Festival, blowing his harp with guitarist Mick Tayor. This event is set for April 28 and will be jointly sponsored with the KYANA Blues Society. Finally, for those who like to plan far into the future, the 11th Annual Chicago Blues Festival will be June 3, 4 and 5. At this time the only performer that I know who is scheduled to be there is Albert Washington. I will keep you posted as more information is released.