March 1994 Articles
Cover Story
Bob Bahr
Features
Paul Moffett
Paul Moffett
Bob Bahr
Columns
Henry C. Mayer
Berk Bryant
Jim Galipeau
Jan Winders
Paul Moffett
Keith Clements
Todd Hildreth
Darrell Elmore
Elaine Ford
Duncan Barlow
Alan Rhody
CD Reviews
Kevin Gibson
Allen Howie
John Goodin
Bob Bahr
John Goodin
Allen Howie
Bob Bahr
Allen Howie
Kevin Gibson
Mark Clark
Todd Hildreth
Performance Reviews
Berkley Harrington, Jr.
Paul Moffett
Mark Clark
Kevin Gibson
Calendar
Staff
News Item
Staff
Preview
Bob Bahr
Staff
Errata
Staff
Photos
Jean Metcalfe
LASC
Holly Watson
Paul Moffett
Staff
Jonathan Miller
Jean Metcalfe
Staff
Jonathan Miller
Bookmark Louisville Music News.net with these handy
social bookmarking tools:
Available RSS Feeds
- Top Picks
- Today's Music
- Editor's Blog
- Articles
Add Louisville Music News' RSS Feed to Your Yahoo!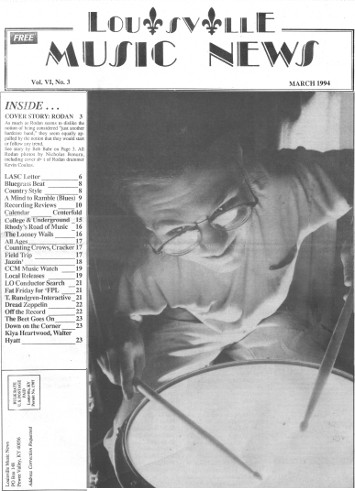 Rodan drummer Kevin Coulas
Rodan
Rodan: A pterodactyl-looking monster who killed many Japanese before Godzilla taught him to channel his mayhem.
Rodin: A 19th Century French sculptor whose art occasionally provoked controversy and general mayhem.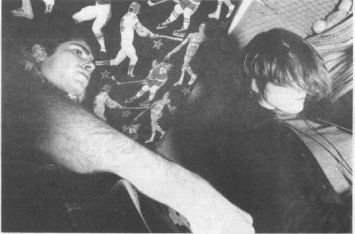 Jason Noble, left and Tara Jane O'Neil of Rodan
Rodan: Murky waters of angst, guitars, rhythmic precision, terrible beauty, sonic onslaught and (somewhat) controlled mayhem.
The third definition is the one that comes closest to describing a Louisville-based band with a new release on a subsidiary of the independent label Touch and Go – a dark, clear onyx of a punk album titled Rusty. If the key word seems to be mayhem, it may only reflect the band's observations of the world around them. "Everything changes! Everything changes!" they scream on the devastating "The Everyday World of Bodies," and all that turmoil isn't simply created by them. It's in everything, even in "pretty" things.
During a recent show Rodan played at Tewligans Tavern, old film clips were projected on the band and on a white sheet hanging behind them, thanks to a friend of the group, Greg King. "Bambi Falls In Love" was one of the clips – the animated Bambi jumping in ecstasy through the forest while bassist Tara Jane O'Neil rumbled the bottom, guitarists Jason Noble and Jeffrey Mueller raged, and drummer Kevin Coultas shattered the air with drum corps accuracy. Seeing a contrast in the images and the music would only be one perspective. The marriage of emotions that the combination forced was more complete than just sugary sentiment or heavy music alone. Love, in some ways, wreaks havoc, and hardcore punk can be sweet.
Rodan suggests that life is a gummy ball to which everything sticks – hatred, love, hard, soft, classical music, country. Repetition in their music, which Mueller attributes to composer Philip Glass' influence, helps unify it. Yes, the two guitars create a slab sturdy enough for moshing upon. But the band only uses guitars, said Noble, because pianos aren't as transportable. Give them a couple of years, and Rodan could feature dueling pianos.
When asked what one word is indispensable in Rodan's lyrics, O'Neil answered "'and'," and the rest of Rodan laughingly agreed. It was an offhand comment, but it fits. Rodan links a lot of concepts together, and the odd meters and stuttering chords push you off balance, looking for the next step, just as 'and' creates anticipation when spoken.
Rodan's music can provoke all this, and yet a man shook his head, muttered to himself and stalked out of their Tewligans show violently disappointed during their performance. What did he hear?
Lyrics screamed to the point of being indecipherable? Guitar figures repeating and inching slowly up an arpeggio? Just another hardcore band?
He probably didn't consider stopping and ferreting out the changing time signatures, nor did he try hard to figure out what Mueller was yelling about. And Rodan wouldn't mind, as long as he noted their intensity, and the soul that they put into it. They're not just another hardcore band, but the listener has to be willing to dig deep, to swim the murky waters to find out what else is lurking.
During a pre-show interview, Mueller remained mostly quiet,
observing the other three's responses and occasionally expressing agreement. It would be better, Mueller said, for him to present one of his favorite places in Louisville. He doesn't do well in formal interviews, he explained. So a few days later we went to an abandoned brick factory near the Ohio River. Outdated technology had blossomed into a tribute to decay, with rat droppings, crumbling machinery and pigeon guano cluttering the three-story building. Everything changes, even if it's just the dawdling cancer of rust.
Mueller approached the abandoned factory with more respect than familiarity, even though he had been there many times. That's the way he seems to approach everything, with the air of someone who realizes that it's impossible to fathom anything completely. Mueller emerges as the guiding light for Rodan in their guilelessness. He certainly doesn't play in odd rhythmic meters for the sake of playing in an odd meter. Mueller doesn't craft songs that owe more to composer Samuel Barber than, say, the band Codeine because he wants to be different. He doesn't bend over to sing into a waist-high microphone to distinguish himself from other singers.
"I don't like microphones," Mueller simply said. "I guess I don't like being on a stage. I hate the whole volume-controlling-you thing. It's not a question of sincerity, it's just me. Just a kind of a token thing that I like to do."
For Mueller, performing the music and selling records is seeing his art brought to fruition, but it's the process of creating – the release that it gives – that interests him. Whether the audience connects with his art or not is of secondary concern. Noble echoed this when he commented that the ideal project would be one that has no audience. Needless to say, Rodan will never sign with a major label.
A major might not know what they would have in Rodan, but Quarterstick Records knows; the Touch and Go subsidiary has signed a band that is gold in underground circles.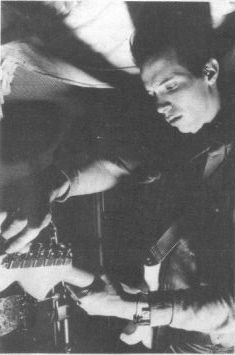 Guitarist Jeff Mueller of Rodan
Rodan's first big push came from a single they shared with Unrest, Sunami and Superchunk. As the other bands gained popularity, Rodan's contribution (which many consider superior to the contributions of the other three) became widely known. Favorable write-ups in the CMJ and Alternative Press fueled the fire. Guerrilla bursts of touring helped. And now, not even a year old, Rodan is the toast of the East Coast and much of the Midwest.
What's the attraction? Rodan is not just a rock band, but something leaning heavily toward hardcore punk. And if that wasn't a narrow enough slice of the record-buying public, Rodan is an experimental punk band. There's a fair amount of avant garde classical music in those dissonant chords, oddly structured pieces and sonic fetishes. And Noble insists that country music is present too, citing his affection for Johnny Cash. When the band was asked to name something (besides punk) that influences Rodan, O'Neil immediately said, "Folk," then laughed from behind her hair.
Noble said, "Classical."
"Science fiction," said Mueller.
"'B' movie," concluded Coultas.
Meanwhile, back at the Tewligans show, Rodan is roaring through "Gauge." The crowd is mostly motionless, turning the experience over and over in their minds' hands. Projected on the band members and the sheet behind them is what looks like bootleg concert footage of Kiss.
Let's talk about hair
styles.
There's Coultas, with a woolly, overgrown conservative cut. Noble looks like a standard-issue punk but with four-inch wide section of hair hanging almost to his mouth just right of the center of his face. Mueller has a widow's peak.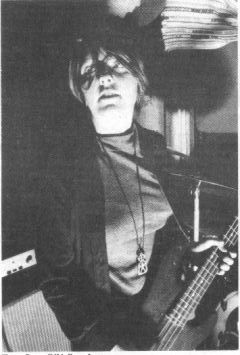 Tara Jane O'Neil on Bass
And O'Neil's hair looks like Veronica Lake's peek-a-boo cut after a long night of walking in the rain. Their "look" is very much an afterthought. When goaded about how the band might react if people started to emulate the way they looked, the four musicians were baffled.
"No one would want to dress like us," Coultas said laughing.
"The way we dress has nothing to do with the music that we play, so those people would be posers!" quipped Noble.
"Pants and shirts," said O'Neil quietly.
"Yeah," said Noble. "Does that mean they would wear pants on the bottom and shirts on top?"
Come show time, as if to prove that there is no Rodan "look," the band dressed a bit differently. O'Neil's characteristic cowboy hat – a floppy, black leather job – was off before the first song was over. Mueller still retained the thrift-store aesthetic, but in an innocuous fashion. Noble was wearing an old red Coke shirt. Coultas blended perfectly with the Tewligans crowd.
As much as Rodan seems to dislike the notion of being considered "just another hardcore band," they seem equally appalled by the notion that they would start or follow any trend. They are doing this strictly for themselves, and if the audience shares their perspective, fine. This is not a band out to change the world in any specific sense.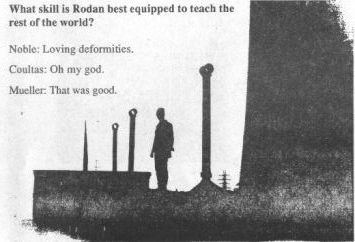 Kevin Coultas, though, could very well change the way a drummer is used in hardcore bands. Coultas moves far beyond a mere timekeeping capacity, carving perhaps the most prominent role in Rodan. Complexity often comes from the drummer; if the guitarists are slipping into a repeating, hypnotic figure, Coultas is playing an insanely complex rhythm. If the guitars are weaving melodies, Coultas may be playing a straightforward groove. Not too busy nor remotely boring, the precise Coultas can make moshers miss a beat when they're in mid-air with his quicksilver changes. A pedestrian drummer would ruin this band.
Likewise, O'Neil's bass playing seeks to avoid the obvious. A melodic idea is as likely to be introduced by her as either of the guitarists. Mueller and Noble alternately ring single-line guitar figures and flail with punk abandon, never delving into anything remotely resembling a traditional rock solo.
And for all the crunching and relatively quieter reveries (often accompanied by spoken lyrics), the band has a sad, mellow side, exemplified by the stately "Bible Silver Corner." Reminiscent of the modern composer Samuel Barber, who the band acknowledges as an influence, "Bible Silver Corner" is vigorous in its dark beauty. Traditional guitar technique, a concept Rodan doesn't hold particularly dear, is nonetheless illustrated here. Live, the piece gets rowdier than the version captured on Rusty.
On "Jungle Jim," O'Neil's trembling voice begins a ghostly, even line. Her singing seems at first hesitant, then full blown. During a show, she approaches the mic with the air of a prophet who will strike you down if crossed. It's not a very convincing stand-offishness. A lucrative solo career may seem evident to few outside her bandmates in Rodan, but O'Neil has the presence and charisma to stretch past this project.
Though the band is young, it is hard to imagine Rodan staying together for more than a couple of years, if only because of the strong, restless people involved. As recently as 1992, these four musicians were playing together in King G & the J Crew, an experimental hip-hop collective. Can the admittedly large confines of Rodan contain Mueller, O'Neil, Coultas and Noble for very long?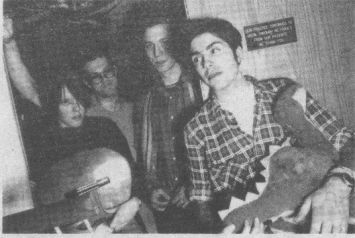 Rodan, left to right, O'Neil, Coultas, Mueller and Noble
Noble, to pick one member of Rodan, could move off into a career in design. He has already served in that capacity for LEO magazine. The slender guitarist is someone who has intelligence written all over his expressive face. His freewheeling mind can riff on whatever his bandmates may toss out. To wit:
LMN: If you could sponsor any TV show, which would it be?
Noble: It would be the silent . . . it would be the non-TV channel.
Coultas: The Discovery Channel.
Noble: Huh? The Discovery Channel? Okay! Yeah, the "Miracle of Birth." The fiber optic filming of . . . from menstruation to fertilization to birth. And seeing those first fingernails on that tiny child's hand, and those little black eyes. Just like a little eel.
Coultas agreed: What he said.
After the show, excited fans buzzed around Rodan. Noble was in an exultant mood, and Mueller was pleased, but seemingly bothered by the hubbub. Performance art, personal therapy, a rock 'n' roll show – whatever it was, it was gone, disappeared like a wisp of smoke. The after-effect was a crowd with smiles on their faces and a band that seemed more sure than ever in what they were doing. Certainly, a little bit of mayhem can be a good thing.
Tags: