March 1994 Articles
Cover Story
Bob Bahr
Features
Paul Moffett
Paul Moffett
Bob Bahr
Columns
Henry C. Mayer
Berk Bryant
Jim Galipeau
Jan Winders
Paul Moffett
Keith Clements
Todd Hildreth
Darrell Elmore
Elaine Ford
Duncan Barlow
Alan Rhody
CD Reviews
Kevin Gibson
Allen Howie
John Goodin
Bob Bahr
John Goodin
Allen Howie
Bob Bahr
Allen Howie
Kevin Gibson
Mark Clark
Todd Hildreth
Performance Reviews
Berkley Harrington, Jr.
Paul Moffett
Mark Clark
Kevin Gibson
Calendar
Staff
News Item
Staff
Preview
Bob Bahr
Staff
Errata
Staff
Photos
Jean Metcalfe
LASC
Holly Watson
Paul Moffett
Staff
Jonathan Miller
Jean Metcalfe
Staff
Jonathan Miller
Blogs
Got Shows?
Send Them To Us
Bookmark Louisville Music News.net with these handy
social bookmarking tools:
Available RSS Feeds
- Top Picks
- Today's Music
- Editor's Blog
- Articles
Add Louisville Music News' RSS Feed to Your Yahoo!

Kiya Heartwood and Walter Hyatt at Homefront
By Paul Moffett
Homefront Performances presented a pair of singer/songwriters at the First Unitarian Church for their February show. One was familiar and one not, but both delivered solid sets of their tunes.
Walter Hyatt's heavily swing-influenced tunes evoked both Bob Wills and Lyle Lovett, who used to open for Hyatt's Uncle Walt's Band in Austin before Lovett cracked the big time and married Julia Roberts. Hyatt's hair and stage manner also reflected the reclusive and awkward Lovett.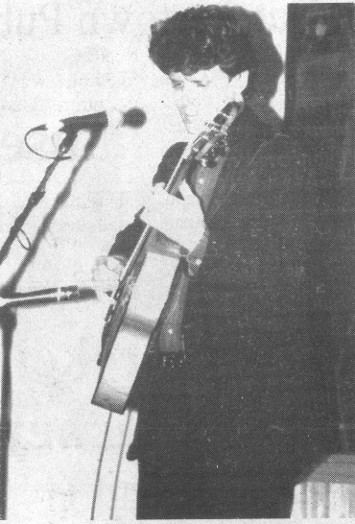 Walter Hyatt
Still, with tunes like "Get the Hell Out of Dodge," Hyatt demonstrated that he is perfectly capable of constructing songs that both rock and swing and with the Leadbellyish "I'm Calling You," he laid claim to his blues roots as well.
"When You're Down to Your Last Quarter" could easily be a commercial radio hit, while "Are We There Yet Mama?" found all the parents singing the chorus by the second time around.
Hyatt's connection to Lovett served him well when Lovett produced the album King Tears, from which he played "Out Where the Blue Begins" and "Love in Black and White."
Hyatt was followed by Kiya Heartwood, formerly of Stealin' Horses and now carving a solo niche for herself. Heartwood's progression from leader of Stealin' Horses to solo performer is well known to Kentucky music fans, some of whom drove in from Lexington for the show. They were not disappointed.
Heartwood was joined on stage by Donnie Roberts, former guitarist with Webb Wilder. His rocker's appearance belied the precision of his acoustic picking, however, and he filled out some of the spaces in Heartwood's material very nicely.
Heartwood can't hide her rock 'n' roll heart, even when she tries to be the Oklahoma cowgirl in a buffalo-emblazoned blouse. "No Goodbyes, No Regrets," for instance, cries out for an Alabama-style cover. "Home," the first single from her new album, is Tex-Mex infused.
With two albums from Stealin' Horses and her new Waldoxy release, True Frontiers, Heartwood's possible choice of material is getting broader, which made the selection of the politically correct but lyrically weak "Broadform Deed" curious. Fortunately, she moved on to better songs quickly, particularly the single "Turnaround" from Stealin' Horses and the sweet "Robert's Waltz."
As usual, Homefront recorded two shows for broadcast on WFPL. Broadcast times have not yet been set.
Homefront's anniversary show, set for March 12, will feature Patrick Ball and John McCormick. Due to a scheduling conflict, the show will be staged at Wyatt Hall on the Bellarmine College campus.