March 1994 Articles
Cover Story
Bob Bahr
Features
Paul Moffett
Paul Moffett
Bob Bahr
Columns
Henry C. Mayer
Berk Bryant
Jim Galipeau
Jan Winders
Paul Moffett
Keith Clements
Todd Hildreth
Darrell Elmore
Elaine Ford
Duncan Barlow
Alan Rhody
CD Reviews
Kevin Gibson
Allen Howie
John Goodin
Bob Bahr
John Goodin
Allen Howie
Bob Bahr
Allen Howie
Kevin Gibson
Mark Clark
Todd Hildreth
Performance Reviews
Berkley Harrington, Jr.
Paul Moffett
Mark Clark
Kevin Gibson
Calendar
Staff
News Item
Staff
Preview
Bob Bahr
Staff
Errata
Staff
Photos
Jean Metcalfe
LASC
Holly Watson
Paul Moffett
Staff
Jonathan Miller
Jean Metcalfe
Staff
Jonathan Miller
Blogs
Got Shows?
Send Them To Us
Bookmark Louisville Music News.net with these handy
social bookmarking tools:
Available RSS Feeds
- Top Picks
- Today's Music
- Editor's Blog
- Articles
Add Louisville Music News' RSS Feed to Your Yahoo!

Fat Friday for FPL
By Paul Moffett
NPR's Bob Edwards was seen dashing to his limo with a plastic sack of Lynn Winter's candied pecans.
Radio Reader's Dick Estell had on a name tag that read "Yes, I'm that radio announcer" and cheerfully accepted the too-small gold paper crown as King of Mardi Gras for 1994 before solemnly announcing that "In this crowd, I don't have to worry about admitting that we're drunk."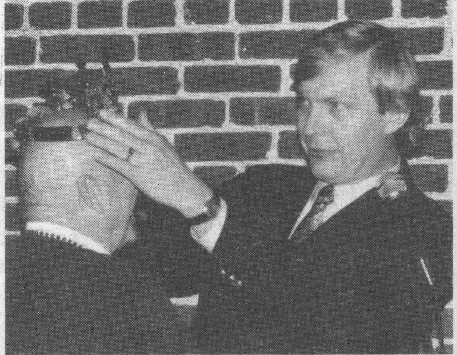 Bob Edwards crowns the new King of Mardi Gras, Dick Estell. Photo by Paul Moffett
The occasion was a $50 dollar a ticket Mardi Gras celebration for WFPL, held at the Images Friedman Gallery on West Main Street. The celebrants were fans, sponsors, staff and aforementioned celebrities.
Everyone feasted on Lynn Winter's excellent Cajun cookery, sans boiled mudbugs. The artwork on display counterpointed the essential peculiarity of having a Fat Tuesday celebration on Friday, when believers should be engaged in the discipline of self-denial.
There was no self-denial in evidence on this Friday. When the revelers finally gathered in the street for the march to the Kentucky Center for the Arts to hear Beausoleil, the evening's entertainment, everyone was sufficiently in the spirit(s) to parade merrily down Main Street, blowing horns, dancing and crossing the street against the light.
The dancing continued upon arrival at the KCA, where the usual tables in front of the Bomhard stage had been removed to allow for dancing. The concert began with some "Phantom" flashes, and Beausoleil followed up with some pretty flashy picking themselves.
Unlike last year's Cajun bar band, Lynn August and Hot August Nights, Beausoleil cranked out one instrumentally rich tune after another. Brothers Michael and David Doucet demonstrated why Beausoleil has been so successful for fifteen years, trading off Michael's fiddle runs and David's bluegrass-ready flatpicking guitar over the exceptionally solid rhythm section, consisting of Al Tharp on bass, Billy Ware on percussion and Tommy Alesi on drums. Jimmy Breaux handled all the Acadian accordion chores splendidly.
The Cajun lyrics were just another instrument in the mix and the occasional English didn't really change that.
It was dance music all the way, and the crowd in the mosh pit – excuse me, dance floor – seldom thinned out or slowed down. The occasional gaudy effects – disco ball lights and bubble machine – were unnecessary throw-aways, as the music was more than enough.
With more than a dozen albums to chose material from, Beausoleil could have played three concerts. That they chose to mix old ("Jole Blon") with some excellent new material ("In a Big Fog") merely suggests that they have many more albums ahead.
Let's hope that WFPL keeps this fine event going in future years. Somebody please pass the file gumbo.