December 1994 Articles
Cover Story
Darrell Elmore
Features
Allen Howie
Darrell Elmore
Columns
Berk Bryant
Mike Stout
Paul Moffett
Keith Clements
Todd Hildreth
Duncan Barlow
Henry C. Mayer
Alan Rhody
CD Reviews
Robert Gruber
Mike Stout
Kory Wilcoxson
Todd Hildreth
Bob Bahr
Robert Gruber
Kory Wilcoxson
Michael Campbell
Bob Bahr
Kory Wilcoxson
Kory Wilcoxson
Performance Reviews
Brian Arnold
Mike Stout
Jeff Walter
Mike Stout
Henry C. Mayer
William Brents
Mike Stout
Jean Metcalfe
Calendar
Bob Bahr
Preview
Henry C. Mayer
Photos
Robin Roth
LASC
Jean Metcalfe
Blogs
Got Shows?
Send Them To Us
Bookmark Louisville Music News.net with these handy
social bookmarking tools:
Available RSS Feeds
- Top Picks
- Today's Music
- Editor's Blog
- Articles
Add Louisville Music News' RSS Feed to Your Yahoo!

Issue: December 1994
Vince Gill
By Jean Metcalfe
All Vince Gill ever wanted to be was a musician. Boy did he ever succeed!
The Country Music Association's 1993 and '94 Entertainer of the Year played his heart out for enthusiastic fans who just about filled Freedom Hall on Sunday evening, Nov. 20. Staring down a back-to-work Monday, most of the fans stuck around until the last note was played in the (at least) two-and-one-half-hour performance.
"Good evening, Louisville, Kentucky!!" Gill shouted after the first couple of songs. "When I left my mama and daddy, I came to Louisville, Kentucky."
But mostly he let his music do the talking. Lordy, what a speaker!
Throughout the rest of the evening he played hit after hit, ballad after scorcher, some nice covers, and a few selections not heard on the radio.
From the Merle Haggard tribute album, Mama's Hungry Eyes, Gill sang "The Farmer's Daughter." He had selected the song for the album because it reminds him of his mama, he said. The album proceeds are earmarked for the hungry, so Gill had agreed to participate: "If I can sing a song and help feed people, I'm in."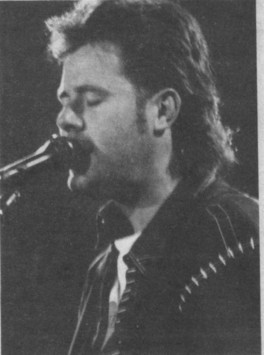 Vince Gill. Photo by Mike Stout
Oh how Gill's beautiful voice soared on "Look At Us" and "Never Knew Lonely Till You." And then there was the touching "If I Had My Way," a song about fixing the ills of society, which he wrote with Amy Grant.
Gill, whose guitar is far from being just a prop (he was once a session player in Nashville), allowed his talented band to show its stuff on an extended version of "Oklahoma Swing," while paying homage to his birth state.
He also showcased newcomer Dawn Sears on a couple of duets, including "Heart Won't Lie," and predicted the young woman would soon be a star.
Gill kicked off his wonderful, lengthy encore set with "I Can't Tell You Why," his cut on the tribute album Common Thread: the Songs of the Eagles.
After the second encore song, he reached under his Vince Gill concert T-shirt (he had donned it and a bill-backward concert cap before returning for the encore) and exaggeratedly hitched up his jeans before tearing into "South Side of Dixie."
Especially touching was a song Gill wrote about the late Keith Whitley, whom he had met about 18 years ago while playing bluegrass music for a living.
"I can see the angels' faces when they heard your sweet voice sing," Gill sang about the man he described as "about as good a boy as ever came out of the state of Kentucky."
"Never Knew Lonely Till You" and "I Still Believe in You" showcased Gill's incredible voice and demonstrated why the women love the guy. One of the best sing-along efforts on a song I've ever heard from a concert audience came on the latter song; the singers were decidedly female.
When "Liza Jane" was brought out I feared the lively lady would be Gill's final encore number. But fear quickly turned to delight when he eased into his outstanding, award-winning hit, "When I Call Your Name." Let's hear that chorus just one more time.
That's it, I thought, but the loveable artist followed up with a teasing, agonizingly sexy rendition of "There's Nothing Like a Woman." The prolonged, sensual instrumental break prompted the woman next to me to comment, "He's tormenting us, isn't he?" I could not disagree.
With the encore songs by then numbering eight, the mega-award-winning singer-songwriter-guitarist shoved the thermostat all the way up with a terrific invitation that closed out the evening: "If the house is rockin', don't bother knockin', come on in."
Preceding Gill on the stage was Trisha Yearwood, the popular songstress who shot to the top of the country charts with "She's in Love With the Boy," and with which she ended her brief set (about an album's worth of songs).
Wearing a long, black gown, the attractive singer moved quickly through her estimable list of hits, including "That's What I Like About You," "XXX's and OOO's (An American Girl)" and "Walkaway Joe." She generously shared the spotlight with the opening act, Larry Stewart, on a duet or two. Most assuredly, on a bill with a lesser artist than Gill, Yearwood could have been the headliner.
Gill's expected appearance notwithstanding, this writer was caught off guard when Yearwood's set came to an end.
Kentucky native Larry Stewart, former lead vocalist of Restless Heart, opened his very brief (five songs) set with the title cut from his album Heart Like a Hurricane. Paying tribute to his Restless Heart days, he offered up "I'll Still Be Loving You."
But, he said, "that was then and this is now," then finished up with the popular "Alright Already."