April 2018 Articles
Cover Story
Paul Moffett
Columns
Eddy Metal
Eddy Metal
Blogs
Got Shows?
Send Them To Us
Bookmark Louisville Music News.net with these handy
social bookmarking tools:
Available RSS Feeds
- Top Picks
- Today's Music
- Editor's Blog
- Articles
Add Louisville Music News' RSS Feed to Your Yahoo!

Issue:
Unbeatable Wheatables Country Tour '94
By Michael W. Stout
Keebler's Unbeatable Wheatables Country Tour '94 stopped off in Louisville Friday night, Nov. 4, just long enough to blow the roof off Louisville Gardens. This show has got to be one of the highest energy shows out on the road today due to the incredible lineup of three of the hottest acts in country music: Little Texas, Tim McGraw, and BlackHawk.
The energy started as soon as the house lights dimmed and BlackHawk hit the stage. BlackHawk offered up a very impressive 30-minute set which included several hits and soon-to-be hits off their self-titled debut album. Among these tunes were "Goodbye Says It All," "Every Once In A While," and a rowdy and fun "Stone By Stone." The band's highlight was their current release, "I Sure Can Smell the Rain." I think the crowd was really surprised at BlackHawk's talent and I predict that these guys have a long and successful future ahead of them.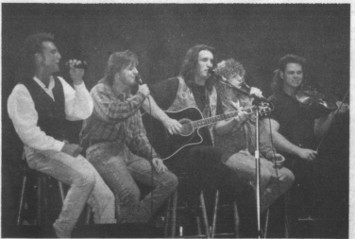 Little Texas. Photo by Bev Ingram
The energy continued to build as the Indian Outlaw, Tim McGraw, and his seven-piece band, The Dancehall Doctors, took the stage and continued to wow the crowd throughout their 65-minute set. There was no doubt that Louisville knows and loves Tim McGraw. After all, how could anyone who calls himself or herself a country music fan have never heard of Tim McGraw, since he has the fourth-longest-running number one album on Billboard's country chart, Not A Moment Too Soon, which has already been certified triple-platinum. Tim is the hottest thing to hit the planet since, possibly, the invention of the John Deere tractor. Tim states that this new-found fame has not changed him and says that he still treats people the same as he did before stardom.
Tim offered a well-rounded set to please all country fans. There were traditional style country ballads, a few hints of western swing, and some new songs off his upcoming album, which he predicts will hit the stores next June or July. Country radio has really taken hold of Tim's style of rockin' country, which he calls "turbo tonkin'" music. He was accompanied by keyboards and an acoustic guitar on his smash number one hit, "Don't Take The Girl." The practically sold-out crowd ate it up, and provided vocal harmony.
Tim paid tribute to one of his greatest heroes -- George Strait -- by singing Strait's "You Look So Good In Love" and his own tribute song to Strait, "Give It To Me Strait." The crowd rose to its feet and roared at rockin' tunes such as "It Doesn't Get Any Countrier Than This," "Refried Dreams," "Down On The Farm," and of course, the unforgettable song that put him on the map and pointed him in the direction of stardom, "Indian Outlaw." From the crowd's response to his current release, "Not A Moment Too Soon," it looks like Tim McGraw has yet another hit on his hands.
The Dancehall Doctors really got to shine with some fine fiddle, keyboards, guitar, bass, and drum solos and proved themselves to be one of the most talented bands traveling today. There is really nothing bad that can be said about this set. Granted, Tim McGraw does not have an extremely wide vocal range, but he does a great job of using his abilities and he sings songs that people want to hear, fun songs with catchy tunes and phrases.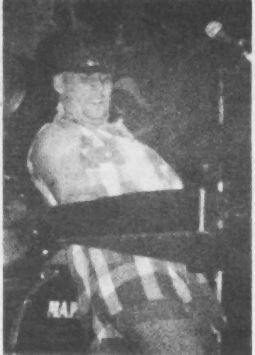 Dave Robbins of BlackHawk. Photo by Bev Ingram
The Gardens' roof was finally blown off when bright lights overpowered the stage, the roar of an F-15 fighter jet taking off erupted, and Little Texas hit the stage. The crowd jumped to its feet and everyone clapped and whooped, hollered, and cheered at the top of their lungs throughout Little Texas' 65-minute set. The crowd sat only during ballads, and perhaps then only because of exhaustion from all the energy exerted.
Little Texas was a huge hit due to their incredible harmony, fine songwriting, and expert musicianship. They offered up a well-rounded set of songs from their debut album, First Time For Everything; their smash album from last year, Big Time; and their recently released third album, Kick A Little. The band started the show off right with "Stop On A Dime" and kept the crowd going with fast-paced tunes such as "Some Guys Have All The Love," "Kick A Little," and probably the biggest hit of the evening, "God Blessed Texas," on which the entire crowd sang along.
Little Texas did an excellent job of sprinkling some unforgettable ballads into their show like the smash hit "My Love," "You And Forever And Me," and "What Might Have Been," on which lead singer, Tim Rushlow, gave an unforgettable, four-star performance. Little Texas also offered a remarkable performance of their contribution to the Common Thread: The Songs of the Eagles album, "Peaceful Easy Feeling."
Little Texas cut a groove that everyone could fall into, despite the recent departure of keyboardist, vocalist, and songwriter Brady Seals. Seals recently left Little Texas to pursue solo endeavors and the band hated to see him go, but stated that they are a tight band and can and will move ahead. They well proved this on their stop in Louisville.
Although there were a few screeches in the sound system, the crowd could not have cared less. Everyone got exactly what they came for: some great music and a really good time!