December 1994 Articles
Cover Story
Darrell Elmore
Features
Allen Howie
Darrell Elmore
Columns
Berk Bryant
Mike Stout
Paul Moffett
Keith Clements
Todd Hildreth
Duncan Barlow
Henry C. Mayer
Alan Rhody
CD Reviews
Robert Gruber
Mike Stout
Kory Wilcoxson
Todd Hildreth
Bob Bahr
Robert Gruber
Kory Wilcoxson
Michael Campbell
Bob Bahr
Kory Wilcoxson
Kory Wilcoxson
Performance Reviews
Brian Arnold
Mike Stout
Jeff Walter
Mike Stout
Henry C. Mayer
William Brents
Mike Stout
Jean Metcalfe
Calendar
Bob Bahr
Preview
Henry C. Mayer
Photos
Robin Roth
LASC
Jean Metcalfe
Blogs
Got Shows?
Send Them To Us
Bookmark Louisville Music News.net with these handy
social bookmarking tools:
Available RSS Feeds
- Top Picks
- Today's Music
- Editor's Blog
- Articles
Add Louisville Music News' RSS Feed to Your Yahoo!

Issue: December 1994
A Good Ole Country Christmas
By Michael W. Stout
"A good ole country Christmas/ that's what it's gonna be/ with all the family gathered 'round a pretty Christmas tree/ we'll open up our presents/ Christmas Eve about midnight/ we'll have a good ole country Christmas alright..." These lyrics are from my favorite Christmas tune of all time, Loretta Lynn's "Country Christmas." I remember playing this record over and over as a child, just like it was yesterday.
My parents were farmers and were not wealthy by any stretch of the imagination, but my two brothers, my sister, and I couldn't have asked for any better country Christmases than we had growing up. Mom and Dad made personal sacrifices just to make sure we kids had a good Christmas. You may have heard of getting a bundle of switches for Christmas, well, me and my older brother did one year, as a joke more than anything. It backfired when Dad came in from working out in the cold one day and my older brother was mad because we got switches, and he commenced to using the switches on Dad's cold legs when he walked in the door. Needless to say, we never got switches again.
We'd go out to the woods and cut the best cedar tree we could find and decorate it the best way we knew how. It may not have been the prettiest Christmas tree, but it sure did get the job done. I'll never forget and will never be able to thank my mother enough for my most memorable Christmas gift as a child. Mom spent many long hours sewing little white cowboy shirts with red and white gingham cuffs and yokes for my older brother and me. I loved my little shirt then, but I didn't appreciate it nearly as much then as I do now. I'd give almost anything to have that shirt today. We may not have had a lot, but we sure did have each other and lots of love. To me, that's what Christmas is all about.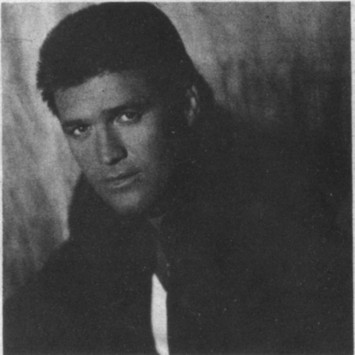 Billy Ray Cyrus
Just like me, you probably have a most memorable Christmas, and so do some of your favorite country performers from right here in Kentucky.
•
Tom T. Hall, best known for his wonderful gift of telling a story through song ("Harper Valley P.T.A."), told Louisville Music News that his most memorable Christmas gift was his first guitar. He said, "Most Kentuckians, especially country people, remember the big Christmas snow of forty-nine. The snow and the three inches of sleet that covered it killed off most of the quail and rabbits in the eastern part of the state."
"I remember that holiday season with clarity. Sad for the rabbits and quail, but my late brother Quinten came home from Ohio that year and brought me a guitar. With nothing to hunt; I learned to play the instrument." And he's been playing it ever since.
•
Flatwoods' own Billy Ray Cyrus, whose multi-platinum debut album, Some Gave All, established him as the king of the "Achy Breaky Heart," says that his happiest Christmas ever was his senior year of high school. This Christmas is not sentimental to Cyrus because of a gift he had received, but a gift he had given. Billy Ray bought his mother a piano.
•
Naomi Judd, half of one of the most popular duets in country music, The Judds, was born and raised in Ashland, Ky. She describes her most memorable Christmas as one of the Christmases she and daughters Wynonna and Ashley were living in Morrill, Ky. Judd was a single mother trying to raise her two daughters on a very limited budget while studying to be an R.N. at Eastern Kentucky University.
The trio didn't have money to buy a Christmas tree, so, Naomi says, "we set off to cut our own." She continues to say, "The ornaments and decorations weren't the only things made by hand that year. Most of our presents were, too. The only storebought items were long underwear for all, books and a game for Ashley, and a cheap microphone and amp for Chris [Wynonna's name at the time].
"I loved the vase Ashley made me in her pottery class, and it immediately became our kitchen table centerpiece. Chris had sheared sheep, carded and spun the wool, colored it with natural dyes, then woven it on the loom to produce a splendid satchel for me to carry my medical books in. The girls' handmade gifts of love remain priceless treasures and tangible symbols of our favorite Christmas."
•
Pee Wee King was not born in Kentucky, but says that if he ever happens to do it again, "I'm gonna see that it happens in Louisville." Band leader, Grand Ole Opry regular, member of the Country Music Hall of Fame, and radio and television star, King, a longtime resident of Louisville, is probably best remembered as the co-writer, along with Redd Stewart, of "Tennessee Waltz." In the early days of his career, Christmas found King away from home.
"It didn't make any difference, Christmas or New Year's; if you've got a television show to do, they look to you [to do it]." During these absences, King would phone home where the family was gathered.
"We started out with just the two of us, now we've got 28. Boy, that's when you (more likely his wife, Lydia) learn how to cook," he laughed.