December 1994 Articles
Cover Story
Darrell Elmore
Features
Allen Howie
Darrell Elmore
Columns
Berk Bryant
Mike Stout
Paul Moffett
Keith Clements
Todd Hildreth
Duncan Barlow
Henry C. Mayer
Alan Rhody
CD Reviews
Robert Gruber
Mike Stout
Kory Wilcoxson
Todd Hildreth
Bob Bahr
Robert Gruber
Kory Wilcoxson
Michael Campbell
Bob Bahr
Kory Wilcoxson
Kory Wilcoxson
Performance Reviews
Brian Arnold
Mike Stout
Jeff Walter
Mike Stout
Henry C. Mayer
William Brents
Mike Stout
Jean Metcalfe
Calendar
Bob Bahr
Preview
Henry C. Mayer
Photos
Robin Roth
LASC
Jean Metcalfe
Blogs
Got Shows?
Send Them To Us
Bookmark Louisville Music News.net with these handy
social bookmarking tools:
Available RSS Feeds
- Top Picks
- Today's Music
- Editor's Blog
- Articles
Add Louisville Music News' RSS Feed to Your Yahoo!

On Stage: Another Colour
By Darrell Ray Elmore
Louisville is a great town. I know, I know, a lot of people seem to think it blows doughnuts ... in fact, it seems that many want nothing more than to leave our fair city, especially musicians. Many rock and roll types seem to think their talents will be a ticket out of Louisville. I think they overlook the possibility that Louisville, even with all its boring, nothing-to-do miseries and presumptuous cliques is a good deal better than a lot of other places in this great nation of ours.
Take Another Colour — Grace Delligatti and Paul Dell Aquila – originally from Long Island, New York, the two actually came to Louisville in search of greener pastures. And according to them, they've found them. Grace sings and Paul plays acoustic guitar. Together they cover everything from C.C.R. to Eric Clapton to Lisa Loeb to The Eagles to Elton John. And they do all these tunes a more than reasonable amount of justice. In between the obvious covers, they slip in an original or two. As Grace says: "We gotta do the covers to stay in business."
I caught the two at Phoenix Hill, in the Tap Room (that's where the management sticks the acoustic acts and let me tell you that small room usually has the best talent the entire club has to offer, the big bands downstairs notwithstanding). Another Colour was in good form, hot from their gig that same night at the LASC's songwriting contest awards ceremony at the downtown Holiday Inn. – Grace had just finished a set and was flushed with the effort of performing, just a little breathless as she told me, "We just did some Janis (Joplin) ... Louisvillians love Janis — heck, the whole world loves Janis."
Introductions were made and that's when I was told the two were originally from Long Island. "This is only our second gig at Phoenix," said Grace, "We were excited about this gig."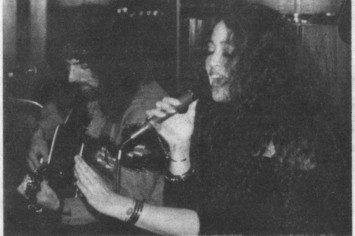 Paul Dell Aquila and Grace Delligati entertain at the lASC/'s Songwriting Contest Awards Banquet
The two look as if they would be at home in an Elfquest comic — Grace was clad in black and possesses a full mane of dark, curly hair, with a tiny elfin face hidden beneath all those curls. Paul himself is no slouch in the hair department, sporting a look that is highly reminiscent of Lindsey Buckingham back in the '70s, when Fleetwood Mac was still cool; a lot of curls and a full beard.
Grace's voice is strong, firm, resounding ... in fact, the only problem is that her talented pipes come close to eclipsing Paul's guitar playing from time to time and that would be a bad thing.
Paul's playing was an interesting experience; his ability to prod an acoustic into releasing a flawless, full sound was impressive to say the least. He also relied on a capo for many songs and it was apparent to this reporter that he makes full use of alternative tunings on many of the songs they perform.
One of the coolest techniques they employed was Paul's right-on falsetto as backup for Grace's gutsy vocals. Paul's voice really shined out on several songs and I was a little disappointed that he did not sing on more of their numbers. His vocal talent is equally as strong as Grace's and the two rely on an excellent use of harmonics.
Paul studied music composition at Hofstra University and says that when he graduated many of his contemporaries were going where the money was, namely into the composition of movie soundtracks and the like, whereas he and Grace (who he met in homeroom in high school, by the way) were really looking towards performing live.
They played local venues around New York and released a CD in 1991, but found the road to success difficult. Evidently, the cost of living on the East Coast is so high that it keeps most people at home, except for the one night a week when they can afford to "blow it out'? This pressure is reflected on club owners and the like, so if an act cannot fill a room night after night the club owners are unlikely to book an act more than once.
Grace told me that many of their friends (namely other musicians) that they worked with had come back to Long Island after touring the country, raving about the opportunities waiting in the nations breadbasket, i.e. the great Midwestern and Southem states. Paul and Grace decided to take the plunge and moved to Louisville around Derby Time. After living here six months and getting two to three gigs a week they were overjoyed at both the working opportunities as well as the legendary hospitality of the South.
"People are just really nice here," commented Grace, "I mean, really friendly and all. It's been great since we moved here."
All this gushing over Louisville made me feel proud that I was a native and made me reflect on the spoiled, "grass is always greener" syndrome that so many other Louisvillians seem afflicted with.
As we spoke, a man rushed up to Paul with the news that he had won a competition at the LASC ceremony and both musicians became even more excited about their prospects. They are writing new music now and looking at January to get back into the studio to record another all-original CD. Along with the CD and the constant gigs at places like Phoenix Hill, Players, Clifton's, The Bluegrass Brewing Co. and The Rudyard Kipling, I think both Paul and Grace made the right decision in coming to Louisville, don't you?