December 1994 Articles
Cover Story
Darrell Elmore
Features
Allen Howie
Darrell Elmore
Columns
Berk Bryant
Mike Stout
Paul Moffett
Keith Clements
Todd Hildreth
Duncan Barlow
Henry C. Mayer
Alan Rhody
CD Reviews
Robert Gruber
Mike Stout
Kory Wilcoxson
Todd Hildreth
Bob Bahr
Robert Gruber
Kory Wilcoxson
Michael Campbell
Bob Bahr
Kory Wilcoxson
Kory Wilcoxson
Performance Reviews
Brian Arnold
Mike Stout
Jeff Walter
Mike Stout
Henry C. Mayer
William Brents
Mike Stout
Jean Metcalfe
Calendar
Bob Bahr
Preview
Henry C. Mayer
Photos
Robin Roth
LASC
Jean Metcalfe
Blogs
Got Shows?
Send Them To Us
Bookmark Louisville Music News.net with these handy
social bookmarking tools:
Available RSS Feeds
- Top Picks
- Today's Music
- Editor's Blog
- Articles
Add Louisville Music News' RSS Feed to Your Yahoo!

Issue: December 1994


Bluegrass Beat
Can you believe it! It is time to get out the pretty paper, ribbons and fancy seals and figure out what to wrap in them again. YES, Christmas, the end of another year is flashing right before our eyes once again. Seems it was only a few short weeks ago, fifty-one or -two or so to be exact that we were thinking the very same thing. Oh well, "Time passes as you always hope it will," to quote Ron Thomason of Dry Branch Fire Squad.
I think I'll make a few suggestions and give you some wrapped up, boot-sock-stuffing ideas. Before we get into that, however, let's get up on who's picking around a little.
At Shepherdsville in December is Doyle Lawson and Quicksilver on the 2nd and Tommy Brown AND County Line Grass on the 9th. That's all there is out there until Jan. 6, with a great start for the new year with Ralph Stanley, and on the 27th Larry Stephenson. There are others but I don't have the groups and dates available at this time. I do know that March 24 it's Randall Hylton and Charlie Sizemore.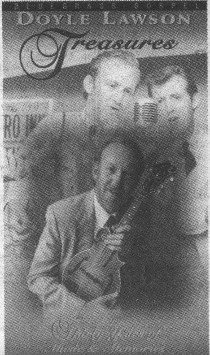 Remember each second and fourth Saturday night at Henryville, Ind., and the third and fifth Saturdays at Scottsburg, Ind.
Listen to Sunday Bluegrass, WFPL, Sunday nights, 8:30-11:00 for additional dates and places, like Clay City.
•
Okay, let's "review" some tapes, CDs, etc. so you will know what to include in those wrappings mentioned above.
A local group most of you know, or know of, is The Sunnysiders. I think they are getting better with each performance. They have a couple of new tapes, one titled I Want My Light to Shine, containing 16 songs. The other is a single with two numbers. Both written and performed by Joan Ruff. "The Answering Machine" and "Livin' in the Past; Banking on the Future." Musicians on these include LeRoy Matherly, Cyndi Ruff, Jay Ruff, Kenny Cardin, and Morris Bobbett. They also have available another new one titled The Best is Yet to Come with essentially the same personnel, except Jake Kessinger joins them on dobro. Any of these will make a good Christmas gift. I play them on the program. Can be obtained from The Sunnysiders, c/o Jay Ruff, 2219 Charlestown-New Albany Pike, Jeffersonville, IN 47130. Call 812-283-5955.
Next -- and these are for those of you who especially like a group that comes across like they had gotten together Friday or Saturday night over at your house to do some pickin' -- are some of the good ones that you may not hear just anywhere. I brought these two tapes back from the Museum of Appalachia Homecoming. The Lantana Drifters are a regular group down there and have a couple of good tapes. Again, something you will hear a lot of on my show. The Mule Skinner Blues tape contains such old-timers as "Ida Red," "Morning Dew," "Will the Circle Be Unbroken" and "Roll On Buddy [Nine Pound Hammer]." Both have several instrumentals on them. The second tape is 10th Anniversary and has such things as "Liza Jane," "Rock of Ages," "Cheatin' Heart" and "Whoa Mule Whoa" and "Midnight Train." A couple of good tapes. Ed Webb, 615-788-6846.
I just recently got a new Leroy Troy tape. Leroy, as you have heard from me before, does great old-time, Uncle Dave Macon-style tunes. His new one has "Cindy," "Dan Tucker," "Pig in a Pen," "Dixie," "Lynchburg Town," "Cotton-Eyed Joe," "New River Train," "Alabama Jubilee," "Kissin' on the Sly," "Angelina Baker," "Old Joe Clark" and "Home Sweet Home." Leroy Troy, a young man who does it the old-fashioned way, and good. BOS Records, P.O. Box 216, Goodlettsville, TN 37070.
Making the Rounds, Terry Eldridge. Terry is a good friend and a fine young man who has wound his way through the music business until all of the dues paying has brought him to a prominent position with the Osborne Bros. Terry joined them a few years ago as a bass player, an acoustic -- that's upright -- bass player for the Osbornes. Time came when a guitar player and singer were needed and sly Terry made his move. He went on stage in Indiana in that spot with no rehearsal, and as Bobby put it, "Sonny and I were astonished. We had no idea he knew the words to our songs . . . ." Still a big part of the Osbornes' group, Terry Eldridge has a tremendous new CD. Makin' the Rounds. Twelve great songs plus one. Songs like the big Hank Thompson hit of years ago, "Green Light," "We Could," "Praying," and one that got response in a hurry after being played on my show, "Big Harlan Taylor." The plus one? "The Worst I Ever Heard." That's what they titled it. Seems Terry, after much pleading, convinced Sonny to let him make his fiddle debut. Sonny's comment, as heard on the recording: "That's the worst I ever heard." Overall a very fine CD from an equally fine young man with a great voice. A handsome young gentleman whose picture on the cover is worth the price, girls, and the great songs are just a bonus. Pinecastle/Webco Records Group, P.O. Box 456, Orlando, FL 32802.
Doyle Lawson, Treasures. A video that should be on the shelf of every Doyle Lawson fan and any bluegrass fan. There are twelve of Doyle's familiar tunes on here along with some great pictures and clips of the past. Interview time with Doyle gives good background on the man. Members of the group on this video include Brad Campbell, a young banjo player I met in Charlotte, Mich., several years ago, and John Berry from Flaherty, Ky. Would like to have seen and heard a little more from John Berry. Forty minutes of entertainment and song from Doyle Lawson and Quicksilver. This is one that will come off the shelf, cold night or not, and put many miles on the ole VCR. Actually it is running right now as I write this. Pick one up from Doyle next time you see him or order from, Brentwood Music, Inc., One Maryland Farms, Suite 200, Brentwood, TN 37027. Doyle just got a standing ovation.
These and so many others that we just couldn't possibly review in this column would make great gifts for that bluegrass fan on your list. You might even consider getting advance tickets to a festival. Boy, now there's an idea. Anyhow, whatever you decide, decide to have a very pleasant, peaceful and safe holiday season. Merry Christmas and Happy New Year all good friends, readers and listeners.