October 1994 Articles
Cover Story
Mark Clark
Features
Henry C. Mayer
Henry C. Mayer
Darrell Elmore
Columns
Berk Bryant
Jim Galipeau
Mike Stout
Paul Moffett
Keith Clements
Todd Hildreth
Duncan Barlow
Henry C. Mayer
CD Reviews
Allen Howie
Robert Gruber
Mark Clark
Kory Wilcoxson
Jeff Walter
Mark Clark
Bob Mitchell
Mark Clark
John Goodin
Allen Howie
Jeff Walter
Mark Clark
Kory Wilcoxson
Kory Wilcoxson
Ray Rizzo
Kevin Gibson
Robert Gruber
Kory Wilcoxson
Robert Gruber
Performance Reviews
Matthews
Jean-Marie Ebel
Ninette Shorter
Paul Moffett
Mike Stout
Paul Moffett
Interviews
Mark Clark
Calendar
Bob Bahr
News Item
Earl Meyers
Book Review
Mike Stout
Errata
Photos
LASC
Jean Metcalfe
Michael Boehnlein
Bookmark Louisville Music News.net with these handy
social bookmarking tools:
Available RSS Feeds
- Top Picks
- Today's Music
- Editor's Blog
- Articles
Add Louisville Music News' RSS Feed to Your Yahoo!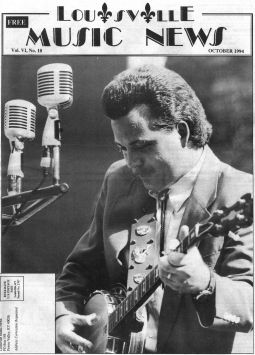 Gary Brewer
& the Kentucky Ramblers
Gary Brewer never chose to become a bluegrass musician. Bluegrass chose him.
As a teenager, when Brewer first began jamming with other neighborhood kids, he wanted to play rock 'n roll. Brewer assembled a band that played tunes by then-hot rockers like The Eagles and Boston at a Western High School talent show.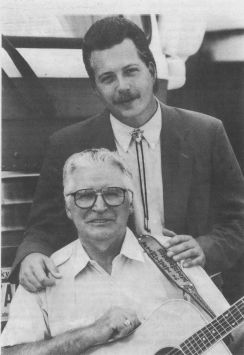 Gary Brewer, standing, and his father , Jim Brewer. Photo by Eddie Davis
Brewer knew bluegrass music. He has heard it time and time again during frequent visits to his grandfather, Finley "Pap" Brewer Sr.'s farm in Roan Mountain, Tenn. Gary Brewer's dad, Finley "Jim" Brewer Jr., often played bluegrass records in his Shively home. Both his dad and his grandfather were amateur bluegrass musicians.
"I was surrounded by music, bluegrass music, hillbilly music, old-time mountain music," Gary said. "As I was growing up, this sunk in my head."
Gary never realized how deep the music had sunk until he was run over by a car and hospitalized with a broken leg.
"I was laid up there for a while," he said. "While I was laying there in the hospital, in traction, my dad brought me a flat-top guitar. So I started thumping around on it, because I couldn't bring my electric. Before you know it, I was playing songs my dad always listened to. He always listend to bluegrass music – Bill Monroe, Flatt & Skruggs, the Stanley Bros. – around the house. I didn't know that I was even listening to it. It just burred up into my body after years of being exposed to it.
"After I got back up on my feet ... we went to some other boy's house to jam a little bit, strictly rock and roll. But there was a banjo there at this guy's house and a mandolin. Little did I know, some other friends of his had come over and they had been taking lessons on those instruments. And, of course, there was a flat-top guitar there. So we started playing a little bit – `Foggy Mountain Breakdown,' just standard bluegrass songs. We played there a few hours and then I went home. When I got home I said, `I'm gonna start me a band.'"
The band he started was Gary Brewer & The Kentucky Ramblers, and he's been playing with them ever since. The membership has changed over the years, but the sound has remained the same: traditional hillbilly music, played on all-acoustic instruments.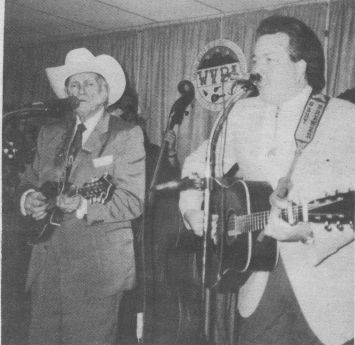 Bill Monroe, left, and Brewer during thei 1994 winter tour together. Photo by Jim Brewer
That sound has taken Gary and his appropriately named Ramblers to 38 U.S. States and, during a March tour, seven European countries. The group will tour Japan next year. He and his band play 300 dates per year, traveling in a customized bus owned by Gary and driven by his dad, a professional trucker. They sometimes perform as many as three shows per day for the city of Louisville, as part of the Mayor's Summer Scene and Winter Scene programs.
The band's biggest upcoing date is a performance at the International Bluegrass Music Association Awards WHEN??. Gary and the Ramblers showcased at the awards in 1988, just before signing with Copper Creek Records, and have been invited back every year since.
But when Gary Brewer was a kid, he had no idea that bluegrass music could take him anywhere except home to his family. "Bluegrass is where my heritage was," Gary said. "It was just my inner soul, I guess. My parents and my lifestyle all reflected country living."
And no place on earth was more country than Pap Brewer's Roan Mountain, Tenn., farm, where Brewer often spent his entire summer.
"Roan Mountain, Tenn., is the highest elevation in the eastern part of the U.S.," Gary said. "Until the mid-1980s, they didn't even get inside restrooms. It's country like the dictionary fact. As a boy, I was exposed to working with horses & mules. ... I spent a lot of time there. I would come back every sumer talking real long and hicky-sounding. All the girls and the guys would ask, `Man, where have you been?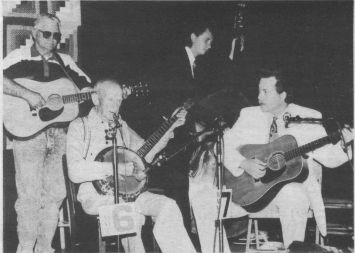 Three generations of Brewer musicians: from left, Jim Brewer, 'Pap' Brewer and Gary Brewer. 'Punch' Taylor plays bass during their appearance at the Appalshop Theater in June 1993. Photo by Starvin' Marvin
"When I came back here, it seemed like I was longing to go back down there. The air is clear and there's no pollution. And the water is just like this here," Gary says, picking up a bottle of water. "Kentucky Branch Water. It's a protected resource and a big deal now. But down there you just go out to your creek, that's where it comes from, right out of the mountainside down there. It's crystal clear. ... I really feel like I was from the country instead of being from right here in Louisville because I spent so much time down there."
But Gary's north Tennessee drawl wasn't the only thing that set him apart from other the other kids at Western. He came from a close-knit family with strong religious beliefs.
"I'd come back here and kids here would be partying & drinking & doping and I never did do any of that," he said. "The main thing that weaved into all of this is that when I was 13 years old, I got saved. (The Brewer family), we're all old-time Baptists. We're the old-time, foot-washing Baptists, as they used to say. That was the main part of my life. I met the Lord. That's what kept me out of all the beer joints and the dopin' and all that, see. So that really brought our family even closer."
Gary said that there is a strong spiritual element to his music.
"Bluegrass music has a real strong tie to gospel music, the original, Apalachan gospel music," he said. "All the boys in my band right now are all Christian boys. We do a lot of gospel music in my show. If we get our minds down right and the Lord comes by, it's just like being in church on stage. When the spirit comes by, it makes you feel good."
Over the years, Gary and his Ramblers – who nowadays include Ron Stewart, from Paoli, Ind., on banjo and fiddle; Bill Colwell, from Scottsburg, Ind., on mandolin; Dale "Punch" Taylor, from Murray, Ky., on standup bass; sometimes joined by and Brewer's father on guitar – have recorded 15 albums. (See discography, WHERE??). Since 1989, the group has been under contract with Copper Creek Records, a respected label among bluegrass aficianados.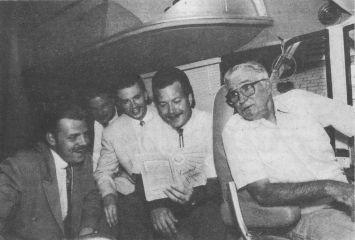 Brewer and the Ramblers pracitce gospel singing on their bus. From left, Ron Stewart, Bill Colwell, 'Punch' Taylor, Gary Brewer and Jim Brewer. Photo by Eddie Davis
In concert and in the studio, Gary's band is somewhat unusual (in the bluegrass world, at least) because it plays mostly orginals and few standards.
"We do about 90 percent original material that I've written over the years, but we still do old-time favorites everyone's heard of," he said. "We mix it up. We do everything from `Country Roads' to Elvis Presley, `Are You Lonesome Tonight,' but we do it in our fashion, our style. ... When I started my band, from Day One I started writing my own material."
Early on, Gary chose to steer away from standards because, he said, "it's hard to make it on somebody else's tune, somebody else's sound. You can only sing a song so many different ways and I feel like all of those ways have been done."
Gary Brewer usually writes his songs in a cluttered rec room in the basement, littered with CDs and cassettes and LP records. Its walls are adorned with old concert posters and photographs and lined with cases and cases of antique guitars, banjos and fiddles, which he collects.
Gary and his Ramblers recently completed two historic tours. One was a European tour, which featured stops in the Netherlands, Holland, Germany, Switzerland, England, Scotland and France. The band played 21 shows in 21 days, selling out venues from 200 to 3,500 seats. "They loved us," Gary said. "They treated us like Elvis." A double-live album from that tour is the band's next slated release.
This summer, the Ramblers were one of several acts that toured the U.S. with the legendary Bill Monroe, as part of a Grand Ole Opry spectacular. Gary said that playing on the same bill as Monroe, the Father of Bluegrass Music, "was a big highlight of my career," Gary said.
And, as if that weren't enough, Gary and Jim Brewer just finished hosting their third annual Strictly Bluegrass Festival, which was held this year at Iroquois Park. Gary Brewer pledges that the event, held on the second weekend in September, will continue every fall. The festival is the most prominent of Gary's efforts to promote bluegrass music. He is a tireless champion of the genre, ready to talk bluegrass with anybody willing to lend an ear. Bluegrass is often misunderstood, especially by young listeners, he says.
"If you were to go down to U of L and take a poll on bluegrass music, who has been introduced to it and who hasn't, the average person has heard it sometime or another, whether it's been the `Beverly Hillbillies' theme or whether it's in `Deliverence,' with songs like 'Duelin' Banjos.' But a lot of people don't give bluegrass a chance," Gary said. "I could go to any college, not because I'm special, but I'm talking about any good bluegrass band, could go into any college, anywhere and 90 percent of (the audience) will enjoy it because it's not going to be what they expect. We don't all dress like old men. We don't wear cowboy hats."
He said he understands that it can be difficult to accept music that is foreign to your background, but that it's worth the effort to expose yourself to as many different types of music as you can find. And he practices what he preaches. Brewer's CD collection includes country, rock, jazz and classical – everything from Boston to The Pretenders to Marty Stuart. But even he has limits. Ask him about rap sometime.
"Sure it's got a beat to it, but a lot of it doesn't make sense to me," said Gary, who is a notary public, a special deputy sheriff and a black belt in tae kwon do as well as a professional musician. "I've never really given rap music a chance because of the way that it sounds. That's the way all music is. You are from a certain stock & you like this type of music and if somebody comes alng with this you don't like it."
He said he likes bluegrass because "it's a real clean music. It doesn't have a lot of vulgar language & the majority of it is about real life. It's not just (about) being in the bar drinking. It's about real occurrences, things you can relate to. There's not a lot of that in music here in '94."
Gary said he finds little music he enjoys on today's country charts.
"Back in the '20s, '30s, '40s and '50s bluegrass music as we know it today was country music, or hillbilly music as it was known," he said. "Nowadays, most country music is like '50s or '60s rock.."
Worse yet, he says, today's superstars just sound too much alike. He predicts that few of them will survive to become industry legends.
"Is there gonna be another George Jones? Or another Conway Twitty? Another LIttle Jimmy Dickens? Or Roy Acuff? Is there ever going to be another Elvis? Sure, there are great singers (in country today), the radio's full of them, but are they all gonna fall in this same rut?"
What about today's country superstar, Garth Brooks, you might ask. After all, he's sold more albums than any other artist in any genre so far this decade.
"I really don't see stars or anything when I hear him sing," Gary said. "Of course, he might not care for me. I think he's a guy who came along at a good time. Evidently, the man's doing something right. But I don't forsee him being a George Jones or a Whispering Bill Anderson or a Porter Wagner, one of the industry's mainstays. In my opinion, he's already fallen off quite a bit. In my opinion, there's a lot of the new acts I just don't see being in for the long run."
On the other hand, Gary said that more and more people are warming up to rootsy music like bluegrass. He points to the popularity of the `MTV Unplugged' series as an offshoot of a return to no-nonsense music like bluegrass.
"I believe bluegrass is really on an upswing," he said. "A lot of these people are going back to the basics because the main fact is, no matter what you do – I don't care if you're cutting a tree or playing music – simpler is better."
Tags: