April 2018 Articles
Cover Story
Paul Moffett
Columns
Eddy Metal
Eddy Metal
Blogs
Got Shows?
Send Them To Us
Bookmark Louisville Music News.net with these handy
social bookmarking tools:
Available RSS Feeds
- Top Picks
- Today's Music
- Editor's Blog
- Articles
Add Louisville Music News' RSS Feed to Your Yahoo!

Issue: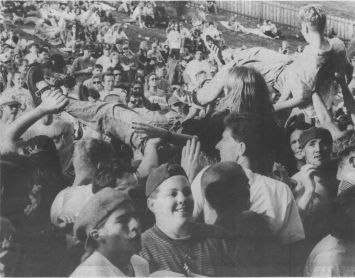 Moshing on the riverside
WQMF/WQNF Birthday Bash
Take a warm, sunny Labor Day eve, add seven musical groups, have them play from noon until night, make it a free concert for all comers and you have the biggest birthday party of the year. Such was Sept. 4 at the New Albany amphitheater, where radio station WQMF celebrated the first anniversary of its fledgling 'QMF II.
With Louisville's own Endpoint as one of the main attractions, other acts came in from as far as Kansas City and California to add this no-pay gig to their summer road tours. While only a few of the bands – namely Velvet Crush, Mexico 70 and MC 900 Ft. Jesus – can claim some national recognition, the entire day was filled with great sounds.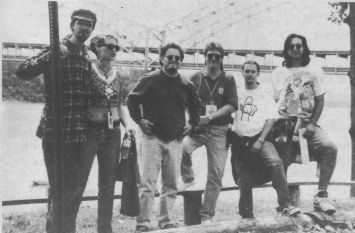 Over The Rhine, with 'QMF's Randy Starr, 4th from left, and Gabe Fiermosca, IRS Records, far right.
Fortunately the playbill included a variety of music – from the mellow-pop harmonies of show openers Over the Rhine and Velvet Crush, to the bone-crusher metal mixes of 311 and MC 900 Ft. Jesus. Unfortunately for some of the bands, Louisville's audience is very picky, leaving the first and last couple of acts without much of a crowd, but perhaps this was due to the nine-hour duration of the event.
Though their music was decent, the only band shown any semblance of a ho-hum attitude by the audience was the Iowa group Tripmaster Monkey. Of course Endpoint received the most enthusiastic response, being swamped and nearly smothered off stage by the massive surge of young male metal-heads. Estimates of attendance reached 3,000 as the levee-side swelled during the day, a decent gathering considering the holiday weekend.
The eclectic mix of music was reflected by a diversity of party-goers – old-timer hippies and the new young bohemi-ish, straight couples and some, well, strange ones, calm toe-tappers and calamitously moshing hormonally affected juveniles. All had a great time, and no serious injuries were reported.
The weather was perfect. The crowd was large. The music was very good. Add to this the outstanding technical program set up by the WQMF/WQNF stations, with live music sounding as good as any major concert event surely reverberating far across the Ohio. Congratulations to the 'QMF gang. A very successful day, report the folks from 'QMF. Louisville needs more open-air concerts like this.