March 2018 Articles
Columns
Paul Moffett
Eddy Metal
Eddy Metal
Blogs
Got Shows?
Send Them To Us
Bookmark Louisville Music News.net with these handy
social bookmarking tools:
Available RSS Feeds
- Top Picks
- Today's Music
- Editor's Blog
- Articles
Add Louisville Music News' RSS Feed to Your Yahoo!

Issue:


I've Got A Mind To Ramble
Last week I was making my monthly visit to ear X-tacy to check over the latest blues CD and cassette releases and noticed how the blues section keeps expanding. One of the main reasons is the proliferation of white musicians and bands that are now putting out blues recordings.
When I first came to Louisville the sources for blues LP records in the late '60s and early '70s was sparse, with often only a bin of LPs tucked away in the back corner of a record store. At that time there were just a few stores that stocked blues, such as Vine Records on Fourth St. and at Preston & Broadway. Pyramid Records, which was owned by Bob Nord and Lew White, was just starting out, and over they years they moved to several locations up and down Bardstown Rd. Rivertown Records was briefly in business at Sherwood and Bardstown Rd. These stores were the best local sources for blues besides flea markets, record shows, yard sales and consignment shops. To obtain the hard-to-get blues records required sending off to mail order businesses like Down Home Records, Jazz Record Mart, Rounder Records and bidding on auction lists.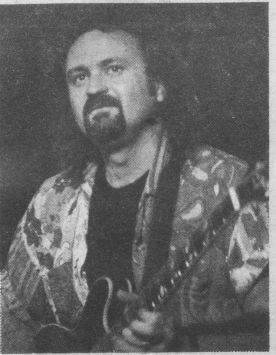 Tinsley Ellis. Photo by Keith Clements
The white blues musicians who were recording 20 to 25 years ago were Charlie Musselwhite, Mike Bloomfield, Paul Butterfield, John Hammond, John Mayall, Johnny Winter, Lonnie Mack and Roy Buchanan.
So what does all this mean? There has been a gradual racial shift in blues performers over the years, so now there are more diversified musicians for a wider audience.
This commentary is not meant to get into the white blues/black blues debate that has been going on in the recent issues of Blues Review and Living Blues. I feel expressing the blues is what John Lee Hooker sings in "Boogie Chillun": "I heard Papa tell Mama, let that boy (or girl) boogie woogie, it's in him (or her) and it's got to come out." The blues feeling should have no national or ethnic restraints.
What I am concerned about is the decreasing number of young contemporary black blues performers. This is both a local and national situation as evidenced by our amateur blues contests and the blues releases in our record stores.
•
Two Blues Styles
Those of you who attended the blues doubleheader of Tinsley Ellis and Gatemouth Brown at Jim Porter's on Sept. 1 saw an interesting contrast of guitar styles, from the blues rock of Tinsley to the swing, jazz, country and you-name-it styles of Gate.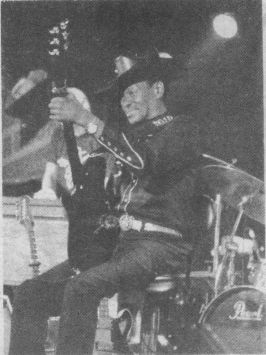 Gatemouth Brown. Photo by Keith Clements
I always enjoy Gate's performances, except for one pet peeve: He fiddles more with his pipe than with his viola. I'd much rather see him smoking with his string instruments.
Since I've written about both of these great performers this past year I'll let the pictures do the talking.
Speaking of pictures, the profile of the blues guitarist on the KYANA Blues Society logo is none other than Gatemouth. Check out page 328 of Larry Cohn's excellent book "Nothing But the Blues" and see for yourself.
•
Back to the Blues
This year's Garvin Gate Blues Festival is unofficially dubbed "Back to the Blues," as the past two years it had gotten a little side-tracked from the blues. But with headliners such as Chicago's Willie Kent and the Gents with veteran singer Bonnie Lee, and Mississippi's Jr. Kimbrough & the Soul Blues Boys, we are back on the blues express.
With the cooperation of the Garvin Gate Association and Ken Pyle at the Rudyard Kipling, the KYANA Blues Society is sponsoring a fundraiser for Henry Woodruff on Friday and Saturday nights. Henry was the first recipient of the Sylvester Weaver Award in 1989.
Henry and the Noisemakers played their own down-home style of blues at the Pleasure Inn for many years and later at other clubs such as Fat Cats, the original Cherokee Blues Club, Gators and the Rudyard. A stroke slowed him in 1990 and he hasn't played for the last four years.
Henry is between operations to open up his arteries to reduce the risk of future strokes and is having a hard time making ends meet. So after the music stops outside come on inside the Rudyard Kipling and, for just a$2 cover for a good cause, hear Dennis Ervin and his band please the crowd.
7th Annual
Garvin Gate Blues Festival
Garvin Pl. & Oak St.
Friday, Oct. 7
6:30-7:15MR2 Blue
7:45-8:30Robbie Bartlett & Co.
9:00-9:50 &Jr. Kimbrough &
10:10-11:00the Soul Blues Boys
Saturday, Oct. 8
3:30-4:15Dennis Ervin Band
4:45-5:30Fred Murphy & B.B. Taylor Blues Review
6:00-7:00Curtis & the Kicks
7:30-8:45Foree Wells & the Walnut Street Blues Band
9:15-11:00Willie Kent & the Gents with Bonnie Lee
Sunday, Oct. 9
1:00-1:45Rusty Spoon Blues Band with Tanita Gaines
2:15-3:00Metro Blues All-Stars
3:30-4:30Cincinnati Blues All-Stars
4:45-6:00Mudcat Blues Band
Inside Rudyard Kipling
Friday & Saturday, Oct. 7-8
Benefit for Henry Woodruff
11:00 p.m.-1:30 a.m.The Dennis Ervin Band
Sylvester Weaver Award is to be presented on Saturday