November 2012 Articles
Cover Story
Kevin Gibson
Features
Eddy Metal
Columns
Berk Bryant
Mike Stout
Paul Moffett
Djinn Shockley
Gary Sampson
Martin Z. Kasdan Jr.
Eddy Metal
Bookmark Louisville Music News.net with these handy
social bookmarking tools:
Available RSS Feeds
- Top Picks
- Today's Music
- Editor's Blog
- Articles
Add Louisville Music News' RSS Feed to Your Yahoo!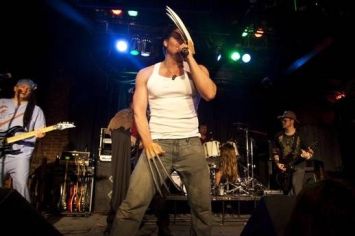 Clay Cook
Name:Chuck Weber
Age: 34
Instrument: Vocalist
Band/Former Bands: Scary Uncle….and Scary Uncle
How long on instrument: I've been singing on stage since about 2006 give or take a year. Probably didn't start taking it seriously like I do now until about 20. Scary Uncle started to get some consistent booking at places, and I felt it was time to invest in developing some pitch and control. I should have got the lessons first, but I am cheap like that. It helped me get an idea of what I should/need to be doing. Still working on that by the way.
Equipment: I use a wireless Shure sm58 for most shows, mostly for safety reasons. I tend to step and trip over chords, and I like to move around on stage. I also use two mics from a company I found on the internet call Mutant Mics. They put a 58 beta into each of them with some LED lights and paint designs. They're pretty unique. I have affectionately names them Creepy Green Light for a Type O Negative tribute, and I call the other The Grand Galactic Inquisitor, since it looks like the character from The Venture Brothers "IGNORE ME!!" I think sound people prefer the wireless because the mutant mics can be pretty bright and give a lot of feedback sometimes, and which point I become very angry, and have the sound person fired ASAP
Influences: Try to be short with this one : My biggest influence is probably Mike Patton. I really like his versatility and crazy noises. There isn't a whole lot vocally he can't do in my opinion. Plus he is a goofy-nut on stage. Because I play in a cover band, I have to be flexible, so Patton is a good example I like to follow. But I grew up on Phil Anselmo, Zach De La Rocha, Peter Steele, Scott Weiland, Layne Staley, Glen Danzig, White Zombie, Robert Smith, James Maynard Keenan, Paradise Lost, but I also really dig on the singer in the bands Karnivool, Dead Letter Circus and Muse. Stevie Nicks, Ann Wilson are my top influences with the ladies. Sorry, I was not short with this one.
My first gig: The Farm (Boonedocks) in Shepherdsville. Oh Boy! Miss that place actually. We were really lucky those guys over there let us play without a decent demo or any following at all. Because I sucked really bad in those days. We barely had a set list.
Hobbies: Basketball, got the best jump shot in the local music scene. Which means nothing by the way, but it makes me laugh everytime I say it. But it's true! I also like to hit the gym as often as I can, if I do that 4-6 days a week I tend to feel pretty good about myself. A new hobby I guess I have now is fixing up our house so we can sell it.
Favorite movies: Braveheart has to be first. Anytime that movie comes on, I have to watch it. I will also watch just about anything Christopher Nolan put his name on. I like method actors who just seem to transform themselves with each role, so I am into those type of movies. American Psycho, Batman Movies, Godfather I & II, The Avengers, Star Wars, most of Will Farrell's movies too. Al Pacino, Daniel Day Lewis are some others I always watch. Also anything Trey Parker and Matt Stone put out, I am there.
Favorite food: Grilled chicken, crab, steak
Favorite place: Home is good enough for me. I am always on the go, so when I come home and put everything down, it feels pretty good.
Favorite sports or team: Kentucky Basketball is the only sports team I follow loyally. Everything else I am very much a fair-weather fan. Like my NBA and fantasy football. Also love a great boxing match, but those are few and far between in today's world so I settle for MMA
What I'm listening to nowadays: My personal playlist is very schitzo, and I like everything but country music. I guess as I get older it becomes harder for a piece of music to keep my attention for very long, so I tend to be all over the place with my interests. I will say I do prefer it on the HEAVY side. Right now I have everything from Mumford and Sons to Fair to Midland to Dream Theater to Slipknot and Slayer. Also right now I am jamming on a lot of early 90s metal. Old Sepultura, Pantera, that sort of thing. But Muse is probably my favorite current band right now. I will see their concert next time.
Coolest thing I've done: Two things. One is recording a cover of Led Zeppelin's "Thank You" for my wedding. The wife loved it. Also getting my two cousins tickets to see Justin Bieber and meet him before the show. Had some help for that one, Thanks again KB!!!
Most embarrassing moment: Anytime my wife walks in on me with severe shrinkage. I simply like to bring my A-game everytime. And I just hate getting caught with the pants down.
Bad Habits: Eating junk food on Sundays. The lack of sleep from playing the night before makes me too lazy to cook for myself. I tend to hit up Roosters or get some Taco Bell. Ice Cream and doughnuts are a delicious weakness of mine also.
When/where did you first get some: I wasn't looking for trouble, but, boy, I found her.
If you could meet a Rockstar (past or present), who would it be, and why: I really am not interested in meeting a "rock star," but wouldn't it be great to see one more show with all original members of Alice in Chains (Layne), Pantera (Dime) and Type O Negative (Peter)? Give me a bottle of Turkey with Coke and put me and my friends on the side of the stage, Yeah, I could do that for a night.
Who do you love: Love my wife. She is #. Also love the guys in my band. They make this music thing so easy to deal with. Again I thank them for helping me have a creative outlet. I wouldn't be singing right now if they weren't so easy to work with. I love playing a packed room that's rowdy and into it. Don't always get that, but when it happens it's the best feeling a performer can have.