November 2012 Articles
Cover Story
Kevin Gibson
Features
Eddy Metal
Columns
Berk Bryant
Mike Stout
Paul Moffett
Djinn Shockley
Gary Sampson
Martin Z. Kasdan Jr.
Eddy Metal
Bookmark Louisville Music News.net with these handy
social bookmarking tools:
Available RSS Feeds
- Top Picks
- Today's Music
- Editor's Blog
- Articles
Add Louisville Music News' RSS Feed to Your Yahoo!


Cowboy Corner
Hometown Boy J.D. Shelburne Releases Debut CD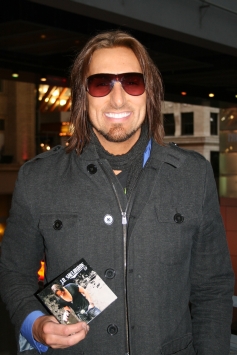 Chuck Weber
Last month, Louisville Music News had the opportunity to catch up with Taylorsville, Kentucky native J.D. Shelburne the night prior to his hometown concert and release party for his debut self-titled CD. The independently released EP, on which Shelburne wrote or co-wrote five of the six cuts, includes his debut single, "Farmboy," which is gaining radio airplay each week. The single's video was filmed on the Shelburne family farm in Taylorsville and even features University of Kentucky head football coach Joker Phillips on bass guitar.
Focusing on sports all throughout high school, it wasn't until the summer between Shelburne's freshman and sophomore years at UK that he picked up an uncle's guitar he found in his grandmother's house when sorting through her belongings following her passing. He says, "I took it back to school and in-between classes, I was [learning] chords, my favorite songs, Garth, Billy Ray Cyrus, anything I could learn that I liked on the radio that was current, [like] Keith Urban. I was learning and trying to figure out my fingers. Anytime I had a free minute in-between classes, I picked up the guitar." After graduating from UK in 2007 with a degree in telecommunications, Shelburne moved to Nashville in February 2008 to pursue his country music dream.
In his early days, Shelburne recorded a few cover songs, but his real dream was to learn to write his own music, portraying his own experiences to the listeners. "I wanted to learn how to write songs the right way, with hooks. I lived the country life – I was living in the country, I went to church, I played sports, I drove around in a truck at 16 — everything your average farm boy, country boy, would do, I was doing, so I was like, 'Man, I got to write about this.' I was going to these concerts and these artists are singing about doing these things, and I was like, 'I'm doing the same things Jason Aldean did when he started, I gotta learn how to write that.'" And that's exactly what Shelburne has done on this CD – he honed his songwriting craft with Bob Stewart, who co-wrote four songs on the album. Grammy-nominated producer Greg Cole helped bring Shelburne's down-home experiences of family, faith, and farm living to life on this CD which is highlighted by "Something Bout a Smalltown" and "Summer."
Although this disc is not as rock-orietned as when he performs live, it has a more laid-back, honest, relate-able feel. He says, "I'm writing about small town, I'm writing about my life. It's not all about rock, it's more like steel guitar and fiddle. It's contemporary country for sure – 'Farmboy' is kinda southern rock, but 'Smalltown Star' is kinda the more laid back…The record, I'm proud of it."
Shelburne is using this disc as a launching pad for what he hopes to be a long, successful career in country music, with his sights set on the ultimate country music pinnacle, the Grand Ole Opry. He continued, "This EP is what I'm hoping to knock down some doors with. The next step is a record deal – I've had a couple offers – I haven't really went after what I wanted yet because I haven't really had that handful of songs that I can say, 'Hey, this is the best set of songs I've got, check it out.'" Included in this set of songs is Shelburne's next single, the very personal "Grandma & Garth," which will be released to radio on November 5.
Rush to iTunes or www.jdshelburne.com today to purchase a copy of J.D. Shelburne. You'll definitely relate to Shelburne's brand of country music – you'll feel at home.
Reminder: CMA Awards November 1
Don't forget that the 46th Annual Country Music Association Awards will be handed out in Nashville on November 1. Eric Church is the most-nominated artist this year, having received five nods. He will compete for Male Vocalist of the Year, Album of the Year for Chief, and Single, Song, and Music Video of the Year for "Springsteen." Blake Shelton and bride Miranda Lambert each received four nominations.
The awards show, which will air live on ABC-Television, will include performances by Jason Aldean, The Band Perry, Dierks Bentley, Luke Bryan, Kenny Chesney, Eric Church, Kelly Clarkson, Eli Young Band, Brantley Gilbert, Lady Antebellum, Little Big Town, Brad Paisley, Blake Shelton, Taylor Swift, Carrie Underwood, and Zac Brown Band. Paisley and Underwood will host the awards ceremony for the fifth consecutive year.
Bryan & Underwood Top AMA Country Nominees
When the 40th Anniversary American Music Awards nominations were recently announced, Luke Bryan and Carrie Underwood topped the list of country nominees with two each. Bryan will vie for Favorite Male Artist – Country and Underwood will vie for Favorite Female Artist – Country, while each are in the running for Favorite Album – Country.
And the nominees are: Favorite Female Artist – Country: Miranda Lambert, Taylor Swift, and Carrie Underwood; Favorite Male Artist – Country: Jason Aldean, Luke Bryan, and Eric Church; Favorite Band, Duo, or Group – Country: Lady Antebellum, Rascal Flatts, and Zac Brown Band; and Favorite Album – Country: Luke Bryan's Tailgates & Tanlines, Lionel Richie's Tuskegee, and Carrie Underwood's Blown Away.
Winners for this year's AMA's will be chosen via online voting. Log onto amavote.com for all the details on how you can vote for your favorite country artists. The winners will be revealed during a ceremony at the NOKIA Theatre in Los Angeles on Sunday, November 18 and will air live on ABC-Television.
Vince Gill Wins Big at ICM Faith, Family & Country Awards
When the 18th Annual ICM Faith, Family & Country Awards were handed out last month at Nashville's Schermerhorn Symphony Center, Vince Gill was the big winner, taking home two trophies. He was named Mainstream Country Artist and his "Threaten Me with Heaven" was named Mainstream Inspirational Country Song of the Year. In addition, Joyful Noise, which stars country legend Dolly Parton and Queen Latifah, was named Faith, Family & Country Movie of the Year.
Congratulations, Vince & Dolly!
Country Kisses: The Good & Bad
Country music has had some good kissing news recently, and unfortunately some bad. Bad news first — in late September, photos of Jason Aldean kissing someone besides his wife appeared on the TMZ celebrity gossip website. Aldean was flirting with former American Idol contestant Brittany Kerr at a Hollywood bar called The Den. He addressed the situation by posting the following message on his official Facebook page on September 30: "Hey Guys – I wanted to talk to you directly, so you were hearing the truth from me and not just reading allegations made about my personal life on gossip web sites. The truth is that I screwed up. I had too much to drink, let the party get out of hand and acted inappropriately at a bar. I left alone, caught the bus to our next show and that's the end of the story. I ultimately ended up embarrassing my family and myself. I'm not perfect, and I'm sorry for disappointing you guys. I really appreciate being able to work through this privately with my family and for all your continued support." Aldean and his wife, Jessica Ussery, were high school sweethearts, have been married since August 4, 2001 and have two daughters, 9-year-old Keely and 5-year-old Kendyl. A couple weeks following this post, Aldean said, "The main thing is that me and my family are OK, and everything's good there. So I think it's been a tough deal. But I kind of said what I needed to say to [my wife and daughters] and, hopefully, they understand that. And the rest of it will be us dealing with it in private and trying to fix it."
Carrie Underwood made national headlines when her "Blown Away Tour" made a stop at Louisville's own KFC Yum! Center on September 22, but it wasn't for the phenomenal performance she offered the fans. Nope, a video of Underwood making a 12-year-old boy's dreams come true has been posted on YouTube and has gone viral. Fan Chase Kurnick was near the stage during Underwood's concert and held up a homemade sign stating, "Carrie Be My 1st Kiss," which caught the singer's attention. She warned fans that if this moment was going to wind up on YouTube, to get ready because this had never happened before and will never happen again when she called Chase onstage and fulfilled his dream. She stated that her first kiss was when she was 14-years-old and warned Chase to beware of her husband, professional hockey player Mike Fisher, who was backstage. When she asked Chase how he thought they should kiss, he immediately stated, "Lip to lip," and the crowd roared. Underwood instructed Chase to close his eyes and the two proceeded to kiss "lip to lip." Chase's fame landed him and his parents a trip to NYC the following week for him to appear on the Today show, stating that he had brushed his teeth since the monumental kiss, but had not washed his lips.
Grand Ole Opry News: Loretta Lynn & Darius Rucker
Butcher Hollow, Kentucky's favorite "Coal Miner's Daughter," Loretta Lynn, celebrated her 50th anniversary as a member of the Grand Ole Opry on September 25. To mark this momentous occasion, Lynn was joined by her sister, long-locked country-pop songstress Crystal Gayle, Miranda Lambert and the Pistol Annies, Lee Ann Womack, and Trace Adkins. During a press conference prior to the special Opry celebration, Lynn recalled her first visit to the Opry: "Me and my husband got in town the night before. We spent the night in the car out in front of the old Grand Ole Opry. Of course, we didn't have any money. The next morning, we divided a doughnut and ate the doughnut and took pictures of the Grand Ole Opry. Naturally, I got my picture made in front of it." Lynn went on to release her first single, "I'm a Honky Tonk Girl," in 1960, which she sang during her first performance on the Opry stage. She became an official member of the Opry on September 25, 1962.
On Tuesday night, October 2, during Darius Rucker's performance on the Grand Ole Opry, Opry member Brad Paisley surprised his buddy from the audience with a special invitation to become the newest member of the honored organization. Fast-forward two weeks to October 16 and another Opry member, Vince Gill, formally welcomed Rucker into the Opry family by presenting him the Opry Member Award which consists of a bronze replica of the famed Opry microphone stand sitting atop a wood base made from the floor from the Opry's famed former home, the Ryman Auditorium. Upon receiving the honor and a standing ovation, Rucker tearfully stated, "Thank you very much. I was sitting in here at rehearsals today, and there was nobody in here, and I looked up in the stands. I thought to myself, 'Somewhere in those stands right now my mom is looking at me.' And it just blew me away to be here today. This means more to me than I could ever say to you." Following his acceptance, Keith Urban sent a congratulatory video to Rucker from Las Vegas, only to make a live surprise visit to come out and hug his new fellow Opry member.
Congratulations, Loretta and Darius!
"The Cowboy" Preparing to Ride Away
During a September 26 press conference at downtown Nashville's Country Music Hall of Fame & Museum, "The Cowboy" himself, 60-year-old George Strait, announced that he plans to retire from touring following his upcoming final tour, "The Cowboy Rides Away Tour," which will wrap up in 2014. He said, "It's been a hard decision for me to make, but as far as the touring goes, I've decided that I'm not going to tour anymore after these next two years. And don't think I'm retiring, because I'm not. I'm still going to make records…I'm gonna write. And if after two years, when I've quit touring, if a special event happens to come up somewhere that I want to do, by all means, I'm gonna do it. So, I'm not saying that after the tour is over, it's going to be the last time I'm ever going to be onstage singing with my band. I hope I still have a lot of those left in me. But as far as a structured tour goes, after the last date in 2014, that's going to be it for touring."
"The Cowboy Rides Away Tour" will kick off on January 18 in Lubbock, Texas and the first leg of the tour will run through June 1 in San Antonio, Texas. Although no Louisville date has been announced, Strait will play in Lexington on March 2. In the meantime, Strait began recording a new album last month in Nashville.
Country Nuptials
Love has definitely been in the air as there has been a trio of marriages in the country music family recently. Edens Edge's lead singer Hannah Blaylock tied the knot with Justin Wakefield at Pratt Place Barn & Inn in Fayetteville, Arkansas on September 30. The happy couple exchanged personally-written vows under a big white oak tree in the presence of family and friends. Blaylock said, "We pride ourselves on where we come from, and we have a huge group of family and friends there that have been the foundation of our faith and our beliefs and our songs and our music. They have supported us from day one. I wanted to get married back at home with all of those people."
"Something to Do With My Hands" singer Thomas Rhett wed Lauren Gregory on October 12. The two have known each other since they were youngsters in the first grade, but Rhett claims, "I don't think she really noticed me 'til we were 16." The happy couple was engaged last December when Rhett took Gregory to her favorite Nashville restaurant, Giovanni's, and he popped the question by writing "Marry me?" on a wine bottle with a silver Sharpie. She picked up the Sharpie and wrote, "Well, duh, yes."
Big Vinny, a member of The Trailer Choir and a former contestant on NBC's The Biggest Loser weight-loss competition show, has said, "I do." He proposed to longtime girlfriend Lori Diaz on the stage of the famed Grand Ole Opry while competing on The Biggest Loser and the couple wed in an intimate ceremony last month. The gushing groom announced the wedding on his Facebook page when he posted a photo of his bride and wrote: "I used to wonder what love looked like. Then I married this girl and now I know."
Congratulations to all the happy couples!
Well, that's it for this month. I'd like to take this opportunity to wish you and your family the happiest of Thanksgivings and hope we all take the time to give thanks for all our many blessings. Always remember: "Keep your boots shined up and your hat on straight, 'cause country music is comin' your way."