November 2012 Articles
Cover Story
Kevin Gibson
Features
Eddy Metal
Columns
Berk Bryant
Mike Stout
Paul Moffett
Djinn Shockley
Gary Sampson
Martin Z. Kasdan Jr.
Eddy Metal
Blogs
Got Shows?
Send Them To Us
Bookmark Louisville Music News.net with these handy
social bookmarking tools:
Available RSS Feeds
- Top Picks
- Today's Music
- Editor's Blog
- Articles
Add Louisville Music News' RSS Feed to Your Yahoo!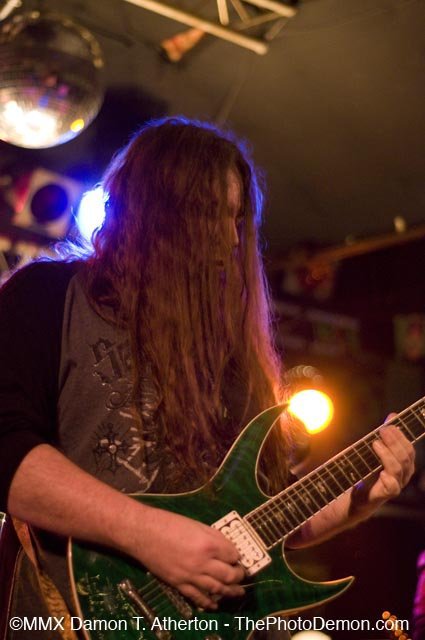 News From the Pit
What's up, peeps! It's been a crazy time for me lately, as I have been busy as heck with my several jobs, playing in my two original bands and, last but not least, getting the Annual Rock For Kosair Benefit ready for its big night on November 16 at Phoenix Hill Tavern. Man, putting on a show like this is a lot of work. Most people don't realize how much planning goes into something like this. This year is going to be a little different. We got some cool cover bands playing, and one of them is going to do a Pantera set! That's very rare.
I've prepared a little RFKVIII Overview so you'll know just what is in store for you who want to come out and support the cause of getting toys to underprivileged children at Kosair Charities just in time for Christmas. And don't forget, as well as the region's best rock bands, we will have some killer giveaways for you folks! So don't miss out.
(See Overview Below in The Metal Grapevine)
Some cool stuff in the local scene is afoot! One of the city's most charismatic rockers is getting into politics! This is a trip. See below for more info!
We got a few wicked concerts coming up if you are into the brutal stuff. It's gonna be a metal Christmas, it seems, with Lamb Of God, Hatebreed, Deicide, Cannibal Corpse, Six Feet Under, HedPE, Cattle Decapitation, and a slew of local shows as well on the schedule.
Don't forget, bands, you have to send in your show dates to me so I can print them for you in my column. I cannot print what I do not know! So try to have all your info/dates/news to me no later than the 19th of every month for the following month's issue. Send to eddymetal1@aol.com
And other big news, Flaw is back and they have a new singer. Guess who it is? See that below in The Metal Grapevine as well, where gossip, yakking, bad jokes and outright lies (just kidding) converge into one big maelstrom of entertaining bulls**t.
The Metal Grapevine
ZZ Top Review and Pics at The Louisville Palace:
This was a show that people of all ages could get into. I've always liked the band, and I wasn't really sure of what to expect by this concert, but I felt it was my duty to cover this event and see what's new with the mighty Texans in ZZ Top, so I ventured out to Louisville's number one venue, The Louisville Palace, to see some legends in concert.
First off, I would like to thank the staff of The Louisville Palace for their kindness and the respect they have shown to us here at LMN in the past, to present day. It is a pleasure to work with such professional and all-around good people. And the classiness and sound quality of Louisville Palace is unmatched!!!
I knew there would be a lot of older folks in attendance and that's fine by me, as rockin' has no age limit. However, instead of seeing old fogeys slow-poking up and down the aisles with canes, I saw instead cool older folk who thrived with a new found energy and spunk. These folk loved a good time and they weren't afraid to show it. Actually I saw people of all ages in the crowd, even a few kids, and all were dancing, swinging and getting' down to the boogie woogie of ZZ. And all had big smiles on their faces.
The band came out with a very simple setup, no tricks or gimmicks except a few big screen TVs that played random bits of ZZ Top memorabilia and stuff that the band digs. It was just three dudes doing what they love to do. They just came out and gave the fans a no-nonsense rock show.
The band played "I Thank You," "Waitin' For The Bus," "Jesus Just Left Chicago" – which sounded great – and one of their heavier and more intense riffing, a tune off of Fandango called "Heard It On The X."
Then guitarist/vocalist Billy Gibbons says they are going to play a brand-new song called "I Gotsta Get Paid" off of their new album, La Futura. which I think is their best stuff in decades! As I expected, Billy Gibbons was a bad-to-bone guitar picker as he played the hell out of his Telecaster (w/Zebra pickguard) during the new song. The new tune is a very cool bluesy riff that speaks more of the old days of ZZ Top, if I may say so. Billy Gibbons' guitar work is the main reason I wanted to cover ZZ. And on top of playing some tasty soulful riffs all night long, the guy sings his heart out as well. He has a great raspy, down-home grungy vocal style, and he didn't miss a beat. This is a man truly before his time.
Next up was their huge hit "Gimme All Your Lovin" off of the highly successful Eliminator album. You remember! The video where super-hot chicks are all piled into the 1933 Ford Coupe named "Eliminator"? I believe it was one of their first hits on the new miracle music channel known as MTV. Billy then says "Here's the part where we do some good ole fashion blues," and they lit into "Vincent Price Blues," a blues riff that sounds like every other blues riff in history, but more rockin', of course! Nasty, dirty, ZZ Top style! One of the things I love about ZZ is that guitarist Billy Gibbons' guitar sound was that it was so clear, gritty and completely unhindered by effects, processors, pedals. It was the ultimate blues rock tone! So many guitarists use effects these days, it's ridiculous. Billy must be one of the last of a dying breed of rock guitarist who go through a whole set with no guitar effects.
Amazing. The screens kept showing signs that say Basic Amplification, so I'm taking that to be a brand of Amp, or possibly a shout-out that "they don't use effects!" Ha. Cool.
"My Head's In Mississippi" sounded great. Then another old heavier tune, called "Beer Drinkers and Hellraisers" during which the words to "Beer Drinkers and Hellraisers" appeared on the giant TV screens and people sang along with the song. And another new tune off of La Futura, entitled "Chartreuse," that is still another tribute to the old style ZZ Top adopted in their youth. Great lead work! Like a fine wine, Billy just gets better with age. Then they played two hits back to back with their infamous white fur guitars, "Sharp Dressed Man" and "Legs." Good rock 'n' roll fun. The crowd ate it up. I myself couldn't help but smile, even though I had had a crappy day all that day and I was dead tired from a long day at work. ZZ Top had made my day! I was having a blast.
Bassist Dusty Hill had one fine bass tone going on, too. His backup vocals and bass riffing were sounding great! Dusty may not be a showoff/technical musician, but he is rock-solid, never misses a beat and lays down a blues bass wall that is as sturdy as can be.
Drummer Frank Beard looked like he could fall asleep behind the drums. Not that he is boring at all, it's just that he has been back there for 40 years and makes drumming for ZZ Top look like the easiest job on the planet. Once again, nothing too fancy or technical, just straight forward rock n' roll. His drum set was a way cool expensive custom set. I thought I saw Harley Davidson emblems on them, and I saw some skulls and hot women on the drums, and other cool stuff on the drums as well, even steel mini-kegs of beer attached to the drums!
The band wrapped up the show with three excellent songs. One song I requested for my GF on the radio once, to her dismay and embarrassment. It was "Tube Snake Boogie"! And one of my favorites, "La Grange," off of the 1973 Tres Hombres album, complete with all the low-voiced "How How How How's"! His voice sounded just like the record to me. And as a longtime music critic who probably holds the record for most rock/metal shows attended in the state of Kentucky, that is what I look for in seeing bands live in action. Do they hold up to the albums they produce? The answer is simple for these ageless classic rockers. YES! That and more.
The last song of the night was ''Tush." Another of my faves. This song just plain rocks. If you don't like this song then something is wrong with you. The attitude, the gritty folksy slide/leadwork by Gibbons really gets your rump moving.
If there was one bummer of the whole night, it was when I went to find my seat after I took these killer pictures, only to find out that some very large woman and her boyfriend had taken my seat. So I politely said "Excuse me mam, but you are in my seat." Her boyfriend looks at me and sneers "Really? Can't you just stand where you are!" All rude like! The guy's extremely rude tone hit me the totally wrong way and I was struggling to keep my cool. So they start mouthing off about me and having to move, and give me really dirty looks, so finally I just flip the guy off. These people were in every one's way, and the big chick was flapping her huge meat curtains arms around while jamming, knocking peoples drinks out of their hands and making pretty much everyone angry, especially some poor sap that had the misfortune of having her next to him now! I tried to be polite and civil, but some people won't have any of that.
Then at the end of the concert, they had the nerve to say to me and the guy next to me, (the guy who got bruised and beat by her chunky arms flailing around.) that we were the worst people they had ever sat next to at a concert ever. Unreal. I almost took a picture of this hostile heifer for you folks to see, but my boss probably wouldn't have let me print it anyways. Thank god I have an editor. Anyways, I hope you like the cool pics I took of ZZ Top.
ROCKFORKOSAIRVIII Overview 2012, Let's Help The Kosair Kids Have A Better Christmas:
On Friday, November 16 at Phoenix Hill Tavern, it's the Annual Rock For Kosair Benefit concert, which raises money for Christmas toys for the children at Kosair Charities. There will be 15 bands on three stages, our infamous Guitar Giveaways (three guitars!), and also we'll be giving away some electronics like iPods, and also two free Tattoo Certificates. This should be BLAST like it is every year. This show starts at 7:30pm sharp! I want all of you to know that in the eight years (counting this year) that I've been putting on this event, we, the bands, and you awesome folks, have raised over thirty-four thousand dollars worth of Toys! That is about 98 full-sized shopping carts fully loaded with toys. The Kosair Charities people are thrilled by our annual donation, and they have been great every year! I haveten a lot of praise over the years for coming up with this idea, and yes, it is a good idea, but, let's get this perfectly straight. I could not have done this without these awesome bands that contribute their time out of their very busy lives every year. They don't make a dime, and they love the cause, so I couldn't be happier. And I also could not do this without my helpers and sponsors! I cannot run three stages so I need help running the event and keeping it on schedule. This year Challon Holt, Jeannette Lively, James Boaz, Bobby Moser and Allen Ashbaugh will be helping me. Victoria George is the awesome lady who made the event flyer. Thanks, guys!
GIVEAWAYS!!! Let's talk about the benefits of supporting this benefit. Of course, it's a great cause! But I made it to where you have another great reason to come besides the awesome music, party atmosphere and noble cause – The Giveaways!!! These are famous now.
Every year I get at least three local music stores to donate a guitar to giveaway to the fans who support this show!
This year we have Uncle Sams Jamms music store, a store which has donated every single year! Thank you, Pam and Jeff Hillerich. And Manager John Brian (a super cool guy) at Willis Music in the Jefferson Mall is donating a guitar for the second year. And my good buddy Rick Borowick, who owns B-Mart (a rad store that has everything – tobacco accessories, tattoo equip, sex toys, candles, incense, guitars, amps, electronics), has donated a badass Schecter Synyster Gates guitar. He let me bring it home for a month so I could jam on it until the show, and this is one cool guitar! Hot Seymour Duncan Pickups, Floyd Rose trim, flashy inlay, nice punchy sound. This is going to make someone very happy.
And we have two Free Tattoo Certificates to give away from Tatu Jefferson Mall and some electronics from our new buddies at Detoxify Brand who so graciously have donated an iPod Touch, an iPod Nano and an iPod Shuffle to giveaway. So you see, there are several reasons to come support this event.
TIP: For a chance to win, you will have to show up early to get a free drawing ticket w/paid admission (while they last). These go fast, so don't miss out by showing up late. Jefferson TARC Bus will be starting at 8 p.m. sharp!!! So come early.
Introducing the 2012 Rock For Kosair bands.
This is going to be fun. I haven't done this before!
JEFFERSON TARC BUS – probably the top party rock cover band in town, these guys have been around forever and a day and have pretty much conquered with their brand of all-out rock 'n' roll good times, nailing hits from classic rock to modern rock and country. The guys have character, too; they reek of confidence and they have mucho stage presence. They rock. Lot's of girls like to attend their shows, and the guys follow the girls, so it works out rather well for all. I would like to point out that TARC Bus bassist Dave Moody has played/helped and been a big help to Rock For Kosair several times in the past. These guys have a gig that night, meaning that they will be playing early, so don't miss their 8 p.m. performance!
SCARY UNCLE "A Special Treat" – I love these guys! One of my favorite Louisville cover bands! I've known the drummer Danny Murphy (who is a beast on drums) since I was 13 or 14. And these guys sound friggin' awesome. They play a wide range of rock/metal and even older harder stuff to sing like Guns N' Roses, which a lot of cover bands wont even attempt to try to sing. Singer Chuck Weber can hit killer notes like that too, so it makes for an interesting a different show. Guitarist Adam Young is one rockin' axeman, too. These guys have an edgier sound, sometimes even dark, hence the name Scary Uncle. I'm anxious to hear the set of Pantera songs they intend to play that night:
SIGNAL THE REVOLUTION – one of the top rock bands in Louisville these days. This original band has all the goods and is making some noise, stirring things up a bit, and with new guitarist Chris Marple in the band, it is way better now! I saw them open for Powerman5000 and was very impressed. They've been working hard and you can tell. They are supposedly going to record with Producer Toby Wright, who has worked with Korn, Mettallica, Alice In Chains and Sevendust. See these guys before they blow up.
GRINDSTONE – Another one of the top cover bands around these parts. These guys are another party band that people just love to see in action. They do a wide array of covers that aim to please, and always seem to land some darn good shows here and there. Drummer Kevin Davidson used to be in 13th Level with me, so I'm telling you, he is a bad mofo on the skins, and everyone knows guitarist Andrew McCallister and charismatic singer Rob Maupin. Grindstone has the goods to put on a great show wherever they wind up.
UNLEASHED – This is the band that blew away the crowd at my showcase a few months back. This is a band of very young people between the ages of 13 and 18, and their skills will downright astound you. They play covers and originals and do so with superior confidence and musicianship. It blows me away seeing these young kids play soooo well. Great vocals, great guitar playing, great drumming, and it puts a big smile on my face watching the faces of the adults and people who have never seen them before seeing them play for the first time. It's a look of total awe. I usually don't book such young bands, but this band is a Louisville act that you must see, so that is why I have added them onto this bill, so you, too, can be blown away. Don't miss these rockin' youngsters.
THUNDER TRIBE – Hailing from Central Kentucky, this cover band of Eighties rockers is awesome. Vocalist Michael Duncan (formerly with Lexington's Pownd) is one of the top vocalists in the state. He has a very high vocal range and plenty of power to boot. It's a pleasure to see the guy let loose and wail. Unfortunately, the band hasn't had too much exposure in Louisville for some reason, but when I saw them several months back, I was very impressed with this new cover band, so I decided that Louisville needs to see some Thunder Tribe in action. They play some cool stuff too, so you should be quite entertained. You will love these highly talented rockers.
BONEJINN – Another great singer is BoneJinn's Marty Triplett, a guy who has been trying his hardest to get his music out there to be heard. Marty has a butt-kicking band of experienced musicians backing him up and they are back and ready to take this town by storm. BoneJinn's sound is hard rock with a soulful element which mixes well with Marty's vocal style. BoneJinn is all about the groove and feel of the music. You got to hear this guy sing! He has a very commanding vocal technique. BoneJinn has had member changes over the last few years, but they are 100% back on track again and ready to roll.
Be sure to check out their song "Flowers and Butterflies." It's real good. Their brand-new three-song demo should be out in a month or so. I hear it sounds amazing!
PO BROTHERS – Coming from Southern Indiana, these newcomers have made some noise in the last year with their tight sound of alternative, laid-back rock n' roll. They sound great live and that's where they are truly in their element. These guys have one cool vibe going on. Vocalist Collin Curry has an excellent and different voice that can get pretty up there in octaves when called for. I really like their song "Gone." The music and vocals are quite good and creative in this band. I can see these guys doing something good if they keep it up and work hard. They have a strong fan base and have been slowly spreading the word about the Po Brothers.
JET BLACK ORCHID – I love this original three-piece rock band, they jam. It's the three Brittany brothers, Rio, Gunnar and Jaggar, youthful rockers with some serious firepower going for them. They used to be called The Cigarittes, and I gave them killer reviews in the newspaper when I saw them play for the first time. It's bluesy, original classic-style rock, and Rio is a great guitarist who uses a talkbox and sings at the same time, while his brother Gunnar sings/rock the bass out and plays keyboards, and drummer Jaggar beats the skins to death. They look like young hippie types but they surely don't sound the way you think they would. The music is much more aged sounding. These guys are pros and have made a name for themselves a bit here in the 'Ville. Come see why I say these good things about them.
KROSJOINT – forged by longtime Louisville hard rockers/metalheads who have rocked this scene since the mid to early nineties, Krosjoint has one goal. To play hard-hitting, Southern-influenced stoner groove rock/metal that gets those feet tapping and gets the heart pumping. It's catchy stuff. Fronted by former Dogwater/Rathbone vocalist Brian "Buzz" Pyles, a singer who has an unreal set of pipes himself, completes this lineup of very experienced rockers from such bands as 13th Level, Year Of The Gun, Caldera, Ky Deathwish, Inhuman, VoodooMachine. Former PHT all-star-band drummer Jeff Beaven is a monster on drums as well. Krosjoint will be starting early, so come early!
TALK OF SPRING – another great young Louisville band of professional musicians whose age defies their skills and pro attitude. This three-piece is damn good and has been busy playing all manner of shows in the region. They must be doing something right, because they have 1700 hits on their Facebook page. As well as sharing the stage with acts such as All Time Low, Mayday Parade and The Audition, they recorded a five-song demo in Chicago with producer Marc McClusky (Weezer, Ludo, Hit The Lights) in January 2012. These youngsters have the look and sound of modern original pop rock.
I haven't seen them in a few years, so it will be good to see them rock out once again.
THE WHISKEY RIDERS "Southern Stoner Rock" – This new band of Southern Indiana and Kentucky natives is relatively new, but when I saw them a few months back, I was impressed, so impressed that I invited them to help out the cause by playing a set at RFKVIII. Their sound is Southern rock, stoner rock, bluesy, classic rock, countryish, and metal, too. Vocalist/guitarist Johnny Rider just impresses as he sings well, all the while playing the guitar (well) at the same time. The dude has some Crossroads' "lightning boy" in him. Killer Geezer Butler-type bass riffing in there, too, courtesy of their wicked bassist named Bones. Interesting cats are these Whiskey Folk. With names like Whitewolf, Bones, Johnny Rider and G, as well as the band name, indicates that to these boys, nothing should be taken too seriously. Let the fun and beverages flow, because this is a fun, entertaining and energetic band to watch.
Some of the band's music can get pretty heavy and whiskey-soaked, whilst other parts are sure to bring out the hidden redneck in you. By the end of the show, you'll be both metalhead and country bumpkin. Fans of Alice In Chains, Down, Queens Of The Stone Age, Black Sabbath, C.O.C should love The Whiskey Riders. Their demo is unfortunately not up to par quality-wise, but seeing these guys live is where it's at anyway, so make sure you don't miss this powerful stoner groove metal band. They rock!
ROCK BRIGADE – a fun cover band with members from such bands as Two Pump Chump, XS, Metal Legends, Audiorotic and Livewire, that plays classic rock songs like "American Band," "Dream On," "Rainbow In The Dark," "Girls Girls Girls," Slow Ride" and "Rock Of Ages." While I have not personally heard them yet, I have heard that these guys jam very good, so I thought they would be a good addition to the lineup to help the kids. I heard their Eighties cover songs kicked butt. And you all know how much I like the Eighties jams.
449 – A new band from down south aways in a small town called Burkesville, this five-piece has some good stuff going on for such a new band. 449's sound is radio-friendly hard rock, and they have shared the stage with national acts including Black Stone Cherry, Tremonti, Powerman 5000, Yellowcard, Adelitas Way, Art of Dying, New Medicine, Sleeper Agent, and The Cadillac Black. They have just now come out of the studio with Jon Lawhon and Chris Robertson, both of the band Black Stone Cherry, finishing up their full-length debut album, set to release in the fall of 2012. I finally saw them live. I liked the lead guitar work and fine drumming by Justin Bush (who will be the Musician Of The Month in December!). Decent vocals by Trevor smith. Good catchy songs, too. I can't wait to hear the band's upcoming CD. I bet it sounds great. These guys seem to have a great friendly, non-stuck-up attitude too, so that is something good for the scene. We have far too many of those already!
LUIE BRANGERS – Elizabethtown's own acoustic rocker Luie Branger is called The Kamikaze K'untry Punk, and he calls his style alternative country acoustic rock. He writes his own music, with song titles like "Nobody Hears You Anymore," "No no no no no" and "Still A Crazy World." The guy has skills and you can see them for yourselves on Friday, November 16.
Flaw Is Back, With New Vocalist. Guess Who???
This is pretty big news in the 'Ville. One of Louisville's best rock bands is reforming, and they have a brand new singer! Man, that would be one tough pair of shoes to fill, because former vocalist Chris Volz had an amazing voice and wrote very good lyrics as well. The new singer of Flaw is … Andy Paul, former singer for InTheClear and Factor 9 back in the day. I took a minute to catch up with Andy to get his thoughts on this unexpected move to rekindle the fires of Flaw.
Eddy:
Andy, how did you joining Flaw come about? And what are the bands plans to get things going? And who are the members this time around?
Andy:
Ryan gave me a call and asked if I would be interested. We have some dates in mid December and after that, we will be taking things step by step. The new Flaw is Ryan Jurhs, Lance Arny, Terry Harper, Chris Marple and me.
Eddy:
Do you have any song ideas in your head for some new Flaw material, or maybe Ryan has some good ideas floating around?
Andy:
As far as new material goes, we can't wait to start that process, as of now we are just focusing on being tight with the older material for the short run in December. I'm sure Ryan and the boys have a ton of ideas.
Eddy:
You haven't jammed in a few years, so what's been up with you? And what are your thoughts to be back in the scene in full force with a legendary Louisville band like Flaw?
Andy:
As far as me, after Intheclear, I just buckled down with my job. I never left, I just stopped playing. I always listen to local music. I can't wait to sing again, and it's fun with FLAW. I get to jam with some old buddies and rock the f**k out! As soon as dates are locked down we will be sending you those. Thanks, Eddy.
Local Rockers Open For Powerman5000, And Kick Butt Doing So:
I'm not really into Powerman5000, but I had to go see some local bands that got the opening slot. First up is 449, a relatively new band that impressed me. These young rockers from Burkesville, KY have a some good stuff going on indeed, and just opened for Tremonti in Nashville leading up to this show. Not bad at all for a new band! They have a radio-friendly sound that is modern and melodic, and the double guitar attack is pretty good. They have good gear. The singer Trevor Smith sounds good, too, and can actually sing well, although I didn't care too much for his rendition of Alice In Chains "Man In The Box" (seriously, who can do Layne Staley though?).The band sounded fine on the song, though, especially the guitars. I liked their original music much more than hearing them do covers. Their songwriting is melodic, catchy and creative. They put on a good energetic performance that impressed the crowd. I liked the guitars most of all. They seem to mesh well together on guitar parts. And one of the guys even plays a Gibson Flying V, so that is one way to get my blessings for sure. This Southern Kentucky band is off to a great start, and they have a CD coming out this fall that should be very good. Check out these guys, I did, and I am glad I did so. Very cool guys, too. Not douchebags like a lot of bands around here.
Next up was The Hiding, a band from Southern Indiana that I had never heard of before. I liked their set quite a bit. They play a wide variety of styles like rock, blues, country, funk, alternative, reggae sounding music, and, of course, some original music. The band was a little out of their element for this show, but I liked them anyways. They had a girl named Amanda on keyboards. The singer/guitarist Paul (no last names listed) is very talented and gets a good guitar tone out of a little cheap amp somehow, and he has a great voice to boot. The guy has some range and power in his melodic voice. All the musicians were skilled. The band played the cover song "American Woman." The band is pretty busy it seems by the info on their website, and you can tell that they know how to play and work a crowd, too. I'm going to have to book these guys 'n' gals on my original rock showcase soon. Good new band!
Next was the new version of Popkiss Chainsaw, featuring new members, vocalist Billy Burton and guitarist Hy Davis. Heck, everyone knows Billy Burton, as he has been very active in the rock cover band scene for several years now having been in Speed Of Sound, 24/7, Woodshed, and several more, too many to list. I know Billy very well, because we were in the band 13th Level together for a few years and played many great shows. Billy has been on a downward spiral in recent times, but I'm happy to report that it seems like the old Billy is back once again! The verdict is that the new Popkiss Chainsaw is much better now with someone as skilled as Billy on the vocals. Plus, Billy can work a crowd very well. Guitarist Hy Davis is also a better guitarist and the band now has more leads in the music than before, now that they have a more capable lead guitarist in the band now. The music is still typical Popkiss Chainsaw high-energy rock 'n' roll, but Billy and Hy add a new dimension that was missing before. Drummer Troy Ford and bassist Nick Priddy seem stoked to have the new guys in the band. It's a good combo. And the new guys have a lot of friends, so that helps.
The band had some females on stage with them for their set, which was different. Popkiss only has about 30 minutes of music ready to play out, but I can tell they are in a hurry to get out there and play a bunch of Louisville original music shows. Be sure to check out the new lineup! You can see them on Friday December 7 at Phoenix Hill Tavern with a bunch of great bands.
Then it was time for probably the best original band in Louisville, Signal The Revolution. These guys from Brandenburg are so tight as a unit, it's sickening. Everything about this band is right.
The sounds, the look, the gear, the songwriting, the stage presence, they got it all. And not too many bands can I say that about these days. They sounded killer, but I couldn't hear Josh Carter's voice the way I would have liked to. He has kind of a low volume in his voice, so the sound guys in town really need to turn him up in the mix when STR plays anywhere. Bassist Jacob Carter is a beast on bass and moves around like a whirling devil. It makes for an interesting spectacle. Guitarist Chris Marple really has made the soloing of STR stand out tenfold. His solos were ripping this night! They sounded great. It doesn't get much better than Chris' guitar tone. He is the cat I go to when I have questions about my guitar sound, or amps, or effects. Dude knows his chit. The music is modern and groovin'. The drums of Bob Lewellen are badass and fit perfectly. Pro gear and expensive instruments make a huge difference and these guys are proof of that. These guys have some good music, and I especially liked this one song that was kind of metal, but it's kind of sexy, sex metal, if there is such a thing. The kind of song you would play to a chick you want to bang or playing it on the stereo while you are doing the actual banging. A very cool riff. I would like to hear that song recorded. I wish I knew the name of the song! These guys are in the process of heading out to a super-secret location down South a ways, to record a few songs with famous producer Toby Wright, who has worked with many top artists. This could be the big ticket for them, so I know they have to be under pressure to put out the best recording that they can. Have no fear guys! I think you are going to hit a home run on this one. So the best of luck to you, and show those bigtime studio guys what Kentucky rock is all about.
Sorry about not covering Powerman5000, but I had to work at the buttcrack of dawn the next morning. Besides, I was never a big fan of that band. I was just glad to get out and support some Louisville original music. Props to promoter Terry Harper for giving these bands the opportunity to play.
Scary Uncle To Play A Pantera set at RFKVIII:
Louisville hard-rockin' cover band Scary Uncle have a little surprise in store for you folks at Rock For Kosair on November 16 at Phoenix Hill Tavern: they will be playing a full set of Pantera songs! Yup, that's right. One full set of brutal, ass-kicking tunes from one of the most loved metal bands ever. It will be good to hear some live Pantera tunes in action once again. Chuck said they would play "Cowboys From Hell" "This Love" "A New Level," "Walk," "Mouth for War" "Domination" "Five Minutes Alone" and "I'm broken." And you got to face it, you don't ever hear cover bands play this type of music. Usually it's "Brown Eyed Girl" or some top 40 tune like that that cover bands play. Not Scary Uncle! They plan on letting loose on November 16. So be there to hear them do a different set! A vicious set!!!
Deliver Us From Evil return on December 7:
Evansville, Indiana's brutal metal band Deliver Us From Evil returns to Louevil on Friday, December 7 at Phoenix Hill Tavern. These guys are one of the best metal bands in the entire region, and they have an E.P coming out in December that should warm things up a bit by melting off your face. Drummer Alex Morgan is one of the sickest drummers in the Ohio Valley. The guitar work of John Matheis is killer! This band is straight-up evil-sounding in a good way. Even living two hours, away they still manage to draw good crowds of loyal metal heads. That's rare for an unsigned metal band. Catch them on the anniversary of Pearl Harbor at PHT!
Louisville Rocker Ventures Into Politics:
I was a bit shocked and surprised to hear that Jefferson TARC Bus bassist Dave Moody has decided to run for City Council in Hillview. My sister lives in Hillview and there quite a few big signs that say Elect Dave Moody for City Council all around that area. It's very interesting. I've never heard of a rocker going for a position like that, so I thought I would catch up with Dave and see what's new in the rock/politics department.
Eddy:
Dave, what made you decide to run for City Council in Hillview? And what good do you think you can do if you get elected?
Dave:
I decided to run for city council, because I'm a person that loves challenges. I am the epitome of " tell me I can't do something, and I'll show you I can." Why would you limit yourself in anyway? Why not challenge yourself, and see what your limits are? Why not help your community, and give back? I'm not scared to fail. I'd be more scared if I didn't try. So, why not? I believe I have already laid some pretty good ground work in ability to"Rally the troops" for a good cause. I know how to raise money for charitable events, and to make people believe in giving back. Call it hokey if you like, but I honestly believe in people. I just think that they have been told what they can't do for so long, that now they believe it. All anybody wants is a chance, I want to give them the encouragement to believe in themselves, and to accomplish their goals. The good I can do has been reflected by the city's willingness to give of themselves regardless of the social standing, or their bank account. Our community realizes that they are not alone, and through our fundraisers we have proven that fact time and again. The bell is ALWAYS answered. I am most proud of that.
Eddy:
What exactly does a member of City Council do, and what are they in charge of?
Dave:
The general responsibilities of a city council member involve determining city government and administration policies, as well as adopting budgets and legislation.
Eddy:
How have the people reacted to you running for office?
Dave:
It has varied, but ultimately it has been very positive. Most people just want somebody to represent their voice, and they just want to be heard. I will grant you that what I am doing is not common, and a little out of left field, but it shouldn't come as a surprise to anybody that knows me.
I love to keep you on your toes. Haha! I just want everyone to know I am doing this for all the right reasons. I have no agenda. I have no special interest groups. I have no reason, other than my want to help the people of my city. I am proud of where I am from, and I just want to give back.
Eddy:
Do you have any final words for your voters, friends, family?
Dave:
Be good to one another, take care of one another and help out when you can. We are only here for a little while, so make it count! God bless!


Eddy:
I will say this about Dave, and I've known him about 20 years. I've not met a rocker/or person in general like Mr Moody more willing to help people in need and donate performances to a good cause. Everything he has said he would do, he has. So yes, I think Dave would do pretty darn good as a member of City Council. If I lived in Hillview I would vote for him.
New Venue, Alley Cats:
On 436 Baxter Ave,. there is a brand new venue music scene. peeps! Remember the Brewery Thunderdome? Well, it is open again under the name Alley Cats. I used to love the Thunderdome when it was at it's heydey when bands like Judas Priest, Megadeth (I announced them onstage! It was soooo cool), Clutch, Type O Negative and Korn played the place. Since those times, the building was cut up in pieces and it has never been the same. Losing that place disappointed many a rock fan in Louisville, including me. But some good people want to get that place going again, so us bands will have a place to have shows. I remember playing there several years back when it was Bar Louisville and it was cool, but the PA could have been better. They have a decent PA System in there now, so I interested to see how things sound at Alley Cats. By the time this paper is out, they will be open for business, so pop in and show some love. All you promoters, go get us some darn rock shows so us bands can do what we love to do.
Lamb Of God and Hatebreed Coming In November:
These two bands are wicked. I'm glad LOG vocalist Randy Blythe got out of that bogus murder rap in Europe. I bet he was really sweating bullets during that whole mess. I've seen LOG and Hatebreed several times and they both kick some serious butt. Especially the guitars of LOG!!! They almost melted off my face a few years back at Rockstar Mayhem Festival in Cincinnati. Very impressive machine gun like consistency in their guitar riffing. And I love Hatebreed just as much. They have morphed into one monster of a metal band over the last 12 years! Awesome stuff. Brutal guitar tones in both bands too. They will both be here on Monday, November 12 at Expo 5 w/ In Flames and Sylosis. Tickets are $35 and it starts at 7 p.m.
This is a show for the ages, so get your tickets asap, as this might sell out fast.
Upcoming Shows
Alley Cats (formerly The Thunderdome)
Saturday, November 3 – H4 Benefit (Helping Her Help Haiti) w/ Reign Of Revelation, Judge Angus, Jason William Allen and Bury The Willing. 8 p.m.
Expo 5
Monday, November 12 – Lamb Of God, In Flames, Hatebreed and Sylosis. 7 p.m. $35
Headliners
Saturday, November 3 – Deicide w/ Abominant, On Coke With Thor, Radiation Sickness and Ophiuchus. 7 p.m. $20
Friday, November 23 – Epica w/ Alestorm, Insomnium, System Divide and Destiny Potato. 7 p.m. $20-$60
Thursday, November 29 – Every Time I Die w/ The Chariot, LetLive and Kills & Thrills. 7 p.m. $15
Saturday, December 1 – Twizted w/ HEDpe, Lil Wyte and Potluck. $20 7 p.m.
Monday, December 3 – Cannibal Corpse w/ Misery Index, Created To Kill, End It With A Shotgun and Hour Of Penance. 7 p.m. $20
Nelligan Hall (2010 Portland Ave.)
Saturday, November 3 – Nelligan Hall w/ Branded By Hate, Devil and the Darkness, I Left Her Body in the Woods and Opengrave. $5 8 p.m. ALL AGES
Phoenix Hill Tavern
Friday, November 2 – Maltese Cross, Branded By Hate, Societies Plague, 449, Rockaway Drive. 9 p.m.
Friday, November 16 – Rock For Kosair VIII Benefit for Kosair Charities for Christmas. 15 bands, guitar giveaways, live music on 3 stages! 7 p.m. – 3 a.m. $10
Saturday, November 17 – Six Feet Under w/ Cattle Decapitation and Wretched. 7 p.m. $15
Friday, December 7 – Deliver Us From Evil, Devil And The Darkness, Popkiss Chainsaw, Krosjoint, 18 X-Ray.
Vernon Club
Thursday, November 1 – The Rocket Summer with The Classic Crime, William Beckett and Whisper Start. $12 7 p.m.
Thursday, November 8 – Brokencyde w/ Nathan Ryan, The Bunny The Bear, Alex Zayne and Kid Yady. 7 p.m. $15
Saturday, November 10 – Anchors For Eyes w/ EmbrySquare, Endeavor, Our Final Hour and The Fight Night. 7 p.m. $8
Sunday, November 18 – Kung Fu Vampire w/ Mars, Liquid Assassin, Mr Grey, Sik Mob, Freelance assassins and Bukshot. 8 p.m. $10
Wednesday, November 28 Motionless In White w/ Chelsea Grin, Stick To Your Guns, Crown The Empire and Upon This Drawing. $15 7 p.m.
Sunday, December 9 – Like Moths To Flame w/ The Plot In You, Ice Nine Kills, Horizons and Assassins. $12 7 p.m.