June 2010 Articles
Cover Story
Hunter Embry
Features
Eddy Metal
Columns
Berk Bryant
Mike Stout
Paul Moffett
Keith Clements
Martin Z. Kasdan Jr.
Eddy Metal
CD Reviews
Hunter Embry
Kevin Gibson
Kevin Gibson
Ronke Oyekunle
Ronke Oyekunle
Martin Z. Kasdan Jr.
Performance Reviews
Eddy Metal
Interviews
Eddy Metal
Blogs
Got Shows?
Send Them To Us
Bookmark Louisville Music News.net with these handy
social bookmarking tools:
Available RSS Feeds
- Top Picks
- Today's Music
- Editor's Blog
- Articles
Add Louisville Music News' RSS Feed to Your Yahoo!

Issue: June 2010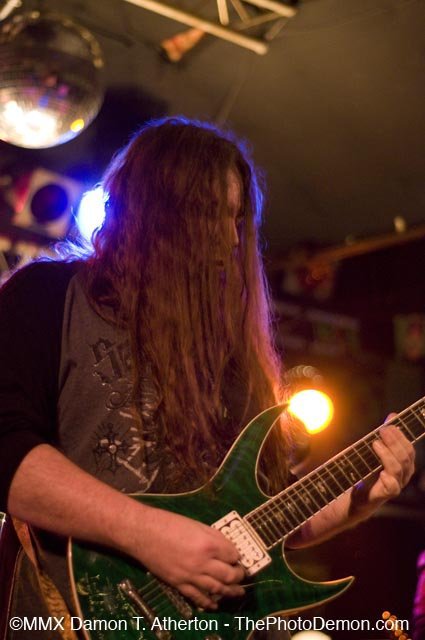 News From the Pit
Win Free Tix to Korn, Rob Zombie, Lamb Of God & FFDP: (Free Ride) I was able to get you freaks some free tickets to this killer metal show in Cincinatti at Riverbend on Wednesday July 21, so mark your calendars and be ready to win. To win, Message me on Sunday July 18 at 6pm sharp at myspace.com/eddymetalrocks. In subject line put "Five Fingered Zombie Korn!" Closest ones to 6 P.M sharp wins the tickets! Don't forget! This show will be off the hook and 'The' metal show of the summer! Riverbend is always a blast.
Apparently keeping a band together in these hard times is the equivalent of trying to knock over cement bowling pins with a ping-pong ball. It's fargin' impossible. We've lost several great louevil bands here recently, and it's staggering how some people are unprofessional and uncaring to those who were their friends/bandmembers.
The Louevil music scene has recently lost Autumn Canvas, Intheclear, BoneJinn, Burn To Shine, Sonic Epitaph, Antikythera, Institution, Inner Blue, Kentucky Deathwish, etc. It's never been easy keeping a band together, but lately it seems much worse with the economy so bad and all. Not to mention a lot of people are douche bags and backstabbers who bail out on you with no notice or warning. My band recently lost our drummer again. He agreed to play the rest of the shows booked but ended up canceling for a unbelievably lame reason on the day of show, which really angered the band and venue to no end. It made the band look bad and unreliable. Farg that. I'd play a show with a broken arm if I had to. I'd slap my broken twig against the strings!
I was going to do a good writeup on this drummer; for being a man and fulfilling his obligations in a civil and respectful manner, which would have been the decent and honorable thing to do.
I was going to show you people a prime example of how to end things correctly, in a friendly anti-drama fashion. I was going to give dude props. But not now! Hell naw. One act of laziness/betrayal erases all that.
People! As a musician, if you aren't happy where you are, at least have the decency to finish out the shows you agreed to play. For God's sake, don't leave your band hanging and end up giving them a bad reputation because you are lazy and uncaring. And don't join a band for a few months and quit.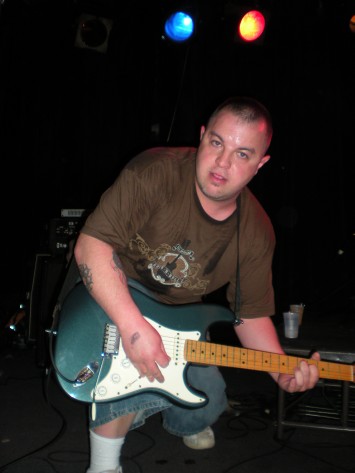 Justin Browning, Some Kind Of Saint. Photo by Eddy Burke
I have seen many examples of this kind of crap, and it's bullchit. Luckily, we found a better drummer, thank God. But the way people act nowadays is really ruffling my feathers. I hear a lot of gossip. Friends banging other members wives, lazy bastards, egos, members backstabbing other members, not helping load equip, the bands arguing, drug/alcohol addictions, it's a fargin' never-ending soap opera!
There is an upside though, with the departure of these premiere Louevil bands, bands that have been trying to do better and get better shows may now get their chance to show what they can do. There is a proverbial gap to be filled and somebody has to step up. So to all you bands out there who truly kick butt, this could be your chance to be heard on a bigger scale. My band has been playing out a lot recently and I love being back in the scene as a musician once again. I've been having a blast, and we've had some really cool shows. I do find it funny that many new people to the scene didn't even know I played music. Ha!
I guess it's my own fault for taking six years off.
The Metal Grapevine
Free Tix to EyeHateGod:
(Free-Ride) Coming up on Sunday, June 6 at Headliners is a cool stoner doom groove show of epic proportions. New Orleans sludge metalists EyeHateGod will be in town tearing up chit along with a bunch of other bands including louevil rockers Stonecutters and Seclusion. Don't miss the festivities! For a chance to win free tickets to this show, message me on my MySpace page (myspace.com/eddymetalrocks) on Saturday June 5 at 6 p.m. sharp. In subject line put "Stoner Doom Groove!" Closest ones to 6 p.m. wins! Leave your full name.
Free Tix to Taproot:
(Free-Ride) On Thursday, June 24 Taproot will be at the Phoenix Hill Tavern. For a chance to win free tickets to see these hard rock/post-grunge rockers, message me at my MySpace page (MySpace/eddymetalrocks) on Sunday June 20 at 9 p.m. sharp. In subject line, put "Tap my root." Closest ones to 9 p.m. wins.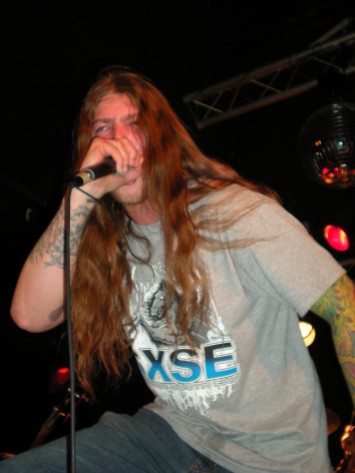 Brent Vaughn, Deliver Us From Evil. Photo by Eddy Burke
Buy Your fargin' Tickets In Advance:
Okay, people, we got to have a little talk. Have you noticed that national bands cancel an awful lot these days? I think a reason is that not enough tickets are sold and the band ends up backing out rather than play to a small crowd.
If you are anything like me, you are a procrastinator. A mofo who waits till the very last fargin' minute to do something before it's too late! Ask my boss.
Well, unfortunately in this doody economy, we can't have that anymore. So I am asking you folks to buy your tickets in advance, when the concert is announced. I know you are busy with family, kids and work. But trust me, the concerts in Louevil are being hurt by the lack of pre-sales!
I know you'd probably get your tickets eventually, but the band doesn't know it, and that is who needs to know, so they can come play for your butts.
All I'm asking is, please try to make an effort to get your tickets earlier if possible. Then maybe so many big shows won't be canceled.
R.I.P Ronnie James Dio:
I am sad to report that on May 16 the world lost a great heavy metal musician. Vocalist Ronnie James Dio succumbed to cancer and died peacefully in his home with his family there. I had the pleasure to meet Dio back in the late 90s and what a gentleman and kindly soul he was. He was little guy who was super cool. I just wanted to pick him up and hug him!
Many rockstars are A-holes with no time to give to lowly fans, but not this little fellow.
Dio was cool as chit and stayed a good while signing stuff for his fans, taking pictures, and talking with the regular folk. Seeing that and being a witness to such a rare and appreciative gesture was a revelation to me. I fully admit I wasn't the biggest fan of Dio, but I was a fan enough, and I can proudly say I am a fan of how Dio treated people and the respect and credit he gave to his fans and supporters. Truly inspirational!
I was lucky enough to see Dio again, with Iron Maiden back in 2004 in Ohio, and I tell you, he kicked Bruce Dickinson's ass vocally that night. Hearing him singing Heaven And Hell was the most memorable moment of that entire concert, and it sent chills up my spine that his vocals were still that powerful even at age 61.
I have just learned that The Westboro Baptist Church will be picketing his funeral, calling him a Satanist, and saying Dio will be burning in hell, and basically laughing about it, because they believe him to be a devil worshiper. This really, really angers me!! These Bible-thumpers are going to cause Dio's family added grief and heartache during an already difficult time. Where is the sympathy? Where is the Christian belief in forgiveness? First of all, Dio wasn't a devil worshiper It was a gimmick, people! This church is known for who picketing dead soldiers' funerals. Do me and RJD a favor and please let these out-of-line religious nuts know what you think of their horribly inappropriate and unchristian actions. Call them at 785-273-0325 and let these people have a piece of your mind. RJD was a great human being and a credit to humanity. R.I.P Ronnie. We love you bro.
Rob Zombie, Korn, Lamb Of God, Five Finger Death Punch, Hatebreed, Atreyu at Riverbend in July:
This show sounds like a no-lose situation for everybody. Great venue, great sound, great bands, great people. Not only do you get the popular nu-metal legends like Korn, brutal death metal with Lamb Of God, horror type insanity with Rob Zombie, but some old school hardcore with Hatebreed, as well as popular melodic metal-meisters FFDP. If Lacuna coil was on this bill I think I would have blown a load. Ha! Jokes aside, get your tickets (in advance) to this awesome show on Wednesday, July 21 at Riverbend. I know what you are thinking. It's a Wednesday! Whatever! Make it happen. How often does a show like this come around?
I'll see if I can't get you peeps a few free tickets to give away in our July issue.
KISS Coming to Riverbend:
This just in –Friday, July 30 at Riverbend in Cincinnati, Kiss will perform. The first concert I ever saw was Kiss when I was 10. It's something you want to see in your lifetime.
The true originators of fire, effects, explosions, costumes and rock 'n' roll madness. From Gene Simmons' bloodstained axe bass to Ace Frehley's flying UFO guitar, these legends know how to put on a show. And who knows, you might not get a chance to see them again. So make plans now to see the worlds hottest band..KISS!!! It's on a Friday, so that might make it easier!
I'll see about getting tickets for you mugs, if possible.
Nevermore Coming, Finally:
In my opinion, the most under-rated band in heavy metal history, Nevermore, is finally coming to Louevil in October. They are one of my favorites. Thanks to Terry Harper, my wish to see these guys visit my hometown are finally going to be realized.
Way back in the late Eighties, there was a Seattle band called Sanctuary , which was something special. So special that Dave Mustaine from Megadeth helped them get going and even recorded a riff on their cover of Jefferson Airplane's "White Rabbit." Sanctuary's singer, a guy by the name of Warrell Dane, became one of my top three favorite singers of all time. This guy is unbelievably talented, lyrically and vocally. Sanctuary put out two classic 'must have' albums, which attained near cult status with metalheads the world over, and then abruptly broke up because a few members wanted to play grunge, which was big in Seattle at the time. Bassist Jim Sheppard and Warrel Dane decided to keep playing metal, and Nevermore was thus born, with the addition of guitarist extraordinaire Jeff Loomis, and drum demon Van Williams. Nevermore is a strange thing. It's metal, but it's all over the place musically. Sometimes slow, sometimes fast, sometimes moody, sometimes classical sounding, and sometimes slamming beyond belief. Sometimes there are acoustic guitars in the last place you would expect them to be. Right when you think you know them, they break out some new weird chit. I love that, and can't wait to get their new album The Obsidian Conspiracy when it comes out in June. Warrel Dane's vocals are also all over the place. His range and versatility are phenomenal, and his lyrics and the emotion he conveys are downright genius.
The band has put out many great albums, and while big-time success has eluded them, they continue to gain support and a worldwide fanbase because to put it simply, the music is fargin' unreal.
As a guitarist myself, trying to play their stuff is beyond difficult. Good luck with that!
So to all you people out there who love Megadeth, Old Metallica, and the really good guitarists/musicians of the metal era, take the time to check out some work from this terribly underrated and overlooked metal band. For a taste of Nevermore, go to Youtube and look up the songs "This Sacrament", "Tomorrow Knows", "The River Dragon Has Come" and "Deconstruction."
More news on this later on down the line.
Industrial Demons "Hanzel Und Gretyl" at PHT June 4:
I saw an industrial metal band one time and they were friggin wicked. They opened for Ministry at Jillian's and blew me away. This band had two very wild chicks in it, but they slammed like no other chick metal band I've seen. To be honest, I liked them better than Ministry. Hanzel Und Gretyl will be at Phoenix Hill Tavern on Friday June 4.
They have character, costumes, cool guitars, pounding chunky riffs, and the chick screams like a creature from hell. They are a band you don't want to miss! If you like industrial heavy metal, then this is a must-see! Trust Mr Metal on this. Get your tickets now for this hardcore metal treat. It starts at 8 p.m.
Society's Plague: Signed and Ready To Strike
I am very glad to report that Lexington Kentucky's Society's Plague have been signed to Stand And Deliver Records. I've liked this band from the start and I am happy for them. They deserve this for all their hard work and professionalism.
Rarely does one come across such young musicians who jam so well. And this band is reliable. So Reliable that they were in a bad car accident and they still played a booked show with injuries! The keyboardist Kate was using a crutch the last time I saw them play. That, my friends, is dedication.
I'm going to push to get these guys on the cover of LMN soon since they have a CD coming out in a few months! If there is a metal band who deserves it in Kentucky, it would be Society's Plague! Congrats on the great news, and we wish you the best of luck. More news on their debut CD next month.
Year Of The Gun's New Drummer:
My band has had issues with drummers this last year, and we've had three different drummers, which sucks. Louevil drummers can be a difficult lot. But luckily we've found a hard hitting guy, new to Louevil, straight from Cleveland, who's ready to play. The guy is Ricky Muzick and he's only 21 years old. So welcome to Louevil dude, and great job learning a set in only three weeks! Impressive.
False Reunion?
The Louevil thrash metal band False is reuniting to do some damage. After a three-year breakup, the guys have seen fit to reconcile their differences in order to wreak havoc upon us Louevil metal fans once again.
I always compared False to Slayer. I love Slayer, so that's a fargin' compliment!
This reunion couldn't have come at a better time in Louevil. There needs to be a front runner in the Louevil metal scene and I see False coming back smelling like a black rose if all goes well. More news and possibly a show date next month.
Sexstone: One Night Only
I've heard nothing but good stuff about this band from Madisonville, Kentucky, so I figured I'd bring them up and match them with some good old-fashioned redneck Louevil rockers for one night of hillbilly madness. Sexstone has played all over the region and are looking to make Louevil like a second home. If you are tired of the same old stuff over and over, and you want to see some new blood, come out to the My Family Tree Doesn't Fork – Redneck Rampage Show on Friday June 4 at PHT. You can see them with 16 Bones, Hicks Road, Boozer and Year Of The Gun. It's free before 9 p.m., too.
New Band Alert: Broke And Bleeding
Broke and Bleeding is a new metal band from Louisville. I got a chance to see them at SXSE Festival and they weren't bad at all. It was kinda heavy sludge metal with alternating vocal styles. They seem like a decent young metal band. Todd Johnson's vocals are a bit iffy at times, but it's certainly better than 80% of the cookie monster clones that inhabit the metal music realm these days. Sometimes the vocals sound good, especially Todd's screams.
He should do more of those! Maybe get a foot-board vocal effects unit. That would bring out his vocals a lot. The music is Sabbathy at times and has a decent funky groove. The music is also hardcore/punkish/thrashy. More solos would have been nice, maybe even throw in a tad of reverb or effects on the guitar. I hate a totally dry guitar sound. Yuk. They do have attitude and confidence, and the small crowd there seemed to enjoy the music. The band has been busy lately, so if you get a chance to check out some new louevil metal, look into Broke and Bleeding.
Chaordica: New But Slammin
A newer three-piece metal band was referred to me and they are pretty darn good. Chaordica is a death metal, old-school thrash metal, and hardcore band from Hodgenville, about an hour south of Louisville. I had them on one of my Original Rock Showcases, and they did real well, surprising a lot of people. The music was fun and chaotic. I never got bored during the whole set. Some of the music reminded me of Overkill or old Anthrax, which rocks. But there was a death metal vibe in there as well. Some of the stuff was quite technical, but the groove wasn't lost like a lot of technical riffs tend to do. They do need a singer badly, so any of you who can scream and actually hold a note should contact these young thrashers ASAP. I see much promise here! They have the 'metal' seal of approval and should do well once they get a decent singer.
Upcoming Shows
Headliners
Saturday, June 5 - Shyaway and Breaking Stride CD release, Aevum, Scarlet Smile, Six Foot Fall and Mister. 7 p.m. $10.
Sunday, June 6 - Eyehategod, w/ Nachtmystium, Black Tusk, Haarp, Seclusion, The Stonecutters, 7 p.m. $15-$40
Tuesday, July 6 - Forever The Sickest Kids, The Ready Set, The Scene Aesthetic, Phone Calls From Home and A Cursive Memory. 6 p.m. $15.
Wednesday, June 9 - Emery w/ Queens Club, Sent By Ravens, Kiros and They Came Bearing Arms. 6:30 p.m. $15.
Friday, June 11 - Eyes Vs The Sky CD release w/ Our Final Hour , From Her Last Breath, This Years Finest, Remember Me always. 7 p.m. $10
Phoenix Hill Tavern
Thursday, June 3 - Bobaflex w/ Through The Storm, Audible Point, Fall N Disguize, Burning Babylon. 7 p.m. $10.
Friday, June 4 - Hanzel Und Gretyl. 7 p.m. Plus in the Roof Garden - My Family Tree Doesn't Fork- Redneck Rampage! With 16 Bones, Year Of The Gun, Hicks Road, Boozer and Sexstone. Free before 9 p.m.
Friday, June 11 - Hot Action Cop, Shatterstone, Stripmind, Poetry Of The Dead, Stallpoint, Lost In Eden and Through The Storm. 9 p.m. $10.
Saturday, June 12 - Will Hoge w/ American Bang, J. Roddy Walston and The Business. 8 p.m. $12.
Thursday, June 24 - Taproot w/ A New Revolution, Ice Nine Kills, Destrophy and Nothing Wrong. 8 p.m. $12.
Thursday, July 1 - Slick Idiot w/ Absence Of Faith, The Passing Hour, Hippiedigger, Alice In The Aftermath, DJ Count Grozny. 8 p.m. $10.
Friday, July 2 - The Original Rock Showcase series: Project Sovereign, Fivesecondzero, Popkiss Chainsaw (former members of BoneJinn) and two bands TBA. 9 p.m. Free before 9.
Skull Alley
Tuesday, June 22 - From First To Last, For All Those Sleeping, Honor Bright, Voices Of Adria, This Is War, she Asked For It. 6:30 p.m. $10.
Uncle Pleasant's
Saturday, June 5 - Underworld Assassins w/ Dirty Dead Carnies, Bad Dream 17, Mat-E-Mat, Xcess, Wish, Shadow, John hood, Killaz Inc, Sam Haqin, Midnight Dizturbance and The KY Killaz. 7 p.m. $10.
Tuesday, June 8 - Boondocks w/ D.O.S and C-Shane. 7 p.m. $12.
Saturday, July 3 - Sky eats Airplane. 7 p.m. $10.
Props of the Month
This month's props go out to Promoter Frank Lewis for trying so hard to make the SXSE Festival work. He had a heck of a task and he pulled it off.
The SXSE Festival wasn't successful this year, but you got to give credit where it's due. The guy tried.
Other shows, and a record amount of rain did not help the Festival at all. It ended up losing money. Even my basement flooded, because the weather was so bad. I like Expo 5 a lot, but it's an awfully big venue for a show featuring unsigned regional bands. As much as I like the place, I would not take on the task of trying to fill it with a show featuring local bands. I would have done a few things different time-slot, but overall he did a good job.
Next year I bet Frank does much better. Hopefully next time a monsoon won't come to town.
Some Additional Photos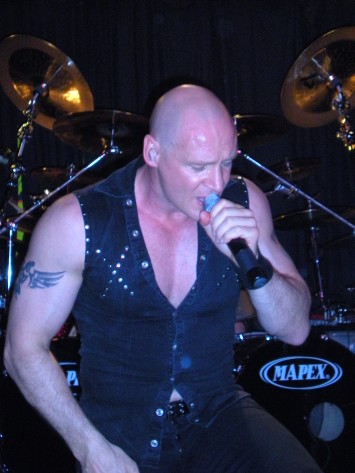 Ralf Scheepers. Photo by Eddy Burke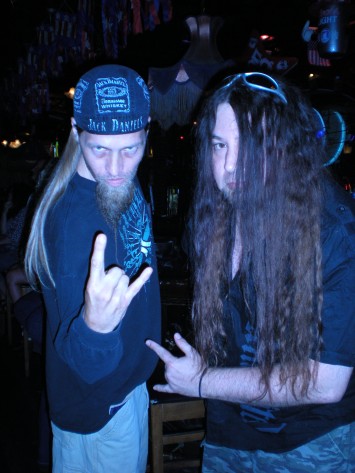 Regional musicians Vocalist Marty Triplett ( BoneJinn ) & guitarist Eddy Metal (Year Of The Gun ) enjoy Primal Fear's awesome set at PHT
Seether, FFDP, Lacuna Coil, Hellyeah at Rupp
I wasn't about to miss this show. So I caught a ride with friends and we had a good time. Kicking off the show at 6 p.m. was Lacuna Coil. It's starting to make me mad that this very talented band has to open every time I see them. And a lot of the time I'm driving far mainly just to see them. I'm sorry, but Drowning Pool sucks compared to LC. The singing of LC kills over half the bands they play with usually. The mixture of Cristina Scabbia's high pitched and beautiful vocals and Andrea Ferro's low extended vocals really set this band apart from anything I've ever heard. And I've heard a lot, let me tell you. I've turned a lot of people on to this excellent band from Italy.
What's really funny is that I used to not like it and I used to make fun of it when I was on the metal radio show The Attitude Network. But then a funny thing happened. It slowly grew on me like a fungus until they were one of my favorite bands! Weird, huh? The darkness, moodiness, hooks, melodies, odd and creative guitar riffing, unreal bass sound and amazing vocals got to me somehow.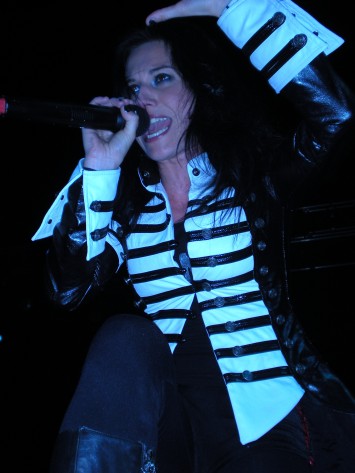 Cristina Scabbia of Lacuna Coil. Photo by Eddy Burke
And I'm a thrasher! Lacuna Coil played "Survive", "Spellbound" and "I Won't Tell You" off the new album, then "Our Truth" and "Heavens a Lie" and it all sounded great. I love that band and hope they finally get a chance to play later on upcoming tours. I'm sick of this opening chit!
Drowning Pool came up next and made me want to vomit, especially after hearing LC. Ryan McCombs couldn't sing his way out of a wet paper sack. This band plays so much in this region seeing them is like seeing a nasty prostitute on your street every other day. DP should have went first. When a band plays in your town so much that you loathe them, something is wrong. Take time out and give the fans a break for a while. The band sounded okay, though. Maybe I'm being too mean. I actually like the band and always have. I just think they made a bad choice with this newer singer. They played "37 Stitches","Tear Away", my favorite DP song "Step Up" (which sucked because the singer could not get near as low and growly as former vocalist Jason 'Gong' Jones) and last but not least, "Bodies," which had the kids going off. It got kind of wild there during that song. Ugh, I can't help it though, that singer is doo doo.
Next up was Hellyeah, a band consisting of members of Mudvayne and the drummer from Pantera, Vinny Paul. I saw them a few years ago and wasn't very impressed even though I like Mudvayne and Pantera. Together, there doesn't seem to be much chemistry, but time changes things and I can happily say that these guys have gotten much better and quite a bit heavier, too. They have come into they're own as a band.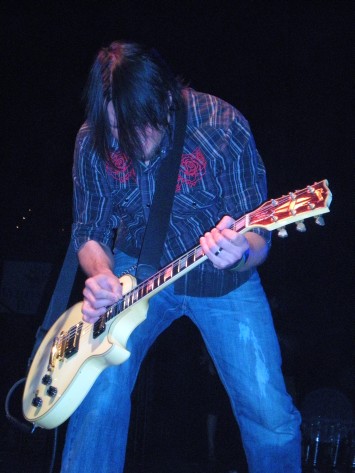 Troy McLawthorn, Seether. Photo by Eddy Burke
I enjoyed the set, especially "Alcohol and Ass", "Cowboy Way" and their heavy triumphant rocker of a tune "Hellyeah," which had even an old man like me yelling as they ended their set.
Vocalist Chad Grey is badass too, and has a very different style that I find cool. I'm very picky about my vocals, but Chad is very creative and has a great singing voice when called for. I loved his work in Mudvayne.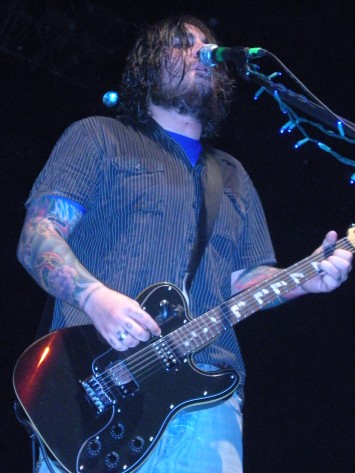 Shaun Morgan, Seether. Photo by Eddy Burke
Five Finger Death Punch came up next and I was stoked. I love this band; they are my favorite newer band. I love the music and the vocals. Vocalist Ivan Moody is the bomb.
Not only can he actually sing well, but his screams and growling are perfect. And the guy does know how to work a crowd well. He had that place as wild as I've ever seen it. At one point, Ivan told the crowd that the security there was their friends and to be nice, but then he said to the security "these kids are not your enemy, so treat them with respect." Then Ivan invited the kids to start a human avalanche (crowd surfing) and the place went nuts. The security in front of the stage was in abundance and seemed adequate until that comment, then a wave of humanity poured over the barricade in droves!
Those poor security guys were pummeled by hundreds of kids flying over the walls in dangerous fashion. I saw some pain. Bodies were flying, people were getting hit/kicked in the face, people plummeted face-first onto concrete, kids smashing their heads on the stage because they got thrown too far, it was nuts! Those security guards got a substantial beating from those kids flying over the wall. I saw people getting carried out unconscious. The band sounded great but the soundman for FFDP was a fargin' moron because half of their set was marred by hideous sound.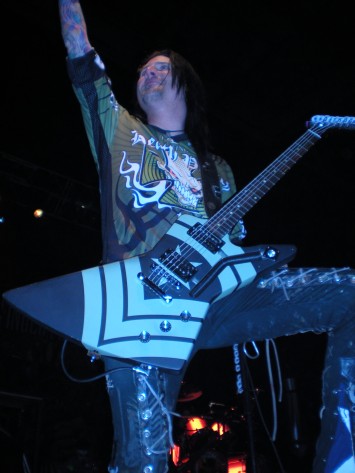 Jason Hook, Five Finger Death Punch. Photo by Eddy Burke
The bass was way too loud and the gain was set much too high, and you could not hear Zoltan's guitar hardly at all. (I love Zoltan Bathory's guitar/songwriting.) The cover of Bad Company's "Bad Company" is killer. It wasn't until halfway through the set that they regained control and got a decent sound. I felt like bitch-slapping that sound guy. The band played "Hard to See", "Salvation", "No One Gets Left Behind", "Bad Company" which rocked, and "Never Enough." They ended the set with "The Bleeding."
I foresee great things for this very tight sounding band.
Seether came on and totally rocked out. Usually I'm not into this kind of music that much but I cannot help liking this South African band. They are excellent. Shaun Morgan's songwriting and vocal skills are nigh well unbeatable. The melodies and hooks? Timeless. Yeah, dude's music will live forever.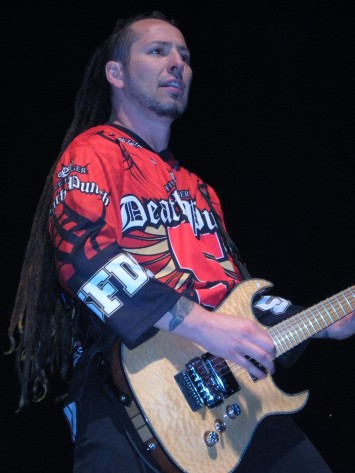 Zoltan Bathory, Five Finger Death Punch. Photo by Eddy Burke
I've seen this band a lot, but I never get tired of them for some reason I find odd.
Shaun came up with some trippy echo/infinitely delayed guitar madness that belies the music he plays. It almost delved into the metal world! I was a bit shocked, but I liked what I heard.
His guitar fret markers were little mother of pearl erect penises. He always has some funny stuff like that on his guitars. I've heard these guys are very cool and I believe it. The band played a long set of hits such as "Fine Again", "Broken", "Gasoline", "Careless Whisper", "Fake It," "Rise Above This" and, of course, "Remedy."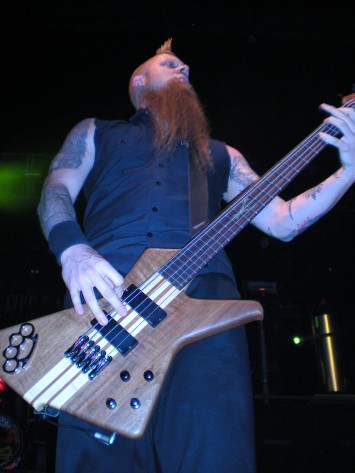 Matt Snell, Five Finger Death Punch. Photo by Eddy Burke
Guitarist Troy McLawhorn almost fell off the stage when he got excited and jumped maybe a little too far and high; he lost control on landing and went flying into a standing platform, that almost fell offstage because dude hit it so hard. A bad injury was avoided by the merest inches. He had to have messed up that super-expensive white Gibson Les Paul guitar he had. It hit the platform first.
This band sounds incredible live and sounds just like the recorded versions, unlike a lot of top bands.
Yeah, this show was fun, but I was a little disappointed in the turnout at this show. I expected more, but only about four thousand people showed up for this awesome event. I still had a blast and enjoyed the great music of these rockin' bands.
Special thanks to Mark Phillips, George Vallee and Rupp Arena for being so good to us here at LMN.
Interview with Scorpions Drummer and Former Louisvillian James Kottak
LMN: What's up James, first I'd like to say I was a big fan of Kingdom Come, and I saw you first perform at Monsters Of Rock in Indy, in '85 I think. I was on acid and having a bad trip, but I still remember how Kingdom Come kicked ass that day. And I distinctly remember how bad Van Hagar was that night. Ha. I think Eddie Van Halen was hammered or something. You've been on the road a long time, and had some amazing times, so I thought I'd catch up to you and let the folks in town know how you are doing, and the latest news with the Scorpions!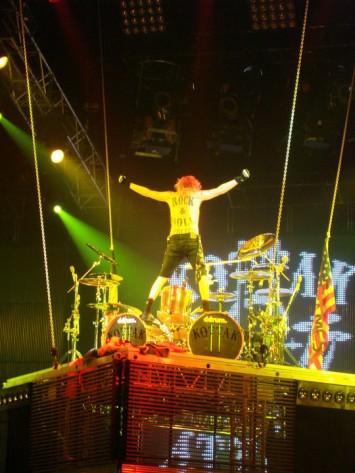 James Kottack
JK: Ha! I hope you are feeling better! That was 1988. I remember it well, because at the end of the KC set I thought it would be cool to throw my drumsticks out to my mother in the 12th row. about 50 Neanderthals jumped up to get the sticks, leaving my mom on the bottom of the pile! At the time it wasn't funny, but we all laughed about it later. My mom is the best!
LMN: Everybody in town knows that you grew up around here. Hell, you are practically a legend in Louevil. So as a world-class touring drummer for the Scorpions, what are your fondest memories of your hometown? What do you miss the most? What were your favorite things to do and places to hang out? Something tells me The Toy Tiger fits in there somewhere.
JK: I am very proud to be from the Ville! Clubs like City Lights, Phoenix Hill, the Garage, of course the Tiger, and all my years playing in Loavul are huge memories for me. But, my largest memories will always be my Louisville friends. with Facebook, I am able to stay in touch with so many peeps. with all this traveling, I feel a bit more at home now than I used to. the Internet is so bitchin! BTW, Scorpions guitarist Rudolf Schenker always introduces me as James 'Kentucky Fried Chicken' Kottak. lol. BTW, are they really going to name a street after me?
LMN: I know it's a long time to probably delve into these memories, but what was your first band? And what was your first gig in Louisville (no matter how cheesy!)?
JK: I was 12 and my very first band was with a guitarist from my school named Eddie Garner. We had a band called 'Oz'. Our first gig was at Otter Creek Park. we made $16.00! I will never forget!
LMN: How did you progress from a regional rocker to drumming for internationally acclaimed touring bands like Kingdom Come and the Scorpions? That's amazing, bro. You are living the dream. And what advice can you give to young drummers in the 'Ville who would love to follow in James Kottak's footsteps?
JK: I had the ultimate band director at Durrett High School named Ernie Sanders. He kicked my ass and kept me grounded. When I was 15, I joined a band called 'Home'. we toured the USA for about a year and when I came back with my rock star attitude, Ernie straightened me right out! He was and still is a huge influence on me. He hooked me up with a full scholarship to U of L skool of music.
I spent 10 years playing in bars 5-6 nites a week. That was the best prep for the real world of rock and roll. After playing in countless bar bands like Nuthouse, Mr Charlie, Apex, etc. I joined Buster Brown, which at the time was the #1 metal band in the region. That led to my first 'big break'. BB opened for Ronnie Montrose for a tour. When the tour ended, Ronnie called me and our singer Johnny Edwards. He flew us to San Francisco to record with him for the Montrose 'Mean' album. it was surreal.
Another pivotal moment was when Bobby Blotzer, the drummer of Ratt, saw me play at City Lights in 1984. He was like, 'dude, you have to go to Los Angeles'!
I was like, I'm there! So, I loaded up the truck and moved to Beverly in 1987. Three months later, I joined Kingdom Come and our first album sold two million copies!
If you want any kind of success, eventually you have to leave home whether you want to or not. the road, a music city like Nashville/NYC/LA.
At the end of the day, none of it matters if you can't play. you have to practice! Practice!! Practice!!!
LMN: So where do you live when you aren't touring the world? Do you have a wife and kids? What are your hobbies besides music?
JK: I live in Los Angeles. It is a place that you either love or hate. I love it! Hollywood is my playground and everything is here! When I am home, I want to leave. When I am on the road, I want to go home! I met my beautiful wife Athena in 1988. Her brother Tommy Lee introduced me to her at her first drumming gig ever on Sunset Strip! Rock and roll is my lifestyle! When I am playing with Scorpions I am playing R and R drums. When I am not, I am the singer/guitarist for my band Kottak. Rock and roll is an addiction. I love and take advantage of every second of rock and roll! I do love to cook, too!
LMN: What's the latest news with the Scorpions? Last time I talked to you, you were in Monte Carlo, and were heading to the World Music Awards. What's next for you guys? And did Klaus ever tighten up his English accent any? I could not understand one single word that man said between songs! Ha ha.
JK: I have been with the Scorpions for 16 years. It has been an excellent ride! Our new album 'Sting in the Tail' is topping the charts worldwide! All shows are sold out!! My band Kottak just released 'Rock and Roll forever'. 2010 is a great year! J-lo was sooo good at the World Music Awards. Ludicris was cool, too! I think Paris Hilton has a thing for me. lol!
LMN: What kind of drumset are you currently using? What's your favorite equipment?
JK: I play ddrum drums, Zildjian cymbals, Aquarian drum heads, Ahead drumsticks, etc. Dean guitars. Go to www.jameskottak.com for everything.
LMN: Thanks for taking the time out of your extremely busy schedule to let us hometown hicks in on what you are up to these days. I always heard you were a great guy! My final question is a doozy. What is the wildest thing you have seen on tour as a professional internationally touring drummer? And don't hold back on me!
JK: The wildest thing was playing a Scorpions show for 750,000 people in Krakow, Poland.
The coolest thing is seeing all the young people at the Scorpions shows! Scorpions will play Louisville in 2011! See you all then!
Until then, hit me on Facebook, Myspace, etc. Kottak 'rock and roll forever'!
Kottak ordering links
Kottak 'rock and roll forever' out now!
Amazon US: http:
//www.amazon.com/Rock-Roll-Forever/dp/B003HT4UES/ref=sr_1_2?ie=UTF8ands=dmusicandqid=1273672795andsr=8-2