June 2010 Articles
Cover Story
Hunter Embry
Features
Eddy Metal
Columns
Berk Bryant
Mike Stout
Paul Moffett
Keith Clements
Martin Z. Kasdan Jr.
Eddy Metal
CD Reviews
Hunter Embry
Kevin Gibson
Kevin Gibson
Ronke Oyekunle
Ronke Oyekunle
Martin Z. Kasdan Jr.
Performance Reviews
Eddy Metal
Interviews
Eddy Metal
Blogs
Got Shows?
Send Them To Us
Bookmark Louisville Music News.net with these handy
social bookmarking tools:
Available RSS Feeds
- Top Picks
- Today's Music
- Editor's Blog
- Articles
Add Louisville Music News' RSS Feed to Your Yahoo!

Issue: June 2010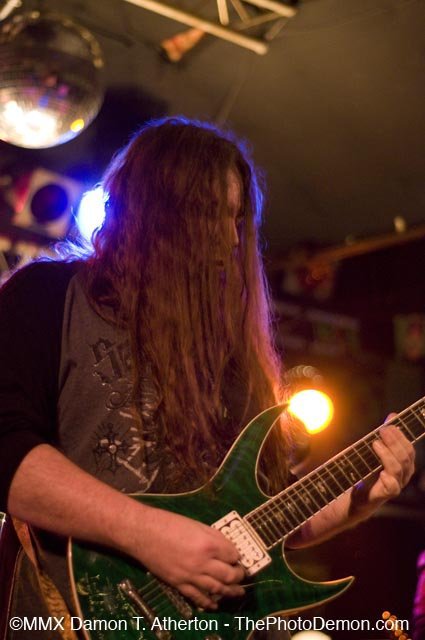 News From the Pit
Interview with Scorpions Drummer and Former Louisvillian James Kottak
LMN: What's up James, first I'd like to say I was a big fan of Kingdom Come, and I saw you first perform at Monsters Of Rock in Indy, in '85 I think. I was on acid and having a bad trip, but I still remember how Kingdom Come kicked ass that day. And I distinctly remember how bad Van Hagar was that night. Ha. I think Eddie Van Halen was hammered or something. You've been on the road a long time, and had some amazing times, so I thought I'd catch up to you and let the folks in town know how you are doing, and the latest news with the Scorpions!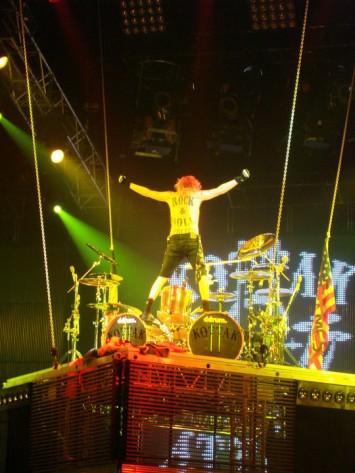 James Kottack
JK: Ha! I hope you are feeling better! That was 1988. I remember it well, because at the end of the KC set I thought it would be cool to throw my drumsticks out to my mother in the 12th row. about 50 Neanderthals jumped up to get the sticks, leaving my mom on the bottom of the pile! At the time it wasn't funny, but we all laughed about it later. My mom is the best!
LMN: Everybody in town knows that you grew up around here. Hell, you are practically a legend in Louevil. So as a world-class touring drummer for the Scorpions, what are your fondest memories of your hometown? What do you miss the most? What were your favorite things to do and places to hang out? Something tells me The Toy Tiger fits in there somewhere.
JK: I am very proud to be from the Ville! Clubs like City Lights, Phoenix Hill, the Garage, of course the Tiger, and all my years playing in Loavul are huge memories for me. But, my largest memories will always be my Louisville friends. with Facebook, I am able to stay in touch with so many peeps. with all this traveling, I feel a bit more at home now than I used to. the Internet is so bitchin! BTW, Scorpions guitarist Rudolf Schenker always introduces me as James 'Kentucky Fried Chicken' Kottak. lol. BTW, are they really going to name a street after me?
LMN: I know it's a long time to probably delve into these memories, but what was your first band? And what was your first gig in Louisville (no matter how cheesy!)?
JK: I was 12 and my very first band was with a guitarist from my school named Eddie Garner. We had a band called 'Oz'. Our first gig was at Otter Creek Park. we made $16.00! I will never forget!
LMN: How did you progress from a regional rocker to drumming for internationally acclaimed touring bands like Kingdom Come and the Scorpions? That's amazing, bro. You are living the dream. And what advice can you give to young drummers in the 'Ville who would love to follow in James Kottak's footsteps?
JK: I had the ultimate band director at Durrett High School named Ernie Sanders. He kicked my ass and kept me grounded. When I was 15, I joined a band called 'Home'. we toured the USA for about a year and when I came back with my rock star attitude, Ernie straightened me right out! He was and still is a huge influence on me. He hooked me up with a full scholarship to U of L skool of music.
I spent 10 years playing in bars 5-6 nites a week. That was the best prep for the real world of rock and roll. After playing in countless bar bands like Nuthouse, Mr Charlie, Apex, etc. I joined Buster Brown, which at the time was the #1 metal band in the region. That led to my first 'big break'. BB opened for Ronnie Montrose for a tour. When the tour ended, Ronnie called me and our singer Johnny Edwards. He flew us to San Francisco to record with him for the Montrose 'Mean' album. it was surreal.
Another pivotal moment was when Bobby Blotzer, the drummer of Ratt, saw me play at City Lights in 1984. He was like, 'dude, you have to go to Los Angeles'!
I was like, I'm there! So, I loaded up the truck and moved to Beverly in 1987. Three months later, I joined Kingdom Come and our first album sold two million copies!
If you want any kind of success, eventually you have to leave home whether you want to or not. the road, a music city like Nashville/NYC/LA.
At the end of the day, none of it matters if you can't play. you have to practice! Practice!! Practice!!!
LMN: So where do you live when you aren't touring the world? Do you have a wife and kids? What are your hobbies besides music?
JK: I live in Los Angeles. It is a place that you either love or hate. I love it! Hollywood is my playground and everything is here! When I am home, I want to leave. When I am on the road, I want to go home! I met my beautiful wife Athena in 1988. Her brother Tommy Lee introduced me to her at her first drumming gig ever on Sunset Strip! Rock and roll is my lifestyle! When I am playing with Scorpions I am playing R and R drums. When I am not, I am the singer/guitarist for my band Kottak. Rock and roll is an addiction. I love and take advantage of every second of rock and roll! I do love to cook, too!
LMN: What's the latest news with the Scorpions? Last time I talked to you, you were in Monte Carlo, and were heading to the World Music Awards. What's next for you guys? And did Klaus ever tighten up his English accent any? I could not understand one single word that man said between songs! Ha ha.
JK: I have been with the Scorpions for 16 years. It has been an excellent ride! Our new album 'Sting in the Tail' is topping the charts worldwide! All shows are sold out!! My band Kottak just released 'Rock and Roll forever'. 2010 is a great year! J-lo was sooo good at the World Music Awards. Ludicris was cool, too! I think Paris Hilton has a thing for me. lol!
LMN: What kind of drumset are you currently using? What's your favorite equipment?
JK: I play ddrum drums, Zildjian cymbals, Aquarian drum heads, Ahead drumsticks, etc. Dean guitars. Go to www.jameskottak.com for everything.
LMN: Thanks for taking the time out of your extremely busy schedule to let us hometown hicks in on what you are up to these days. I always heard you were a great guy! My final question is a doozy. What is the wildest thing you have seen on tour as a professional internationally touring drummer? And don't hold back on me!
JK: The wildest thing was playing a Scorpions show for 750,000 people in Krakow, Poland.
The coolest thing is seeing all the young people at the Scorpions shows! Scorpions will play Louisville in 2011! See you all then!
Until then, hit me on Facebook, Myspace, etc. Kottak 'rock and roll forever'!
Kottak ordering links
Kottak 'rock and roll forever' out now!
Amazon US: http:
//www.amazon.com/Rock-Roll-Forever/dp/B003HT4UES/ref=sr_1_2?ie=UTF8ands=dmusicandqid=1273672795andsr=8-2