June 2010 Articles
Cover Story
Hunter Embry
Features
Eddy Metal
Columns
Berk Bryant
Mike Stout
Paul Moffett
Keith Clements
Martin Z. Kasdan Jr.
Eddy Metal
CD Reviews
Hunter Embry
Kevin Gibson
Kevin Gibson
Ronke Oyekunle
Ronke Oyekunle
Martin Z. Kasdan Jr.
Performance Reviews
Eddy Metal
Interviews
Eddy Metal
Blogs
Got Shows?
Send Them To Us
Bookmark Louisville Music News.net with these handy
social bookmarking tools:
Available RSS Feeds
- Top Picks
- Today's Music
- Editor's Blog
- Articles
Add Louisville Music News' RSS Feed to Your Yahoo!

Issue: June 2010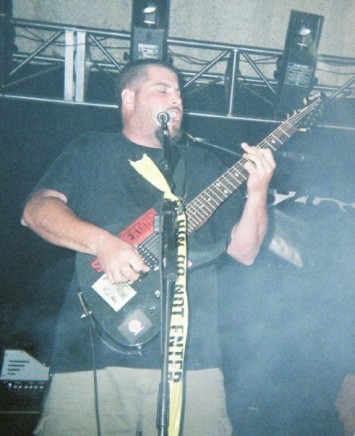 Doug Ferguson
Name: Doug Ferguson
Age: 38
Instrument: Guitar and Vocals
Band/Former Bands: Mayhem/Mindstorm, 1080, Downsix, Factor 9, Dying Kind, Fire in the Hole and Wild Bill and the Buffalo Band. (the last two are my current projects)
How long on instrument:26 years
Equipment: I play a variety of guitars(Fender Strat, Gibson SG, Gibson E-335, Ibanez and a Hamer USA) and use a 50/100 watt, Genz Benz El Diablo head through a Carvin 4x12 cab. I also have a kazoo and a mouth harp for those special songs. I can also play a mean stomach bongo, it gets better tone with age.
Influences: Black Sabbath, Lamb of God, Jimi "GOD" Hendrix, Stevie Ray Vaughn, Muddy Waters, Clutch, Corrosion of Conformity, Pantera, hell Eddy, I could make this list long enough to occupy the friggin section....lol.
My first gig: Ha ha, CD Graffitis on Shelbyville Rd. We sucked, Scott had new, unstretched strings on his guitar and we had to stop the intro to the first song so Scott could tune. Really was an eye opener. Also, made me realize why I love doing this.
Hobbies: Fishin, rockin, tokin, wimin - .not necessarily in that order.
Favorite movies: Taken, Law Abiding Citizen, 300, any old Clint Eastwood western, Bram Stokers Dracula, pretty much anything where lots of people are maimed or die … lol.
Favorite food: Free food … no, for real, Len Wathen's famous Beef Brisquet which I missed out on this year on Derby Day, damn second shift.
Favorite place: Rough River and that Oriental Massage parlor over on South Preston.
Bad habits: Smoking, procrastinating, being truthful … brutally truthful.
What I'm listening to nowadays: Lots of Clutch, can't get me enough of those guy's music, it's really made a comeback with me. Even as popular as they are, those guys still remain one of the most underrated bands EVER. Right alongside Helmet. Been jammin that Snot CD a lot lately too. I love them guys. Then there is the soundtrack to Cats … you won't print that one will ya?
Coolest thing I've done: Scott and I stole a vending machine from a golf course years ago, that was definitely cool at the time....lol. Probably the coolest thing was getting to open for Clutch a few years back at Tek World, I acted like a jackass that night, unfortunately, but it was still cool getting to open for those guys.
Most embarrassing moment: Phoenix Hill a few weeks ago, I got invited to come on stage with the guys from Project Sovereign and sing "Stone the Crow" with them. I had been having some stomach issues that day but did it anyway. On one of Phil's screams towards the end of the song I almost shat myself. I got lucky and managed a successful glute squeeze and was able to fend off the evil nuggets.
Who do you love: My old lady Tammy and my wonderful kids. I also have a handful of very close friends who I love more than life itself.
When/where did you first get some: Years ago, on the hatch back of an old Ford Pinto. It was pretty horrible I guess, dude, never lose your virginity on the back of a cheap used car.