June 2010 Articles
Cover Story
Hunter Embry
Features
Eddy Metal
Columns
Berk Bryant
Mike Stout
Paul Moffett
Keith Clements
Martin Z. Kasdan Jr.
Eddy Metal
CD Reviews
Hunter Embry
Kevin Gibson
Kevin Gibson
Ronke Oyekunle
Ronke Oyekunle
Martin Z. Kasdan Jr.
Performance Reviews
Eddy Metal
Interviews
Eddy Metal
Blogs
Got Shows?
Send Them To Us
Bookmark Louisville Music News.net with these handy
social bookmarking tools:
Available RSS Feeds
- Top Picks
- Today's Music
- Editor's Blog
- Articles
Add Louisville Music News' RSS Feed to Your Yahoo!

Issue: June 2010


I've Got A Mind To Ramble
St. Francis Meets The Buddha
St. Francis of Assisi Catholic Church at 1960 Bardstown Road has hosted several concerts in their Parish Hall since 2007. Their Americana Music Series has included Ralph Stanley, Tony Rice, Tim Finn and members of REM. Kevin Wilson initiated these concerts three years ago after he left the Cathedral of Christ the King in Lexington to be the Arts Outreach Coordinator, Social Justice Programmer and Minister for Youth &Young Adults at St. Francis. His goal is to present a show each month with either music, film, visual artists or lectures working with a minimal budget and a little help from Cumberland Brews. Yes, they serve beer. Father Lou Meiman, the parish priest, has also championed these events. Go to their website www.ccsfa.org and click on Weekly Reader for church activities and coming attractions.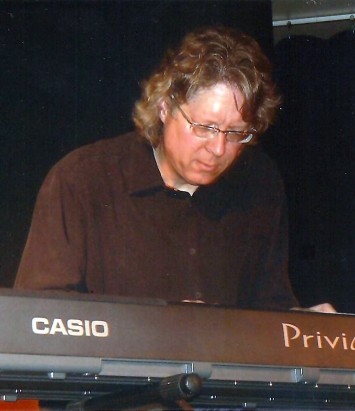 Lee Carroll of Tin Can Buddha, April 23, 2010. Photo by Keith Clements
Tin Can Buddha made a rare Louisville appearance at St. Francis on April 23. The core of this eclectic and eccentric trio included local harpmaster Rodney Hatfield plus keyboardist Lee Carroll and buddha-like guitarist Mitch Ivanoff from Harrisburg, Pennsylvania. They were assisted by four other musicians, a jazz singer and a writer/storyteller. It was like a Kentucky Homefront performance, only a lot looser.
A Tin Can Buddha show is an unpredictable and spontaneous experience. There are no rehearsals or playlist; they perform as the moment moves them. This blues- based band opened with a down-home version of "Little Red Rooster," then it was Mardi Gras time as a troupe of 'second liners' paraded through the audience twirling parasols with the prancing rabbit dancers. They were gyrating to the endless boogie of "Who Do You Love" as the trio of musicians transitioned to a septet. With the full ensemble in place, the band went "Down To The Crossroads." Gail Wynters joined the band for a very stirring rendition of "In My Solitude" in the deliberate manner of Jimmy Scott. Gail and Rodney did a little back-and-forth scatting on the phrase "Shot Baby Do Way," where everyone joined in. Gail's interpretation of "Stormy Monday" had her improvising the lyrics as she went through the days of the week. Rodney got his harp into overdrive for a long solo during an extended version of "Maybelline."
Mitch has a deep voice that most white blues singers would sell their soul for. His slurs and inflections were done without any pretension and it showed on "Killing Floor." Kentucky's man of letters, Ed McClanahan, read from his book, A Congress of Wonders, about all the bizarre images one would see at an old-time carnival midway. During his spiel, the band provided the appropriate sound effects. Other musicians had a chance to shine including David White on drums and Mark Jones who did some stinging guitar solos and sang "That Ain't Livin'," a funky, jazzy song of protest. Mitch said it was time for a little crotch blues when he did "Mannish Boy" with Tripp Batton, Gail's son, backing Mitch on conga drums.
Everyone got more than their ten dollars worth following the ninety minute first set. The shorter second set was a little looser and played out like an extended encore. We experienced a church revival with "I'll Fly Away." The most moving moment was when Mitch stood up and sang "You Are My Sunshine" with just Lee's accompaniment on keyboard. He received a standing ovation from an appreciative audience that included his mother. The spirit was in the air when we all sang "Come Together." The music concluded with Gail singing "Goin' To Chicago." The following evening the Tin Can Buddha ensemble did another show in Lexington at Natasha's Bistro.
The next concert at St. Francis will be the Louisville Mandolin Orchestra on June 20 at 2:30 p.m. Several of the Tin Can Buddhas, including Rodney Hatfield, Lee Carroll and David White, will return to the Parish Hall on July 23 to perform An Evening of Blues with Bruce Lewis at 8:00 p.m.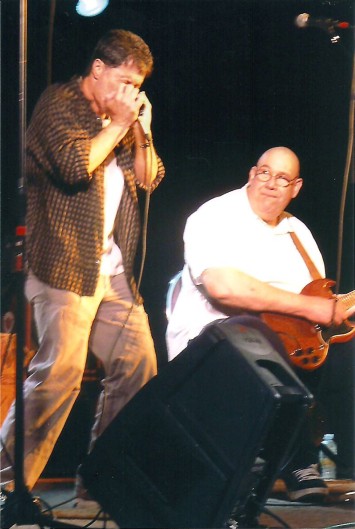 Rodney Hatfield & Mitch Ivanoff, Tin Can Buddha, April 23, 2010. Photo by Keith Clements
June Festival Season
The blues festival season officially started in May and will continue to the end of the year. I counted three hundred-twenty-nine major festivals throughout the world in the 2010 Blues Festival Guide, plus many other under the radar events that were not noted.
Every year about this time, I'm drawn to the shores of Lake Michigan in Chicago's Grant Park like a mindless lemming rushing to the sea. For me it is the addiction for a three-day dose of blues at the Chicago Blues Festival. This year (June 11-13). the festival will celebrate the life and music of Howlin' Wolf. who was born one hundred years ago. Some of the alumni of Wolf's band, including Eddie Shaw, Jody Williams, Sam Lay, Henry Gray, Abb Locke and Hubert Sumlin will gather together on Friday to jam in the Petrillo Music Shell. Saturday's highlight will assemble a living history of Chicago bluesmen with Billy Boy Arnold, John Primer, Billy Branch, Lurrie Bell and Carlos Johnson. There will be a blues reunion on Sunday with Barry Goldberg, Corky Siegel, Nick Gravenites, Harvey Mandel and Charlie Musselwhite. This is only the tip of the iceberg, as there will be continuous music all day on the Front Porch, Gibson Guitar Crossroads, Mississippi Juke Joint and Route 66 Roadhouse stages. Next month I'll share some of my festival experiences. The Chicago Bluesfest started in 1984. This will be my 25th year at the festival.
The W.C. Handy Blues & Barbecue Festival will be the following week in Henderson, Kentucky. The festival honors William Christopher Handy, "Father of the Blues." While traveling with a small band, he met his wife, Elizabeth Price, at a barbecue in Henderson. They were married in 1896 and lived in Henderson for nearly ten years. During that time, Handy didn't write any songs but absorbed the experiences of the local people and their music to later compose the music so associated with his African-American brethren. The Henderson Music Preservation Society organized the festival to celebrate his life and musical accomplishments in the blues and spirituals. This year will mark the festival's 20th year and the lineup is not to be missed.
The week-long festival kicks off on Friday, June 12, with the entertainment and audience building as the week progresses. Wednesday, June 16, will feature Cedric Burnside and Lightnin' Malcolm, "The Two Man Wrecking Crew," followed by Chicago singer Shirley Johnson and headlined by Rod Piazza and the Mighty Flyers. Thursday is zydeco night with Curley Taylor and Zydeco Trouble and Chubby Carrier and the Bayou Swamp Band. The music on Friday goes from 2:00 PM to midnight with the Bryant-Stevens Band, The Stella Vees, Albert Castiglio and finally a Louisiana finale with Kenny Neal and Tab Benoit. Can it get any better? Saturday from noon until midnight, the lineup will include Doug MacLeod, Kilborn Alley Blues Band, Otis Taylor, Magic Slim and the Teardrops, Shemekia Copeland and Joe Louis Walker. Audubon Mill Park, that overlooks the Ohio River, will be grinding the blues and making waves that weekend. Most of the performances will be filmed by Kentucky Educational Television for their nationally distributed Jubilee Series in 2011.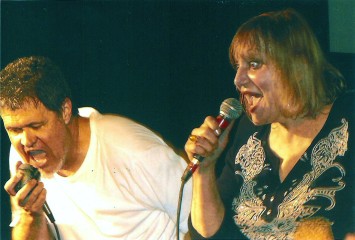 Rodney Hatfield and Gail Wynters, April 23, 2010. Photo by Keith Clements
The Kentuckiana Blues Society and the Musicians' Emergency Resource Foundation have collaborated on many fund-raising projects over the years but the 2010 MERF/KBS Booty Shakin' Blues Festival will be our biggest event ever. On Saturday, June 26, these two organizations will host a day-long festival with music from 3 p.m. To 11 p.m. (officially only to 10 p.m.) in the New Albany Amphitheater as part of the New Albany Summer Concert Series. The city of New Albany has graciously arranged payment for the sound and the headliner act which will eliminate the need for a cover charge. The lineup for this free festival will be The Blue Rebellion, the youth band selected by the KBS to perform at this year's International Blues Challenge in Memphis. The Bryant-Stevens Band will make another festival appearance plus playing at the Louisville Blues-n-Barbecue Festival at the Water Tower in July. The Jimmy Davis Band, the Travelin Mojos and Marilyn Kington and 2 Loose will represent the Indiana side of the KBS. P.S. Willie will get down and funky with their soulful brand of blues. Josh Garrett and Bottom Line who ignited the KBS Birthday Party last November at the Vernon Club, will be the headliner. Come out and support MERF and KBS, which will split the proceeds for good causes.