February 2009 Articles
Cover Story
Tim Roberts
Features
Eddy Metal
Jason Ashcraft
Columns
Berk Bryant
Mike Stout
Paul Moffett
Keith Clements
Martin Z. Kasdan Jr.
Eddy Metal
CD Reviews
Kevin Gibson
Hunter Embry
Kory Wilcoxson
Hunter Embry
Hunter Embry
Hunter Embry
Martin Z. Kasdan Jr.
Bob Mitchell
Performance Reviews
Hunter Embry
Blogs
Got Shows?
Send Them To Us
Bookmark Louisville Music News.net with these handy
social bookmarking tools:
Available RSS Feeds
- Top Picks
- Today's Music
- Editor's Blog
- Articles
Add Louisville Music News' RSS Feed to Your Yahoo!

Issue: February 2009
VilleBillies: They Rap, But They Rock.
By Jason Ashcraft
The VillieBillies are exactly as their name implies; musically inspired hillbilly kids who live in our artistically diverse city of Louisville. And these guys are proud of it, too, often lyric-sizing Louisville themes in many of their songs. Formed over eight years ago, the VilleBillies quickly established themselves as one of Louisville's most popular bands, drawing hundreds of fans to their shows.
In 2006, they inked a record deal with Universal Motown Records and released a self-titled debut album later that year. But in 2008, that deal was in the rearview mirror as the VilleBillies decided they needed to review their entire approach to the music business. They refocused their approach to their sound and incorporated more rock into their songwriting. They refreshed their image, and they realigned the lineup by downsizing the band from 10 members to 7 members.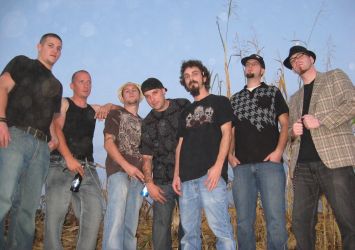 The VilleBillies
Also in 2008 the VilleBillies released a new album, From the Belly of the Beast,on their own label Hack Music. The album is rock solid from beginning to end and, yes, the sound has definitely evolved by having more of a rock sound in their instrumentation; but still incorporating their clever use of the English language (also known as rapping) lyrically. The VillieBillies are ready to make a second run at success in the music business.
The VilleBillies current lineup is now: Demi Demaree (vocals), Dustin "Tuck" Tucker (vocals), Derek "Child" Monyhan (vocals), Adam Goff (acoustic guitar and banjo), Justin Reed (electric guitar), Tim Bernauer (grums), and Ron Ping (bass).
In a recent interview, front-man and founding member Demi Demaree explained the split with Universal Motown Records, why recent line-up changes were made, and even some of the band's youthful foundations.
LMN:What is the bottom line reason that your self-titled debut album with Universal Music did not fair as well nationwide as everyone had anticipated and hoped it would?
DEMAREE: "I think cause it didn't get put out there, ya know, like, yeah it was supposed to get put out there. They put a lot of money into making the record but weren't really sure how to market it. Universal split up into Universal Motown and Universal Republic and the two main people that hired us split ways, so it was actually a bad time. Or in the wrong place at the wrong time type of deals. Once Adam put up all this money to make a record and put us on the road, then we got sent to someone else who didn't wanna have anything to do with us. Therefore, our album didn't end up in the stores, and it didn't end up being played on the radio and pushed in all these other markets. So the only way we were even able to reach other people is if we got put on good shows or got to tour for a little while. So everything that we did is basically off the tour we went on. Cause, they just didn't put it out there, if you didn't hear about us, then there's no way that you know what I mean? So, I'd say that'd be the main reason for sure."
LMN: In terms of the band's newly changed line-up, what now is different within the band that will immediately be evident to fans; from when you all started, maybe say the release of your self titled debut album, to now?
DEMAREE: Definitely rockin', more energy, more like what our live show is and definitely more back to the rock roots; have a little more fun with it, cause there's not as many, what do they say? "Too many chiefs and not enough Indians" was the problem before (laughs) but, I mean, now it's just everyone's having fun with it. Just rockin' more, I'd say. And a lot of people say you can actually hear what we say LIVE now, cause there's not four other people talking at the same time (laughs).
LMN: Tell me about one of those real life brawls that went on.
DEMAREE: "Oh, no, not even. Against each other?"
LMN: A band brawl with some or all of the band members…not necessarily that you all were fighting each other….
DEMAREE: "….Yeah, but that's what I was telling you about earlier at the Blue Martini, actually. The whole band was there, it was after a show around Derby, or the night before the show. ;Cause that's the one everybody was in. Well, there was a couple actually, around that time. Yeah, the Blue Martini is like what we always did. That's when we were going to bars every night and living it up. We were all like twenty-one, twenty-two, or twenty with a "fake." And, that one, actually I started. It ended up being half the band fighting each other. We actually shut-down Blue Martini that night; and I have scars on the back of my head from it. Well, this is really a better one though…this is not as big of one, but, back when it was Derby, it was actually during Derby night and we were bar hopping from Jillian's – it was Jillian's Crown Royal Derby Party – that's what it was. So this is a good one, this is when Janet Jackson came here and Jermaine Dupree came here and me and Dillan actually both danced. And Justin danced with Nelly Furtado, little Nelly Furtado, you know, the 'I'm like a bird'… that girl. Back then it was the Crown Royal Party and all the celebrities were there. We got just ripped. It was free Crown Royal all night and we were V.I.P. cause we were like the talk of the town and that kind s**t. Me and Dillan were walking back and we met up with a few of our friends that we had came with. And as we got into a car this guy that had followed us and was apparently from out of town. As we opened up the car door, this old guy pushed one of my buddies out of the way and jumped into the car and demanded that we take him down the street. And we were like 'we don't know you, get the f**k out of the car.' And then he said 'You hillbilly motherf**kers take me down the street…."
LMN: "He said 'hillbilly'"?
DEMEAREE: "Yeah he was calling us 'hillbillies.' And he thought it was funny because he knew we were the 'VilliBillies.' So we showed him hillbilly. My and Dylan started whaling on this dude. And then we pulled him out of the car and threw him on the ground and then we were like 'what are we doing, what are we doing? Pick him up,' so we picked up him while we tried to turn it around on him, by asking 'What the f**k are you doing?' while he is yelling 'what the f**k was that for?' And we were like "Dude you just jumped in our car and we don't know you and you called us 'hillibilly motherf**kers' and s**t. (laughing). That's enough said."
LMN: Why are former band members, formerband members?
DEMAREE: "I think basically because BJ and Dylan weren't happy in their situation anymore. You know? Dylan just had a kid, and he was on the road and stressed out. It wasn't all fun and games anymore like it used to be, once you're on a major label. And I think it basically just consumed him, made him sick of it, and just made him want a change in his life. So they just got out of it. You know? And 2B (David Mouser) had just a lot of personal things that he needed to deal with before he could be in a group like that. Basically. I should also say that they to 'don't mix business and friends' and you know, you just don't want to go into business with your buddies because you don't turn out being buddies anymore, 'cause then it turns everything into about money, and being on time, you know? All these things that didn't used to exist when you were just making music for fun. So music turns into a business and then all of the sudden your friends – well – you all ain't friends like that no more sometimes. And the next thing you know you gotta get away from each other and the business to be friends again. So it's been kind of a sad turnaround, you know?"
LMN:You guys have played with Method Man and Hank Williams Jr. Tell me what that was like in terms of your own musically diverse background.
DEMAREE: "I think it was really cool because it shows you what we were made of. We were so different because we could play with Hank and we could play with Method Man. But honestly I think that what helped us, hurt us. Because we were so diverse that people just didn't know what to do with it (speaking of the record label). They were like 'how do you market these people?' How does Motown market someone who was playing with Hank Williams? They don't. They don't understand it. So they would take Method Man and say they don't understand that, either. So it kind of helped us and kind of hurt us. Method Man is cool as hell though, and Hank Williams not so much. Unless you're a girl, though. And we're not, so (laughing) uh… no. So it was a good thing and a bad thing for us."
Get all the latest show information, new videos, and the other usual stuff online at VilleBillies.com or myspace.com/VilleBillies.