February 2009 Articles
Cover Story
Tim Roberts
Features
Eddy Metal
Jason Ashcraft
Columns
Berk Bryant
Mike Stout
Paul Moffett
Keith Clements
Martin Z. Kasdan Jr.
Eddy Metal
CD Reviews
Kevin Gibson
Hunter Embry
Kory Wilcoxson
Hunter Embry
Hunter Embry
Hunter Embry
Martin Z. Kasdan Jr.
Bob Mitchell
Performance Reviews
Hunter Embry
Blogs
Got Shows?
Send Them To Us
Bookmark Louisville Music News.net with these handy
social bookmarking tools:
Available RSS Feeds
- Top Picks
- Today's Music
- Editor's Blog
- Articles
Add Louisville Music News' RSS Feed to Your Yahoo!

Issue: February 2009
Kings Of Leon at the Louisville Palace Jan. 20, 2008
Since their 2007 release, Because of the Times, Kings of Leon has indulged in overseas fame, while dealing with less at home in the states. KOL has toured tirelessly in support of their latest album, Only By The Night, a record that solidifies the Southern rockers' transition into a full-fledged pop-rock stadium attack.
The Kings dropped in on an early stop of their new tour. Dressed to sex in their model attire, they strolled onto the stage in front of a sold-out Louisville Palace crowd. Floating atop hundreds of screaming young women, KOL, innocently, yet sweetly commanding, belted out tracks from each of their four albums.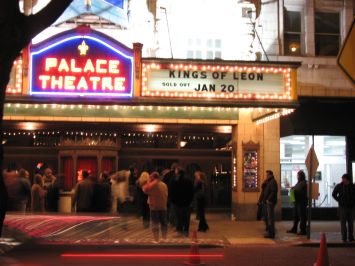 Things became strange when KOL started the head-rushing intro to "Molly's Chambers." The bands semi-hollow bodied Gibsons sounded just as raunchy as the album cut, but one couldn't shake the image of the long-haired, bearded, bell-bottomed KOL of 2000. No matter how on-point it sounded – which it did – the drums were fat, the bass riff was bottomless and singer Caleb Followill having seemingly mastered his vocal style – the guys on stage just no longer have that vintage boozy look.
The guys' straight-leg pants, long, lopsided bangs and clean-cut prettiness didn't make sense until they fed-back into the acoustic dance song, "Fans." Three girls sitting front row, stopped snapping Facebook profile pics of themselves and started dancing with a wobble in their high-heels to the throbbing bass line and plump kick, held together by a soft acoustic guitar and raspy moan of Followill.
As KOL moved into "Revelry," a recent hit from Only By The Night, Followill sang in balladeer fashion, "What a night for a dance, you know I'm a dancing machine." A thousand high-pitched voices attempted to drown the music drifting like fog from the stage. KOL was just getting started.
In Johnny Cash style, Followill, cool and confidently said, "Thank you all very much. We're Kings of Leon."
After an anticipated showering of claps and screams, the young faces throughout the building fell quiet, looking and waiting to be blown away. Within seconds, the audience, light shining on them for the first time, became baptized [rock n roll style] in an ocean of muffed-out bass rhythms.
Drummer Nathan Followill muscled down on his kit, while attempting to keep his straight-faced Charlie Watts look. Tossing his cigarette carelessly to the side, guitarist Mathew Followill started the antagonistically dirty, yet catchy, guitar riff of "Crawl." All the while, KOL managed to give their audience a taste of old in a heavy-hitting Zeppelin kind of way. By the time the chorus hit, those in attendance, dazed but catching on, sang, "You better learn to crawl. You better learn to crawl before I walk away."
It didn't seem like anyone learned to crawl [concessions closed an hour after the show began], but a few first-time head-bangers could be spotted awkwardly rocking around the stage. The band continued to rock while seducing - hit the right notes while staying cool - during classics like, "Four Kicks" and the more modern sounding, "The Runner," but the night culminated with their latest hit, "Sex on Fire." Lovers of the old and new KOL alike banded together to sing the melodically addictive chorus.
While the question lingers if KOL is a music platform or a record industry mold, there is no question that they've got something to their music and they're headed the right direction — down mainstream. It makes one crack a smile to think that rock n roll's next big explosion could be ignited by a full-fledged band that's not content with just being overseas hits or underground saviors. Kings of Leon wants it all.