February 2009 Articles
Cover Story
Tim Roberts
Features
Eddy Metal
Jason Ashcraft
Columns
Berk Bryant
Mike Stout
Paul Moffett
Keith Clements
Martin Z. Kasdan Jr.
Eddy Metal
CD Reviews
Kevin Gibson
Hunter Embry
Kory Wilcoxson
Hunter Embry
Hunter Embry
Hunter Embry
Martin Z. Kasdan Jr.
Bob Mitchell
Performance Reviews
Hunter Embry
Blogs
Got Shows?
Send Them To Us
Bookmark Louisville Music News.net with these handy
social bookmarking tools:
Available RSS Feeds
- Top Picks
- Today's Music
- Editor's Blog
- Articles
Add Louisville Music News' RSS Feed to Your Yahoo!

Issue: February 2009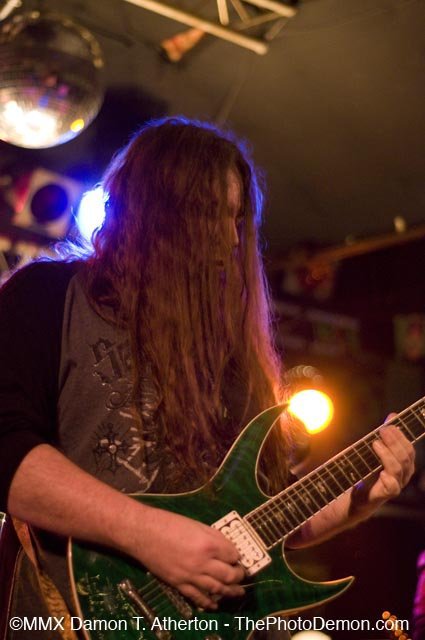 News From the Pit
Man it's been colder than a witch's boob in Canada. This hideous cold spell busted a pipe in my basement, flooded half my basement with water and nearly made it's way to my super-expensive Bogner guitar amp. Whew! That was a close call.
The only good thing about cold weather is skiing. Hopefully, I might be going there in a week or so. And no, I don't dwell on the bunny slope! I'll tackle the steepest black diamond course around (notice I didn't say I'd make it down without doing a few flips).
Shows. Shows. Shows! There are a few cool shows coming up that I'm looking forward to seeing. The Saliva/Pop Evil show at Phoenix Hill is coming up in a few days.
While not a big fan of either bands, I'll probably go to that to review it for you peeps. I'm thinking there will be lots of hotties there.
I'm going to see Cheech and Chong at Horseshoe Casino on February 5, even if I've got to sneak in. The drive to that show will be like the smoking van scene before school in "Fast Times at Ridgemont High." Then after Cheech and Bong, I'll probably go to that sweet buffett at the casino.
Promoter Terry Harper has two big shows in February for you freaks and he has tickets for us to give to you readers! Powerman5000 will be at Headliners on February 9, and Clutch will be at Headliners on February 12. See below how to win tickets to both shows!
Valentine's Day at Rupp Arena will rock, when Slipknot will be in concert with Trivium, Coheed and Cambria. How in Satan's underwear's name did Lexington get this show, and not Louevil? Lexington's metal scene is dead as a fargin doornail.
I tried very hard to get you people some free tickets, but it wasn't to be. Sorry. All you metalheads should try to make this show. If it does well, they might book more big metal shows at Rupp!
Look out a review next month,
Nickelback is coming to Lexington, too, with Seether and Saving Able. This should be a poon-fest for the ages. All those hot UK wenches!
I went to one of Bizkit's (a regional music promoter) shows at the Phoenix Hill to see Sever This Illusion, a Louisville metal band that just got signed to Turkey Vulture Records. Nice guys, and they're a rockin' band. I haven't heard much of Turkey Vulture Records, but hopefully they can do something for some of the region's newer and heavier bands. I've noticed that Bizkit brings in a lot of out-of-town bands. As a promoter, I've brought in some great out-of-town talent but Bizkit has run with out-of-town bookings a bit more and brought in some pretty darn good bands. He has Asleep from Ohio, and War Within from Tennessee coming in February, and both bands are good. Good job Bizkit.
I've noticed there's a few band battles going on. I hate band battles! I hate the sometimescorrupt judging, the negativity, the pressure, the turning on each other to succeed, the hectic schedule, the lowdown stuff that occurs, the bitter feelings, all of it. I judged one band battle when I was with 100.5 the Fox, and I will never do so again. A riot almost erupted. I was about ready to defend myself at all costs, it got so bad. The other judges left, unnerved, but no one makes me leave, so I stayed until I was good and ready!
Column fans, if you haven't linked up with me on MySpace, you seriously need to! We have our Free-Ride Ticket Giveaway system now that hooks you up with FREE tickets to the area's coolest events! We appreciate the support you give Louisville Music News and want to pay you back, which is why I created this Ticket Giveaway system. For ticket giveaway info, read my column at Louisvillemusicnews.net or visit my personal page at Myspace.com/eddymetalrocks. Link up with me now.
The Metal Grapevine
Free Tix to Clutch: (FREE-RIDE)
On February 12 at Headliners, Clutch will be bring their stoner groove selves back to Louevil once more for an always-packed house. Special guests are Willem Maker, The Bakerton Group and Red Fang.
These guys are party animals, so try to get backstage at all costs. You might want to rent an iron lung and bring along a gallon of Visine though.
I got a pair of tickets for you; to win, email me at myspace.com/eddymetalrocks on Sunday, February 8 at exactly 6 p.m. In subject line put "Stoner Groove Rules!"
Powerman 5000 on Feb 9: (FREE-RIDE)
On Monday, February 9 at Headliners, Powerman 5000 will be shock-rockin'. Also on the bill will be Boom Orangutan, Audible Point, Milkweed and Revenge Of The Awesome. I have a pair of tickets to giveaway, so email me on Wednesday, February 4 at exactly 6 p.m. for a chance to win. In subject line, put "Powerman."
Cheech and Chong, Last Call:
Attention, stoners. On Thursday, February 5 at Horseshoe Casino Southern Indiana, Cheech and Chong will be performing their unusual stand-up comedy. I'm not sure if there are even tickets left, so if I were you, I would look into getting tickets A.S.A.P. This should be one great show, and I, for one, am not going to miss it.
Special Thanks to Horseshoe Casino and Anne Daily for giving the newspaper free Cheech and Chong tickets to give to you, our loyal readers. Horseshoe Casino rocks!
7 Day Sun's New CD:
(Vocalist Trey Landrum is also Musician of the Month in this issue!) Dayum, these guys must be rich, Because the money, time and effort needed to put out such a well-thought out and produced CD is considerable. The vocal parts alone must have taken a week to record and must have cost a chitload to produce. 7 Day Sun's new CD "And The Shadows Will Fall Behind You" is an 8-track trip into melody and emotion. I can't help but think Flaw a little bit when I hear the first tune, "Another Day," a rocker with some lighter moments. I like how 7 Day Sun mixes up their music with all kinds of time changes. One minute, it's clean, effect-driven, ballad-y guitar, and the next it's emo/alternative, and the next it's hardcore. Vocalist Trey Landrum has really improved over the years. I used to cringe at his vocals, but he has applied himself and now is a full-fledged, bona-fied rockin' singer. His style is very creative and I love his vocal technique.
The guitarwork in "Message from Coalbucket" is impressive. Nice solo! Then a voice talking came on and was kind of goofy. It sounded like someone on a lot of cocaine! "Shoot The Moon" is a bit heavier and has more groove than the previous tunes. Jeremy McMahon's drumming on this track kicks butt. I've always liked his playing though. The sound quality of this CD rocks.
This is what I'm talking about people! Quality recordings get quality results. That song jams, and is quite sick. I can see that song as a bruising opening tune. "Rewind , Erase, Reset" is a pretty tune with excellent, clean guitar sounds in the beginning, mixed with high-pitched actual singing (which I like). This was intended to be a ballad, yet the chorus is thick. The multi-layering of Trey's vocals are cool. He experiments a lot and tries everything.
"Simplify" is a weird little tune with lots of stops and some muted picking technique in the middle that was cool. I like the lyrics in the chorus a lot.
Whatever they do, you can bet there's going to be melody involved. Sometimes, the vocals seem to be overmuch. When I'd like to enjoy some of 7 Day Sun's double guitar attack, Trey was still going nonstop, as if he smoked a big ball of crack or something (note: Trey does not smoke crack). Jokes aside, Trey is a ball of energy, and an energetic singer makes for an entertaining show.
I would like to hear more guitar solos from these talented axemeisters, though. The melodys of the few solos on this CD were soulful and I dug their guitar sound and tone, bigtime!
"Few And Far Between" seemed to linger and didn't do much for me, but the music was pretty cool. I can already tell I liked "RDX Girl." It starts off with an eerie but sweet guitar riff, then slides into vocals with cool effects. A heavier riff leads into the best guitar solo on the CD before ending in a heavy, pounding fashion.
This CD is pretty good. The musicianship is great. The lyrics are good, and the singing was talented. If I had to pick one thing to complain about, I reckon it would have to be that the vocals, though talented, come across as kind of whiny at times, and too high pitched. But then again, so does over half of the popular emo/alternative bands these days. To be honest, I've never really liked emo and alternative, but there's no denying that this is one jamming band. Ask one of the many thousands who saw them play LRSfest at Waterfront Park, they will tell you. If you like lighter melodic rock mixed with a tad of emo, a dash of alternative and a pinch of heavy metal, then you should check out these Louevil natives. Visit their website at 7DaySun.netto hear a sample. And don't miss their CD release bash on March 6 at Headliners.
A Flaw Mutiny:
Despite Flaw vocalist Chris Vols' claims to have changed a year or so back, it seems all that was a bunch of bull. The new Flaw was doing pretty well with new members and getting shows/tours and stuff.
Well, a huge cloud has descended over the Flaw camp once again, in the form of a mutiny. Apparently a few of the new band members have had it with Vols' antics, addictions and behavior, and have decided to abandon ship. Not only that but they used the Flaw myspace website to totally rip Vols, in a way that is too vicious for me to repeat on here. Former Flaw members drummer Chris Ballinger and guitarist Lance Arny weren't too happy with Vols either.
Flaw has come so close to doing very good things, but something always seems to implode. Now Flaw's future is grim, with many bridges burned. I'm sure if Vols really wants to continue on with another new Flaw, he could, perhaps, find some extremely tolerant individuals who would fill in the spot. There is no doubt that Chris is a great singer/songwriter, but his actions may have finally destroyed his dreams of what could be.
Guitarist Nathan McDaniels is now playing with a Chicago-based band called The Dogs Divine, who play Eighties sleaze with some modern heaviness. They have an album out called "Way Of Life" on Chavis Records, recorded by Chip Z'Nuff from Enuff Z'Nuff (which can be bought on their myspace site). The band is currently trying to land a very cool tour. I'll keep you informed on that. Meanwhile, check out Nate's new band or he will smack you. Myspace.com/thedogsdivine
Lamb Of God, Exodus, Kreator and Nightwish coming:
I know it's a long way off, but I thought I give you heads up on this, because you'll probably be excited as I am. On May 5, Lamb Of God will be at Expo 5 with Children Of Bodom, As I Lay Dying, God Forbid and Municipal Waste. On May 6, European gothic metal meisters Nightwish will be at Club Oasis. I saw them last time at Headliners and it was awesome. On May 14, Exodus and Kreator are coming for a classic old-school thrash metal show at Headliners. On a more disgusting note: the last time Exodus were here, some chick was willingly gangbanged by the band in the venue's bathroom (and no, I did not participate).
All three of these shows are a must see. Trust Mr Metal on this.
Professional, or an A-hole?
I'm so glad I get a constant flow of good appreciative new bands to promote, because lately some of the bigger bands have been getting on my nerves. Attitudes! Let's get this straight:"If you haven't had much success out of town, or if your CD isn't for sale at record stores in Tahiti (a famous David Lee Roth quote). You aren't bigtime."
So quit acting like you are a Bono mini-me, and if you are going to trumpet 'greatness' - as some of you do - at least try tobe professional. Quite a few bands have been acting very unprofessionally, with consequences: the Phoenix Hill has banned one of the city's premier bands because of their unprofessionalism. I'm about at that point, too. Enough is enough.
I started the Original Rock Showcase Series in 2000 at Phoenix Hill, and featured the premiere of many original bands in this scene. Yet some of these same people who came to me years ago beggingfor a show for their new band are some of these dillholes who act like they are above playing it now, shunning the show that gave them their start. Is that lame or what?
I don't want a medal, but it would be nice to have those same bands come back for a show every now and then, without such arrogant attitudes. Remember this rule: "Be careful who you step on on your way up; they will be there on your way down."
So to you bands who have been acting this way, it's time to up your game a bit. 1. Be punctual about answering your gig offers (Answering back a month later is unacceptable and annoying). 2. Setup/knock down quickly and in a considerate manner, for the next band's and the schedule's sakes. 3. Don't get intoxicated before you play or you will end up banned from the venue. 4. Don't cancel when you don't get the time slot you wanted. 5. Don't cancel at the last minute unless it's a genuine emergency. 6. Don't act like you are above playing a local show when you haven't done really anything substantial worldwide.
I still support you as I always have, but I only ask you do what's right to the people who are trying to help you in your musical endeavors. Peace.
Soilwork Coming:
I can't wait for the very dark and evil show on March 18 at Uncle Pleasants, when Soilwork plays with guests Darkane, Warbringer (awesome) , Swallow The Sun, Behind The Beheaded and Succumb To Demise. Guitarist Peter Wichers of Soilwork is a bad mofo and lately has worked with Nevermore's Warrell Dane on Warrell's solo CD, which is fargin great. Pick it up. $15, all ages.
The Return of Surviving Thalia:
After a hiatus, Surviving Thalia is back with a new full-length CD entitled The Occupation of D.C, which has a staggering 20 tracks and over 70 minutes of music on it. It took the band two years to make, but they are excited about the new stuff and can't wait to play out again. They say it's their best stuff by far! Look for a review soon.
Their CD release show is Sunday, March 29 at Headliners. You get a free CD with paid admission!
Hyndsite, Southern Kentucky Bred:
Hailing from southern Kentucky, these country boys don't mess around. They come to Louevil with one clear purpose: to rock your socks off. And I'll be honest, they succeeded!
Very nice guys who are dedicated and don't give up easily, they bugged me to death until I gave them a show. I'm very glad they did, because I enjoyed their music very much.
Heck, everyone at Phoenix Hill enjoyed their music. They have a new singer, Wade Tucker, a little dude with a powerhouse voice that belies his size and who is perfect for their melodic, energetic style. All in all, Hyndsite is one of the best new bands I've heard in a while. Do yourself a favor, and check them out on Saturday, February 7 at Saint Andrews Pub. Also, it would be a great time for you to go check out the pub.
New Band Alert, Amalgamate:
From across the river in New Albany comes Amalgamate, a force to be reckoned with. Oldschool metal with a mixture of classic thrash and eurometal, plus a touch of Norwegian black metal thrown in for good measure. The guitar riffs are solid and kick major butt. The musicianship here is excellent! Although a new band, it's easy to tell these are seasoned rockers wanting to unleash some musical chaos.
Rob Gilland's vocals are a bit iffy in the first song. "The Reckoning," but when he screams, his metal screams/growls are killer. Reminds me of the singer for Dimmu Borgir. He has a great death metal voice. These guys are all over the place musically. Some crazy guitar leads too.
I am very impressed with this show of talent. Their dark, progressive metal is right up my alley so I'm gonna have to book these cats soon. BTW, the vocals improved as the CD played on. Fans of Opeth, Nevermore, Arch Enemy and Slayer will love this band. Look them up now and see what I mean at Myspace.com/mynameisrichardvoth
New Band Alert, Downcast:
Lexinton's Downcast sounds good, too, I must admit. It's a very polished sound. The songwriting is impressive as well. The vocals are decent, the music is kind of but still in a commercial realm. The guitar work isn't super-technical, but it's adequate and hits the right spot. My roommate says they sound like Dark New Day or Alterbridge. The sound quality is decent on this CD, but not excellent. The lead guitar solos are not bad either. This is more hard rock than metal. At times the vocals are a bit whiny, but then they switch to Cradle of Filth-type screams. Weird. And at times the vocals sound really good!
They seem torn between wanting to be heavy and wanting to be radio accessible. I want to see them live, so I booked them for Friday, March 6 at Phoenix Hill. Be there.
Singer and Drummer Needed:
My new metal project needs a melodic singer and a slammin' drummer. Looking to play dark, melodic, thrashy groove metal, like 5 Finger Death Punch or something. Practice place, PA. Myspace.com/eddymetalrocks or 367-2080.
Upcoming Shows
Broadbent Arena
Tuesday, February 17 – 3 Doors Down, Seether and Hoobastank. 7 p.m.
Bulldog Cafe
Thursday, February 4 – Gwen Stacy w/ Our Last Night, Vanna and In Fear and Faith. $10 7 p.m.
Friday, February 6 – Sever This Illusion w/ Destroy Destroy Destroy and Woe Of Tyrants. 8 p.m.
Thursday, February 19 – Blessed By A Broken Heart w/ LoveHateHero, Agraceful, Kiros, Morning Augment and Still I Rise. $12 6 p.m.
Friday, February 20 – The Sleeping w/ Emarosa and This Is Hell. $12 7 p.m. All ages.
Saturday, February 21 – Foxy Shazam w/ The AKA's, Look Afraid and The Weatherman Underground. $10 7 p.m. All ages.
Headliners
Monday, February 9 – Powerman5000 w/ Boom Orangutan, Audible Point, Milkweed, Devastation By Dawn and Revenge Of The Awesome. $12 7 p.m. All ages.
Thursday, February 12 – Clutch w/ Willem Maker, The Bakerton Group and Red Fang. $15 7 p.m. 18 and over.
Tuesday, February 24 – Bleeding through w/ The Acacia Strain, As Blood runs Black and Impending Doom. $15ADV$17DOS. 7 p.m.
Friday March 6 – 7DaySun CD Release show w/ Heaven Hill, And The Armed, Hanover and others T.B.A.
Horseshoe Casino
Thursday, February 5 – Cheech and Chong! 7 p.m.
Phoenix Hill Tavern
Wednesday, February 4 – 93.1 The Fox' Louisville Rocks: Shatterstone. 9:30 p.m.
Friday, February 6 – The Original Rock Showcase Series "Underground Chaos" with Antikythera, and two out-of-town bands that absolutely slam: Deliver Us From Evil (from Evansville) and Society's Plague (from Lexington) as well as special guests Lesson B4 Dying, Arafel and Casting Ashes. Early show! 8 p.m. sharp. $5
Sunday, February 8 – "Best of the South" Band Battle.
Friday, February 13 – Bizkit's "McLovin" w/ Asleep (Ohio), Noise auction (Ohio), War Within (TN), 3 Pill Morning and Sever This Illusion. $10 10 p.m.
Wednesday, February 18 – 93.1 The Fox' Louisville rocks: The Jane Rose Band. 9:30 p.m.
Wednesday, February 25 – 93.1 The Fox' Louisville Rocks: 7DaySun. 9:30 p.m.
Friday March 6 – The Original Rock Showcase Series: Snake Eyed Savior, Blackroom, Descention, Shatterstone, Downcast (from Lexington), and Adaptize. 8 p.m. $5
Saint Andrews Pub
Saturday, February 7 – "Freak Show" featuring Hyndsite, Sixth Day Mistake, Buried on the Battlefield and Buffalo Bill. Draven the Illusionist Returns! 18 and up. 9 p.m.
Saturday, February 14 – Screwface, Thomas Medicine, and Room 21. 18 and up. 9 p.m.
Saturday, February 21 – "Beach and Beads Bash" Featuring MSD, Dogwater, Tri Tones, 16 Bones (acoustic), and Boozer. 18 and up. 9 p.m.
Saturday, February 28 – "Louie the Local Guy's Annual Birthday Event" Lingerie/PJs Party. Featuring Bobaflex, w/ special guest Hardlein, Nova Red, Institution, Poetry of the Dead, and Atomic Pimp Hand. 18 and up. 7 p.m.
Shooters (7092 Distribution Drive)
All Shooters shows are $5.
Saturday, February 7 – Sinners and Saints.
Saturday, February 14 – Grindstone Valentines Party with best Heart Shaped bottom contest
Saturday, February 22 – Sons of the Bluegrass, Once Fed Lies and T.B.A.
Saturday, February 28 – Stallpoint, Adaptize, Bonejinn and Stalling Hari-Kari. 18 and over.
Coming in April, The SXSE Festival.
Uncle Pleasants
Wednesday March 18 – Soilwork, Darkane, Warbringer, Swallow The Sun, Behind The Beheaded and Succumb To Demise.
Props of the Month
This month's props goes out to Louie the Local Guy for getting Saint Andrews Pub shows going once again!
The place has had it's problems, but it appears that they have been worked out, because live music is once again kickin' at The Pub. I heard the shows were starting to do pretty well recently. Do yourself a favor and party like an animal in the south end. Where the true rockers and the easy women are!