February 2009 Articles
Cover Story
Tim Roberts
Features
Eddy Metal
Jason Ashcraft
Columns
Berk Bryant
Mike Stout
Paul Moffett
Keith Clements
Martin Z. Kasdan Jr.
Eddy Metal
CD Reviews
Kevin Gibson
Hunter Embry
Kory Wilcoxson
Hunter Embry
Hunter Embry
Hunter Embry
Martin Z. Kasdan Jr.
Bob Mitchell
Performance Reviews
Hunter Embry
Blogs
Got Shows?
Send Them To Us
Bookmark Louisville Music News.net with these handy
social bookmarking tools:
Available RSS Feeds
- Top Picks
- Today's Music
- Editor's Blog
- Articles
Add Louisville Music News' RSS Feed to Your Yahoo!

Issue: February 2009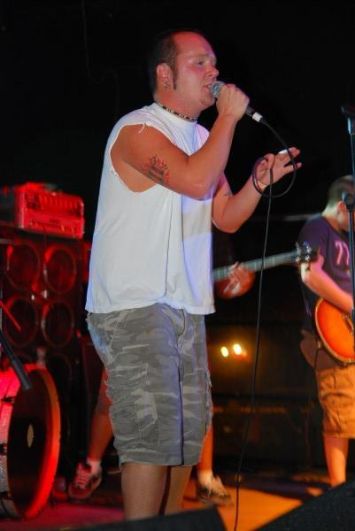 Trey Landrum
Name:Trey
Age:26
Instrument:Vocals Band/Former Bands:7DaySun (Current), Execrate and Project Blue Book
How long on instrument:10 years
Equipment:Lungs, Diaphragm and my Shure Beta 58a microphone
Influences:Brandon Boyd (Incubus), James Hetfield (Metallica), Justin Pierre (Motion City Soundtrack), Jason Mraz, Ian Kenny (Karnivool) and Elias (Nonpoint)
My first gig: Execrate @Swiss Hall in the mid-Nineties with Sen and Countermeasure
Hobbies: Playing with my beautiful daughter, Video Games (XBox 360, Wii, PS3) and Spelunking
Favorite movies:American History X, Anchorman, Fear and Loathing in Las Vegas, Superbad, Army of Darkness, Evil Dead 1 & 2
Favorite food:Mexican, Italian, and Chinese.
Favorite place: The stage.
Bad habits: strippers
What I'm listening to nowadays:Metallica (Death Magnetic), Atreyu (Paper Sails), Jason Mraz (Steal Things), Karnivool (Themata) and Minus.Driver (A Message for You)
Coolest thing I've done: 2006 Budlight LRSfest.
Most embarrassing moment: We (7DaySun) were playing Sudsy Malone's in Cincinnati, Ohio and I fell flat on my face in front of a packed house. I still kept singing though!
Who do you love: My daughter and my main squeeze.
When/where did you first get some: My girlfriend's grandparent's house on their couch.