February 2009 Articles
Cover Story
Tim Roberts
Features
Eddy Metal
Jason Ashcraft
Columns
Berk Bryant
Mike Stout
Paul Moffett
Keith Clements
Martin Z. Kasdan Jr.
Eddy Metal
CD Reviews
Kevin Gibson
Hunter Embry
Kory Wilcoxson
Hunter Embry
Hunter Embry
Hunter Embry
Martin Z. Kasdan Jr.
Bob Mitchell
Performance Reviews
Hunter Embry
Blogs
Got Shows?
Send Them To Us
Bookmark Louisville Music News.net with these handy
social bookmarking tools:
Available RSS Feeds
- Top Picks
- Today's Music
- Editor's Blog
- Articles
Add Louisville Music News' RSS Feed to Your Yahoo!

Issue: February 2009


I've Got A Mind To Ramble
So Long, Maso
Writing a story about someone who is alive and well is a lot easier than after they are gone, when, sadly, you have to put together the pieces from several sources. So it iss with Ricky Mason, one of Louisville's best blues guitarists. All the original obituary in the Courier Journalsaid was "Richard Nelson Mason, passed away Thursday, January 1, 2009. Cremation was chosen." There was no clue about who he was. Six days later, the details came out with a more extensive obit and picture, thanks to his stepmother, Dru Kemp. The word spread quickly throughout the brotherhood of musicians. There were over forty messages of tribute to Ricky in the Courier JournalGuest Book from musicians and friends. When I arrived at Foreman's Funeral Home in J-Town on January 10, the parking was filled and the lobby and chapel were packed for the memorial service/
Lamont Gillispie and Jimmy Brown planned the service, along with Ricky's oldest brother, Greg. They were careful to keep it from becoming a three-ring circus, with so many musicians in the house. They selected folkmeister and minister John Gage to be the master of ceremonies. John kept the service on a spiritual track. He opened by saying, "Thanks to the music makers who bring melody and rhythm to heal the world." Alex Thomas read an impressive list of musicians Ricky had played with or opened for. Lamont and Jimmy eulogized about Ricky. Lamont told how Ricky, who had a dog named Wing Nut, loved animals. He would often bring a can of Alpo over for Lamont's dog, Maximus, and take him with Lamont's two sons, Josh and Jimmy, on walks, which made an impression on his boys. Lamont has recently acquired another Pyrenees and named him Maso. Ricky and Lamont grew up together, along with Bruce Lively, Dickie Durlauf and Greg Martin, a group which later became the heart and soul of The Stray Cats Band. Ricky's most recent job was working at Louisville Art Glass through his step brother, Ken Von Roenn, Jr., where he showed creativity in art as well as music. Lamont closed by saying "Ricky had simplicity in his music, art and life."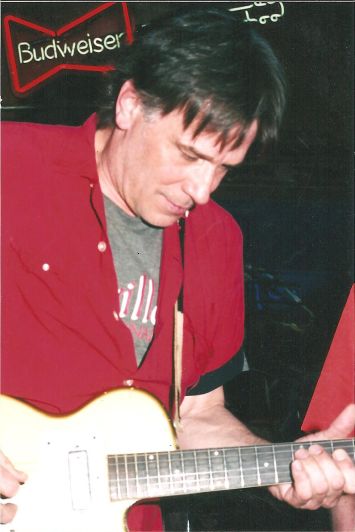 Ricky Mason, Churchill's, February 2004. Photo by Keith Clements
Jimmy talked about Ricky's strong personality and how he could push other people's buttons. "When Ricky was there, you don't know what, but something was about to happen," according to Jimmy. Ricky had a spiritual side, as the two of them would often pray together before going on the bandstand. They were "spiritual beings having a human experience." Jimmy summed up Ricky's style when he said, "keep it simple and play from your heart." At the end of the service, Lamont looked around at all the musicians present and said, "You could put a band together that would melt these walls." I don't think Ricky's father, Harry, and all his brothers and sisters realized what an impact he had had on Louisville's musicians until that afternoon.
There was a music meltdown in honor of Ricky later that evening. Tim Krekel played at Air Devil's Inn and the Stella Vees and Hellfish performed at Stevie Ray's. The Stella Vees have rapidly matured into one of the best bands in the region since their recent personnel change. Jason Lockwood and Mark Hoekstra are fronting on guitar and harp with the backup rhythm provided by Steve Parrish and Tim Dennison on drums and bass. Soon other musicians like Mark Stein, Denny Thornberry, Mike Lynch and David Schmidt were rotating onto the stage. It was nice to see the contrasting guitar licks of Mark's percussive style mix with Jason's more melodic cords. When Hellfish took the stage Jimmy Gardner said, "With this many musicians in the audience, it looks like a pawn shop." More musicians came by to pay tribute, including Lamont, Greg Martin and John Hawkins. Late in the evening, when both Greg and John were performing, Jeff McCallister suggested playing "Carol," the great Chuck Berry guitar song. Jimmy Brown said "This was a moment that was meant to be, for that was the first song that Ricky had taught John to play." Lamont recalled it was his band, The Homewreckers, which included Ricky, that opened Stevie Ray's in 1994.
Instead of trying to reconstruct Ricky's biography, I've chosen to gather comments and stories from various musicians who knew him.
Jim Masterson gave Ricky his first and last paying gig. Jim, Steve Bradley, Chris Debiase and Kim Ritchie, were the core of the King Snakes in the mid-seventies, playing at the Cherokee Pub (now Bearno's on Bardstown Road). Both Lamont and Ricky would come by to listen and eventually joined the band. Ricky was still honing his guitar skills, so Jim showed him blues turn-arounds and how to play more than one scale. While at a gig at Ebenezer's in New Albany, gunshots were fired, breaking glass and ricocheting off the walls like a Western movie. Jim hit the floor and got under the table while Ricky and the band played on. The members of the King Snakes would go off in different directions to form three bands: Red Beans and Rice, the Jim Masterson Blues Band and The Stray Cats. Ricky and Lamont joined Bruce Lively, Dickie Durlauf and Jimmy Brown to become The Stray Cats. Ricky's last gig was at the Dugout, when he played with Jim Masterson for a month of Saturdays a year ago.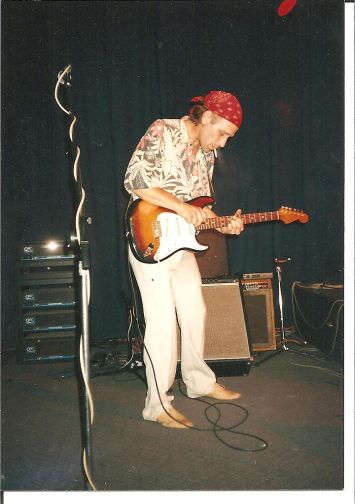 Ricky Mason, Backstage Cafe, 1995
Ricky had graduated from Atherton High School and was living in the Highlands on Speed Ave. when he first started coming around the Guitar Emporium after it opened in 1975. That's when Jimmy Brown met him and they became friends and bandmates. They would play at Woody's Tavern. When the band started to take off and tour, Jimmy dropped out to tend to the store, which he had taken over from Bill Hawkins. The Stray Cats had played out when Lamont moved to New Orleans.
Soon Ricky, Dickie, Bruce, Steve Walls and Bill Dean started the Saints. About that time, harpman Doug Wright, wanted to get a band together for a gig. He got Ricky and Dickie and they eventually became the Bluebirds. Other musicians, including Jim Rosen, Curtis Marlatt and John Burgard, would come by to play. This was the first seed of the blues jams, which eventually became formalized at the Rudyard Kipling with the Bluesday Tuesday Jams.
Jimmy said Ricky loved the Rolling Stones and idolized Keith Richards. Once they went to a Stones concert and Ricky got to see Richards' equipment but never met him. Jimmy has some raw tapes that were recorded at Woody's during a 1979 New Year's Eve party with Greg Martin and Ricky playing together that sound like what Mick Taylor and Keith Richards wanted to get to. Jimmy remembered there was a period when guitarists would come into the Emporium who wanted to play just like Ricky Mason, not a national musician but a local one. Jimmy said, "His fire, passion and what he emoted from this guitar affected you when you heard it. He had the personality to go with it. He was the Paul Newman of rock."
When Jimmy was celebrating the Guitar Emporium's 30thAnniversary in 2005, he arranged for Duke Robillard to come to Louisville to play. Ricky completely tore it up that night. A few days later Duke sent Jimmy an e-mail that said in big bold letters, "Jimmy, please tell Ricky Mason no matter what the does KEEP PLAYING HIS GUITAR."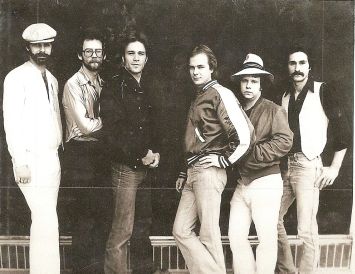 Stay Cat Blues Band, 1978. From Left Don Erenst, Lamont Gillispie, Ricky Mason, Burce Lively, Dickie Durlauf, Seve Zarisson
Steve Walls first met Ricky when they were both nineteen and hired to back up a guy who did an Elvis Presley tribute show. They became friends, stayed in touch and six years later formed the Saints with Dickie Durlauf. Steve wrote in Ricky's obituary guest book that, "We experienced many magical nights together when the rhythm section was driving and Rick was playing incredible solos over the top of the rhythm section, pushing the crowd into frenzy of movement on the dance floor. At those times I would look over at Rick and he would look back at me with his classic Rick grin and I knew life and music would never get better than being in that moment. It was truly magical and inspiring."
Mark Hoekstra first heard Ricky at the Cherokee Pub in 1989 when Ricky was with the Homewreckers. Mark thought "why would Ronnie Earl be playing in a place like this." After Mark left West Side Heat and toured briefly with the Legendary Blues Band, he slipped out of Chicago and returned to Louisville in 1993, determined to start a band with Ricky. The Little Dippers band was born at a New Year's Party in 1993 with Mike Williams and Gary Grizzle providing the rhythm.
There were several special moments during their short tenure, like playing at Shenanigan's during the 1994 Derby, where the band and the crowd became one. Mark said Ricky was smokin' at the 1995 Strassenfest on Main Street. Mark would acknowledge Ricky to the crowd after his blazing solos, which made Ricky mad saying, "don't call my name on stage." That was Ricky, who felt the music is bigger than one individual on stage. When Ricky was recuperating from a bad bicycle accident at the Lava House three years ago, Mark would have long talks with him. Ricky showed Mark stuff on the guitar he never knew and he came to realize that Ricky was so much more than just a musician.
The two Rickys - Feathers and Mason - first met at the Guitar Emporium on Baxter Avenue, when Mason was playing with the Saints. Feathers could only play two cords and offered to pay Mason to show him some Rolling Stones licks. Mason said "don't pay me anything, just introduce me to one your punk rock girl friends." Mason didn't have a lot of patience for lessons, so he stood behind Feathers holding his guitar in front of him and moved his fingers 'plunkity plunk.' Mason would join Feathers' band, Bodeco, in the mid-Nineties. The two guitarists supported each other to establish a strong, simple melody line and rhythm. They would work together to develop original material for new songs. "Life Without Parole" became a symbol of their friendship. Mason once said, "Your body is like a cage, you're never free." This phrase became a condition they were both in.
"Life Without Parole" and "Wrong Wrong Wrong" are the only two cuts that they ever recorded together on Bodeco's most recent CD, Crazy Wild. Feathers felt Mason had a natural ability to tinker with mechanical things and that transferred into his guitar. Feathers eloquently summed up Mason's tragic passing saying, "Ricky loved life so much that he loved the life out of living."
I called Greg Martin in Glasgow, Kentucky as he was restringing his Fender Stratocaster and preparing to leave for the Delbert McClinton Blues Cruise to play in Jimmy Hall's band. Greg started jamming with The Stray Cats in 1977 after Jimmy Brown invited him to come and play with the band at Woody's. It was the first time Greg experienced interaction with the crowd and was influenced by Rick's Chuck Berry style. Rick was deeper into the blues than Greg at the time. Greg said, "Ricky was a dangerous musician with a barb wire guitar that could cut you. He could play the daylights out of Chicago blues." They last played together at Jimmy's 30thAnniversary celebration. Jimmy and Greg echoed similar thoughts when Greg said, "some musicians work hard to play well, then there is Ricky who was born with the God-given talent to play the blues and give it back to all of us." When Ricky's guitar resonated with The Stray Cats, The Saints, The Bluebirds, The Little Dippers, The Homewreckers and Bodeco, he inspired a generation of local guitarists who aspired to sound like him. He was known as the "King of Bardstown Road."
Ricky's legacy will be preserved: a Blues Jam Benefit Concert in his name is in the works. This annual event will raise money to be put in a trust fund to buy a new guitar for an aspiring young blues musician.