January 2009 Articles
Cover Story
Tim Roberts
Features
Bob Mitchell
Eddy Metal
Jason Ashcraft
Columns
Berk Bryant
Mike Stout
Paul Moffett
Keith Clements
Martin Z. Kasdan Jr.
Eddy Metal
CD Reviews
Hunter Embry
Hunter Embry
Hunter Embry
Hunter Embry
Kory Wilcoxson
Martin Z. Kasdan Jr.
Kory Wilcoxson
Martin Z. Kasdan Jr.
Performance Reviews
Hunter Embry
Blogs
Got Shows?
Send Them To Us
Bookmark Louisville Music News.net with these handy
social bookmarking tools:
Available RSS Feeds
- Top Picks
- Today's Music
- Editor's Blog
- Articles
Add Louisville Music News' RSS Feed to Your Yahoo!

Issue: January 2009

Scuttlebutt
Nova Red: Leaders of the Louisville Emo Scene.
By Jason Ashcraft
Two-thousand-five marked a decisive shift in singer/guitar player Rahul Borkar's (Breckinridge) musical career. His band Breckinridge, an impressive unsigned Louisville-based hard rock band, which achieved radio and Billboard chart success with their hit single "Honesty," split up.
Borkar was one of the band's most passionate members and had been writing his own solo material in his spare time. Almost immediately after Breckinridge split, Borkar decided to develop his solo music because he knew he couldn't play this stuff with Breckinridge due to the style differentiation. Most notably, these were songs that he had to be able to play on his own terms, as a result of his singular musical approach. He wanted these songs to be written and arranged by himself, without the input of others. This alone was impossible to achieve while in Breckinridge.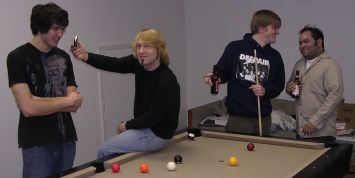 Nova Red. Photo by Jason Ashcraft
In Borkar's own words: "It (the new band) started off as my own solo project while I was in my other band (Breckinridge), but then it became a little more then that. I would record a couple of songs and then … you know … the songs came out pretty awesome!"
So after Breckinridge officially split, Borkar brought his music to life by recruiting childhood friend Praveen Arla (Christiansen) on guitar, and they started playing out as Seven, the first name of Borkar's solo material. After a few live outings, Seven quickly became the talk of the music scene, as many respected the musical style shift Borkar pulled off. A lot different than Breckinridge, but musically solid nonetheless. After the warm reception, Borkar then added Scott McKenzie (Breckinridge) on drums, Bruce LeFrance (Tantric) on bass, and music scene rookie Brad Compton on guitar, along with him and Arla leading.
During the Fall of 2007, Scott McKenzie would leave the band and be replaced by Joe Yabao (Ashes Eve) on drums and renamed the band to Nova Red.
Stylishly, Nova Red fuses post-grunge and hardcore-emo rock into a singular style. Compton, Arla and Borkar delivers an interesting combination of powerful, yet melodic guitar leads, with a little bit of that distorted Nineties grunge style on the strings. LeFrance's bass adds a deep rhythm section that often competes with Borkar's intense and, at times, soulful vocals. Together Nova Red has established themselves as a momentous band in Louisville's rock music scene, capturing the attention of fans with many different inclinations of rock music.
Nova Red is teamed up with veteran music producer Malcolm Springer (Collective Soul, Matchbox 20) who oversees their recording sessions. Back on October 19, 2007 Nova Red released a six song EP titled No Regrets. The EP includes an extremely well-written, potential hit single, "Kiss Goodnight." The song's verses' are just as hip as the song's chorus and, like most of their music, has traditional emo subject matter – the loss of something that they are still angst-ridden over. With Nova Red, it's women. No surprises here.
When asked about how the band came together and under what circumstances (besides the breakup of Breckinridge), LeFrance quickly responded "Because we have all been screwed over by women. That's it, pretty much. Women don't love us."
Laughing, but still somewhat agreeing, Borkar confirmed "Honestly, the band started over a breakup. So the six songs on the EP was written over a breakup. "
Nova Red has a few "potential" hit songs, an obvious emotional base for writing and playing their music, and an experienced producer to tighten their recorded sound. Seemingly, they are poised for musical success, but … they must learn to take their offstage demeanor with their band to a more serious level if they want a career in the music industry. They also must get the hell out of Louisville and go on tour to export their music beyond our city's limits. The whole Emo scene is mostly rooted by the younger audience, which the Louisville music scene doesn't really seem to cater to.
Right now, Nova Red is still finishing up on their new full-length album, which requires a drive to Portage, Missouri, Springer's hometown. The album is due out sometime in the Spring of 2009. That being said, I'm predicting a summer 2009 release. The as yet unnamed album will contain a few of the songs from No Regrets, along with some new stuff, that was – oddly enough – inspired by another breakup. A few of the songs are a bit more heavier and a little metalish like "F**k for Self-esteem." Nova Red's fan base won't be disappointed though. There is also "Burn Me" and "Last Call" that are a few newbies that fans will be keen on too. I'd really like to see what Springer can do with these songs.
Stay up-to-date on the new release by Nova Red, upcoming shows, and the usual stuff on their myspace site: Myspace.com/novared.