January 2009 Articles
Cover Story
Tim Roberts
Features
Bob Mitchell
Eddy Metal
Jason Ashcraft
Columns
Berk Bryant
Mike Stout
Paul Moffett
Keith Clements
Martin Z. Kasdan Jr.
Eddy Metal
CD Reviews
Hunter Embry
Hunter Embry
Hunter Embry
Hunter Embry
Kory Wilcoxson
Martin Z. Kasdan Jr.
Kory Wilcoxson
Martin Z. Kasdan Jr.
Performance Reviews
Hunter Embry
Blogs
Got Shows?
Send Them To Us
Bookmark Louisville Music News.net with these handy
social bookmarking tools:
Available RSS Feeds
- Top Picks
- Today's Music
- Editor's Blog
- Articles
Add Louisville Music News' RSS Feed to Your Yahoo!

Issue: January 2009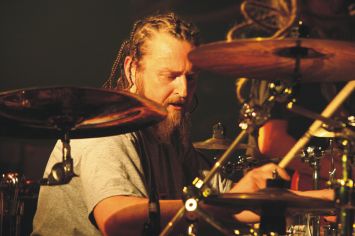 Sean Rued
Name: Sean Rued
Age: 38
Instrument: Drums
Band/Former Bands: There's been a few; right now I'm in Nailgun Strategy, Nothing In Return (New project with Lance Arny, Andy Russ and DC from Submersed) and Mandown. I was in Faceplant/Jefferson Co. Drunk Tank, Dirty Rude Bastards.
How long on instrument: I was playing the bongos when Jesus was born.
Equipment: Pearl Masters Studio 8 piece Kit, Zildjian Cymbals with Paiste & Sabian Hats … there is literally stuff everywhere.
Influences: Motley Crue was the band that made me say I wanted to play drums. My drum influences are Neil Peart, Scott Rockenfield, Mike Portnoy, Vinnie Paul, Danny Carey, the list keeps growing. I love to listen to as much as I can. You never stop learning.
My first gig: My first gig playing in public was at my high school talent show. My brother played guitar in that band. We played "I'm The Man" by Anthrax. We pissed off the faculty and we wouldn't let 'em get on stage to cut the power.
Hobbies: I like to eat, play drums, play video games, get high, sleep. I like hockey and football too. (not necessarily in that order)
Favorite movies: I always liked Excalibur, Unforgiven, Untouchables, Slap Shot, Spinal Tap, Spawn (The HBO Series), Highlander
Favorite food: Food? You got some food? Man , I'm hungry
Favorite place: On stage, wherever that stage may be
Bad habits: I started smoking about a year ago, and I am one lazy dude.
What I'm listening to nowadays: 5 Finger Death Punch, American Headcharge, Devildriver. I listen to satellite and Internet radio, too, and don't always get the band names
Coolest thing I've done: I went skydiving with my mother on her 60th birthday…..and it was her crazy idea. Also got to go on tour of most of the U.S. with Nailgun Strategy.
Most embarrassing moment: One night at a gig, I was setting up my kit and when I had my snare drum in my hand, I stepped off the edge of the stage and busted my face into the drum and busted the bottom head.
Who do you love: My wife Heather and my English Bulldog Jezebel. Of course, my family too.
When/where did you first get some: I was 16 and at a party. I found a girl drunk enough to think I was attractive.