January 2009 Articles
Cover Story
Tim Roberts
Features
Bob Mitchell
Eddy Metal
Jason Ashcraft
Columns
Berk Bryant
Mike Stout
Paul Moffett
Keith Clements
Martin Z. Kasdan Jr.
Eddy Metal
CD Reviews
Hunter Embry
Hunter Embry
Hunter Embry
Hunter Embry
Kory Wilcoxson
Martin Z. Kasdan Jr.
Kory Wilcoxson
Martin Z. Kasdan Jr.
Performance Reviews
Hunter Embry
Blogs
Got Shows?
Send Them To Us
Bookmark Louisville Music News.net with these handy
social bookmarking tools:
Available RSS Feeds
- Top Picks
- Today's Music
- Editor's Blog
- Articles
Add Louisville Music News' RSS Feed to Your Yahoo!

Issue: January 2009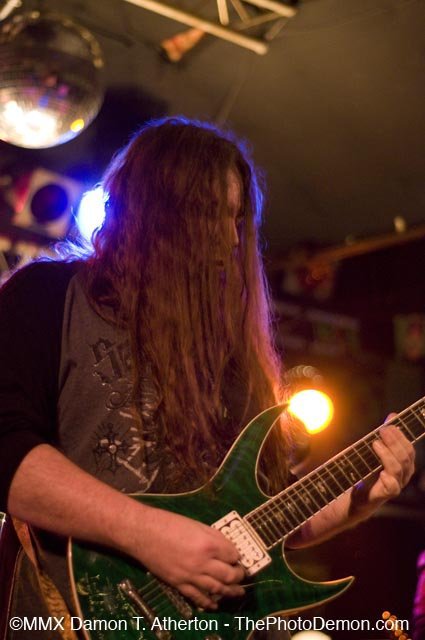 News From the Pit
What up you eggnog spewing, Christmas bud smokin, candycane bong-makin, hard cider chugging, drunken present opening, New Year's Eve barfing slugs? I hope you all had happy holidays. Mine was pretty good.
It sucks having your birthday on Christmas though. I'm 39 now, ugh. I still have all my hair though. Yay.
Oh yeah. My hair is REAL, by the way. I assure you my knotted Eighties doo is 100% real. Ask any chick who ran her fingers through it.
It's been dead as a doornail around here recently, except for a few good shows at the Phoenix Hill, and my boss's annual Christmas party for LMN, which always includes good food, Christmas cheer, and live acoustic music from my boss's bluegrass band (and me occasionally stepping in throwing out some acoustic death metal. Ha.)
National show-wise these last few weeks have been so dead it's ridiculous.
Of course, 93. 1 The Fox's Gobblestock on Thanksgiving night was a real fun night of good music – except for Hollywood Undead, which a few others and I thought was a terrible boy band wanna-be. The new Flaw was much better than expected, I must admit, and they had me rockin' to the old classic Flaw tunes. The very next night, I got to check out early Nineties rockers King's X, which was a great show and welcome addition to these boring winter months. Bassist Doug Pinnick had the fattest bass tone ever! (see review below)
Speaking of The Fox, Mudd and Brianna (another Fox DJ) and I got the toys paid for by the Kosair benefit right before Christmas; that was a lot of fun. We were like three little kids on Christmas morning. A lot of kids will be happy on Christmas because of everyone who helped with my Rock 4 Kosair show.
Thanks to the Fox for letting us use their big van to transport the toys in.
Fortunately, we have a slew of events coming up. Two of those are comedians that you won't want to miss!
Cheech and Chong are finally coming here on February 5 (I've got Free Ride Tickets to give out!), and Bill Cosby is coming on January 16. That is awesome. I love both of those comedians and, since I've never gone to see a comedian, I will probably go see both events and review them!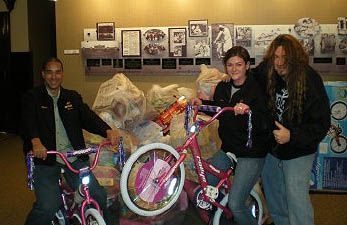 Mudd & Bianna from 93.1 the Fox helped Eddy get toys for the Kosair Childrens Hospital.
Terry Harper has Clutch and Powerman 5000 (both are Free Ride): coming up in February, so you might want to go ahead and get your tickets now, because I'm pretty sure they will sell out.
In late January, we have a very sweet-looking Louevil Original show coming up, The Louisville Music Showcase, which should be a very good concert with record labels and industry people in attendance. I hope to see all of you there. I will be representing LMN. Hopefully this year we will have a chitload of great concerts to look forward to. I know LRSfest isn't looking too promising these days, so possibly 93.1 The Fox can arrange some big festival for you Louevil rockers and rock bands?
I know I would contribute to help make it become a reality, and so would Louisville Music News.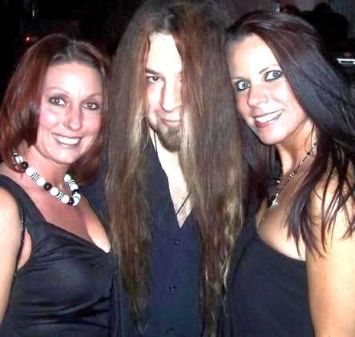 Eddy Metal, Jerica and Amy, the Kosair Girlz, at Rock for Kosair 2008
That's it for me this month, peep's. Be sure to send all of your band info, show dates, news to me because I don't fargin read minds. If you are a band looking for gigs or exposure, you have to persist and be patient.
The Metal Grapevine
Cheech and Chong Coming To Town (Free Ride):
I have been waiting for this for a long, long time. I remember sitting in front of the tube with my parents watching Cheech and Chong. Not exactly ideal children's material but hey, my parents were cool as hell. My mom is half Mexican, so I could relate to the Chicano lingo in their movies! A I can recite the smoking and jammin' scenes in their movies word for word, as most of their fans can easily do.
Funny funny stuff is what Cheech and Chong are all about, and I cannot wait to see them on Thursday, February 5 at Horseshoe Casino when they finally come to Louevil. These guys are stoner legends who started a revolution, and they are getting up there in age, so you should not miss this show.
The super-cool people at Horseshoe Casino have arranged a few free tickets for you loyal LMN readers, so email me at www.myspace.com/EddyMetalRocks on Thursday, January 29 at exactly 6 p.m. for a chance to win. The closest one to 6 p.m., sharp, wins!
In the subject line, put "E.T, The Extra Testicle!"
Clutch Invades: (Free Ride):
On February 12 at Headliners, Clutch will bring their stoner groove selves back to Louevil once more to an always-packed house. Special guests are Willem Maker, The Bakerton Group and Red Fang.
I have partied with Clutch and those guys don't mess around. I wish I could tell you about the community party favors I saw at their VIP party in Chicago years ago, but I don't want to get them in trouble.
I have a pair of tickets for you folks, so to win email me at myspace.com/EddyMetalRocks on Sunday, February 8 at exactly 6 p.m. In the subject line, put "Stoner Groove Rules!"
Powerman 5000 on Feb 9 (Free Ride):
On Monday, February 9 at Headliners Powerman 5000 will be rockin' out bigtime. In tow will be locals Boom Orangutan, Audible Point, Milkweed and Revenge Of The Awesome. I have a pair of tickets for you folks to win, so email me on Wednesday, February 4 at exactly 6 p.m. for a chance to win. In the subject line, put "Powerman."
Louisville Music Showcase at The Hill:
On Friday, January 30 at the Phoenix Hill Tavern Krowe Records in Altanta will be having a big show featuring some of the region's finest bands. The goal is to have some of our local boys play in front of some record company individuals and peeps in the music business. Krowe Records is doing a very good job of getting Louevil talent out there. Be sure to attend this show; you might want to get your tickets in advance, as it's looking like a fat lineup. Bands playing are Heaven Hill, Villebillies, 7Daysun, Hark The Herald, Inner Blue, Evil Engine #9, And The Armed, Dogwater, 4 Storie Failure, Blackroom and Halo Stereo. Tickets are only $10, so come out and support our scene.
King's X Review:
Wow, what a show! I am so glad The Phoenix Hill booked this show. It was off the chain. I always liked this weird progressive rock and funk-laden band from the late Eighties-early Nineties, but seeing them again so many years later was a special treat for me and the large crowd in attendance. I did not think the Hill would be that crowded for a band from yesteryear, but I was wrong and the show was kickin. Opening the night was a darn good original rock band, Superunknown, from Lexington, with a lot of energy and and decent vocals. I think I will book them on my Original Rock Showcase with Nova Red or somebody like that. Louevil needs to hear more of these Lexington guys!
Then came the mind-blowing Orange Sky from Trinidad. They were all dark-skinned, dreadlocked island dudes who could wail and they absolutely fargin rocked. This was a mixture of reggae, thrash, blues, island music, who knows what else. The lead singer had huge, out-of-control nappy dreads, had a very good voice as well, and excellent guitar tone. This band was a refreshing break from anything I've seen in a long time, so if you like island music and thrash, you should look into Orange Sky.
Finally, King's X came on and tore it up. Bassist/Vocalist Doug Pinnick had the thickest bass tone I've ever heard, plus he played a 12-string bass at one point. His sound had bottles jumping off tables in the back of the room! Guitarist Ty Tabor was phenomenal as always and is still the genius of the band. His lead guitar work is all that.
Seriously, it doesn't get much better than this talent-wise. The band ripped through "Black Flag", "Over My Head", "Dogman", "It's Love" and a few newer tunes that jammed as well.
Pinnick's vocals were awesome and he was in excellent form even though this was the first show of their tour. He seemed like a very cool dude too, talking all night about how happy he was to see such a good turnout at their first show of the tour.
Thank you, Phoenix Hill, for booking such a cool and different show.
Gobblestock 08 with Flaw:
The new Flaw played fine, but vocalist Chris Vols didn't seem to be trying as hard as he has in the past. Some of his usual extended notes weren't as long as they should have been. He did not sound bad, though, just a little short of breath or perhaps sick? But I was impressed with the overall performance of the new Flaw and liked "The Letter" probably the best. Their set did seem awfully short though, which was kind of a bummer.
Openers The Willing rocked out as usual with their acoustic rock sound that resembles Days Of The New a lot. I do like The Willing and recommend that you see them if you haven't.
Los Angeles' Hollywood Undead had me running for the smoking area (and I don't even smoke!) to escape their cheesy, rap boy band sound. Talk about torture. A lot of the people seemed to enjoy the music, though, and that's what matters. All the hardcore rockers were looking at me with raised eyebrows, however.
I love 93.1 the Fox, but please, I wholeheartedly beg of thee, no more rap bands with rock bands.
The VilleBillies, Great Shagging Music:
Everyone knows I'm a metalhead, but the truth is, I like a lot of other music as well. One of these bands is Louisville's own Villiebillies. I never thought I would like this band very much, but I have found out that I'm digging this different music quite a bit. One night I was getting freaky with some chick and I threw in The Villiebillies new CD, From the Belly of The Beast, and it turned out to be an adventure that had us bumping to the funky beat of this great Louevil band. The new CD is very good and a break from the local music I'm used to. Do yourself a favor and check out some of these infectious tunes off the new CD. They have a video at Myspace.com/villebillies
Nickelback/Seether/Saving Able Coming in February:
On February 27 at Rupp Arena, these three bands will be playing. Imagine what a babefest this is going to be. I'll be there like a hound-dog in heat. Hopefully I will get you people a few free tickets to win in the February issue, so be on the lookout next month!
Bill Cosby Coming:
I have to admit, I thought he wouldn't be funny without using cusswords and being vulgar, but I was so wrong. Bill Cosby is a funny man and does so in such a great family way that kids and even the raunchiest of individuals will roll on the floor laughing. His performance "Bill Cosby Himself" is a classic and seeing that made me want to see the man in action. His goofy faces, his hilarious stories about his wife and kids, you can't fargin beat it. Mr. Cosby will be at Horseshoe Casino on January 16 and if you get the chance, maybe you can attend with your family, your mom, dad, grandma. It don't matter who you go with to see Bill Cosby because he is for all ages!
Guns N Roses, Chinese Democracy:
Fifteen years and thirteen million dollars in production costs make this the most expensive recording ever. Was the wait worth it? That remains to be seen, but I'm impressed with some of the music on this long-awaited CD. If you are expecting the rawness of Appetite For Destruction, you better keep moving on because Guns N Roses has transformed into something else entirely.
The first song, "Chinese Democracy," isn't all that for real and the main guitar riff is cheesy. Sounds like something I would have written when I was 15. "Shackler's Revenge" is okay and starts off with a Korn-ish riff with some bad-ass guitar leads, but the next song, "Better," – which is the big hit off the CD – rocks.
At first I thought it was gay; Axel was high-pitched and girl-y sounding, but then something happened. I was sucked into the cheesiness by the very cool, but simple groove and it became lodged in my noggin. Axel's lyrics and singing are killer in this tune and before long you are singing along. "Streets of Dreams" is another of Axel's long, drawn-out epic piano rock songs, but I kind of like it, especially with the whiny vocals in the beginning.
"If The World" is a funky tune that features Spanish guitar and the highest notes I've ever heard Axel sing. This is a very funky, cool tune that I find myself listening to over and over. "There Was a Time" has very infectious lyrics and vocal melodies that jam.
Axel Rose may be a d**k for firing all his bandmates and screwing them over, but the man can still sing and this album proves that without a doubt. He even gives himself credit for guitar on "There Was a Time" but I seriously doubt he was responsible for the smooth-as-silk leads in the song. "Sorry" is an okay ballad that lets Axel use that low voice side of himself.
Unfortunately the rest of the CD doesn't do anything for me, but these song's I've mentioned are pretty impressive.
Robin Finck's and Buckethead's guitarwork are nice on this CD, but it's too bad I heard Axel parted ways with both of these guitarists recently. I get the feeling that Axel just wants hired guns in his band, so he alone can reap the full benefits.
Half of this CD is good stuff, but the other half is unmemorable. So there it is. It's like Diet Guns N Roses. Zero calories. If you are a hardcore G 'N' R fan, then you should go ahead and pick it up because some of it is jammin'.
Want Regular Rotation on The Fox?:
Charlie Steele, the big cheese at 93.1 the Fox, has opened the doors to Louevil music on the radio. Before, bands did get played in regular rotation occasionally, but only on certain shows like "Louisville Rocks" and "The Attitiude Network." Now that Charlie is the boss, he has made it clear that if you record a doosie of a CD, The Fox will put you on regular rotation. You could hear your music any time of the day! But make no mistakes, this is for the elite. No half-done, cheesy stuff is going to make it. You have to be totally professional and have a top-notch quality recording to be considered. So think about that before you try to make your own CD from scratch. Spend the money and record your music right!
Deliver Us From Evil and Society's Plague, Outtatown Killers:
Rarely do I book out of town bands anymore, but when I see such talent as these two, I make an exception. Society's Plague is a young metal band from Lexington that absolutely rips in a way that makes me really want you Louevil fans to see what they are about. Only one of them is over 21. Deliver Us From Evil is a thrash metal band from Evansville that kicks so much butt it's retarded. Metal lovers and fans of Pantera need to see DUFE at all costs. I have booked both of these bands for the February 6 Original Rock Showcase at Phoenix Hill, along with Antikythera, Arafel, Casting Ashes and Lesson B4 Dying. 7 p.m. Early show. $5.
Intheclear Hard At Work:
Louevil rockers Intheclear are hard at work on the band's second CD, the follow-up to ninteyseven11lyriclane and are quite excited about the new music and the fact that Corey Lowery (of Dark New Day, Stuck Mojo and Stereomud) will be producing the CD. The first CD sold 10,000 copies and the band toured the country and made a lot of connections. Not bad for a Louevil band, eh?
Empyrean Asunder's New Stuff:
They Call Her The Cure, the second full-length outing from apocalyptic anti-industrial Louevil rock group Empyrean Asunder, will be available late February through Blastzone Records. The PR says "Innovative and aggressive, They Call Her The Cure is an auditory manifestation of the chaos inherent within society. Blending elements of industrial, metal, hardcore, electronic, and punk to create a harsh and vividly intense experience that echos, with staggering conviction, the ills of humanity. This is the soundtrack to our dying world." Myspace.com/empyreanasunder
New All Ages Venue = Skull Alley:
Okay, it's about time this happened. Young Louevil rockers now have an all-ages rock venue right in the heart of town. Skull Alley, at 1017 East Broadway, is near the Phoenix Hill area and they have been booking some metal bands, too, so that absolutely rocks! The city's youngsters needed this, since before, all-ages shows were pretty much confined to the Bulldog Cafe, way out in Fairdale, which can be hard to get to for young urban kids. Venture out to the Alley on January 10 to see War Brigade, Intent To Kill and ZCFOS. It starts at 6 p.m. Hopefully I'll have a venue review for you freaks next month.
Caldera Seeking Singer, Again:
Things did not work out with David "Sailor" Bryant as the new singer of Caldera, so the band is once again on the search for a beast on the microphone. Vocalists, here is your opportunity to join an existing band that is amazing and ready to play out. They just need that right vocalist to set chit off. You must be willing to dedicate all to the music. Contact Chris at 502-489-4096.
Introducing Displacement:
What's up with these Evansville bands? They fargin slam! First Deliver Us From Evil knocked my socks off, then this new band, Displacement, a four-piece hardcore metal band shows up. I met them when they came to my show to give me a CD. I'm jamming to their music now and I think this stuff would go over well with the Louevil metal scene. The guitar tone is mean, and the vocals are killer. The songwriting is good and the musicianship is there in your face, ready to pummel you. Think Pantera meets Black Sabbath meets Job For A Cowboy. We Louevilians better watch out, because the Evansville brigade is coming upon us with a vengeance. They are a welcome addition, and I hope you peeps take the time to check out these demonic Hoosiers that I like enough to mention in my column, even though they live two hours away. Myspace.com/displacementrules
New Band Review, Snapped:
This new Louevil band is pretty good for rookies. I was diggin' on some of the guitar riffage, and the vocals of newcomer Damien Thorn are not bad. He's new to singing but I think the guy has potential and a good attitude. Over half the time the vocals were good, the other, not so good, but not terrible. Damien has some decent range but needs some more quality experience and to keep honing those vocal skills. I think if they stay together they will do pretty good. I wasn't a big fan of the guitar amp tone, though, even though I liked Jesse Morrison's riffs. (Inappropriate guitar tone is a big downer for me.) The bassist seemed to be talented, too. The drums left me sort of disappointed. If you want to play metal like this, you got to have a beast on drums! Apart from those complaints, this is a metal band that pulls no punches. They just want to crush you. Check them out. Myspace.com/snappedsnapped
Upcoming Shows
Bulldog Cafe
Wednesday, February 4 – Gwen Stacy w/ Our Last Night, Vanna and In Fear And Faith. All ages. $10
Headliners
Saturday, January 17 – Unearth w/ Emmure, Impending Doom and Born Of Osiris. 8 p.m. $15.
Monday, February 9 – . Powerman 5000 w/ Boom Orangutan, Audible Point, Milkweed and Revenge Of The Awesome. 7 p.m. $12.
Thursday, February 12 – Clutch w/ Willem Maker, The Bakerton Group and Red Fang. 7 p.m. 18 and over. $15ADV/$18DOS.
Horseshoe Casino
Friday, January 16 – Bill Cosby.
Thursday, February 5 – Stoner legends Cheech and Chong.
Phoenix Hill Tavern
Friday, January 2 – The .Original Rock Showcase Series 10-Year Anniversary bash w/ Snake Eyed Savior, Sonic Epitaph, Shatterstone, Bolt Action Thrill, Sons Of The Bluegrass and Hyndsite. 8 p.m. $5 Free before 9 p.m.
Friday, January 30 – Louisville Music Showcase w/ Krowe Records: Featuring Heaven Hill, Villebillies, 7Daysun, Hark The Herald, Inner Blue, Evil Engine # 9, And The Armed, Dogwater, 4 Storie Failure, Blackroom and Halo Stereo.
Friday, February 6 – The Original Rock Showcase Series: Antikythera, Deliver Us From Evil (Evansville IN), Society's Plague (Lexington), Lesson B4 Dying, Arafel and Casting Ashes.
Skull Alley
Saturday, January 10 – Created To Kill, War Brigade and ZCFOS. 6 p.m. All ages!
Uncle Pleasants
Wednesday, January 7 – Framing Hanley w/ Bolt Action Thrill, Creatures, The Bliss Of Ignorance and Sky Ends Romance. 8 p.m.
Wednesday, January 14 – Rotting Christ w/ Mantic Ritual, Epicurious, Anagnorisis, The Revenants and Apocryphal Revelation. 7 p.m.
Props Of The Month
I have a few peeps to thank this month. Thanks to Charlie, Mudd and Brianna at 93.1 the Fox for helping me get the Kosair toys so early in the morning (7 a.m.), and for getting the Fox van to help transport the toys to Kosair Charities. It would have sucked for me since some my Ford Explorer was totaled earlier this year! Also thanks to the people who opened the new all-ages venue Skull Alley.