January 2009 Articles
Cover Story
Tim Roberts
Features
Bob Mitchell
Eddy Metal
Jason Ashcraft
Columns
Berk Bryant
Mike Stout
Paul Moffett
Keith Clements
Martin Z. Kasdan Jr.
Eddy Metal
CD Reviews
Hunter Embry
Hunter Embry
Hunter Embry
Hunter Embry
Kory Wilcoxson
Martin Z. Kasdan Jr.
Kory Wilcoxson
Martin Z. Kasdan Jr.
Performance Reviews
Hunter Embry
Blogs
Got Shows?
Send Them To Us
Bookmark Louisville Music News.net with these handy
social bookmarking tools:
Available RSS Feeds
- Top Picks
- Today's Music
- Editor's Blog
- Articles
Add Louisville Music News' RSS Feed to Your Yahoo!

Issue: January 2009


I've Got A Mind To Ramble
Zena's Café 1929-2008
The illuminated sign over the front door says "Zena's Café since 1929 Live Blues." This blues landmark at 122 W. Main St. closed its doors forever on Saturday, November 29. The place was packed for the last rites which went until 6 a.m. Many musicians came to pay their respects, including the host band, Pure Gravel. Lamont Gillispie & 100 Proof Blues, Tanita Gaines, Clay Street Blues All Stars, and Tim Krekel helped fill the house. Gary Sampson, our KBS President, said a few words about how the Zena family supported the blues over the years.
The early days of Zena's are a little cloudy but based on a 2000 interview that Paul Schneider, past KBS newsletter editor, had with the owner, Mary Jean Zena, the following history came to light. Mary Jean's father-in-law opened a bar and restaurant called Sam's at First and Jefferson, following prohibition in 1934. During the Forties, when the city was wide open, he had a "book." You could eat your plate lunch and have a drink in front, go to the back and place a bet, listen to the race and with a little luck get paid off. Because liquor licenses can transfer from bar to bar, that first license issued was the same one when Zena's closed. The bar moved four times: to Fourth and Jefferson, Third and Liberty, Third and Market and finally to Main St. It became known as Zena's Café at the Fourth and Jefferson location when Mary Jean's husband Bob and his brother took over the bar upon the death of their father. In 1964 Bob took full ownership at the Third and Liberty site. When he got sick, Mary Jean started working, tending to the finances and eventually the bar. Mary Jean said, "When you're a bartender, you're a confessor, you're a doctor, you're a psychiatrist. You lend your ear. You also have to learn how to keep mum."
It was at Third and Market that live music started, with jazz on Fridays and blues with the Derby City Blues Review on Saturdays. This duo included Herman Anderson on guitar, drum machine, keyboard and harmonica on a rack plus Kush Griffin on cornet. Often, Smoketown Red would sit in on guitar. They packed this small club, with people standing around the corner waiting to get in. After twenty-five years on Market Street, Mary Jean tried to buy the building but the owner wouldn't sell. Her husband had already found another place on Main Street. The building was formerly the Windmill, a famous bar leased by Danny Klein back in the Sixties and Seventies. The building had been vacant for seventeen years. They opened on April 1, 1996, after extensive work to repair the rotting floor. The bar, which was one of the longest in Louisville at the time, came from The Cat and the Fiddle in Lexington. The owner was convicted and executed for murder in the Forties and the Feds came and auctioned off his properties. This bar was first installed at Fourth and Jefferson and went wherever Mary Jean went. Where did the Moose come from? Her father-in-law had shot the huge moose while hunting in Canada and each bar could not be officially opened until the moose head was hung.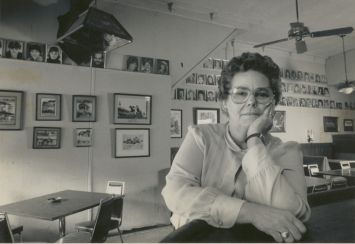 Mary Jean Zena
Zena's started its connection with Actor's Theatre of Louisville (ATL) when it was at Third and Market and the theater was directly behind it on Main Street. ATL actors Victory Jory and John Tovit would drop by Zena's for their morning libations before going to the theater. Soon, other actors came by and they quickly adopted Zena's as their bar. Mary Jean started a party series called Humana Festival Thank You on the last Sunday of the Humana Festival. She would put out food, hire a band and the people came and partied. It was Mary Jean's way of saying 'thank you.' It became a tradition for the actors to leave their pictures there. What will happen to all those photos on the wall, including Elaine's?
Mary Jean believed there was too much talent in Louisville to go out of town for musicians. Jimmy Raney, world respected jazz guitarist, was a regular with Scott Henderson at Third and Jefferson when he was not touring. Mary Jean recalled he played his last gig there in May, 1995, when he took ill during a show and died a few days later. Jim Rosen would drop by after his gigs to jam with Kush, and Sue O'Neil would come in to sing.
When Schneider's interview was done, the Original Rhythm and Blues Band featuring Joe Wells was the house band on Fridays and Saturdays. They had come off a long-running gig at the 26th Street Tavern, billed as the 26th Street Blues Band. Other musicians followed, including Tanita Gaines, B.B. Taylor and Don Harris. Mark Wagner helped Mary Jean run the bar and sat in on bass for many years, until he left to open the Come Back Inn.
Zena's Closing Night. Joe DeBow, Tanita Gaines and Tim Krekel.
Mary Jean died on Christmas Eve, 2000. There have been several tributes to honor Ms. Z, weekly jams and benefits to support other musicians and causes at Zena's. Mary Jean's son Randy has tried to hold the club together but time and money just ran out in November.
Now for the good news: Scott (Harley) and Sharon Risinger have leased the building from the owner, Burl Marshal, who has owned the property since the Forties. The Risingers have opened several bars/restaurants in recent years and are currently concentrating on Amici Café at 316 W. Ormsby. Their concept is to make Zena's into "Harley's Blues Café." It will emphasize both blues and sports, since it is so close to the new arena. The music will remain in the front next to the windows and the pool tables will be in the back, plus the bar will be lengthened to the kitchen. Their menu will be 'Pub Style,' leaning toward comfort and eclectic. They hope to have the first phase open next spring. The building has great potential for expansion, besides its location, location, location
There is unused space in the back with an old freight elevator and a patio behind the building for outdoor seating. The second and third floors are wide open spaces to be utilized in the future. Another bar is planned on the second floor and a banquet hall on the third. Scott is offering shares at $400 each in lots of ten to interested investors to raise money for the upstairs renovation. In Scott's words, "We want the place to stay gritty but not grimy."
Tin Can Buddha
What do you get when you have a trio of experienced musicians who do not want to be a band but a collection of artists? You have Tin Can Buddha. This is not a heavy metal group but three veterans who appreciate blues and roots music. They play with no agenda which is one of the perks of being old. There is no set play list they just improvise in a very fluid way. During the rare occasions that Tin Can Buddha perform together, they never rehearse but just listen to each other. Rehearsals inhibit their thinking. They get into a zone and play the blues the way it is meant to be.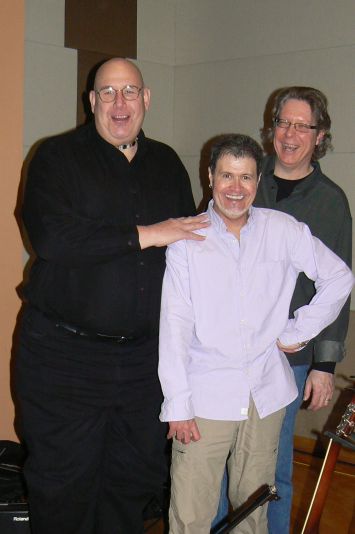 Tin Can Buddha ; Mitch, Rodney and Lee
Tin Can Buddha's coming-out party was WFPK's "Live Lunch" on Friday, December 5 and later the same day in the Main Lobby of The Kentucky Center. Lee Carroll, the keyboardist, has known harpman and vocalist Rodney Hatfield for thirty-five years; they played together in the Hatfield Clan back then. Lee now lives in Harrisburg, Pennsylvania, where guitarist and singer Mitch Ivanoff also lives. Lee and Mitch currently play together as a duo and with the Krypton City Blues Review, which represented the Blues Society of Central Pennsylvania at the 2007 International Blues Competition in Memphis.
Apparently, the word got out about the party, as there was standing room only in the studio. As Sharon Little's tune "Accidentally" was broadcast through the sound system just before air time, Rodney said, "That's the same song we were going to open with. It happens every time."
Mitch, who has the imposing stature of a large Buddha, plays sitting down, alternating between sliding on his steel resonator guitar and picking on his hollow-body Gibson. His deep voice, coupled with unforced blues inflections, gives him a commanding vocal presence on "Trouble In Mind," "Little Red Rooster," and a lesser known song, "Unseen Eye." Rodney's harmonica riffs shot through all our hearts. His notes seemed to undulate through his body as he hunched his shoulders and tapped his sneakers. Lee's keys provided the sympathetic backdrop to Mitch's and Rodney's spirited solos and he easily moved into his piano leads with authority.
During the break, host Laura Shine had ample time to talk to each of the musicians. Lee had studied music at Berkeley and went country, touring with the Judds and then Exile. Mitch was first moved by the blues at nineteen, when he saw Muddy Waters in Harrisburg at the Senate Theater. When Muddy played "I Got My Mojo Working," the people were standing on their chairs. Rodney got the name Tin Can Buddha while visiting an artist friend of the same name in Santa Fe. After Rodney dedicated "St. James Infirmary" to all the sick and shut-ins, the trio closed the second set with "Mojo," using a slow back beat.
Their CD, Tin Can Buddha, was recorded in April 2008 at Marianne Welch's Quilt Box at Frankfort and Franck Ave. Rodney had worked with Harry Pickens in this intimate recital space and wanted to return. The shotgun house, which features fabric hung on the walls and a Steinway piano, was a perfect setting for their unrehearsed live performance that also included Stewart Miller on bass. The CD is a work of art both musically and artistically; Lawrence Tarpey did the layout design and Hatfield, using his artistic alter ego Art Snake, handled the booklet insert. There are no liner notes, it's all visual. You can see a display of Art Snake's art in the lobby of The Kentucky Center through January 2009.
A second album was planned to be recorded that weekend. The group will come back together next spring to record their third CD which will be more diverse music. Let's hope another Live Lunch will be served by WFPK with Tin Can Buddha as the entrée.