March 1991 Articles
Cover Story
Jean Metcalfe
Columns
Berk Bryant
Paul Moffett
Earl Meyers
Henry C. Mayer
CD Reviews
Patrick Fitzgerald
Bob Bahr
Patrick Fitzgerald
Patrick Fitzgerald
Performance Reviews
Diana Black
Paul Moffett
Marc Hayes
Bill Ede
Patrick Fitzgerald
Jean Metcalfe
Patricia E. Finger
Bob Bahr
Karen Le Van
Bill Ede
Patrick Fitzgerald
Calendar
Staff
News Item
Staff
Jean Metcalfe
Staff
Staff
Preview
Karen Le Van
Opinion
Staff
Photos
Letha Marshall
LASC
Wally Stewart
Diana Black
Staff
Diana Black
Diana Black
Jean Metcalfe
Staff
Blogs
Got Shows?
Send Them To Us
Bookmark Louisville Music News.net with these handy
social bookmarking tools:
Available RSS Feeds
- Top Picks
- Today's Music
- Editor's Blog
- Articles
Add Louisville Music News' RSS Feed to Your Yahoo!

Issue: March 1991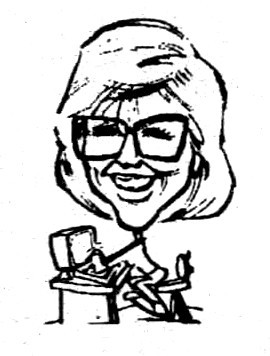 Newsical Notes
Lefty Dizz was in town at Air Devils lnn on Saturday, February 9. and a couple of LASC members – Karen Le Van and Joyce Trammell – were in the audience. Karen reports that Lefty invited women from the audience to come to the stage and strum his guitars while he handled the chords. His choices seldom proved to have a talent for music. Not so, in the case of Joyce. Seems she really wowed the audience by being more than equal to the task.
After the performance, Karen spoke with Lefty at the bar, commenting on Joyce's excellent performance. Lefty paid Joyce a nice compliment via Karen and Karen was ready with a comeback: "That'll teach you to pick a music teacher!"
Charlie Walls is having considerable success with his latest project. His song, "10,000 Miles Away," about the men and women of Springfield. Ky., leaving for Operation Desert Shield (Storm) has been getting airplay in the region and beyond. And he's also had feature stories on television stations WAVE and WDRB. The number of radio stations covering Charlie and playing his tune is hard to pinpoint; let's just say "lots."
Further, I opened up my Saturday, February 9. Courier Journal and spotted a nice photograph and story featuring Charlie on the front page of the second section. A couple of other songwriters were also included in the Gerald Ryan story. And before the day was over I had received a call from the mother of the young lady in the article – sent my way by Charlie. There's a somewhat humorous story that goes with that phone call..
And … CNN also called. but Charlie didn't seem to feel anything would come from that one.
Then there's the matter of Glenn Bastin doing two five-minute spots on his radio show "Pondering Kentucky" which airs on some 84 radio stations. Bastin indicated he would send copies of "l00 Miles Away" to each of those stations. Grrrrrreat!
Then, Charlie sang his song at a rally at St. Catherine College in Springfield on February 7 (Sally Mudd sang "America the Beautiful") and although the WAVE-TV camera didn't show us either of those two, it did give us a glimpse of Charlie's business partner and co-writer Sammy Reid. Word has it that Sammy looked so distinguished he was taken for a dignitary. Funny, he doesn't look like a dignitary most of the time when he's playing the role of songwriter. Thank goodness! And since I'm writing this on February 12, I cannot help but mention that I've always thought Sammy bears a striking resemblance to Abraham Lincoln, except not quite as tall.
Scott Furlong told me that the collaboration session on Monday, February 4, wherein he was paired with Sally Mudd and new member Harold Schroeder, produced a song called "Those Three Words 'I Love You"' and that they will be going into the studio to cut a demo tape of it. Scott will produce the song, as well as one by Gordon Graham.
You just never know what attending an LASC meeting might bring about! Glad our new members are jumping right in there.
Have heard rumors of a recording project in the works for Doc Dockery, Papa Gene Adams and New Horizon lead singer Larry Raley. Good luck, guys. Papa 'Gene and Doc got together as a result of the LASC.
Doc is working out the details of upcoming events at New Albany's Grand Theater. He hopes to involve some LASC performers in the plans. Doc, in various groupings, will host a "Jamboree Night" every Friday night for three months, starting in March. More later.
Exploring the Cone update: The members of the Bob Maples organized musicians performed at The Rud on January 25 (as mentioned last month), and since then they've been booked into Jockamo's on Thursdays in March. Starting time is 8 p.m.. "til you can't stand any more." They're also scheduled for the Songwriter Showcase on March 2.
LASC member Fred Otto is in the group of "six guys who think tuning up is a sign of weakness," and member Dan Colon is an associate cone."
Bob. says they've been performing Prez Paul Moffett's "Doubts" and "Cotton Mouth" (co-written with founding member Dave Evans) at some Of their performances. They would do more Moffett songs. Bob says, if charts were made available to them. (Sounds like a hint to me.)
Dave Troxell called a while back with word that he would be performing at Remington's on February 4. Didn't get to stop by, but I hope his contract is extended. His second performance on our songwriter showcase showed a marked improvement, in my opinion. Others have said the same.
LASC Secretary Diana Black sent along a note from member Dale Henderson telling use that since joining LASC a little over a year ago, he has joined the Shaford Brothers band. "We play country, country-rock and southern rock. In 1988 they won WAMZ's contest for the best country band in Louisville. We play every Thursday-Saturday at the South Fork Lounge, 4104 Cane Run Road."
Congratulations, Dale, sounds like an invitation to come out and hear you play. Good idea.
Some of you "old-timers" may recall that former Co-op member Bobby Johnson was in the Shaford Brothers Band when they won the contest Dale mentioned.
Congratulations to LASC Honorary Member Debbie Hupp. Her Lee Greenwood single "Just Like Me" (c/we with Bob Morrison) is expected to be on BiIlboard's Country Charts when the next issue hits the newsstands. Fantastic! e