March 1991 Articles
Cover Story
Jean Metcalfe
Columns
Berk Bryant
Paul Moffett
Earl Meyers
Henry C. Mayer
CD Reviews
Patrick Fitzgerald
Bob Bahr
Patrick Fitzgerald
Patrick Fitzgerald
Performance Reviews
Diana Black
Paul Moffett
Marc Hayes
Bill Ede
Patrick Fitzgerald
Jean Metcalfe
Patricia E. Finger
Bob Bahr
Karen Le Van
Bill Ede
Patrick Fitzgerald
Calendar
Staff
News Item
Staff
Jean Metcalfe
Staff
Staff
Preview
Karen Le Van
Opinion
Staff
Photos
Letha Marshall
LASC
Wally Stewart
Diana Black
Staff
Diana Black
Diana Black
Jean Metcalfe
Staff
Blogs
Got Shows?
Send Them To Us
Bookmark Louisville Music News.net with these handy
social bookmarking tools:
Available RSS Feeds
- Top Picks
- Today's Music
- Editor's Blog
- Articles
Add Louisville Music News' RSS Feed to Your Yahoo!

Issue: March 1991
February Showcase
By Wally Stewart
The back room of the Rudyard Kipling Restaurant was buzzing with excitement as the mostly full house waited for the LASC Showcase to start. Several Co-op members knew that a newsman and cameraman from WAVE TV 3 would be filming Charlie "Music Man" Walls, and this added to the evening's anticipation.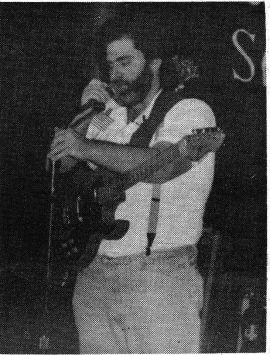 Charlie Walls. Photo by Jean Metcalfe
Charlie Walls
Newsman Ken Marshall was in attendance because of Walls' "10,000 Miles Away," a moving tribute to the National Guard unit from his hometown of Springfield, Ky. The tune has been getting local airplay and press attention from as far away as Los Angeles.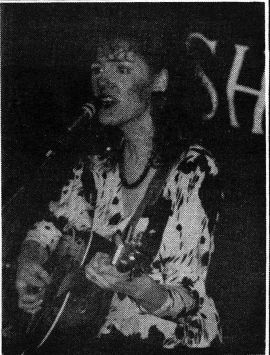 Marie Augustine. Photo by Jean Metcalfe
After being called to the stage by emcee Jean Metcalfe, Walls sang several tunes and picked his guitar with the backing of the assortment of electronic equipment he calls "The Silicon Valley Boys." "Footprints," co-written with Gardner Barger, was a clever response to Troy Seals' "Who's Gonna Fill Their Shoes?" It spoke about some of the newer country artists, saying "They never filled nobody's shoes, they made footprints of their own." He followed with "Fanning the Flame," noting that it will soon be released on his Music Man Records label with Johnie Pierce as artist.
Walls said he wrote the first-prize-winning "She Kept Everything But Her Word" for the 1988 LASC Songwriting Contest and laughed "It was a the biggest thrill of my life until the other night," referring to a short appearance on a Louisville TV station.
That appearance was a result of the aforementioned "10,000 Miles Away." The song came about last December when Springfield held a parade honoring the solders leaving for active duty. The emotions Charlie felt and saw on the faces of the residents of that small town quickly resulted in
It's more than just a weekend
it's the real thing this time
. . . .
Springfield, Kentucky's behind you all the way
As they leave to keep the peace
ten thousand miles away.
This was the song that WAVE's Bruce Carter was there to film as part of a feature done about Walls and the feelings of people seeing their relatives and friends leave for ". . . the real thing." (The resulting story included very poignant footage of the unit training at Ft. Knox and eloquently portrayed emotions that have been occurring in many places around the country. A tape of the song is available from Music Man Records, POB 303, Springfield, KY 40069.)
Emcee Metcalfe wished Charlie a hit, then brought on Marie Augustine, who was a performer on the inaugural LASC Showcase in August of 1986.
Augustine's guitar was supported by the drumming of Jak Son Renfro, with Marie's daughter Michelle Gossman on flute, guitar, and vocals. Four original tunes displayed fine lyricism with such lines as "I've been having a devil of a time with this devil in my mind," from "I Was Selling My Soul to the Devil," and "All our dreams don't seem to be unfolding," from the lovely "Should I Go?" Marie shared that her gorgeous "Piper's Call" was inspired by Russian flutist Sergei Zaslavski. The song encourages long-forgotten dreams, saying that they can still come true. "Each note he plays brings alive/dreams of long ago. / Clear away the cobwebs on your own treasure chest of gold." Sally Mudd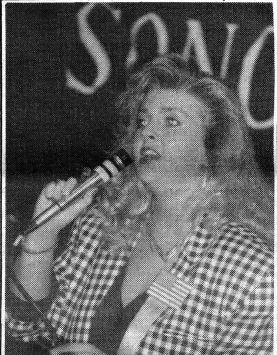 Sally Mudd. Photo by Jean Metcalfe
Sally Mudd
The group concluded with a "multicultural" theme featuring songs from France, Great Britain and Greece. This was an interesting presentation and featured the vocals of Diane Kessler on "The French Waltz," and the playing of guitarist Dan Colon on "O Caritas." Marie is an excellent solo performer and her friends gave the set musical color and a very enjoyable vocal variety.
The building was packed and the crowd was having a good time as Bardstown's Sally Mudd opened the second set. Sporting a yellow ribbon and an American flag, she sang with tracks and the "Silicon Valley Boys," presenting songs from Co-opers Gardner Barger, Judy Johns, Charlie Walls, and Diana Black. She also did songs written by former LASCers Dot Elpers and Debi Knight and a song by Georgia's Bill Pickard. She started with the Johns/Barger composition "Best of Loves," with the catchy line "If you're giving second chances, I'll take one."
That was followed by the Barger/Walls tune she sang at last year's LASC Seminar Showcase, "Shoebox Souvenirs." The Walls/Black song "Heart of Dixie," a story of a man on a bus who lived in "the heart of Dixie," was next.
A song from the first LASC recording project, "Can't Put Your Memory to Bed," an Elpers/Knight collaboration, triggered memories from my early days at the local NSAI workshop, where I first heard one of my favorite lines: "In my sleep I reach for you and touch an empty space instead."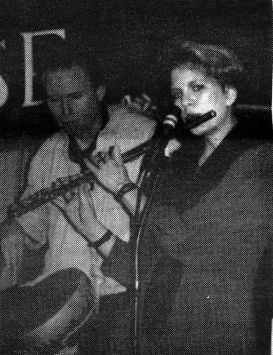 Jak Son Renfro and Michelle Gossman. Photo by Jean Metcalfe
Mudd closed with another Barger tune. the wistful "If I Came to Atlanta." Throughout the set, she handled a misbehaving sound system with humor and, when the sound cooperated, she displayed fine singing, for which she got much well-deserved applause.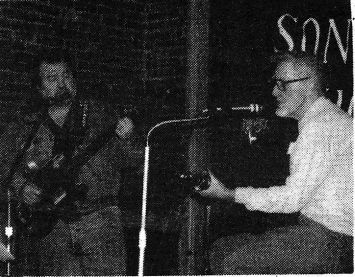 Doc Dockery and Gene Adams. Photo by Jean Metcalfe
"Doc" Dockery, who is usually gigging on any given Saturday night, was on hand this night to join forces with the winner of the LASC's 1990 Songwriting Competition, "Papa" Gene Adams. Both played guitar as "Papa" sang a couple of his creations, including one of the emcee's favorites, "Lonesome Pine."
"Papa" Gene shared that he and Doc had not done anything together musically until two weeks before the Showcase. The two then performed "Diamonds and Gold," which had such enthusiastically received lines as "You lied and you cheated, you gave up your soul/ For a handful of diamonds and a pocket of gold.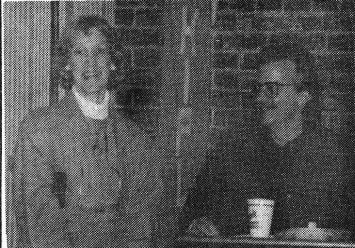 Marian Maxwell and Pen Bogert. Photo by Jean Metcalfe
Doc then took lead vocal on his uptempo "Daddy Sang Those Jimmie Rogers Blues," which was a son's view of his father's aging. Adams' "Smoke and Drink" unveiled a man caught in a "Catch-22" dilemma, as he needed to work to buy the smoke and drink but couldn't make it to work because he smoked and drank.
The night's main sets ended with Adams' $1,000 Grand Prize Winner, "Ship Soon to Sail." This bluegrass gospel number brought forth applause as soon as it was announced, as many Co-opers had evidently been eagerly waiting to hear it.
By the time the last act came on stage, the audience had thinned out, thereby missing one the infrequent incarnations of The Traveling Beerbellies, a.k.a. "Doc" Dockery and Charlie Walls. Both strapped on their electric axes and rollicked through a long list of cover tunes, keeping the crowd hoppin', boppin' and hollerin' for more. After reaching for a tenor harmony on "Sitting on the Dock of the Bay," I put down my notebook and concentrated on the fun.
Come join the fun and the next LASC Showcase on March 2.