March 1991 Articles
Cover Story
Jean Metcalfe
Columns
Berk Bryant
Paul Moffett
Earl Meyers
Henry C. Mayer
CD Reviews
Patrick Fitzgerald
Bob Bahr
Patrick Fitzgerald
Patrick Fitzgerald
Performance Reviews
Diana Black
Paul Moffett
Marc Hayes
Bill Ede
Patrick Fitzgerald
Jean Metcalfe
Patricia E. Finger
Bob Bahr
Karen Le Van
Bill Ede
Patrick Fitzgerald
Calendar
Staff
News Item
Staff
Jean Metcalfe
Staff
Staff
Preview
Karen Le Van
Opinion
Staff
Photos
Letha Marshall
LASC
Wally Stewart
Diana Black
Staff
Diana Black
Diana Black
Jean Metcalfe
Staff
Blogs
Got Shows?
Send Them To Us
Bookmark Louisville Music News.net with these handy
social bookmarking tools:
Available RSS Feeds
- Top Picks
- Today's Music
- Editor's Blog
- Articles
Add Louisville Music News' RSS Feed to Your Yahoo!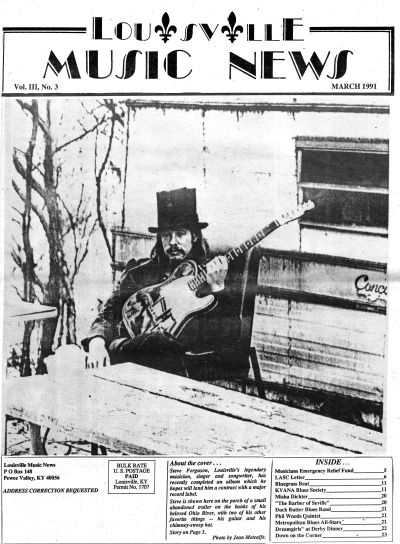 The Legendary Steve Ferguson
By Jean Metcalfe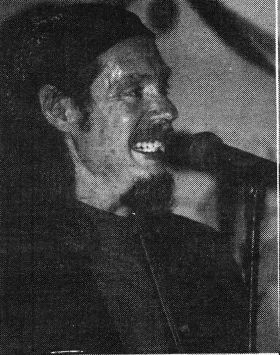 Ferguson at Air Devils Inn. Photo by Jean Metcalfe
Steve Ferguson doesn't know why he is a musician. He does know that at the age of three or four he was enchanted by the look of musical instruments.
"I'd be with my mother in a car somewhere, riding past a music store, and see guitars and instruments and wanting to reach out of the car ... it was an instinctive kind of thing."
"And, of course, I was a big Elvis guy when I was seven or eight years old. I even saw him at the Armory in about '56. That got me going," Steve said.
(The Armory is now Louisville Gardens, and I was also at that 1956 Elvis concert.)
Steve's folks got him an acoustic guitar when he was nine or ten years old. Without benefit of lessons and unable to teach himself fast enough, he put the guitar aside for a couple of years.
At age 13 Steve saw an electric band at a sock hop, he said, and "got real turned on."
"At that point I decided 'I gotta have one of those things.'"
He got that first electric guitar at a pawn shop, paying for it in installments.
He was living in the West End of Louisville at the time, a time when a lot of black people were starting to move into the area, he said. A family of blacks who lived nearby had three sons who were in their late teens or early twenties, and they were "into jazz."
"They let me hang out with them all the time and they were always playing Charlie Parker records and Dizzy Gillespie records, and sometimes they would play some little blues things."
Steve would go into his bedroom and "tune in WLOU, at that time a R&B station, and listen to stuff, 'cause nobody else around listened to anything like that."
He also listened to early Ike and Tina Turner, Solomon Burke, James Brown and B.B. King.
"It wasn't a nostalgic thing, it was just a part of what was happening. Course I couldn't play that way, but I would try to learn little tunes I would hear. I think the first tune that I ever learned was an old Freddie King tune called 'Hideaway.'"
King was a black blues guitar player who wasn't big at that time, Steve explained.
Steve learned to pick out melodies on his guitar before he learned to play chords. The influence of his jazz-oriented black friends caused Steve to be more concerned with improvisation than with chords, he said.
"I would try to improvise things, as barbaric as I might have been. ... It took me a couple of years to get basic chords down, 'cause I ignored it."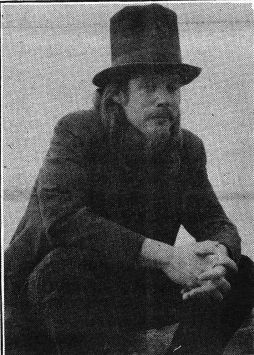 Steve Ferguson on the banks of the Ohio. Photo by Paul Moffett
Steve was playing guitar with "a little local band" called The Mersey Beats when Terry Adams joined the group as their keyboard player. The two of them subsequently left The Mersey Beats and "started working towards the NRBQ thing." (Adams currently plays keyboard with NRBQ.)
Adams got Steve to "take one lesson from Don Murray," whom Steve described as a local jazz legend, who has since died.
"Murray scared me to death," Steve said, "And so I got real discouraged. I didn't try that after that. I just more or less learned from Terry because he was a natural kind of jazz composer and player."
"As I began to get tighter and closer with Terry ... we began to really expand on composing pieces of music rather than just playing things that were on the radio. And that took everything into a whole different dimension."
Terry had recordings by some of the older blues players and Steve was more familiar with the contemporary rhythm and blues pieces for that period of time -- Sam and Dave, Wilson Pickett, Otis Redding, Aretha Franklin -- "which is still just as good, just as valid, but I didn't know it from its roots inside out.
"And then after I got involved with Terry and was a little educated as to where it was coming from, then I began to see it all in one piece. And NRBQ sorta evolved from me and him just getting together. It went through a lot of stages."
(Steve said he got involved with Terry in about 1965 and NRBQ started happening in about '67.)
Later, while living in Florida, Steve and Terry got together with two players Terry knew from a band in New York. Those two players became the bassist and the lead vocalist with NRBQ. It was the Sixties, and there were places where musicians could go and play the way they wanted to play, Steve said.
"That started becoming a happening thing ... and the whole era of dance bands that played Top 40 stuff became obsolete, which for us was great."
During the year or so that NRBQ played in Florida, Frankie Scinlaro, who had managed some fairly big-time acts, heard about the group. Terry met with Scinlaro, who subsequently came to Florida to hear them and ended up being their manager.
"He had a lot of lines with record labels ... he liked us and thought we had something really happening, and he convinced us to move to the New England area. At that time we actually lived in Jersey, just a few miles out of New York City, and he got us some sort of audition spots at some prestigious places in ... Manhattan. And the right people heard us. ... One of the people was Clive Davis, who at that time was the president of Columbia Records, so they signed us.
"It was at a little place called Steve Paul's Scene, in Manhattan, and I don't even think it exists anymore. Everything happened from that," Steve said.
"I was the first guy, I think, that he introduced himself to. He told me that he dug it a lot and he thought that something was happening there. He saw a lot of promise in it. And it was right after that that we signed with them."
Were they actively seeking a recording contract? I asked.
"Frankie Scinlaro, who got us to go to New York in the first place, worked out a deal with a couple of other people to put up money for us to go in the studio, under the conditions that they would shop it to labels. Well, we had sat in at that litle club called Steve Paul's Scene, and word had spread like wildfire.
"And different people that worked for different labels were trying to get in the studio, and they were chasing guys out of the studio. That's the truth. They were chasing different people from different labels -- from PolyGram, two or three other labels -- and it just ended up being Columbia that we worked a deal with."
"You must have made quite an impression," I suggested.
"We did, but we weren't part of the psychedelia type of thing, as far as the way we played was concerned. Or, as far as the way we thought was concerned.
"I'm not sayin' we didn't get into our share of trouble, but we just didn't play like a heavy metal band or one of the psychedelic type of bands played. The way we played was real straight-ahead and we would just play what we felt like playing. And a lot of people tagged us as sort of a nostalgic rock 'n' roll band and we used to get real angry about that because we just dug the tunes we played. It had nothing to do with trying to be nostalgic, if it was an old tune or something.
"A lot of people didn't know what to make of us. They would look at us and they would pick up this energy of a group of guys that are real in tune with what's goin' on, but yet the way we played seemed so off-base and out of synch with what was happening.
"We weren't singing prophetic words like Bob Dylan or John Lennon. But yet you could tell we were in tune with what was happening. And nobody really knew what to make of us in a lot of ways. We would go from the extreme of playin' a tune we had written or a tune that might have been a hit in the Fifties or something just because we dug the tune, all the way to playin' like a Charlie Parker or a Thelonious Monk tune.
"And there was just no real limit to what we could play. We felt like it was okay to play whatever we wanted to play and we didn't feel like we wanted to be tagged into any certain dimension or category."
"You just went in there and played what you wanted to play and it happened to be what people liked?" I echoed.
"I don't know if it was what they liked. It blew 'em away."
He quickly added, "Let me say it wasn't what they expected. That's a better way of putting it than saying what they liked or disliked. It wasn't what they expected. And they did like it."
I asked about the duration of Steve's association with NRBQ.
"I played for two or three years, I quit for a couple years and I went back and played for about a half a year, and I haven't played with them since then. But ... about a month and a half ago I went to Upstate New York to do some stuff in the studio for a friend of mine. On the way out of New York I spent a couple nights in the city with NRBQ and I went up and played a little bit on their gig on a Friday and Saturday night at a club called Tramp's. "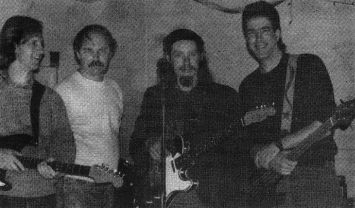 Steve Ferguson and the Humanitarians: L to R, Pat Lentz, David Marasco, Ferguson and Robert Monk Mackey.
"Another thing, too, that I've done with them recently: Before Christmas I was on a project with them in New Orleans. We were backing up this pianist named Johnny Johnson, who is known for stuff he did with Chuck Berry. Elektra Records is behind him now and he's been in the studio doin' the stuff we did with him. He's gonna be doin' some more stuff with some other artists -- I'm not sure about how that's gonna shape up -- but the bassist, the other guitar player and the drummer with NRBQ were on these sessions, and I played guitar. Terry, the keyboard player, didn't play. He was the producer on this thing. So somethin' should be happenin' with that pretty soon."
Other than "little gigs to pick up some bucks," Steve said that he has not been in any bands other than The Mersey Beats and NRBQ.
I mentioned the name Steve Ferguson and the Humanitarians, which is how Steve is frequently billed these days.
"I do that now because a few years back I did an album that's called Fun for Fools, and a friend of mine put up the money to have a few hundred copies pressed up. Because of my involvement with NRBQ and different people, I got reviews on that album in a couple of different nationwide magazines. I've even gotten letters from France about that album, and only several hundred copies were pressed up. So I got a lot of notoriety and prestige from doing that. As a result I had to put a band together to start playing. So up until the last, I'll say, four years, I never played with my own band and played all my own pieces of music."
With the exception of one tune, Steve says, everything he currently performs was written by him. The exception is an old Bruce Channel tune called "Hey! Baby," which Steve used to play with NRBQ. Also, "every now and then" he will do Tommy Tucker's "Hi-Heel Sneakers."
Last year Steve taped and released a cassette, Live at Uncle Pleasant's. Other than that recording, Steve has done one other album, plus the one he has just completed and is shopping to record labels. (He made two albums with NRBQ.)
As Steve Ferguson and I sat in the second-floor recording studio at Mom's Musician's General Store, we spoke about his just-completed album. His eyes lit up as he spoke.
"It's important to me because the stuff that I did up here is real straight-ahead rhythm and blues, the kind of music that I loved as a kid, that's always been with me. And a few of the pieces are based on what I call historical facts that involve this very community right here in Louisville which I relate to in its ancient form as the Ohio Falls.
"And this music is based on the immigration of the black Afro-American and the Irish and Scottish people that came in by the hundreds to the city of Louisville after the big potato famine in Ireland, and all through Scotland. A lot of this kinda starts from me gettin' involved with the Celtic heritage a few years back, because I'm Scottish anyway. But as I began to investigate ancient Celtic heritage I began to see a lot of similarities between the white Celts with the black African people because both peoples are a mystical people, a very rhythmic and tribal people.
"After that I began to think again about the immigration of blacks and the white Celts right into this particular area in Louisville. This isn't to mention that both groups of people had to go through a lot of suffering to even survive, because the white Irishman who came to the city of Louisville was a real pauper when he first came here because there were a lot of Irish farmers that didn't know what to do.
So blacks and the white Irish people had to compete on the same level for work when they first came here to Louisville."
"But I think there's something beyond coincidence that's real fascinating to me when you think about the similarities of ancient black African culture and Celtic culture. They're so similar when you look at it from the inside out. And I began to see in the city of Louisville how both of these groups of people sort of embraced each other to build what I call a 'Midwestern Creole' type of culture. And so you'll hear a lot of people talking about my music now, or you'll see little clips when I'm gonna play somewhere, when they describe what kind of music I play as 'Midwest Creole music.' A lot of people are gonna hear what I'm talking about when they hear the music that I recorded up here.
"Something I hope that people do not misunderstand, some of the dialect in a couple of the tunes comes from what they call the gula dialect. ... It comes from the islands off the Carolinas where a lot of black tradition and culture has been preserved since blacks first came into this country. ... When they first learned English they would say 'We be go to the show, we be go to the store, we be go to the farm,' just like someone from Hungary, from Russia or Germany or anywhere would do. So when you hear a group of black brothers or sisters
somewhere just havin' fun, talking, say
'Yeah, we be goin' downtown,' that's actually a carryover of ancient tradition amongst blacks, as far as black culture is concerned in this country, where blacks first came in and changed from speaking African to the English language. It started as nothing more than broken English.
"So the reason I'm explaining this is because some people could take it as an 'Uncle Tom'
type of thing, and it has nothing to do with that. It has nothing to do with slavery," Steve said emphatically. "It's just simply that blacks were Africans that learned the English language, and when they first learned it there was a broken English. And certain pieces of that broken English are carried on to this day as a tradition that's a very sacred thing."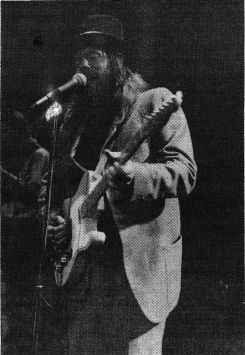 Ferguson plays his 'real straight-ahead rhythm and blues'. Photo by Tom Armstrong
"On a couple of the pieces that I recorded that are on my new thing
(album) you'll hear a group of singers using that type of dialect, and then you'll hear a little melodic section with a flute, fiddle and a hammered dulcimer playing. But it doesn't sound like a lot of things thrown in a soup pot; it really sounds like one thing. And everybody that's heard it so far has commented on how much it reminded them of the river."
I asked Steve if people who had not heard his explanation would be shocked when
they listened to his new album.
"I think they're gonna say that it sounds like I'm maybe being more me than I've ever been before, that it sounds like I'm being me with absolutely no stops, with all the stops pulled out."
Steve wrote, arranged and partially produced the new album, but engineer Howie Gano and Steve's guitar player, Pat Lentz, helped Steve "a whole lot" on the production. (Besides guitar, Pat also played hammered dulcimer. Other players were Robert Monk Mackey on bass, Rod Wurtele on keyboards, and David Marasco on drums.)
"When I'm playing guitar or I'm singing, I don't know what's comin' out in the control room, and certain people like Howie or my guitar player, Pat Lentz, can tell when I'm really bein' my best, where I can't tell that. So they helped me a whole lot."
"Now sometimes you're gonna play some blisterin' thing where you're just on fire and it's just right there, and there's no question about it, and everybody knows, and you know, that's it! But those things are few and far between."
". . . the title to this whole project is Jack Salmon and Derby Sauce."
"I think they're gonna say that it sounds . . . like I'm being me . . . with all the stops pulled out."
Steve estimates that he spent a couple of years on the project, from writing the material to finishing the project.
"When I first started out I had a picture of everything in my head. But I didn't really have much incentive to go on with it because I couldn't conceive of getting the money to go in the studio to do anything in the first place. So I really was discouraged about it and sorta forgot all about it. And then a year ago I worked out a deal with Mark Smalley, who owns Uncle Pleasant's, and he helped me pull this whole thing off. Him and myself are the owners of our own publishing company which we call Midwest Creole Music. By the way, the title to this whole project is Jack Salmon and Derby Sauce."
(Steve spent a couple of years developing his "Derby Sauce" specifically for chicken, jack salmon, frog legs and rabbit. "It's somewhere between a sauce and a gravy," he said.)
Steve went on to explain that jack salmon is a fish that runs abundantly in the Ohio River. He said that people who eat it "will tell you that it is nearly a delicacy."
"There's another tradition about jack salmon. A lot of restaurants that sell jack salmon actually serve whiting ... but the way they're cooked is basically the same. It's a creole type of blend of spices in a cornmeal and flour batter that the fish are rolled in. Then they're deep fried real fast and it has a little sting to it.
"You can buy the type of jack salmon I'm talking about at some of the restaurants like Indi's down at Eleventh and Broadway, or out on Poplar Level Road, and there's a couple more. And there's three or four other little restaurants around town that serve jack salmon.
And some of the black type R&B clubs that I've gone in off and on for years, when I'd go in and play I would order some jack salmon and they'd bring me a bottle of hot sauce. And I got to thinkin' one day about the abundance of jack salmon in the river and the little restaurants that fry it around town. And I thought that, as big as barbecue chicken, ribs, jack salmon and French-fried banana peppers are, we have our own sort of Midwestern Creole cuisine right here in Louisville -- if people would just open up their eyes and look. And we have a lot of our own culture right here that nobody really thinks about.
"Creole can mean mixed culture as well as mixed race."
"Creole doesn't necessarily mean New Orleans, in the sense that I'm referring to it. As far as what I consider to be the most influential part of the Ohio Falls or the city of Louisville, I point more towards the white Celts, the Scotch-Irish people and the black Afro-Americans. I think they've been the most influential groups of people in this whole area. And the whole project I recorded -- the whole Jack Salmon and Derby Sauce LP, cassette tape, whatever it will become -- that's what it's all about. It's all about my own awakening to my own culture and heritage right in front of my face and I never really looked at it my whole life."
"When I say 'my own culture and heritage' I'm not talkin' about my Celtic heritage in particular. I'm talkin' about growing up in the river-town environment, and the union of the black Afro-American and the Celtic people, and seeing this as one culture and one heritage. I just wanted to make that clear."
I asked Steve if he had ever considered giving up music.
"I gave it up for about a year and a half, up until a year ago, because of trouble it got me into. I felt like it was best for me to stay away from it to really build some kind of stability in being straight to just stay out of trouble. And I just didn't want to think about it.
"I didn't want to play, I didn't want to write music, I didn't want to think about it. But it got to the point where I couldn't control that anymore, and I had to start writing music and playing again.
"But it's been as bad for me as it's been good for me. I mean, as many blessings as I've gotten from playing, I've gotten as many curses, too. Many bad things. And so many times I nearly killed myself from drinkin' myself to death or druggin' myself to death. And the only way I knew to really clear myself up and really get some kind of a strong foundation in being straight was to just stay away from it. Finally it got to the point where I started to realize that I have to play, but in order to play I have to be straight."
Steve went on to say that he can spot a potential problem (of abuse) in other people. "I'm saying, yeah, I can, because I know how many games I've played myself, and how many times I've conned myself, and for years I really didn't know I had a problem. Everybody else knew it, but I didn't know it."
"There was a period of time when I was real bad. I really didn't know I had that serious of a problem. I knew I was hooked, but I didn't think it was anything to worry about."
I suggested that perhaps his feeling was "I can handle it."
"No, it was beyond that," he said. "I knew I had a habit. I knew I was hooked, but I didn't think of it as somebody that is a drug dependent or alcohol dependent. It just didn't compute in my mind. I didn't think of it that way."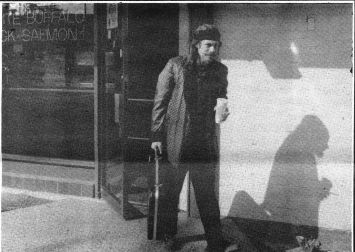 NOW COOKING? Steve Ferguson leaves Indi's Restaurant at 11th and Broadway. Photo by Paul Moffett
"This started at a real young age," Steve continued. "I don't know, I just didn't take it seriously. I guess I just could get away with it. But over the years it just got so bad to where I would just make myself real sick, and got to where I was paralyzed, you could say -- emotionally, mentally, spiritually, physically -- and I couldn't pursue any opportunities, my health was run down, I was unpredictable, I was handicapped. It's like being a handicapped person."
"Anything you do, you're gonna be better straight -- anything you do."
I asked Steve if there is a romantic notion associated with self-abuse, that some people adulate or idolize people who abuse themselves, such as Janis Joplin and other high-profile musicians.
"In a way there is, because I used to have a real thing for guys like Hank Williams, and I almost used to identify with their alcoholism or drug abuse as part of their masculinity or something."
"That's not what it becomes, though," he said. "It becomes a real sickness and you're strung out and it has control over you and you don't have control over it." (He spoke with real conviction.)
"There were some stages of my life where I actually identified with it. I felt like that was almost a form of sainthood or something."
Steve summed up: "Anything you do, you're gonna be better straight -- anything you do.
"Also, too, once you've really had a serious alcohol and drug problem, when you get straight you feel like you have a good high just from being what you are, and you're frightened to try to use drugs or alcohol, because you would be taking a lesser high ... for (instead of) a better high.
"Something I wanted to say, too, that helped me, was watching athletes. I began to think about athletes that go to a game, how they have 'butterflies' and they're all nervous and stressed out. And it dawned on me one day that that's part of the high ... is the fear of the unknown.
"If you're stoned you just go out and play and you're mellowed out and it's okay, but you're missing out on part of the excitement and thrill of doing it. You're cheatin' yourself out of that.
"You know, I remember how excited and thrilled I used to be as a kid when I'd go out and play, and I thought, 'Gosh, I haven't been that way in years,' and it just dawned on me, you know. I was thinking about athletes -- boxers or somebody -- part of their high is not knowing -- they could lose.
"When you're mellowed out, you just kinda roll with the punches and you're gonna do it, but when you're straight sometimes you're, I won't say scared, but you're a little stressed out sometimes." "(Conquering the stress) is part of the high, it's part of the fun, it's part of the thrill of going out and doing it. And not only that, doing drugs or drinking, it just really mutes out your excitement level. It's real hard to get excited about anything."
As I was about to move on to other subjects, Steve said he wanted to add something to our discussion of substance abuse:
"There's this weird myth around town amongst people who do not know me, that heard it from somebody else, that I have brain damage."
"There's this weird myth around town . . . that I have brain damage."
"And I've had a couple of people that have asked me that, and I just told them, I said, 'How would I know if I do. I'd be the last person to know.'"
(I told him that I didn't think I had brain damage, and that he didn't appear to me to have brain damage.)
"Well, I kinda felt like the person that asked me that question very well may have."
We shared a hearty laugh, and Steve added, "This is true. That happened. I've had that asked me before ... and they wouldn't tell me who told 'em. They said someone else told 'em that."
Steve Ferguson is 42 years old, divorced, and has a 20-year-old son, Simon, from his first marriage. Steve's girlfriend, Robyn Rossmann, has a fourteen-year-old daughter, Nicole.
"So I'm kinda 'Dad' now."
But he said he doesn't push at being a father to Nicole.
"No way, because she'd tell me to bug off."
Steve was a full-time musician back when he was with NRBQ, and he'd like to once again make a living making music.
"That's what I'm shootin' for right now. Everybody that knows me thinks that it's the only thing that makes sense. I think that's the only thing that makes sense. But, I'm not doin' it, which doesn't make any sense."
I told Steve that I had heard a number of people say that they don't understand why he hasn't been signed by a record label.
"I've got dozens of clips of articles where they call me a legend and a genius," Steve admitted. "And it stinks, you know, when you read things like that many times about yourself, and you're confident in what you can do yourself, and you're not making a livin' at doin' that. I mean, my life's being wasted doin' things just to make a few extra bucks, when what I joy in doin' and have cultivated for nearly thirty years, I'm not doin'."
We talked of stardom and of my feeling that musicians, generally, are underappreciated, even though virtually everyone enjoys music. But they seem to give adulation only to "stars."
"But they want somebody else to tell 'em it's a star first, they don't want to conclude that for themselves," Steve said.
We agreed that an "unknown" musician could very well be better than a "star."
"But they wouldn't recognize you ... it's that public eye thing," Steve said.
I suggested that perhaps he didn't necessarily want to be a star, but merely wanted to make a living as a musician.
"I want to be appreciated, because I feel like I have something to share with everybody. It's kinda like love being rejected, you know. I wanna share what I have with people, but I want 'em to acknowledge me for it. I'd like the music I play not only to move people's souls and to show 'em a lot of fun and a good time, I'd like for it to teach 'em something too ... maybe about themselves ... ultimately about themselves."
I feel like I have something to share with everybody.
Although he acknowledged that the paycheck would be nice, "It would also be a chance for me to share it (his music) with people all over the United States and the world."
I asked about interesting, funny, strange or scary incidents that had happened to him during his career.
"Hmmm. The best ones can't be mentioned," he said, his eyes twinkling.
"I'll tell you a good one. ... When I was with NRBQ, we played at a club one time in Jersey that was owned by some characters that were supposedly in the Mafia. And we took a break, and I proceeded to tell this young lady what a jerk I thought the club owner was and it turned out to be her father. We were fired immediately. ... immediately.
"And we had to have people escort us out of there. ... We had to get somebody that knew 'em to come in and talk us out of there. ... It was like a Marx Brothers movie or somethin'. We didn't care. We were makin' jokes out of it. And somehow we got away with that.
" ... It was probably a very serious situation," I suggested.
"Oh, it was a serious situation. We could be on the bottom of the Hudson River right now."
Steve doesn't recall the name of the club.
"What makes Steve Ferguson happy?" I asked.
"When I'm not playing, if my mind's not on playing, I'm pretty simple. I just like hangin' out. It depends. If I got money, I like to spend money. Sometimes I like to buy books. I read a lot. I have phases where I read a lot. My reading material is pretty much in one category.
"Several years ago I got real involved in the Eastern Orthodox church and I started reading a lot of history of Christianity. And I seem to keep an interest in the Orthodox or Roman Catholic or Anglican Church ... Catholic traditional type of church, not really contemporary. And much of my reading material deals with that. But I haven't been into that for some time really.
"If I could afford it I would cook a lot. The kinds of things I like to cook ... I might eat by myself most of the time."
"I'm pretty simple, but after a while it drives me crazy. I gotta play or do something creative.
"One thing I love to do ... I think one of my favorite things to do is when I'm in here recording. I love to record if I know the piece that I wanna do and I've really got it mapped out in my head and it's well-rehearsed.
I feel like I have something to share with everybody.
"And I've got a good engineer. (We both laughed because Howie Gano, engineer for Steve's just-completed project was within earshot). Yeah, I love to do that. To me that's a real high when you can go home and you listen to something that really has captured what you wanted to get on tape."
Of his studio work, Steve says, "I tear it apart. I listen to it (a rough mix) hundreds of times until I get over liking it, and then I start to hear what I don't like. And if I can still live with it, it's okay. Some things it doesn't take but a few listens to know I can't live with it."
"(Eventually) I reach a point where I totally accept it. That's it. I just listen to it for enjoyment."
Who does Steve Ferguson like to go out and listen to?
"I know it sounds terrible, but there's not that many people I like.
"As far as music I like to listen to -- that really doesn't have a lot to do with what I play -- is the medieval type of traditional church music, like the Gregorian chants, and ancient hymns. I would go see the Louisville Orchestra maybe.
"If I could afford it I would cook a lot.
"But it doesn't have anything to do with what I do. Lotta times, even if it's somebody I like that plays in town, if I'd go in and see 'em it would aggravate me more than I would enjoy it, because it would just make me mad at what I'm not doing. And it really puts me through a bad emotional and mental trip.
"There aren't that many people that really knock me out, though, that come through town that I would go to see. I'm real picky about that."
"I thought about seeing Dr. John a couple of times when he came in town, but he always appears as a soloist and never with a band. He's one of my favorite guys."
"Would you go see Bo Diddley?" I asked, having just recently seen the gentleman a couple of weeks earlier.
"A lot of the people I would like to hear are dead."
"I'll tell you another funny story. It's been about three years ago. I was in New England and they got me to play on a gig with Bo Diddley. I was the other guitar player. And I was real depressed at the time, I was goin' through a lot of bad changes and I drank quite a bit at the time.
"But, it didn't make any sense, me being on the stage playin' with Bo Diddley because he plays so full. I felt like I was in his way more than I was helping him. So I thought it was an act of courtesy, and I got off the stage. And Bo got upset about it. (Steve laughed one of his heartiest laughs of the time we spent together.) He got insulted. He got insulted about it. I didn't mean it to insult him. I just felt like I was gettin' in his way, makin' it worse for him. ... I thought 'What do you want me to play for? You're so big playin' the way you're playin'.' It didn't make sense to me."
Steve added to his list:
"I possibly would maybe sometime go see Albert Collins, blues guitar player."
"How about Dylan, etc.?" I wondered.
"I don't play like that, but I dig Dylan ... a lot. I always have." (He admitted, however, that he probably wouldn't pay to attend a Dylan concert if he came through town.)
And Steve has thought about "going down to the Bomhard to see one of the real good Celtic bands ... that are really from Ireland or Scotland, that tour the United States."
"A lot of the people I would like to hear are dead."
(Enthusiastically) "Oh, I'll tell you what I did go see that I enjoyed a lot. Last summer, downtown, I went and saw Wilson Pickett, and that knocked me out. That got me real fired up."
"I maybe would go see Sam & Dave if they were back together in a group and they came through town."
I asked about Sam Bush and bluegrass.
"I'll tell you what. I have a weird thing about bluegrass music. Okay? Because the Appalachian Mountains is an extension of Celtic heritage and culture ... a lot of Irish people ... and some Scottish people. Of course you have the Anglo-Saxons mixed in there, too, but a lot of Irish people, a lot of the Appalachian Mountain music comes from the Celtic people. The only difference is, once the Celtic people went up into the Appalachians, for some strange reason, which no one seems to be able to give me a decent answer for, the drums got lost, the percussion, the rhythmic part of Celtic heritage seems to get lost there.
"But still there's a lot of mountain fiddle tunes that are like Irish jigs and there are some dulcimer things that are real sweet, real beautiful, and there's a lot of Celtic soul in the Appalachian Mountains. But once it gets to the point to where (it is) bluegrass music, it seems like it gets caught up in the industrial revolution. At that point, all of the Celtic thing seems to get lost, and it seems to be the birth of people that don't realize that their heritage goes beyond this country. It seems to be totally American at that point, and it isolates itself from its heritage in antiquity amongst Celtic people. And at that point you start hearing fiddles make train noises, and it gets caught up in the industrial revolution, and for that reason I have a thing about bluegrass music that I'm disturbed with. I know that might sound silly. But that's just me. I'm just bugged with that. I feel like it cuts off the whole past."
"That doesn't mean I don't know some of these guys are red-hot players, that are bluegrass guitar players or banjo players," he hastily explained.
"It's just America cut off from everything else, with no realization of itself in connection with the Old World. And the people that it seems to breed seem to think that way even. I hate to say that, but I believe I'm telling the truth. I know that might be offensive ..."
I told Steve I wouldn't get too deep into it (but I already have), and he laughed a jolly laugh, and said, "Wait'll you get some letters," and he continued to laugh heartily.
"I wish we would," I assured him.
Checking my list of prepared questions, I said aloud, "Things that get him down," and checked it off as having been answered, e.g., not getting his music heard, etc. But Steve commented further:
"Sometimes I feel hopeless. I pray for mercy, for help, to get out of this situation." He laughed, but continued, "I mean, I'm serious, I do. Sometimes I feel like I don't see any light at the end of the tunnel. I wonder, 'Am I just gonna die in want?' ... I've got about ten years left to have the physical stamina to perform the way I perform. From that point on I don't know."
Who are the "Humanitarians" of Steve Ferguson and the Humanitarians?
"Let me explain something. That's not the real name of the band. What happened was when I recorded that album Fun for Fools everybody showed up and played for free. And there was no name for a band, so it was just called the Humanitarians because they kinda just donated their humanitarian service as musicians."
"The reason I called myself Brother Steven and the reason I'm still referred to in that way, it's kinda like when you think of the jazz organist Brother Jack McDuff. It just means friend. There's no preachy thing implied by that. And people never caught that for some reason, and it didn't stick in people's minds too much.
"Anyway, there's going to be a new name for my band, and I already know what it is, but I haven't officially set a time to tell everybody, but what will probably come out if I get a record deal, besides the title of the work, Jack Salmon and Derby Sauce, the author and group will be Brother Steven and His Midwest Creole Ensemble. Okay? I've never really officially had a name. That's probably what it'll be."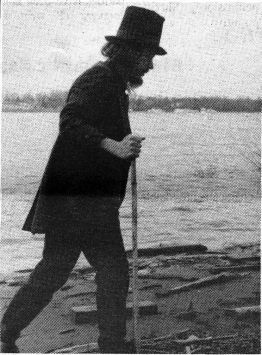 Steve Ferguson strolls amid the debris along the Ohio River. Photo by Paul Moffett
"Sometimes I feel like I don't see any light at the end of the tunnel."
What would Steve Ferguson do differently if he had his life to live over?
"I guess I'd probably do a whole lot of things differently. But if things hadn't been the way they were, I wouldn't feel what I feel or know what I know, either. I don't know. Some things I would (change) and some things I wouldn't."
How did the trademark hat that he wears come about?
"For one thing, Lincoln is sort of an Appalachian symbol, even though he lived much of his life in Illinois. And when I recorded the Fun for Fools LP a friend of mine got that hat for me and he just gave it to me. And I've just worn it ever since then. I don't know, I just felt some identity with the hat.
"I've been wearing some different ones lately. Well, mine's about torn up. And I don't have the money for a new one. They're about $75, I think, if not more than that."
We referred to his hat as a stove-pipe hat, but then Steve said, "Actually I think it might really be a chimney-sweep hat. I think it's actually more the chimney-sweep hat than the stove-pipe hat ... and I love it."
Steve doesn't play any other musical instrument, he said, "not to amount to anything."
"Oh, the omnichord, that's this thing I play on my record. It's this little thing that your finger runs up and down this strip and plays notes and you can push chords to change the key you're in."
Advice to struggling musicians?
"I don't know. I pray for people in my predicament. You know, I hope for every artist-composer who's really sincere, who really has applied himself or herself, and really cultivated their gift, and have gotten to a point where they can really express their true person, and there's a uniqueness to them, and they really offer something personally to everybody that listens, I hope that those people make it, and that they're fulfilled in their life."
"I naturally feel for anybody in my predicament. I hope they can make it."
How would Steve describe Steve Ferguson?
(He thought about it for a good while, and I offered to withdraw the question.)
"I'm thinkin'," he said.
Another pause, and then:
"I don't know, I'm just an artist and a musician. I'm a person with feelings and with emotions and mental faculties like everybody else, and some of 'em are developed, and some of 'em probably aren't. And I'm just scufflin', you know, in a lot of ways, like everybody else. And I just have somethin' to share with everybody that I hope I can share. And I hope it has some kind of contagious effect on them, in a good way, that brings about good things. And ... especially in the project I've been on that involves a lot of people, really. I hope that what I've done makes us all see each other as a part of something."
Anything else?
"Hmm. Something about me?
"I'll leave it with this, okay?:
"Because of my involvement in this Midwest Creole project that I've talked about, I'm gonna be working toward getting people involved in a movement that would involve political figures, local, the state of Ohio, Pennsylvania and West Virginia. I would like to initiate this anyway, to really make an all-out effort to clean the Ohio River up as much as absolutely possible, with a dream I have, which I think is within reach, to get to the point where the river is so clean that we could actually have commercial fishing industries right here in Louisville. To where restaurants could go out for a fresh catch. To where the myth and the legend of 'The river's nasty, you don't want to eat the fish from the river,' was completely done away with, and there could be proof beyond the shadow of a doubt that the river was so clean and healthy that we could actually, without worry, eat the fish from our own river, and restaurants actually, in pride, have their own fishing boats out for fresh catches ... every day. To me, that's within reach. That's within reach.
And the reason I'm leaving this as the last thing, is because I need people's support to be able to do it. To ever be able to do it I need support. I mean, I'm into this Midwest Creole thing so much that I want the Mayor and the people to get on fire, turned on, to see this as a part of what we are. I want people to see that in a sense of speaking we are somewhat of a conservative New Orleans.
"The river's not ruined,
it's just in trouble."
"To me Louisville is not part of the bluegrass image that it's tagged with. Louisville is its own thing. It's a little river town, an old soul town. And it has a lot of unique qualities to it, from our barbecue to our rolled oysters, to our Benedictine and snappy beer cheese to our jack salmon to the Kentucky Derby.
The river's not ruined,
it's just in trouble.
"...I'm into this Midwest Creole thing so much that I want the Mayor and the people to get on fire..."
"There's a fabulous beauty to it, you know, and for some reason we forget all about it after the Derby. And I'd like to see the fever carried all year 'round, and the whole community really take advantage of the river town that we are."
"We have a lot of beautiful traditions and there's a beautiful integration of people in this tradition. It's not just white, it's not just black, it's white and black embracing one another, that make up this Midwest Creole culture.
"And in one sense of speaking, I think we have something that actually outdoes the city of New Orleans, and that is this: They have the French buffer. You know, you have a beautiful balance there. They have very little racial prejudice, in the city itself, because it's softened by the French element. Here you don't have that. So to me there's a much greater sense of accomplishment.
"And, I don't know, it's hard for me to put all this in one piece for you to see it all at the same time, or anybody else, when I talk about a Midwest Creole society or culture. It all has to do with being a river town. It all has to do with different groups of people embracing each other to build a culture, a heritage, which started over a hundred years ago. And I want us to realize that we're a river people and a river town and to take care of the river. And I say, 'Dare to Dream.'
"That's kinda what I call this movement -- 'Dare to Dream.' To dare to dream of the day when our river could be clean enough to actually have commercial fishing industries, to employ a lot of different people, to have restaurants with their own boats out fishing for the fresh catch of the day, like I talked about before, and whatever possibilities are there.
The river's not ruined, it's just in trouble.
"And it's within reach. The river's not ruined, it's just in trouble. And with the cooperation of our state, West Virginia, Ohio, probably parts of Pennsylvania, it could be done. And so I need people's support. So I'll just leave it with that. Rather than a statement, it's a plea.
Three days after my February 12 interview with Steve Ferguson, I dropped in to catch his performance at Air Devils Inn. The place was really jumping, the dance floor was well utilized, and even the most reserved of folk would have had to work hard at not having a good time.
I have just recently heard Steve's new nine-song album, and it . It was wonderfully exciting. The record label that passes this one up will have made a serious mistake.
Steve Ferguson will be in concert at Uncle Pleasant's on Friday, March 1, at Cherokee Blues Club on Wednesday, March 13, and again at Uncle Pleasant's on April 5.
Tags: