January 1995 Articles
Cover Story
Mark Clark
Features
Ninette Shorter
Paul Moffett
Mike Stout
Columns
Duncan Barlow
Berk Bryant
Jim Galipeau
Mike Stout
Paul Moffett
Keith Clements
Todd Fuller
Henry C. Mayer
Alan Rhody
CD Reviews
John Goodin
Mike Stout
Mark Clark
Mark Clark
Robert Gruber
Performance Reviews
Ninette Shorter
Henry C. Mayer
Interviews
Mike Stout
Calendar
Bob Bahr
Book Review
Henry C. Mayer
Opinion
Photos
Pete Strojny
LASC
Paul Moffett
Jean Metcalfe
Blogs
Got Shows?
Send Them To Us
Bookmark Louisville Music News.net with these handy
social bookmarking tools:
Available RSS Feeds
- Top Picks
- Today's Music
- Editor's Blog
- Articles
Add Louisville Music News' RSS Feed to Your Yahoo!

Issue: January 1995
Lee Greenwood: Proud to Be An American
By Michael W. Stout
Two-time CMA Male Vocalist of the Year, one-time ACM Male Vocalist of the Year, Grammy Award winner, the unmistakable Lee Greenwood spoke with Louisville Music News recently while in town performing a private show for the Kentucky Farm Bureau.
Greenwood's self-penned "God Bless the U. S. A." has made Lee Greenwood a household name among all Americans, regardless of their musical choice. This incredible time was awarded the Music News Award Single of the Year in June'1985 and the CMA Song of the Year in October 1985 and the video reached platinum status in June 1991 caused by its recognition pf popularity by General Norman Schwarzkopf during the Persian Gulf War.
Lee says that "'God Bless The U. S. A.' stood for more unilateral meaning. It wasn't just a country song, it wasn't just a pop song, it wasn't just a song about relationships, or people. It was about everything that this country stands for. It was about everything we've done as a people, as Americans and I think that was a bigger meaning, a larger meaning and I'm glad that I had that instead of just a love song."
Even after all the success of "God Bless the U. S. A.," Lee says, "I think songwriting is the weakest of my talents. I was a musician first and I used my voice basically as a musical instrument, sang in church, sang wherever I could sing, but I never considered myself a soloist until we had a recording project in the '60s and I kind of said, 'Maybe I can do this for a living.' I didn't know, but it certainly was a good option for me at the time and I had no idea I'd ever be a known writer. That was something that came along at the last."
He feels that he got everything he expected from "God Bless the U. S. A." He recalls,"I was excited that it was accepted the way I intended it as a way to rebuild the pride in the nation. That's why I put 'I'm proud to be an American,' [and it] became a subtitle. A lot of people think that is the title. When I said 'God bless the U. S. A.,' of course I meant the Lord watches over us. This is a nation, I think, from my own belief as a Christian, that we need to keep God in our life, in our pledge, in our schools and so forth. So that particular song represented my beliefs as well, but it certainly meant an awful lot to the military, which is just regaining its pride after the eighteen to twenty years of healing after Vietnam. And through the Reagan administration, it was a time for the nation to pull together and I think that was his greatest asset to the country. Ronald Reagan was a person that built confidence in each other, so the song was there for him."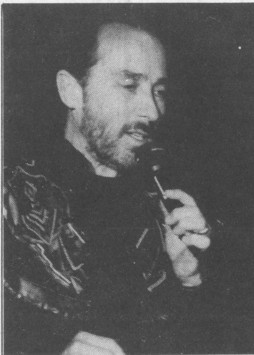 Lee Green. Photo by Michael Stout
Lee feels that this song greatly affected his career."Without the song, my career may have ended a few years ago. With the song, it overshadowed everything else I did. So it was a hole I had to climb out of, or let's say, a mountain l had to slide off of because, everywhere I went, that's the only song people wanted me to sing."
"God Bless the U. S. A." is still a huge success for Lee Greenwood and is still his most requested song in concert. It has helped open many new doors for Lee. He says that he is currently working on an untitled Gospel album for K-Tel, which, he says,"is a nice option for us now that we're not on a label." Gospel music is just one of the many types of music his publishing company, Greenwood Music, is currently pushing."The new Christian era, I think, will be a good option for me."
This Gospel effort will be released in the spring, followed by a Sony Tree product which "will also be a Gospel compilation album with some of their own artists as well and I'll be included in that group, which will be kind of the next front for me," says Greenwood.
Just as many country artists are doing these days, Lee Greenwood is jumping on the music theater bandwagon. Lee says, "The theater business has become a viable option for me as well. After 14 years of touring, I'm going to build my own theater in Tennessee. It will be in the Sevierville city, or actually county, and right into the French Broad River in a new development called River Bluff.
The Lee Greenwood Theater, which will be about 2000 seats, will be completed and ready for business in March '96."
Unlike many celebrity theater owners, Lee says,"We'1l be working there 215 days a year. I'l1 be a resident performer, unlike a lot of the theaters that house entertainers." He says that he feels that when people come to the Lee Greenwood Theater, they expect to see Lee Greenwood. He says he chose this area of Tennessee because Gatlinburg, Pigeon Forge and Sevierville make up a tri-city area that is really blooming as a traveler's point of destination.
Come April, Lee will be taking some time off to spend with his wife, Kim, former Miss Tennessee and their first child. He says,"The most important news for me right now is that my wife and I are expecting a child. His name will be Dalton; it is a son and it will be delivering in April. So for about three months [this] year, I'm not going to do an awful lot of touring at all, just associated dates right close to the house so, first of all, I can be there when the baby arrives; second of all, so I can be a dad for the first few months and give my wife a hand."