April 2018 Articles
Cover Story
Paul Moffett
Columns
Eddy Metal
Eddy Metal
Blogs
Got Shows?
Send Them To Us
Bookmark Louisville Music News.net with these handy
social bookmarking tools:
Available RSS Feeds
- Top Picks
- Today's Music
- Editor's Blog
- Articles
Add Louisville Music News' RSS Feed to Your Yahoo!

Issue:


I've Got A Mind To Ramble
Those of you who have missed Sue O'Neil's gutsy vocals since she dropped out of the Mudcat Blues Band (da Mudcats, back then) will be glad to know she is back on the blues trail. Her new group is called Sue O'Neil and the Blueshounds and what a formidable team she has assembled.
Her spouse, Rick O'Neil, will be on bass. Rick has played with The Homewreckers and is recently playing with Kessler's Friends. Gary Grizzle is the drummer and he has paid his dues with da Mudcats, The Homewreckers and The Little Dippers. One of Louisville's most forceful guitarists, Mark Stein, will lead the attack on his Fender. Mark has headed up several bands, including The Steamrollers and The Rib Tip Kings. Rounding out the band will be Dr. Bill Dean on keyboards. Bill has played with The Saints and still performs with Cosmo.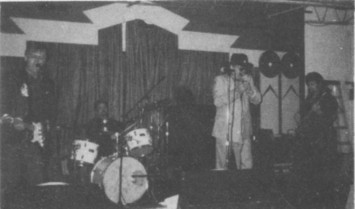 Big Al & The Heavyweights at the Butchertown Pub. Photo by Keith Clements
This group of veterans has frequently played with each other over the years and they have been rehearsing for their debut performance at Stevie Ray's on January 20 and 21. Everyone will share with the vocals to complement Sue's lead.
Sue said she will do some of her standards from da Mudcats days, including "Let the Good Times Roll," plus several new songs. Because of family obligations and commitments to other bands, the Blueshounds will be selectively choosing their gigs at about one a month, so each performance will be an event.
After our last KYANA Blues Society meeting on December 7, several board members headed to the Butchertown Pub for what was touted as the 2nd Annual Blues Showdown. My ears are still ringing from last year's showdown between Jim Rosen and Rodney Hatfield.
There was plenty of action at the Pub for this was also the double CD release party for Santa Is A Bluesman Vol. 3 and Heavy Harp on Scott Mullins' Rollin' & Tumblin' label. The bands on the Christmas release were performing on the courtyard stage while the harmonicas held reign in the dance hall. It was an exciting evening of keeping up with nine bands under the same roof.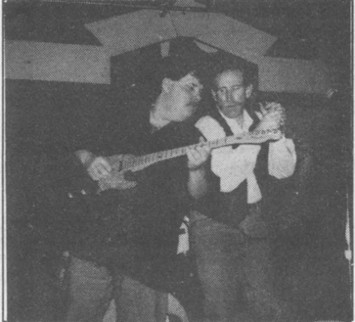 MR2 Blue: Mike Petty, guitar, and Joe Pinkerton, harmonica. Photo by Keith Clements
When I arrived, Lamont Gillespie and The Homewreckers were just finishing up in the hall and the Rusty Spoon Blues Band, without Dave Witherspoon, were starting in the courtyard. Tanita Gaines, their featured singer, bellows the blues and ballads with a lot of poise and power. When Tanita started into "Jump My Pony," with those double-entendre lyrics like "she throws you from side to side," she really hit her stride.
Then I heard MR2 Blue cranking up on the other stage and caught their "Walkin' Blues," which is not the Robert Johnson version. Mike Perry's guitar and Joe Pinkerton's harp are a perfect match when they get in synch. Tim Krekel & The Punishers got everyone in the Christmas spirit with "Run Run Rudolph."
The band I'd heard about but had not yet heard live was starting to warm things up in the hall. Big Al & The Heavyweights have recently performed at the Backstage Cafe and I was anxious to catch their full set. This hot group is based in Tennessee and their front man, Rougie Ray, does most of the vocals when he's not blowing his harp. Rougie is a showman and has recently released his own record on the Appaloosa label. Big Al Lauro, the ex-drummer with the Unknown Blues Band, keeps a watchful eye on the rest of the musicians from behind his drums. Mike Holloway stepped up and did several excellent guitar solos and songs including a nice tribute to Albert King called "King of the Blues." The bassman, Kevin Wilson, showed his stuff on "Walk That Walk." This is definitely a tight, rockin' blues band in the mold of the Nighthawks with a lot of original material. Rougie had to remove his coat and open his collar for "Jump Start My Heart," the high point of their show. They finished the set with "Who's Playing Santa Claus Tonight?" their cut on the Santa album. Don't miss Big Al & The Heavyweights for they go for the jugular when it comes to party blues.
The clock was getting near midnight and I had to face the mule the next day, but I couldn't walk out on Steve Ferguson and his ensemble playing "Flat Foot Flewzy." Steve did a long, rambling introduction to his classic that only Fergy can do. As I got into my car I could hear Jim Rosen's harp wailing away with the Mudcats. There is a lot of great blues talent in Louisville and most of it was at the Pub that night.