April 2018 Articles
Cover Story
Paul Moffett
Columns
Eddy Metal
Eddy Metal
Blogs
Got Shows?
Send Them To Us
Bookmark Louisville Music News.net with these handy
social bookmarking tools:
Available RSS Feeds
- Top Picks
- Today's Music
- Editor's Blog
- Articles
Add Louisville Music News' RSS Feed to Your Yahoo!

Issue:
The Magic of 'Cinderella' Comes to Louisville
By Henry C. Mayer T
The story of Cinderella is well known. For over 175 years the music of Rossini has worked its magic on audiences far and wide. This year, for the first time in almost 35 years, it has returned to Louisville where from now on it will be Christmas holiday season.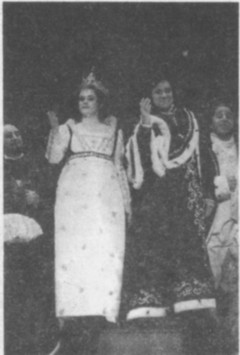 Kathryn Cowdrick as Angelina and Mark Calkins as Don Remiro. Photo by Ptrick L. Pfister
This year's attractive production has the added magic of a new translation into English by our own Thomson Smillie. Casual conversation, including that during intermission, for the most part found this version charming, along with Marcia Dixey's elegant costumes. Craig Spain's set designs also had members of the audience talking, as did the imaginative lighting of H. Charles Schmidt.
This performance was a triumph of talent and dedication. Whenever Hal France wields his baton, the music is bound to be delightful and the production superb. Hal masters not only the score but everything about the opera.
My observation was that Thomas Woodman's portrayal of the Prince's valet (especially when he and the Prince swapped roles) and John Davies' re-enactment of Don Magnifico, Cinderella's self-important, crotchety and tyrannical (some would say male-chauvinist) step-father vied for top honors. They were believable in these roles and provided many a chuckle.
Despite recovery from a cold which threatened her singing, Kathryn Cowdrick's Cinderella was up to Rossini's demands, especially in her concluding aria. Rossini writes what are called "pitter patter" arias which have to be sung at great speed, with proper enunciation and charm. One of the challenges which Thomson met was to translate these into pleasant and singable English. Perennial favorite Donn Everette also came off the sick list and with his gift for stage presence, gave us a remarkable portrayal of the Prince's tutor.
It would be unfair not to mention the talent and hard work of Mark Calkins as the Prince or that of another local favorite, Pamela Hinchman and Kim Kodes as Cinderella's two vixen-like and arrogant half-sisters. But this observer has to honestly say he thought the persons mentioned earlier were more impressive. This is why I use the word "observation." How well people sing and act is often a highly subjective matter, so all one can do is write one's impressions.