January 1995 Articles
Cover Story
Mark Clark
Features
Ninette Shorter
Paul Moffett
Mike Stout
Columns
Duncan Barlow
Berk Bryant
Jim Galipeau
Mike Stout
Paul Moffett
Keith Clements
Todd Fuller
Henry C. Mayer
Alan Rhody
CD Reviews
John Goodin
Mike Stout
Mark Clark
Mark Clark
Robert Gruber
Performance Reviews
Ninette Shorter
Henry C. Mayer
Interviews
Mike Stout
Calendar
Bob Bahr
Book Review
Henry C. Mayer
Opinion
Photos
Pete Strojny
LASC
Paul Moffett
Jean Metcalfe
Blogs
Got Shows?
Send Them To Us
Bookmark Louisville Music News.net with these handy
social bookmarking tools:
Available RSS Feeds
- Top Picks
- Today's Music
- Editor's Blog
- Articles
Add Louisville Music News' RSS Feed to Your Yahoo!

Issue: January 1995
Bryan Hurst
By Paul Moffett
"A junior god of thunder with a transistor amp." That's how Core of Resistance co-founder Bryan Hurst described himself in his tune "Waiting for Favors."
Now, he says, he's a junior thunder god emeritus, although that may not always be the case: he has been contemplating the "big comeback," tentatively set for spring of 1995, as a solo artist.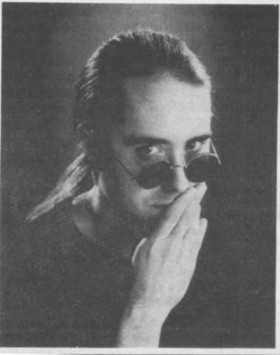 Bryan Hurst. Photo by Tom Willis
In addition, he's been looking for a new sound, a big acoustic guitar sound.
"Stadium folk [music]," he laughed, "that rocks."
Hurst has been taking a break from the business for a couple of years.
"l went to this seminar on making a living making music," he recalled. The horror stories told at the seminar so put him oft that he wound up getting a day job.
His musical history since beginning to perform professionally fifteen years ago would lead one to suppose that he would not give up the business easi|y or permanently.
His first group was Strict Nine, an early punk rock group, with Paul Belker and Ken Flaherty rounding out thel ineup, The group played out in late Seventies and early Eighties, at the beginning of the punk/hardcore scene in Louisville.
At the same time he was with Strict Nine, Hurst was covering bass chores with the Blinders, which featured the now-famous Wink O'Bannon and Michael O'Bannon, who went by the stage name of Albert Hall.
After Strict Nine, Bryan teamed up with Bob Hunter in The Modern Heirs. Hunter is also known to Louisville musicians as the owner ot Artists' Recording Service.
Then came The Front, with Ben Daughtry, now with Zoo Records' Love Jones and Casey Seitz, currently with Gem Barbarella. Harvin Gwinn also was a member of The Front.
Hurst's last working original group was The Core ot Resistance, a. k. a. The New Deal, with Dirk Gaskey. Hurst and Gaskey comprised the heart of the group, which had three different rhythm sections. Additional players included, at various times, Lennie Lyles Jr., Dan Gediman, Rankin Mapother, Chris Abromavage, John Steins and Steve Jones, now with Hula Hoop. Core of Resistance/The New Deal was a regular at Tewligans and Uncle Pleasants.
The Little Kings, a Seventies cover band, included, besides Hurst, Screamin' John Hawkins of the Predators, Robert Gruber, Jim Peak of Common Law Cabin and Kevin Watts.
Hurst did all the songwriting chores for Strict Nine. With The Modern Heirs, he and Bob split about fifty-fifty. Harvin, Ben and Bryan divied up the duties with The Front and Dirk and Bryan were the writers for The Core of Resistance/New Deal.
Hurst has been the Showcase Committee chairman since being appointed to the Board. He is putting together a showcase, now set tor Thursday, January 19. The show will be an all-woman show, with Rita Beach and Marie Augustine, plus two additional performers. Future showcases are in the development stage and Hurst asks LASC members who are interested in working on the committee and performing on a show to give him a call. Check your roster for the number.