January 1995 Articles
Cover Story
Mark Clark
Features
Ninette Shorter
Paul Moffett
Mike Stout
Columns
Duncan Barlow
Berk Bryant
Jim Galipeau
Mike Stout
Paul Moffett
Keith Clements
Todd Fuller
Henry C. Mayer
Alan Rhody
CD Reviews
John Goodin
Mike Stout
Mark Clark
Mark Clark
Robert Gruber
Performance Reviews
Ninette Shorter
Henry C. Mayer
Interviews
Mike Stout
Calendar
Bob Bahr
Book Review
Henry C. Mayer
Opinion
Photos
Pete Strojny
LASC
Paul Moffett
Jean Metcalfe
Blogs
Got Shows?
Send Them To Us
Bookmark Louisville Music News.net with these handy
social bookmarking tools:
Available RSS Feeds
- Top Picks
- Today's Music
- Editor's Blog
- Articles
Add Louisville Music News' RSS Feed to Your Yahoo!

Issue: January 1995
With the constant closing of clubs willing to promote all-ages shows in Louisville, the all-ages scene has suffered a major blow. As it stands, only a few clubs are currently promoting shows. The first of the two clubs is The Grand in New Albany, which has hosted two all-ages shows, with another scheduled for December l7. The drawback of this club is the high overhead. For smaller bands in Louisville it is not even worth the effort to do a show at The Grand, unless they recruit a headliner. For example, bands like Falling Forward, Guilt or Metroschifter could headline a show, but might still worry about making any kind of decent profit.
On the other hand, The Brewery is promoting all-ages shows, but unless you are Green Day, or in a band that could fill the club with 1,400 people, you might want to forget about this club as a booking possibility.
There is a very small place on Bardstown Rd., directly across from Blockbuster / ear X-tacy, that is doing very small shows. They only do Saturday night shows and I wouldn't expect much money. The other drawback of this small club is that it is very small. Highland Grounds did an Enkindel show, but things ran very difficultly. It turns out that the owner continually chased the kids out of the building because the man who signed the contracts was not in. My suggestion would be that if you don't like kids hanging out at your venue, don't do all-age shows no matter how nice the money might be. The biggest problem that the lack of venues causes is that it prevents new bands from getting a chance to play. For example, when Guilt plays a show it is always expected that a new local band will open the show. To have three headliners play together on one show is very selfish. In times as hard as these, the bands should be thinking about the welfare of the music scene rather than how great it would be to play with all of their friends' bands. That is why I find it easy to admire bands like Wino, because they go out into the city, find a headlining band and book shows. They do not wait for the shows to be brought to them. I suppose that it is the bigger bands' fault that some of the new bands are a little lazy, because the larger bands would always have shows that needed openers. I can remember when. Jon Cook of Crain, Joe Mudd of Pale Blue Star and I did shows in Jon's basement because no clubs would let our bands (Spot, Crisis) play in their clubs. That was probably a blessing in disguise because we all learned how to do things for ourselves.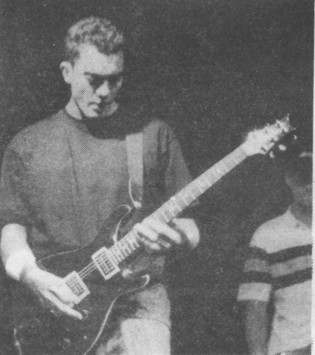 Peter Mengedd of Helmet. Photo by Pete Strojny
I suppose I should tell what events did occur over the month. The freshest show in my mind was the Helmet/Quicksand/Casper show at The Brewery on December l2. The opening band was called Casper and they were actually very interesting. With guitar and bass works that reminded me a lot of England's Godflesh and vocals that were hard to distinguish, Casper did not please the all-ages crowd on this night.
The second band was actually the band I came to see. Quicksand played one of the most incredible sets I have ever seen. I had seen Quicksand before and was not too impressed at their live set. But three years later I am a devout believer. They finally managed to pull off the sound live that they manage in the studio. Not only are they a great band, but they are some of the sweetest and most genuine people that you could wish to meet. Helmet had some mighty big shoes to fill... and did not fill them. Helmet was very tight and very boring. I think most Helmet fans would agree that a Helmet CD is a wonderful thing, but Helmet live can act as a sedative.
The show prior to Helmet was Enkindel and Jaks at the Highland Grounds on December 11. I missed Jaks because the show ran late due to the disorganized Highland Grounds; most people were turned away. I did get to see Enkindel and I am glad I did because it was one of their better sets. I believe that I prefer seeing Enkindel in small clubs with bad PAs more than when they play in big rock clubs.
The show before Enkindel at the Highland Grounds was Avail at The Grand on December 12. I was unfortunate enough to have to work on this fine evening, so I cannot report the show, but I can say that 927 people did pay to see the bands and I find that amazing. Avail might as well live in Louisville with that kind of response.
That is all for this month. Please stop in on December 30 at The Brewery and see Endpoint, Crain and Sunspring. If you have any news, please write to P. O. Box 5159, Louisville, KY 40205.