March 2010 Articles
Cover Story
Kevin Gibson
Features
Eddy Metal
Columns
Berk Bryant
Mike Stout
Paul Moffett
Keith Clements
Martin Z. Kasdan Jr.
Eddy Metal
CD Reviews
Berk Bryant
Ronke Oyekunle
Tim Roberts
Hunter Embry
Tim Roberts
Blogs
Got Shows?
Send Them To Us
Bookmark Louisville Music News.net with these handy
social bookmarking tools:
Available RSS Feeds
- Top Picks
- Today's Music
- Editor's Blog
- Articles
Add Louisville Music News' RSS Feed to Your Yahoo!

Issue: March 2010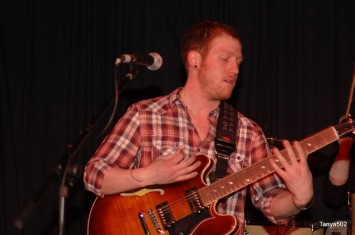 Alex Ruidiaz
Name: Alex Ruidiaz
Age: 22 but no one ever believes it because I'm so classy
Instrument: The wind pipes are my weapon of choice and I'll play anything else to fill the void, except drums.
Band/Former Bands: I'm in Autumn Canvas right now. I've been playing with these guys for about six months and we have been making music that I'm really proud of. I found them while I was aimlessly searching craigslist at work and thought it would be a good idea to start jammin around. This is the first band I've been in and prior to it I was just singing and playing to a sold out living room.
How Long On Instrument: I started singing in my church when I was in 6th grade. Two years later, I picked up the guitar and started writing when I was 14.
Equipment: I use an Egnater 2x12 combo amp with a Heritage 535 semi hollow-bodyt. I use a 1980s Strat copy that I picked up at some pawn shop in Florida about 8 years ago.
Influences: Call me a sissy but Hanson is one of the greatest bands of all time. Three of the most talented musicians I've ever seen live. Joe Cocker, Steve Perry, Hall and Oates, Tom Petty Dylan and my favorite writer of all time, Ryan Adams.
My First Gig: I was in high school and some of my local ladies were putting on a coffee shop situation in our library. I went up there, started singing and this big black girl in the back screamed "Sexy Voice oowee!" and I was hooked for good.
Hobbies: Writing, reading, music, knitting, dreidel wars with my Hewish friends
Favorite Movies: Desperado, The Three Musketeers, Man on Fire, Thank you for Smoking, Any Muppet movie and anything that Morgan Freeman or Robert Downey Jr. is in.
Favorite Food: Thai food for sure. Next would be Mexican food or Cuban food..
Favorite Place: I love my home Naples, Florida. I'll go to New York City in a minute if you give me the money and the gas.
Bad Habits: What exactly do you consider a bad habit? I mean it can't be that bad if you keep doing it over and over again.
What I'm Listening To Now: Ryan Adams, The Who, Journey, Hanson, a great new band called Locksley, Bread and As Tall As Lions.
Coolest Thing I've Done: I did a barefoot walk with some really big band names that I really look up to and respect to support and raise awareness for AIDS in Africa.
Most Embarrassing Moment: When I was in 6th grade, I had to wear a uniform for the private school I went to. When the first day of school came around. I put on my preppy collared shirt and khaki shorts and away I went. Halfway through the day I was walking through the lunchroom and this schmuck behind me screamed "Alex is wearing girl shorts!" When I started looking around at all the girls, they had shorts just like mine. Rolled at the bottom with a little pocket where the belt should be. I spent the whole rest of the day trying to bite the seams out of the shorts so I could roll them down. I went off on my mom when she picked me up that day! Ill never live it down.
Who Do You Love: I love my parents and my little brother especially. My grandparents have been big supporters and I can't forget the guys in my band: Corey Heim, Sean Shelton and Stem Stemmle
When/where Did You First Get Some: I was 16 and it was in my old room on my futon.