March 2010 Articles
Cover Story
Kevin Gibson
Features
Eddy Metal
Columns
Berk Bryant
Mike Stout
Paul Moffett
Keith Clements
Martin Z. Kasdan Jr.
Eddy Metal
CD Reviews
Berk Bryant
Ronke Oyekunle
Tim Roberts
Hunter Embry
Tim Roberts
Blogs
Got Shows?
Send Them To Us
Bookmark Louisville Music News.net with these handy
social bookmarking tools:
Available RSS Feeds
- Top Picks
- Today's Music
- Editor's Blog
- Articles
Add Louisville Music News' RSS Feed to Your Yahoo!

Issue: March 2010


Bluegrass Beat
Oh boy. We've just finished the month of Cupid's love. You know, the Valentine thing, which turned out to be the longest short month of the year. I've had enough snow to last me from here on out. March, please do your usual thing -- in like a lion -- but this time without the snow. And out like a lamb, starting the third. There is one small consolation though, it wasn't the big ice storm provided us about this time last year. So goodbye and don't look back, springtime is on the way.
Salt River Bluegrass Festival
Well, not a whole lot happened. But then what could have happened in that weather? I know Tommy Brown started his festival at Paroquet Springs Conference Centre in Shepherdsville. I can't tell much about it because it started the day after my deadline for the column. This was the 1st Annual Salt River Bluegrass Festival. I heard Tommy say they are already planning next year's festival. Let's hope it does take hold for many more to follow. Actually there hasn't been much happening this last month -- except snow.
Carpe Diem
I have thought about doing something along this line for a while now and so I'll seize this opportunity. Off and on I may put in an item concerning songs of traditional country and bluegrass.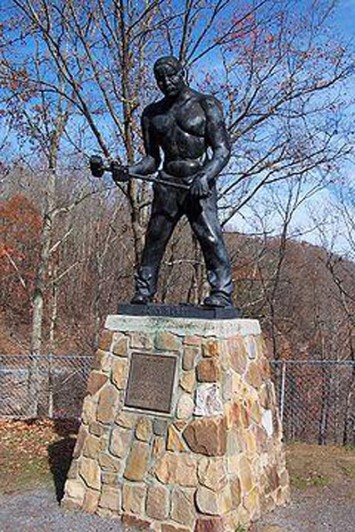 John Henry Statue
This one is about John Henry The Steel Driving Man. Part legend and a lot of truth. There was a real man named John Henry. John Henry did work on the railroad and was a steel driver. When I was stationed in West Virginia, part of the area I covered took me through and near Talcott, W. Va. The Big Bend Tunnel was in that area. The route I used took me right across the mountains -- all routes in West Virginia do that -- but in this case, right over the mouth of the Big Bend Tunnel. John Henry worked on and in the building of the tunnel. At that time there was a statue of him and a marker on the shoulder of the road. A plaque at the bottom of the base had information researched by a professor. It included that John Henry did indeed race and beat a steam drill.
This is just a brief look at one of many true incidents told in traditional/old time and bluegrass music. One of the things that makes our music as good as it is: true history in song.
Jammin'
Well, the jams are still going strong. As with everything, some come, some fade and some move a little. The jam at Vine Grove is going like a jam should. Seems like every week, there's a new face or two, many regulars and all friends. Come join us at the Vine Grove City Hall Friday nights until Springtime comes again, and then back to the Optimist Park and Monday nights. Everybody is welcome. Come pick, come visit or for any other reason, including making new friends.
Others jams: Friday nights at Colesburg Baptist Church.
Friday nights, Hillview City Hall, Louisville. Thursday night, 6 p.m., BA (Bluegrass Anonymous) Siggy's Pizza Valley Station. Wednesdays, 7 p.m., Breckinridge Bluegrass Music Association Special Show. March 27, Bluegrass & Barbecue, Breckinridge County High School.
Shepherdsville: March 5, Dean Osborne. March 12, McCoy Grass. March 19, Moron Bros. March 26, Blue River. April 2, Melvin Goins & Windy Mountain.
Springtime's Comin'
Well folks, a little lite this time. But springtime's coming and things will pick up. Besides, Paul (the editor) might need a little extra space in here somewhere this time. So, to keep up in the meantime -- if you haven't yet -- make Sunday Bluegrass, WFPK 91.9 FM, 8-10 p.m., a habit. Don't forget, we stream audio to all the world from WFPK.org. Maybe you ought to run down to your favorite place when I sign off and get you a doughnut, too.