March 2010 Articles
Cover Story
Kevin Gibson
Features
Eddy Metal
Columns
Berk Bryant
Mike Stout
Paul Moffett
Keith Clements
Martin Z. Kasdan Jr.
Eddy Metal
CD Reviews
Berk Bryant
Ronke Oyekunle
Tim Roberts
Hunter Embry
Tim Roberts
Bookmark Louisville Music News.net with these handy
social bookmarking tools:
Available RSS Feeds
- Top Picks
- Today's Music
- Editor's Blog
- Articles
Add Louisville Music News' RSS Feed to Your Yahoo!


News From the Pit
NEW: Stone Temple Pilots Coming in Late March, Get tickets Now!!!
On Tuesday, March 30 at Louisville Palace, Stone Temple Pilots will be in town for a show that you do not want to miss. Be excited. Be enthralled. Almost pee on yourself!
You have every right to be psyched.
I got to see them last year at Horseshoe Casino and it was friggin' awesome. The trippy light show, the underwater background effect, the unreal guitarwork by Dean Deleo, the jaded gyrating vocal madman Scott Weiland. I can't wait to see them again, and especially at The Palace. A venue where it has NEVER sounded bad. After seeing the seriously wicked Alice In Chains concert there, once again I am stoked for an event, something that doesn't happen that much these days, I must admit. Tickets are $42.50 or $59.50. Call the Palace for details and if I were you, I would get busy on that, because this will sell out for sure!
NEW: Shinedown Returns in Late March!
On Wednesday, March 31 at Louisville Palace, Shinedown will be rocking Louevil. I saw them not too long ago at the Fairgrounds and they were very good! They kinda blew me, away to be honest. I haven't seen a crowd like that at the Fairgrounds in 900 years! They tore the roof off that stadium, and had the crowd eating out of their hands, too. It was an amazing show. I was impressed. If you haven't seen them before, then now is the time to see them in Louevil's classiest and coolest major venue. Once again, do not wait. Many are the times I have seen desperate folk outside the venue, dying to get in because they lollygagged about getting the tickets.
The Shame. Tickets are $37.50 , $40.00 and $55.00. Guys, there will be some smokin women at this show! Shinedown draws them by the thousands.
Alice In Chains, The Return
To all of you who didn't attend the AIC show at Louisville Palace that may have thought "Well....it might not be the same anymore after Layne Staley died."
You messed up. Bad.
This show was awesome! I myself almost didn't get to go because tickets were sold out and scarce. All my connections through the paper fell through as AIC is known throughout the business as stingy with press tickets, but at the last minute The Palace found a ticket for me (Thank you Jen) so I could review the show for you folk's. So there I was. Psyched! I was going to see Alice In Chains, of whom I had been a longtime fan. Besides, they hadn't been here since the early 90's!
First of all, you cannot lose at Louisville Palace. That place is classy and a pleasure to the eye. Several people who walked in who had never been before and they were like "whoooaaaa." You can't blame them. The concert hall is decorated like a Gothic European castle at twilight. You almost expect to see Dracula walking around. It's a sight to behold and the sound there has always been top-notch.
I didn't give a hoot about the opening band, Creature With The Atom Brain, so I had a few beverages and schmoozed with the Louevillians and checked out the cute women in attendance. There weren't that many, surprisingly, so it was kind of a sausage-fest.
One of the highlights of the show was too funny, though. I went to the restroom, and some guy apparently had passed out, face down on the floor in the toilet stall, which was locked. So security was in there, saying "Sir, wake up!" People were cracking up, because dude was snoring loudly! I think security eventually had to go over the toilet stall wall.
When Alice In Chains hit the stage they belted out an extra-long set of classic tunes. New singer William DuVall vocals were amazing; he hit every note. I loved Layne Staley's voice and was very doubtful that any guy alive could pull his gig off. Seriously. It's as if Layne's spirit was transferred into the body of William DuVall when he passed away of a drug overdose in 2002. It's scary. DuVall started out in the Atlanta music scene before moving out West, eventually joining AIC in 2006 after performing a few reunion shows in memory of Staley.
If there is any difference between the two, it would be that William DuVall is more polished and precise (almost too happy), while Staley was more raw, powerful and had way more attitude when he sang. I give DuVall a 9 out of 10, which is tremendous, considering that I think Staley was the best grunge singer, ever.
Lone guitarist Jerry Cantrell was awesome as well. I've always loved the feel of Cantrell's guitar composition and his guitar tone is sweet, the way he works that wah pedal like he does. His solos were dead on. Heck, the whole band was dead on. My only small complaint was that he left out a few small guitar fills in one song. The stage set up was basic, with movie projectors shining trippy images onto the amps and giant curtains.
They played old, heavier tunes like "It Ain't Like That," "Damn The River," "We Die Young," "Them Bones" and "(Rain) When I Die," as well as brand-new stuff like "Your Decision," "Last Of My Kind" and "Check My Brain." The new stuff is okay, but I much prefer the older nasty raunchy AIC that I fell in love with.
DuVall broke out a Gibson Les Paul for "Got Me Wrong" from their Sap E.P and started wailing on a bluesy, vintage-sounding solo that was perfect. It turns out that DuVall is a great guitarist as well as singer. Wow. "Nutshell" was done partly with acoustic by DuVall and sounded great. Cantrell and DuVall really meshed well vocally. The harmonies were excellent.
Of course they played their most popular song, "Man In The Box," before finally closing out with a double encore of "Would?" and "Rooster." I was kind of disappointed they didn't play "Love/Hate /Love" and "Down In A Hole" though. But the crowd went nuts for everything they did.
The band could have farted into the mic and it would have been met with thunderous applause from this crowd. Jerry and the boys were very happy with the result and seemed a bit overwhelmed by the crowd here in town. Excellent band, excellent venue. Who can ask for more?
Now the column...
Man, am I sore. I went skiing a week ago and it was the bomb! Until I woke up the next morning! Then I was one big massive sore muscle with feet!
I'm still sore! Hmmmnnn, maybe it was the whiskey or party favors we ingested on the ski lift going up the mountain! Skiing is fun and the rush you get while flying down a mountain on sticks is like a drug. Besides, I really needed to get out of the crib for a while. Winter sucks.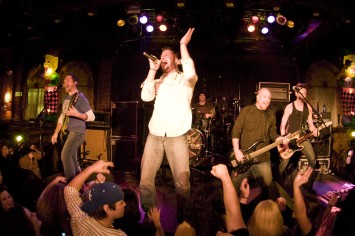 Heaven Hill. Photo By Damon T. Atherton
I've been frustrated about a few things in the scene lately, but some things are starting to look up finally. Sweet. Positive things!
I've met quite a few really good new bands (I'm going to have to step up my game!) and people as of late that are cool people and a credit to this town's music scene, as opposed to the douche-bags I've also had to contend with.
As a Louevil music promoter since 1995, I had recently been frustrated about how newer bands today have no qualms about canceling shows for no valid reason at all, even though the promoters and venues and newspapers and radio stations all did what they were supposed to do – help the band. All that meant nothing to these bands though. And yes, it angers/annoys me to no end.
Alas, these newer bands are some cool mofos, so I guess I'll just work with bands that are reliable and professional from now on. It's no skin off my sack.
I went to the Louisville Music Showcase by Krowe Records and had a good time watching some of the areas and other areas best bands. As always the main attraction of the LMS was Louevil's top dawgs Heaven Hill, who are currently recording here at Downtown Studios. I'm sure LMN writer and Heaven Hill publicist Jason Ashcraft will be covering the LMS event, so I'll keep it short and sweet.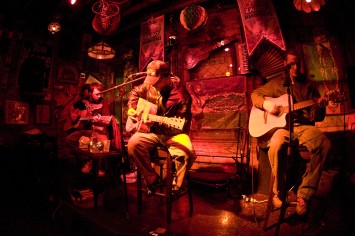 16 Bones. Photo By Damon T. Atherton
This was a good lineup and is easily the best original show at Phoenix Hill Tavern so far this year. The show also featured a compilation CD of all the bands on the bill. Compilation CDs are way cool. I've always wanted to be on one of those premier compilation CDs. The crowd was good, and the show rockin', but a late and sudden four-inch snow made me depart a bit early so I could get home safely. I did get to see the debut of Autumn Canvas (see review below) and liked what I heard. A few of the bands didn't sound as good as usual for some reason. The new Heaven Hill song featuring the rap artist Kenzo really wasn't my thing, but other people seemed to dig it. I like it when they occasionally do some cover songs, like when they did "Dangerzone" by Kenny Loggins. Chris Kerr sounded great on guitar: dude wails. But yes, the LMS is a great event for the city of Louisville and our rock scene. I will have to say that the band that sounded the best to me that night was Shatterstone. They tore it up and their covers of "Wicked Game" and "Zombie" by The Cranberries rocked. Hopefully next year my band can get on the bill! Hint, hint!
I plan on attending the Toy Tiger Reunion on March 20 at PHT. I feel kinda bad because I haven't been to one in forever. The truth is; I loved the Toy Tiger, but the people who attend those are from a slightly different era of the Tiger that I knew and loved, so I kind of feel out of place at those events, no matter how much I like the people (which I do).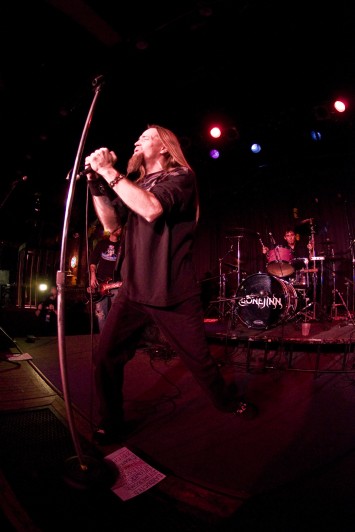 Bonejinn. Photo By Damon T. Atherton
It's the Fire Dept. crowd, who are great mind you, but I and others put on some hellacious metal shows at the Tiger from 1995 to October 1999. It was some good chit!
It was the legendary metal era of the Toy Tiger. National metal bands and local metal bands kept the place going in those rough times.
Therefore I would like to submit an idea to the people who put on these cool TT reunions.
Let us have a Toy Tiger HARDCORE Reunion. With metal bands that played the Toy Tiger!
Make it one big reunion show with Paglina, and maybe My Own Victim, Incursion, Inhuman, Shapeless Matrix, Factor 9? Is Flaw back from their tour? This could be huge. The possibilities, endless!
But first, I gotta see me some Fire Dept. It's been awhile and they were always a fun band!
So all of you who attended the Toy Tiger at some point, get your asses to Phoenix Hill on March 20 and hang out with the wild bunch!
Well, that's it for me this month. I just sold three of my guitars today, so I'm going to buy one truly wicked guitar with the money. I'm getting up early and going shopping for axes! Hell yeah.
The Metal Grapevine
Cheech and Chong Return!
On April 9 at Louisville Palace, the stoner legends return in triumph to a very cool venue. They were at Horseshoe Casino a year ago and it was a great (if cramped) time, and I must admit, writing the review of that show was one of the highlights of my writing. Everyone should see Cheech and Chong while you can. The FBI are probably itching to put Tommy Chong in jail again, for just being Tommy Chong. I still like Chong's wife's comment last year on Chong's private parts "It's like a fine wine, you have to smell it before you put it in your mouth!" This will probably sell out so don't wait, get your tickets now. The line to get in was worth the trip. Talk about some super stoner hippie freaks in attendance! It was like being at 'The Rock Fight' in their first movie "Up In Smoke"! I fit right in.
Village People Coming, Be Very Afraid:
Okay, I was searching the net to find Louevil shows for you peeps and I found this: the Village People will be in town on 4/20 for a, um, private function. That sounds scary! So be warned, if you are driving out somewhere and you hear "Y.M.C.A" coming from a building nearby, then you will know to run for your life, and heterosexual status!
SXSE Music Festival Coming:
On April 23 and 24 at Expo 5 the South By South East Music Festival will be kicking some butt with over twenty bands on three stages! The lineup is looking sweet, with a lot of great bands from this region.
It promises to be a great event for our town's original music scene. This year I even get to play the show, which I'm totally stoked about. There will be a compilation CD to this event as well, and even a professional booklet with pictures and bios. I saw one of the booklets at last year's show and was impressed by the quality of the whole thing. This is a wonderful thing for our local talent and I want all of you lazy fargers to support this event. One cool thing is that it will be held at Expo 5, and that place can do three bands at once! Bands confirmed so far are Snake Eyed Savior, Stonecutters, Look What I Did, Born Empty, Graveflower,Thomas Medicine, Lords, E-Flat, Vibrolas, Deliver Us from Evil, Year of the Gun, Stallpoint, Bonejinn, Hicks Road, Seclusion, Parlor Tricks, Straight A's, The Revenants, Somatica, Burning Babylon, Ohlm, Tri-Tones, Broke and Bleeding, Down-n-out, Talk of Spring and Akkaida. Check it out at www.sxsend.com
SIKK National shows, Eddy's Pick:
These are shows that I think you should definitely attend. Soulfly and Prong on March 21 at Headliners (wow, what a great lineup! Don't miss this chance to see the legendary Prong!); female demons Kittie with God Forbid and a slew of local death metal bands at Phoenix Hill Tavern on March 11; 80's heavy sleaze rockers Bang Tango on March 12 at Phoenix Hill (they put on a great show so if you like 80's music at all - go! You will thank me.), Cheech and Chong; old-school thrashers Overkill with Vader on April 29 at Headliners; German vocal powerhouse Primer Fear on May 28 at Phoenix Hill.
Autumn Canvas, A New Beginning:
After hanging out with this excellent new band for an hour, having powerful drinks and bullsh*tting, it was hard to believe it was members of the band Intheclear!!! Three members of the new band Autumn Canvas (Corey Heim, John Stemmle and Sean Shelton) are also in the popular Louevil rock group Intheclear. But that's where the similarities end.
I've been trying to book Intheclear for years at my showcases, offering great time slots and everything, and they have refused me time and time again for whatever reason. Apparently the shows that some of the musicians got their start in weren't worthy anymore, or the band felt they were better than what I had to offer. It's cool, though.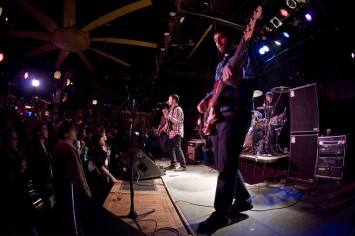 Autumn Canvas. Photo By Damon T. Atherton
Well, I'm happy to report that Autumn Canvas is nothing like that. Guitarist Corey Heim formed AC in August of 2009 when he felt he needed a change of some sort, so he proceeded to look online for that perfect singer to compliment his ideas for a new project. And these days finding a good singer is like looking for Noah's Ark. Goooood luck!
Corey did not have good luck. Dude hit the fargin jackpot.
Twenty-two-year-old Alex Ruidiaz had moved up to Kentucky from Naples, Florida to go to a Baptist school for music. It wasn't his thing, so he decided to write his own riffs and to try to get that going.
Corey met Alex online and things fell into place fast. At first, the band played covers by Ryan Adams and Kings Of Leon, but that got boring fast, so they switched it up to originals that Alex had written from his arsenal of 300+ songs! Alex had never been in a band before, but you wouldn't know it by hearing him. He has a very pleasant, unusual and powerful singing voice that is quite memorable. When you hear him you think to yourself "I bet that guy had singing lessons since age 10."
Right now, Autumn Canvas is playing out a lot and doing a great job of getting out there so people can hear their music. It's easy to tell the music matters to them, not the money.
The guitar tones? Perfect. I love a good guitar tone, and these guys got that nailed down tight. From the kickass electric lead guitar tone, soulful bass, to acoustic strumming, AC is top notch.
Heck, I might ask them to come to my house and help me set up my rig!
If I had to label their music (which I hate) I would have to say it's light rock with an indie acoustic twist with soulful guitarwork. It's great chill-out and relax music. I bet it would be great music to get laid to. The guys were humble and willing to play whenever, too. No egos at all. I tell you, after dealing with several band's egos and unreliable bands the last six months, it was a pleasure to book such a professional and talented new band.
Do yourself a favor and check out Myspace.com/autumncanvas
Burning Babylon, No Fishtank Here:
Burning Babylon, the band formerly known as Porno Fishtank, is back to make some waves in the city's original music scene. This is one good band and they impressed me every time I saw them. But before, I got the impression that they were not that serious about stuff. A few bonehead moves and a little drama got in the way. But now, I think these guys know what they want and they've cleaned up their act and are ready to take on the world.
And with the talent they have, they can give it a darn good shot. Of course, they have changed things up a bit, adding bassist Jeremy Corkran (formerly with Anna Lies) and dropping guitarist Wes Koebel, to make it a four-piece band instead of five-piece. Guitarist Brian Elder admits "This time around things are funkier, yet more driving, and with a little reggae mixed into the equation as well, owing to Topher's (the singer) Reggae background in the band's Acoustipimps and Montifisto."
You can see the new stuff on Friday April 2 at Phoenix Hill Tavern with Some Kind Of Saint and Autumn Canvas.
Numbhunger, A Rock Experience:
I'm sitting here listening to a new sort-of classic rock band called Numbhunger, which features former members of Spanky Lee, including guitarist Chuck Mingis and vocalist Scott Caudill. This new original music is very 70's sounding and has that classic rock feel to it bigtime. It is a big rock sound and sounds great, though. There's a hippie feel to some of it, and a REO feel to it, and the influences are all over the place. The musicianship is excellent. This is some good music and a trip back in time when things were much more simple and the world a happier place. The band does some cool covers; check out Led Zeppelin's "No Quarter" on their page, and you'll see what I mean. Wow. Visit these Louevil legends at myspace.com/officialnumbhunger
E-Flat, The Phoenix Inside:
Like the mythical flaming bird that arises from it's own ashes, longtime Louevil rap rockers E-Flat continue to rise up from the dead to surprise and awe peeps with their determination and persistence. These foul-mouthed hooligans have been bitch-slapping the Louevil music scene for thirteen years now, on and off, even opening for Kid Rock, Stuck Mojo, Ill Nino and others. They've gone through member changes, setbacks and everything you could imagine, but they still have the goods and prove it with their new CD The Revenge LP, an eleven-song exploration of the sick world of Louevil rockers E-Flat.
I've known these guys forever and am proud to call them friends. We got history. The band has matured over the years. Yeah, they are still the same funny entertaining mofos, but the music has changed some. I'm checking out the new tune "Hooligan Anthem" and it rocks. Classic E-Flat attitude and hooks. And it has a very nice, driving, chunky, bluesy guitar riff that cuts. "Pain In My Soul" starts out unlike any other E-Flat song I've heard then kicks into some groovin' chit. I'm liking the dirty bass sound on this recording. Pretty cool guitar riffs, too. Back in '98 when I was on the radio, I called them 'foul-mouthed hooligans' and it became their moniker.
A funny story: The band liked the moniker so much, they decided to use it on a Tee-Shirt, but the numb-nut who ordered the shirts obviously couldn't spell worth a crap, because he spelled it 'Fowl-Mouthed Hooligans!' Ha ha! So the shirt ended up basically saying Duck-Mouthed Hooligans! Ha!
Rod sings a little bit more now than the old days. And you can tell he really loves the challenge of it all. Switching from Rap vocals to hitting extended notes and harmonies. Look up some of the new stuff at Myspace.com/eflat. You can see E-Flat at their big CD release bash on Saturday, March 6 at Phoenix Hill Tavern with Some Kind Of Saint and Year Of The Gun. 8 p.m.
Hicks Road, Redneck Stomp:
Hailing from Irvington, Kentucky, Hicks Road is a four-piece redneck adventure in rock. I had heard they were a good Southern-style metal band and I heard right. This band is definitely different and, boy, do they have some serious character. They put on a good show. HR isn't the hardest stuff to play but it does have a groove about it, especially the song "Beer Guzzlin' Boogie." Deer antlers, (good) attitude and loud guitars is what you'll get at your average HR show, along with some foot-stomping grooves that make you want to drink moonshine with your old pappaw. Guitarist Dick G. is a madman who is all over the place and throws down some nice bluesy metal riffs while walking around the venue mid-song, thanks to a wireless guitar system. Ultra-low-slung bassist Smetter has that bigtime country boy look and has deer antlers mounted on his bass amp, and a deer sticker on his friggin' bass, which adds a colorful bit of down-home character to the band's image. Noodle, the drummer, is darn good on skins. Samich the vocalist is a decent frontman too, calling upon whatever vocal style the music needs. These guys know how to work a crowd pretty well from what I've seen. I was telling someone how I wish I could get my band to interact with the crowd that way! These guys are loud, fun and just a plain ole good time.
The music? A bit raunchy, a bit redneck, a bit bluesy, a bit metal, but I find that it is a mixture that hits all the right spots. The music on the band's website did them no justice. Live in action, that's when these good ole boys come alive. My only complaint is that I sometimes heard screaming guitar leads sometimes when they weren't there. The band needs an all-out, smoking, bluesy lead guitarist that screams. If they made that addition, wow!
If you want to hear a fresh new rockin' redneck rock band, then take your butts out to Hicks Road! Myspace.com/hicksroad08
P.S. I'm a city boy through and through, but after hangin' with these crazy guys, I might have to take a drive south to Irvington, to go deer hunting on moonshine, or to shoot a squirrel with a 50mm machine gun. Just as long as I don't end up like Ned Beatty in "Deliverance"!
Club 21, Building Steam:
Tim from Hellawicked Productions (another good person for the scene) started a showcase at Club 21 and I hear things are building up steam over there. That's good news because we need every venue we can get! BTW, I was just joking last month when I said it was dangerous and you might get shot. That was 900 years ago when it was like that! Heck, you might get shot anywhere nowadays!
I hear guns in my neighborhood all the time. They just know better than to f**k with the long-haired white devil with the "Dirty Harry" gun. I heard everything's changed over there and it would be great if you supported Tim's hard work for us Louevil rockers and fans. Bands! Contact Tim so you can set up a show at Club 21. See upcoming show dates there below! Myspace.com/hellawickedproductions13
Black Sunday, Elegant Chaos:
I'm digging this new band from here called Black Sunday. I'm reviewing a new band's CD and I'm ready to run my piehole. After the first song/intro, I admit I was bewildered and thinking "What the hell?" But then the real music came on.
Never heard these guys before but I'm glad I always keep an ear open, because these guys jam, and now I can't wait to see them live in action. I'm not a big fan of punk, and I'm not too familiar with the Chicago punk sound, but something here is drawing me into their music. Maybe its the fact that they mix in some great metal-ish parts and some great vocal and guitar melodies that really click when they collide. I'm very impressed. The guitar work of Mike Williams and Alex Taylor is awesome. Their style reminds me of Green Day meets Lacuna Coil meets U2. And that is quite the compliment! Mike Williams also handles the vocal work as well and does a great job of actual singing. It's very hard to play and sing at the same time for long periods of time, so two thumbs up to Mike for that. There is lots of character in his voice. I really like the song "Destroy Evidence, Collateral Damage." It sounds like a song that should be on a major movie soundtrack! These guys have something powerful here. "Bag Of Bones" feels a lot like punk/swing music with its happy rockin sound. Horror punk, huh? Cool. Keep it up and thou shalt do well.
You can see this great new punk band with another great band, Louevil punk veterans The Revenants, plus Parlor Tricks at Skull Alley on Saturday March 13. Check out their page at myspace.com/blacksunday
Incursion, Back in Action?
Louevil death metal demons Incursion have resurfaced once more for a reunion show, or could it be that they are back to kick some butt some more? That remains unclear, but I do know they just played the Dallas Rowe Benefit. Maybe I'll try to put on a brutal metal show in May with these guys on the bill. Deliver Us From Evil, Kentucky Deathwish, Incursion. Sounds phat! Guitarist Erik Angelini is back in the band, but on bass this time. I'll let you know what's up when I know.
Kentucky Deathwish Takes a Fall:
Kentucky Deathwish/16 Bones drummer Jason Proctor broke his arm in a fall at work and will be out of commission for a few months. That leaves Kentucky Deathwish, which was riding on a great buzz/word of mouth, cold in the snow for a few months. The new music they have is awesome, so this sucks for them bigtime. KDW is my vote for one of the best hardcore metal bands in the city of Louevil. A one-armed drummer? Um...if the Def Lep guy can do it, so can you, Jason!!!
Year Of The Gun to Record Soon:
My band YOTG is going to record a few songs soon, in maybe a month or so, for the songs "Self-Made Man", "27 Years" and "Rainmaker." We are currently shopping for a great place for us poor guys to record, so if you can help me, feel free to contact us at myspace.com/eddymetalrocks.
Upcoming Shows
Club 21 Sports Bar
Friday, March 5 – Nannie Doss, Dreadfall, At Lights End, Silent From The Struggle and Outlaw Torn. 9 p.m.
Friday, March 12 – The Nigel Dupree Band (Jesse James Dupree of Jackyl's son) with Louevil rockers Hicks Road, Stallpoint and Blackroom. 7 p.m.
Friday, March 19 – Lost In Eden, Darkening Days, Reign Of Revelation and Broke and Bleeding. 8 p.m.
Expo 5
Saturday, March 6 – The First Annual Hemangioma Hope Foundation Benefit Show! Doors at 5 p.m. and show starts at 5:30 p.m. until midnight! Money raised will assist children with Hemangiomas and venous malformations. Bands playing on two stages are MSD, 16 Bones, Institution, Poetry of the Dead, Sonic Epitaph, Descention, Day of Ruin and Blackroom. 6 p.m.
April 23 and 24 – The SXSE Music Festival. Over 20 bands. Artists. Booths. 3 stages. See lineup above.
Gerstle's
Saturday, March 6 – Chamberflow.
Headliners
Sunday, March 7 – Attack Attack with Breathe Carolina, I See Stars, Asking Alexandria and Bury Tomorrow. $15ADV/$18DOS.
Wednesday, March 10 – Saosin with Maylene and The Sons Of Disaster, Sleeping With Sirens, Remember Me Always and Scarlett Smile. $15 All ages.
Saturday, March 20 – Somatica with Black Sunday, , Old Vikings, Beneath The Mist, Chaordica, All Became New, Burned From Life and Steel Colossus. $10
Sunday, March 21 – Soulfly with Prong, Incite and Rotting Corpse. $20 All ages. 7 p.m.
Monday, April 5 – Every Time I Die with Four Year Strong, Polar Bear Club and Trapped Under Ice. $15. 7 p.m.
Highlands Taproom
Tuesday, April 13 – Black Sunday, . 8 p.m.
Jim Porters
Friday, March 5 – Taddy Porter. $10 21 and over.
Phoenix Hill Tavern
Friday, March 5 – The Original Rock Showcase series: BoneJinn, 16 Bones, Year Of The Gun, Trust Divided and Elysium. Free before 9 p.m.
Saturday, March 6 – The E-Flat CD release bash with special guests, Some Kind Of Saint and Year Of The Gun. 7 p.m.- 11p.m.
Thursday, March 11 – Kittie with God Forbid, Periphery, Sever This Illusion, Descention, Behind The Beheaded and Cost Of Sin. $12. 7 p.m.
Friday, March 12 – Bang Tango with Hardlein and Boozer. $10 8 p.m.
Saturday, March 13 – Hot Action Cop with friends. 8 p.m.
Saturday, March 20 – Toy Tiger Reunion with Fire Department. 8 p.m.
Thursday, March 25 – Dirty Rotten Imbeciles with Bloody Knuckles Crew, Screwface and The Wholigans. $10
Friday, April 2 – The Original Rock Showcase series: Some Kind Of Saint, Autumn Canvas, Burning Babylon, Black Sunday, and The Delicate. Free before 9 p.m.
Thursday, April 8 – Fair To Midland with Karnivool, Something To Burn, 7 Day Sun, Inner Blue, Fivesecondzero and Institution. 7 p.m. $15.
Skull Alley
Saturday, March 13 – The Revenants, Parlor Tricks and Black Sunday, . 8 p.m. All ages. Alcohol served with I.D.
Uncle Pleasant's
Saturday, March 6 – The Red Chord with Mychildrenmybride, Chelsea Grin, Those Who Lie Beneath and Conquer The King. 7 p.m. $15 All ages.
Monday, March 8 – 100 Monkeys. $12 All ages.
Sunday, March 14 – Boondox with Axe Murder Boys, Southwest Sol, Shadow and Forty and Bloody Mary Jane. 7 p.m. $15.
Props Of The Month
This month's props go out a guy who helps out Louisville bands/musicians a lot. His name is Damon Atherton and he is 27 years old, and a darn good photographer. He goes to school for photography at JCC and loves guitars, cameras and concerts.
I met him a year ago or so, and since then I've seen him taking pictures of all kinds of bands at all kinds of shows, and I've noticed he isn't a money-hungry A-hole either. He does great work and works with the bands even if they don't have a lot of cash. This is the type of people we need in the scene: No ego, no drama, just good peeps trying to do their part in helping the Louevil music scene.
Damon is also a crazy mofo who drag races. No, he doesn't run down the street with dudes in women's clothes, he races an orange '75 Chevy Vega at Ohio Valley Raceway! Crazy mofo! Damon got into taking pictures of the local scene when longtime friend Chris Eli (formerly with False) got him to come to the shows to take pictures of his band. Damon loved it and has since gone out of his way to help bands/people. He took pictures of my band and even made an old chubby dude like me look halfway decent!!! Now that's fargin good!
Check out his stuff at www.thephotodemon.com and don't be shy about contacting Damon, he's a good dude.