March 2010 Articles
Cover Story
Kevin Gibson
Features
Eddy Metal
Columns
Berk Bryant
Mike Stout
Paul Moffett
Keith Clements
Martin Z. Kasdan Jr.
Eddy Metal
CD Reviews
Berk Bryant
Ronke Oyekunle
Tim Roberts
Hunter Embry
Tim Roberts
Blogs
Got Shows?
Send Them To Us
Bookmark Louisville Music News.net with these handy
social bookmarking tools:
Available RSS Feeds
- Top Picks
- Today's Music
- Editor's Blog
- Articles
Add Louisville Music News' RSS Feed to Your Yahoo!

Issue: March 2010


I've Got A Mind To Ramble
KBS Blues House Party
When the Kentuckiana Blues Society decided to host a series of house parties, they wanted to open doors to lesser-known venues and introduce new bands to a wider audience, plus make a little money. Lisa's Oak Street Lounge was selected to be the site of our first party, with two distinctive bands performing. Prior to that wintry evening on January 30, there were several e-mails going back and forth between the KBS Board Members whether to party or not to party due to the snowy conditions. When the bands were willing and able to play for no pay, it was end of discussion. Since this was the first time that the Bryant-Stevens Band had made a public appearance, it was a coming-out party for them. The weather didn't deter the fans and friends of the musicians from filling the back room.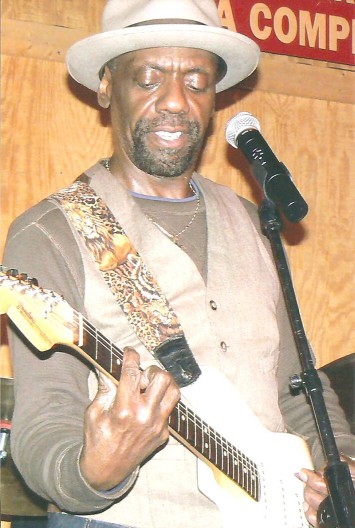 JoeDeBow, Lisa's Lounge, January 30, 2010
When I arrived, the band was finishing their sound check, which gave a clue of what to expect. This was going to be a dramatic presentation. They were all dressed in black. There were red roses on the bandstand and the play list of fifteen songs with their respective keys were in the music stands.
The Bryant-Stevens Band is fronted by Dana Bryant as lead singer and Cole Stevens on guitar and vocals. Phil Longo and Ron Presley keep the steady rhythm going on drums and bass respectively. Low Hale covered the keyboards. Steve Boros was to have played harp but he got stuck in the snow. We will talk about these talented musicians later.
Cole and Dana collaborated on a duet of "Ain't Nobody Love Me" to open the set. Cole used his red Dakota Telecaster, sliding over the frets with his right hand and picking the strings with his left. "I'm Your Fixer" turned Dana loose with the offer of providing everything you need. My favorite song was "Only Time You Got (Is Right Now)" which philosophizes about the importance of living in the present. Cole showed his slide prowess on an instrumental, "Bongo's Bounce." Their set was packed with originals like "Three Sides To Every Story" and "Meet Me At Son's House" which Cole wrote as a tribute to Son House fifteen years ago. Cole sang an obscure Robert Johnson song, "Malted Milk," and Dana roared back with "Bourgeois Blues."
"Where's My Man" had Dana searching for Mr. Right. She opened with a soft ballad which quickly bridged into a rockin' plea. She sang, "Just like a bee goin' straight to the hive, bring me the honey and leave out the jive." The band closed out their set with "Just Won't Burn" a slow scorcher that left the crowd in awe. Dana's deep, full volume voice echoed Tracy Nelson. Their new CD, Dig A Little Deeper, which included several songs they performed that evening, sold like beer at Octoberfest.
The Joe DeBow Band brings together some of Louisville's best veteran musicians. Joe has been playing music for forty-two years. The KBS presented the Sylvester Weaver Award to Joe in 2008 at the Garvin Gate Blues Festival. In the November 2008 issue of LMN, I gave a brief background of Joe's accomplishments.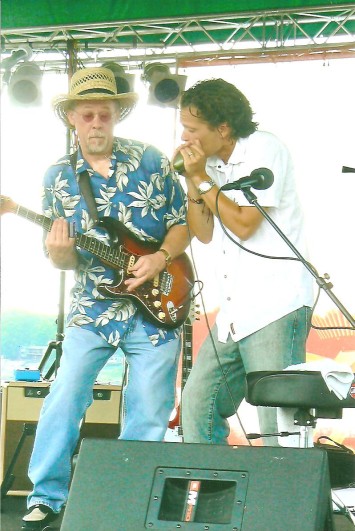 Cole Stevens & Steve Boros, 2007 Blues-N-Bar B Q Fest, Water Tower
Complementing Joe's guitar, harp and vocals is Danny Henderson on guitar. Danny rarely takes his eyes off Joe while on the bandstand, keeping in sync with Joe's unpredictable ways. Joe has never had a rehearsal with the band and has no play lists, as he likes to read the crowd, a habit which goes back to the mid-70s when he was a DJ at the Jam Factory. Danny plays with the demeanor of a bass guitarist, showing little emotion, grimacing or animated antics. He just lets beautiful blues notes come forth from his guitar effortlessly.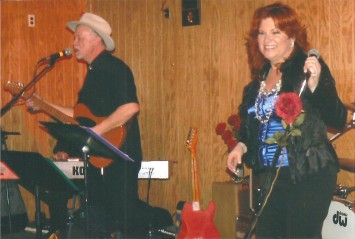 Cole Stevens & Dana Bryant, Lisa's Lounge, Jan. 30, 2010
When Donny Bridges is not playing his five string bass with Joe, he plays with the Walnut Street Blues Band. Gary Underwood brings a mature intensity to his drumming that comes from years playing with many other bands, including backing Curtis Mayfield.
Joe has known all of these musicians since the '70s and said, "this is the best group of guys I've ever played with because they are dependable and we have respect for each other." The band did a nice mix of blues and soul standards during their set. They segued from one song to another, leaving no time for much deserved applause. Opening with "Roll Me Baby," they eased into "High Heel Sneakers." "Take Me To The River" became a jam, with their first set closing with "Stormy Monday." Their takes on the covers were free interpretations for Joe's vocals and Danny's guitar solos. Once, Danny left the stage and sat in a chair facing the band for a solo. Joe did a jazzy rendition of "Thrill Is Gone" on his harp for their closing number. Joe said that he feels recognition has been a mighty long time coming in his musical career and he is now more serious than ever about taking it to the next level.
To raise a little cash, the KBS prepared two baskets of donated items to raffle. When the names were drawn at the end of the party, two KBS directors, Bob Brown and Nelson Grube, were the lucky recipients. The next Blues House Party is tentatively scheduled to be at the Rudyard Kipling on May 8 with the Bella Blue Band and the King Bees.