April 2009 Articles
Cover Story
Tim Roberts
Features
Eddy Metal
Columns
Berk Bryant
Mike Stout
Paul Moffett
Frank Fendley Jr
Keith Clements
Martin Z. Kasdan Jr.
Eddy Metal
CD Reviews
Bob Mitchell
Hunter Embry
Hunter Embry
Martin Z. Kasdan Jr.
Ronke Oyekunle
Kory Wilcoxson
Hunter Embry
Hunter Embry
Performance Reviews
Jason Koerner
Hunter Embry
Blogs
Got Shows?
Send Them To Us
Bookmark Louisville Music News.net with these handy
social bookmarking tools:
Available RSS Feeds
- Top Picks
- Today's Music
- Editor's Blog
- Articles
Add Louisville Music News' RSS Feed to Your Yahoo!

Issue: April 2009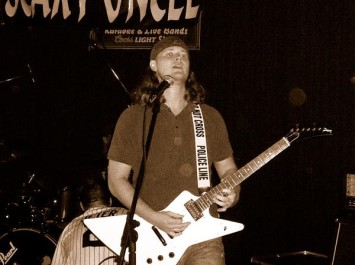 Adam Young
Name: Adam Young
Age: 29
Instruments: Guitar and Electric Triangle
Current/Former Bands: My current band is Scary Uncle. Past bands are Hollowed Point, I4NI/Lust 4 Hate and Inner Blue
How Long on Instrument: I've been playing guitar for about 13 years now, but I'm thinking about swapping to Guitar Hero for the respect and chicks.
Equipment: My guitars - 90s Gibson Explorer, a 2007 Ibanez Prestige S-series, a 70s Fender Musicmaster, 90s Jackson Soloist, a 90s ESP custom made M-II Deluxe, an early 2000 LTD EC-1000, and a few more junky guitars (actually they are all falling apart...). My amps - 90s Mesa Boogie Triple Rec. Solo head, an early 80s Marshall JCM800 (Full stack with that one), 90s Peavey XXX head, Line 6 Spider Valve head. I also have tons of random effects pedals, but the only two I can't live without is my Digitech Whammy and my Dimebag CFH wah pedal. Oh, and I have a tuba.
Influences: My biggest influences would have to be Dimebag (of course), Slayer, Paradise Lost, way too many bands to name, and my dad, for growing up around music.
First Gig: My first true gig was with Hollowed Point at Tekworld around 2001. That was my first band ever and first show ever, so I was pumped. If I remember correctly, it was a 'Battle of the Bands' show. We did not win but it was a blast! We were young, decked out in American Eagle clothing and playing death metal. I guess we were a little confused. Actually I think that is the style nowadays.
Hobbies: Playing/recording music, video games, working out, watching movies, and wishing I would have finished college.
Favorite movies: Most of all the 80/90s Schwarzenegger movies, all Pantera home videos, Star Wars, horror movies (too many to list), and Dirty Dancing.
Favorite food:Sugar-free Redbull and Cadbury chocolate eggs.
Favorite place: Dixie Highway
Bad habits: World of Warcraft (I seriously need therapy), bitching and talking smack about people, incredible road rage.
What I'm listening to nowadays: Metallica, Slayer, and Color Me Bad. Oh wait, the Jonas Brothers. Honestly, I'm not getting into any new music. Tool and some new Slipknot maybe? But, I'm still listening to the same old CDs and mp3s I was listening to 15 years ago. Do you honestly think Phil Collins would have a chance nowadays?
Coolest thing I've done: I've been fortunate enough to have been in bands that have played with many national acts like Saliva; Drowning Pool; 10 Years; Fuel; Seven Mary Three; Rehab; Dope; Primer 55; Flaw; Chimaira; Unknown Henson; Boba Flex; Sevendust and many others I can't think of at the moment. Being a huge fan of music, every show has been a blast and an awesome experience. Last year, I was crossing my fingers on a show offer with the supergroup Hanson but evidently we were TOO cool to play that show. That would have been something to brag about. Even my grandma knows Hanson.
Most embarrassing moment: Being seen in public? Well, I get embarrassed every time I mess up a trademark solo and you can feel the judgment given from the people at the front of the stage and the back of the club. But usually not too long after, It hits me ...' who cares?'
Who do you love: I love my wife Hannah, my family, and Christian Bale.
When/where did you first get some: A shampoo bottle count? Actually on my buddy Newkirk's bed when I was in high school. With a girl.