April 2009 Articles
Cover Story
Tim Roberts
Features
Eddy Metal
Columns
Berk Bryant
Mike Stout
Paul Moffett
Frank Fendley Jr
Keith Clements
Martin Z. Kasdan Jr.
Eddy Metal
CD Reviews
Bob Mitchell
Hunter Embry
Hunter Embry
Martin Z. Kasdan Jr.
Ronke Oyekunle
Kory Wilcoxson
Hunter Embry
Hunter Embry
Performance Reviews
Jason Koerner
Hunter Embry
Blogs
Got Shows?
Send Them To Us
Bookmark Louisville Music News.net with these handy
social bookmarking tools:
Available RSS Feeds
- Top Picks
- Today's Music
- Editor's Blog
- Articles
Add Louisville Music News' RSS Feed to Your Yahoo!

Issue: April 2009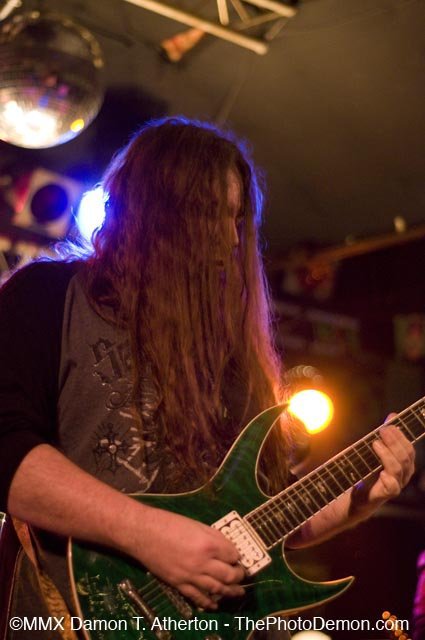 News From the Pit
How 'Not' To Represent Your Band
I love doing what I do and I try very hard to help the scene and bands here in Louevil. What's really cool is that I get to meet some very nice people, who are appreciative and grateful for the time I put into writing band and show reviews and promoting shows/bands. Occasionally, though, I come across some people who are just plain ridiculous.
Like the band from Indiana who insulted me a year ago because I did not answer them fast enough. And the funny part was that the next day I was going to offer them a good show at one of Louisville's premier clubs!
This next one is hilarious. Recently, I booked a death metal band that I won't bother to identify. The singer me an email days before the show, saying stuff like "our set is 5 minutes shorter than everyone else's, and that's bulls**t, we refuse to play!" "We blow away every band we play with", "we wont be held back by a has-been promoter, in a has-been club which sucks!" Etc.
All this aimed at me because of five minutes? I have booked the band a few times before, written about them in the paper and even did a Louisville Rock CloseUp story on one of their members, so I thought "Is this guy crazy or just that dumb?" Why would you verbally attack someone in the media who has done nothing but try to help you?
I have been a nice guy too long and it's time I tell it like it is, once again. Just the bare facts from someone who knows this city's music scene. To that band it singer, I say: Over the years, I have booked many great bands, compared to which you are literally in the lower 30% talent range, if that. Your arrogant boast of "we blow away everyone" is laughable. Set lengths and times are determined by crowd draw and level of talent. It's always been that way.
I'm sorry to inform you that your band ranked low in these catagories, compared to the other bands on the bill.
The band who replaced you - a group of young rockers - put you to total shame talentwise and were much more professional despite their young ages. I'm not saying this to be mean or to exact revenge for your rudeness, I am just stating the facts. Another fact is that you have a reputation as a mouth-running d**chebag and now I can clearly see why people say that about you. Do you really expect to go anywhere acting like this?
Instead of whining, being negative and hurling insults from behind a computer, you should try to appreciate any help your band can get, try to get people to actually come to your shows (then maybe you would get more time and a better spot, DUH!), and try to improve your skills and equipment instead of blaming others for your own shortcomings. And as for the has-been Eddy Metal and has-been club Phoenix Hill, the original rock/metal shows are still going very strong since 1995, and my column is more popular than ever before.
This guy's band members should really think about getting someone else to represent the band. I'm not going to be insulted that way when I've done nothing but try to help them.
Bands: a word to the wise. NEVER bite the hand that helps you in your quest for your music to be heard.
Be patient, professional and do the necessary hard work to build a good following before you start burning bridges, and declaring yourselves kings of the Louevil music scene. Think before you react. I'm just thankful that 99.9% of the bands are not like this. Thank god there are always good bands out there who do want the chance for their music to be heard.
Peace.
The Metal Grapevine
Be sure to link up with me at Myspace.com/eddymetalrocks to take advantage of the Louisville Music News Free-Ride Ticket Giveaways!!!
Free Tix to Lamb Of God: (Free-Ride)
We've a got a few tickets to Lamb Of God, As I Lay Dying and Children Of Bodom on May 5 at Expo 5 for you freaks to win. So be sure to email me on my myspace page myspace.com/eddymetalrocks on Sunday, April 26 at exactly 6 p.m. for a chance to win tickets to maybe one of the biggest metal shows in Louisville this year. Closest one to 6 p.m. wins. In the subject line. put "Lamb Of Expo."
Free Tix to Theory Of A Deadman: (Free-Ride)
On Friday, May 1, Derby Eve at Phoenix Hill Tavern, Theory Of A Deadman will be playing with The Veer Union, tickets are $20. The show starts at 7 p.m. and promises to be one popular show with lots of hot chicks in attendance. We have a few tickets for you to win, so to win mail me at Myspace.com/eddymetalrocks on Friday April 24 at exactly 6 p.m. In the subject line put "Derby Eve Bash." Closest ones to 6 p.m. wins.
Free Tix to HedPE: (Free-Ride)
For all you hip DJ's and funky rap metal lovers, here is a show for you: HedPE at Headliners on Tuesday. April 14. We have tickets for you, too!
Make no mistake, this band is badass! I don't really like rap metal, but these guys are amazing! They throw blues, metal, rap, hip-hop, thrash, DJ'ing and more, all into one wicked show. For a chance to win tickets. message me at myspace.com/eddymetalrocks on Saturday April 11 at exactly 6 p.m. Closest to 6 p.m. wins! In the subject line, put "Give me HedPE!"
Free Tix to Nightwish: (Free-Ride)
For those of you who love pretty goth metal with female vocalists, do not miss the show on May 6 at Club Oasis. Nightwish is wicked. I saw them last year and was very impressed! The keyboards, the vocals, the guitar playing, all of it is some very different and cool music.
For a chance to win tickets, email me at my myspace page myspace.com/eddymetalrocks at exactly 6 p.m. on Saturday April 25. In the subject line, put "Euro-Goth Rules!"
Motley Crue Contest Winners Coming: (Free-Ride)
Glammin yet slammin' is what The Last Vegas is. The Last Vegas, an Eighties glam band (that sounds like Iggy Pop, or The Stooges) beat out 8000 bands to open for Motley Crue on last years Cruefest Tour. And they are featured on Guitar Hero 2, so they must be good, huh? We'll see on Saturday, April 4 at Phoenix Hill Tavern.
I have some free tickets for you. The first ones to contact me at MySpace.com/eddymetalrocks gets them!
Check them out online at Myspace.com/thelastvegas
Exodus and Kreator Coming:
Heck yeah. I'm ready to see this old-school thrash show at Headliners on May 14. You might want to get your tickets ASAP, because this beast of a show will attract every old-school metalhead within 100 miles. You might get left out if you don't get your tickets now. $20 Adv/$23 DoS. All ages.
Carcass/Suicide Silence Review:
Omg, what a night. The show was excellent, every band was slammin'.
Metalheads, if you missed this show, you farged up! Samael opened and I was excited, because I saw them about eight years ago with Dimmu Borgir at Annie's in Cinci and they were wicked then. They mixes thrash, techno, sampling, electronic drums and keyboards into one amazing collage of metal. Their live set was more energetic than a crackhead on payday.
They played their classic tune "Baphomet's Throne," from the Century Media compilation video. Great song!
Samael was hard to beat, but Suicide Silence from Riverside, California made a very very powerful case and may have pulled it off. Maybe. I looked them up on YouTube and before long, I was telling everyone to go see them. I usually don't care too much for death metal, but this band was killer, and their sound with Headliners sweet sound system had that mofo absolutely pounding. I haven't heard such a good sound system in a while.
Downtuned destruction with super-tight bass drum and Lamb Of God-type vocals (maybe better) is what Suicide Silence is about. Very evil sounding. The singer Mitch was a madman and had a certain flair for keeping things interesting even though he was doing death metal vocals. A lot of it was cookie monster stuff, but very tasteful cookie monster stuff that mixed well with the riffage. Fans of Lamb Of God, Slayer and the heavy music in general better look these guys up, because live, they absolutely killed.
Then came Carcass, from Liverpool, England, a band I've wanted to see for a long time. They made it back here after a nine-year breakup. They kicked butt to the good crowd in attendance, as expected. The musicianship was amazing, but after seeing Samael and Suicide Silence, I felt as though it couldn't have been much better.
Don't get me wrong I liked Carcass a lot but in the end, I think I ended up liking Samael and Suicide Silence better. I think it was the vocals that won me over. Carcass' Jeff Walker really doesn't deviate much from his screechy, grindcore style, but the music does fit his vocal style well. Of coarse, the guitars and musicianship of Carcass wwere awesome. They played a bunch of old material, according to an oldschool Carcass fan. They played "Embodiment" and "Heartwork" – probably my favorite of the night – from the Heartwork CD.
Michael Amott is such a bad boy on lead guitar that he has just gotten his own line of V guitars from Dean Guitars.
The mixture of the super heavy riffage from guitarists Michael Amott and Bill Steer, combined with their intricate melodic solos make this a band to look out for if you are tired of super shredding, mindless solos. They're here are well thought out and the guitar tones are as thick as a fat girl at Golden Corral on discount night. The band played for a very long time, as long as I've seen at Headliners.
Soilwork/Darkane Review:
I got to Uncle Pleasant's on March 18 just in time to see the last song from Nicholasville, Kentucky's own Behind The Beheaded, a band that has been wanting me to check them out. Frontman Johnny Martin is a huge, barrel-chested youngster with some really good depth and power in his vocals. He used his size in a positive and clever way to belt out some mean vocals which reminded me of Chuck Billy doing death metal. The band sounded pretty darn tight, too. I am going to have to go see this band's whole set soon.
Up next was Warbringer from Ventura, California. This ripping young band plays here frequently and that's good, because they kick major butt. Twice now, I have enjoyed their their music, which reminds me of Slayer's "Reign In Blood" era. These California natives are very nice guys and hung out with their fans, signing stuff for quite a while.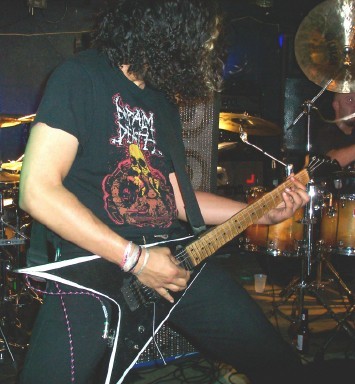 John Laux of Warbringer. Photo uncredited
Then came Darkane from Sweden, who absolutely ripped it up. I had never heard them before and I was very impressed with their music. Guitarist Christofer Malmstrom was sick on guitar and reminded me of a death metal Yngwie Malmsteen. Vocalist Jens Broman was quite the frontman, as he actually sang in between the brutal low tones. The keyboards mixed with the melodic vocals and the thrashy guitars were different and cool; they were very tight as a unit. I highly recommend Darkane for those who love melodic metal.
Then came the headliners, Soilwork. The 150 plus people in attendance suddenly all flocked to the stage to see these Swedish metal maniacs perform. I had been wanting to see them because their guitarist Peter Wichers is also playing guitar on Warrel Dane's (of Nevermore) solo project, which I have been listening to a lot lately.
The band sounded as excellent as I thought they would, but vocalist Bjorn "Speed" Strid seemed a bit off as he puffed and strained to hit the notes required. I don't think his stamina was up to par with the rest of the band. He did look a bit larger than his older pictures.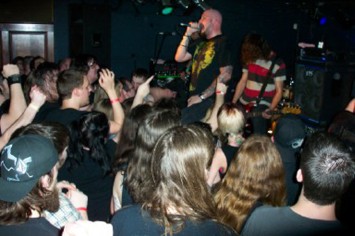 Bjorn 'Speed' Strid of Soilwork at Uncle Pleasant's. Photo uncredited
The musicianship, however, was awesome and made up for the less-than-stellar vocals a bit. Peter Wichers is the bomb. I clearly see why Warrel Dane recruited him for his solo CD. Soilwork sounds amazing on CD, and the band pulled it off live, except Bjorn. Some vocal parts sounded fine but the higher sustained notes and actual singing gave him trouble. Just like Darkane, Soilwork incorporates keyboards into melodic metal/thrash. Is it a Swedish thing? Yumping. yimminy whatever it is, I like it.
Thank to Terry Harper for having two back-to-back killer shows featuring excellent foreign metal bands that any other promoter would probably pass up. If it weren't for Terry, we would have to drive at least a 100 miles to see such shows.
Mayhem In May:
On May 30, there will be a huge all-day metal show at The Bulldog Cafe. Many bands on this bill that aren't from here, so you might want to make this one-night-only concert. Just to help out, I scored a few tickets to give away. The first ones to email me at myspace.com/eddymetalrocks get them. Bands playing are Anal Blast, Abominant, SikFuk, Zegion, Bloodtribe, Entropy, Skew, Coathanger Abortion, Death By Quarter and a bunch of other bands that I cannot read what the name is. Half of these death metal band names look like spaghetti spattered on paper. All ages. $15.
Benefit for Multiple Sclerosis:
Whoever thought of this is a very good person: rockers doing some actual good! Total props! The generous bands playing this benefit for Multiple Sclerosis at the Amvet Post 9 (1567 South Shelby St) on Saturday, April 4 are 16 Bones, Poetry Of The Dead, 7 Day Sun, Chloa of Anton Mink and Josh Napier. $1 All proceeds go to the cause. 6 p.m.
Some Kind Of Saint Review:
Some Kind Of Saint is set to take Louevil by storm. This five-piece rock band, formerly After The Fall, is really good. I went to a rehearsal to check out the new music and I'm now a firm believer. The new singer, Cory Robinson, has a great voice with almost as much soul as James Brown.
If you are into rockers like Heaven Hill, And The Armed and Nova Red, then you are going to love SKOS.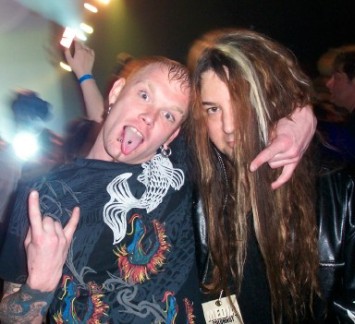 Eddy Burke and Cobby at 3 Doors Down. Photo uncredited
It's not very heavy at all, but more hard rock mixed with some great melodies. The songwriting is witty, hooky and hard not to like. You can see this great new band make their debut at my Phoenix Hill show on Friday, April 3 with Nova Red.
Society's Plague Slams:
I just cannot stop talking about this fine band of youngsters from Lexington, Kentucky and I'm not the only one, either. This six-piece original metal band has opened for Chimaira, Unearth, Soilent Green, 36 Crazyfists, Emmure, Born Of Osiris and many others. People in Louevil are just now learning about them.
A buzz is developing fast and with good reason. I had a band cancel on my last show and these guys and gals came in on a few days notice and completely blew the crowd's minds. When this band started playing, jaws dropped and time seemed to stand still. Afterward, they were quite happy to have so many new fans. Not only do they wail, but they are total professionals. too. Three of them aren't yet 21, the youngest only 17. They had to sit in the parking lot until their set. They didn't mind though and were happy as heck to be able to play to an appreciative crowd. Listening to the CD they gave me at the show, it's clear that they must have spent a bit of money on the recording. The music is energetic, melodic thrash metal with cool keyboards, very Euro-sounding, maybe Fear Factory meets Iron Maiden meets All That Remains. The songwriting is good, and the melodies instantly draw you in.
Their 'live' performance was a spectacle and very entertaining They have heaviness, clean, pretty guitar parts, speed blasts, pretty piano work, fat, chugging guitar riffs, and some nice screams mixed with real singing. The guitarwork is impressive, the tones scorching. Nice equipment.
Their duo guitarwork concentrates more on melody and groove more than showing off. Too many bands try to be guitar speed demons when they should be more focused on hooks and melody. Society's Plague is the perfect medium. Keyboardist Kate plays coolly and does not overdo, blending well with the rest of the band.
Matt Newton's vocals are good, melodic with heavy growls/screams when needed. Actual notes are hit, and melodies are achieved here. He evokes 18 Visions, Atreyu and other Southern California bands. Matt is also a very good frontman and can work a crowd well, issuing nothing but confidence. This band is ready to go on a major tour as an opening act and are up to the task.
You can see them play in Louevil at Headliners on April 18. Be there! Myspace.com/societysplague
LEO Opts Out:
The editors and owners of the weekly LEO have announced that they aren't announcing shows in their paper for free any longer, not that they ever cared for this city's rock/metal scene, anyway. I could not think of one metal show or band that Leo has covered. Considering they are supposed to be covering what's up with the Louisville scene, that's sad. Glossy photos of yuppies are nice and all, but there is so much more to Louevil than what that paper covers. Show after show of huge crowds go to see these metal bands play in our town. One would think that that alone is relevant to give proper coverage for the events. But no, venues packed with metalheads apparently mean nothing to them.
Well I got news for you, LEO. This rock/metal scene is happening. We have some darn good rock and metal bands in this area. Not only that, but us band's/rockers have done some very unselfish things for the community, including my annual Rock For Kosair Children's Hospital benefits, and, currently, bands are staging a benefit for Multiple Sclerosis on Saturday, April 4. We may love the heavy music to let out our aggressions/frustrations, but there is no doubt that we are good human beings who contribute to the community. So thanks for for nothing.
New Band Alert, SFTS:
Elizabethtown's Silent From The Struggle is a new band that I'm listening to right now. Sometimes I just pick a band randomly and review them. Surprise! The quality of this recording isn't very good at all. The guitar's sound is thin and dry, and the overall CD volume is low, but I do see some promise in this music. It's a mixture of hard rock, southern rock, metal, blues, hardcore, and a little acoustic thrown in for good measure.
The songwriting isn't bad nor are the vocals. The guy has some singing skills and has some decent growls too. However, I hate it when good singers do not enhance their vocals even further with a little bit of reverb and slight delay/echo. It's like having a Ferrari and not even ever driving it. I would like to hear this band live.
I have a funny feeling they would be much better represented live in action, other than this recording.
This band can play and I bet they would be entertaining as well. I like the song "10 Minutes Ago" the best on their myspace site. I think I might have to book this band soon. Meanwhile you can see them play next at The Bulldog Cafe on April 11. Myspace.com/struggle
Singer Needed for 13th Level:
I got my band going again, and we are coming up with some stuff that will be surprising to quite a few people when we hit the scene, hopefully by early summer. We just need a melodic vocalist to complete the lineup.
Not even two months into it, the new 13th Level is sounding great, and a lot different than the older stuff. Groovier, more solos, more hooks, way more melodic and better songwriting. We will be throwing in a few off-the-wall covers, too. To pull off this music requires an actual singer with better than average skills and range.
Are you that person? Message me at Myspace.com/eddymetalrocks
NEXT MONTH, be on the lookout for reviews of Avenged Sevenfold, Buck Cherry, Black Stone Cherry, Papa Roach, Amon Amarth, Goatwhore and more!!!
Upcoming Shows
Amvet Post 9 (1567 south Shelby St)
Saturday, April 4 - Benefit for Multiple Sclerosis: 16 Bones, Poetry Of The Dead, 7 Day Sun, Chloa of Anton Mink and Josh Napier. $1 All proceeds go to the benefit. 6 p.m.
The Bulldog Cafe
Friday, April 3 - First Jason (featuring Ari Lehman- the Original Jason Vorhees). $10 7 P.M.
Saturday, April 4 - IWrestledABearOnce with Greeley Estates, Mephis May Fire and Fact. $12
Sunday, April 26 - Oh Sleeper with Vanna. $10 All ages.
Wednesday, April 29 - Rookie Of The Year with School Boy Humor, Jet Lag Gemini and Kiernan Mcmullan. $10 All ages.
Friday, May 1 - Spineshank with Straight Line Stitch and Crooked X. 7 p.m. $12 All ages.
Saturday, May 30 - Mayhem In May IV with a ton of excellent death metal bands coming in from the nation. See bands attending in the Metal Grapevine.
Club Oasis
Wednesday, May 6 - Nightwish with Volbeat. $25Adv/$28DoS. All ages. 7 p.m.
Expo 5
Tuesday, May 5 - Lamb Of God, As I Lay Dying, Children Of Bodom, Municple Waste and God Forbid. $30Adv/$33DoS. All ages.
Headliners
Saturday, April 4 - "The Let It Rock Tour" featuring Kevin Rudolf with Hyper Crush, Cash Cash, The Audition, Go Crash Audio and Jeremy Greene. $15 7 p.m.
Saturday, April 14 - HedPE with Dirtball and Mower. $15Adv/ $17DoS. All ages.
Friday, April 17 - The Battle for Music As A Weapon Tour: with A Timely Embrace, Audible Point, Chainfire, Delorean, Hyndsite, Resin8, Shatterstone and Stallpoint. 6:30 p.m. $10 All ages.
Saturday, April 18 - The Battle for Music As A Weapon Tour: with Society's Plague, Adaptize, Anagnorisis, Devastation By Dawn, Emma Rose and T.R.S, Intent To Kill, Juxtapose, Ragdoll Effect. 6:30 p.m. $10 all ages.
Monday, April 20 - Amon Amarth with Goatwhore, Skeleton Witch and Lazarus A.D. $20 All ages.
Tuesday, April 28 - The Red Jumpsuit Apparatus, There For Tomorrow, Versa Emerge and Conditions. $15ADV$17DoS. 7 p.m. All ages.
Thursday, May 14 - "Metal legends Night" with Kreator and Exodus and special guests Belphegor, Warbringer (sweet), and Epicurean. $20Adv/ $23DoS. All ages.
Phoenix Hill Tavern
Friday, April 3 - The Original Rock Showcase Series with Nova Red, Some Kind Of Saint, BoneJinn, SecondHandGrenades, September Theory and 4 Storie Failure. 8 P.M . $5 Free before 9 p.m.
Saturday, April 4 - The Last Vegas. 8 p.m.
Thursday, April 30 - Pop Evil returns with Heaven Hill and Dogwater. 10 p.m.
Friday, May 1 - "Derby Eve Bash" featuring Theory Of A Deadman with The Veer Union. $20 7 p.m.
Friday, May 8 - The Original Rock Showcase Series "After Derby Hangover" with Burn To Shine, 16 Bones, Alice Blue Gown, BoneJinn and Some Kind Of Saint. 8 p.m. $5 Free before 9 p.m.
Shooters
Friday, April 3 - The Dogs Divine with Sinners Or Saints and Dogwater. 21 and up.
Uncle Pleasants
Thursday, April 9 - Agnostic Front with Ruiner, Bloody Knuckles Crew, Porosus and The Whooligans. $15 All ages.
Sunday, April 19 - Parkway Drive, Stick To Your Guns, MyChildrenMyBride and Pig Vomit. 7 p.m. $12 All ages.
Props of the month
I like to give credit where it's due. Julie McGrath is a woman who likes to help out the scene and has done so for several years now. She has put on many concerts featuring the region's bands, at venues including The Crunch Zone, Bulldog Cafe, Uncle Pleasants, Pappy's. She helped with shows at Six Flags, and helped out on the 93.1 the Fox radio show "Louisville Rocks." She has managed a few bands in her day and continues to do what she can for the scene. Now she is a manager for the webzine Metal Monthly. They promote rock and metal and do some cool interviews, too. She also likes to promote the area's bands on there, too, so you might want to send Julie your band's MP3s to Jules502@metalmonthly.com
Be sure to visit www.metalmonthly.com to see some of the bands she works with, and the cool interviews and stuff. Who knows, maybe your band could be next!