April 2009 Articles
Cover Story
Tim Roberts
Features
Eddy Metal
Columns
Berk Bryant
Mike Stout
Paul Moffett
Frank Fendley Jr
Keith Clements
Martin Z. Kasdan Jr.
Eddy Metal
CD Reviews
Bob Mitchell
Hunter Embry
Hunter Embry
Martin Z. Kasdan Jr.
Ronke Oyekunle
Kory Wilcoxson
Hunter Embry
Hunter Embry
Performance Reviews
Jason Koerner
Hunter Embry
Blogs
Got Shows?
Send Them To Us
Bookmark Louisville Music News.net with these handy
social bookmarking tools:
Available RSS Feeds
- Top Picks
- Today's Music
- Editor's Blog
- Articles
Add Louisville Music News' RSS Feed to Your Yahoo!

Issue: April 2009
The Features, Lucky Pineapple and The Broken Spurs at Headliner's Music Hall
By Hunter Embry
In support of its latest release, Some Kind of Salvation (Independent), The Features, not too far from its hometown of Sparta, Tennessee, dropped into Headliners to cap an evening of locally brewed music. The psychedelic, indie rockers, energetic and spastic, grooved out their easily listenable brand of new pop music.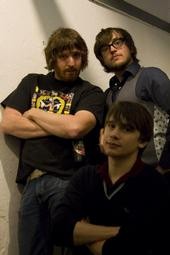 The Features. (File Photo)
The Features, uniformed in plaid button-ups and tee shirts, opened with "Lions," an upbeat, bouncy dance track. The band's set also included a vamped up, low-ended version of "BMF," a gritty key-ed jam that can be downloaded for free on the Feature's MySpace. Singer Matt Pelham's vocals were controllably swerving and sturdy with every change in tone, keeping the straight legs captivated throughout The Feature's set.
Local openers, Lucky Pineapple and the Broken Spurs kept their buzz rolling, full steamed with widely contrasting sets. Lucky Pineapple, a seven piece progressive rock head-rush, managed to keep its four-part harmonies, two-piece horn section and wide array of percussive additions from muddying, avoiding an audible mess. The well-crafted, well orchestrated songs of Lucky Pineapple that are showcased on their latest release, The Bubble Hast Burst in Sky City (Noise Pollution), sounded even more tangible and eclectic, shifting from wild and happy to dark and peculiar, all the while staying excitedly entertaining.
The Broken Spurs, who were just as pleasurable, served as the unbecoming stepchild of the evening – a backstage brawl between the Stones and the Stooges. While strongly chewing his gum and wearing a constant smirk, singer Adam Kramer beckoned with the "chick-ies" in the house to come a little closer, while the audience stood off as if afraid to get engulfed in the hormone-full rock n roll.
Guitarist Benny Clark spastically found room in each track to squeeze in a sleazy solo while shaking around his ripped up Marshall. The Broken Spurs dug the heels of its boots a little deeper on songs like "Shake," a punked-up party song from their EP Give It Your Blood, and "Sexy Little Nightmare," a sleazy, vocal rock song that is to appear on their next release this spring.
Again, another expectation breaking show that one would have to look a little harder to find – a show that would provoke music lovers to try and support independent music just a bit more.