April 2009 Articles
Cover Story
Tim Roberts
Features
Eddy Metal
Columns
Berk Bryant
Mike Stout
Paul Moffett
Frank Fendley Jr
Keith Clements
Martin Z. Kasdan Jr.
Eddy Metal
CD Reviews
Bob Mitchell
Hunter Embry
Hunter Embry
Martin Z. Kasdan Jr.
Ronke Oyekunle
Kory Wilcoxson
Hunter Embry
Hunter Embry
Performance Reviews
Jason Koerner
Hunter Embry
Blogs
Got Shows?
Send Them To Us
Bookmark Louisville Music News.net with these handy
social bookmarking tools:
Available RSS Feeds
- Top Picks
- Today's Music
- Editor's Blog
- Articles
Add Louisville Music News' RSS Feed to Your Yahoo!

Issue: April 2009
KANSAS Review
Renowned rock group KANSAS took the stage at Belterra Casino on Saturday, February 28 for a spectacular performance. I was lucky enough to have seats to this sold-out show, but even luckier to have gained an inside-look at what KANSAS is up to these days through a recent interview with guitarist, Rich Williams. If that kind of good fortune were to follow me inside the casino after the show, I would have hit the jackpot. Sometimes two out of three isn't so bad.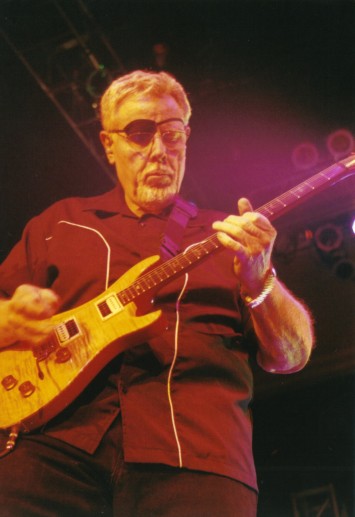 Rich Williams. Photo by Jason Koerner
The show started off strong, and the early highlight was, "On the Other Side." The hook for that tune is catchy beyond words. The band demonstrated from the start that there is no rust on this machine, even after 35 years (plus) of existence. "Tightness" is the strongest attribute of the group from a live performance standpoint, though great songwriting doesn't hurt either. The word "tight" is thrown around loosely at times to describe bands who play well together and who have great timing with one another. Despite the fact that this is not an entirely original lineup, having 3/5 of the foundation was evident in the group's ability to anticipate and feed off one another's contributions on-stage. Tight is an understatement for the musicality of KANSAS.
The band led into their classic hit, "Dust in the Wind," which gave a much-needed break to drummer, Phil Ehart. Phil was ripping it up and showed amazing rhythm and endurance throughout the night. The drums have always been one of my favorite parts of KANSAS compositions due to complicated time changes and jazzy elements. The hit ballad led to an array of light around the performance hall, not from lighters, but from the new concert "lighter" – the cell phone. Someone even commented behind me about this change in concert behavior. I'm sure KANSAS didn't mind one way or the other what was being flashed about in the room, as long as the crowd enjoyed themselves.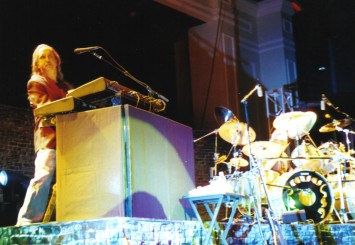 Steve Walsh. Photo by Jason Koerner
"Song for America" was a crowd-pleaser, as was the violin (Dave Ragsdale) and guitar (Rich Williams) dual-leads that took place throughout the night. Ragsdale had much to offer during the show and sounded beautiful. Williams is unquestionably one of the best rock guitarists around, making it look easy to boot.
Bass player Billy Greer took the reins on "Down the Road," offering outstanding vocals and an entertaining performance. While lead vocalist and keyboard player Steve Walsh is obviously the main source of KANSAS vocals, Greer worked the crowd well and introduced many of the songs to the audience that night.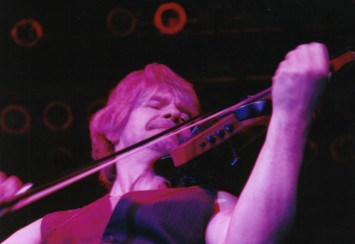 Dave Ragsdale. Photo by Jason Koerner
The band said, "Thank you, good night," but you knew it wasn't over yet. Where's "Carry on Wayward Son?" What about the big finish? No worries, it was on the way. As the band came back on-stage, a quip of "You guys still here?" started a two-song encore, which, of course, concluded with "Wayward Son." Steve Walsh shined in this moment, delivering a big vocal to bring the night to a close. Aside from the lead vocals, the harmonies were terrific as well. It was a perfect ending to an already rock solid performance. KANSAS brought it to Belterra, and the fans loved every minute of it.
An extra special thanks goes to Mr. Blair Bendel of Belterra Casino for all his generosity and efforts, Jennifer Farhood of Chipster PR for review arrangements made, and Rich Williams of KANSAS for his time during our interview.