March 2009 Articles
Cover Story
Tim Roberts
Features
Eddy Metal
Jason Koerner
Columns
Berk Bryant
Mike Stout
Paul Moffett
Keith Clements
Martin Z. Kasdan Jr.
Eddy Metal
CD Reviews
Kevin Gibson
Hunter Embry
Hunter Embry
Tim Roberts
Bob Mitchell
Hunter Embry
Hunter Embry
Steve Morgan
Bob Mitchell
Performance Reviews
Hunter Embry
Jason Koerner
Blogs
Got Shows?
Send Them To Us
Bookmark Louisville Music News.net with these handy
social bookmarking tools:
Available RSS Feeds
- Top Picks
- Today's Music
- Editor's Blog
- Articles
Add Louisville Music News' RSS Feed to Your Yahoo!

Issue: March 2009
Powerman 5000: Live Review
The show was on a Monday night, but you wouldn't have known it if you were a calendar.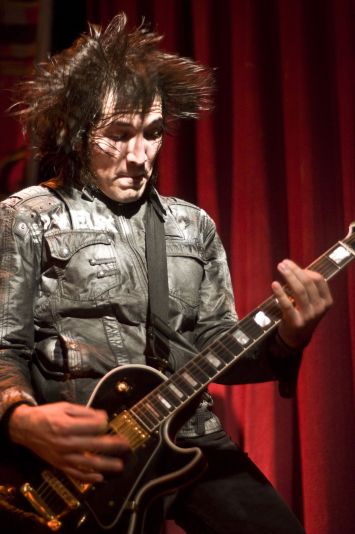 Velcro of Powerman 5000 Photo by Damon Atherton
A decade after the band's most popular release, Tonight the Stars Revolt!, Spider is still fronting a Powerman 5000 live show in front of several hundred eager fans. I spoke to Spider a few weeks ago about the band's new initiative, but now I was able to see first-hand that PM5K has a high-intensity stage show as they performed an energy-packed set at Headliner's on February 9. The crowd reciprocated that energy full-force.
The band played songs from several of their albums (if not all of them), so no matter when you became a PM5K fan, there was something for you. The show began when the lights were dimmed and a computer-voice set the mood for the show. We were told to enjoy and let loose, in no unclear terms. That is just what the crowd did as the band cranked out hits like "Supernova Goes Pop," "Nobody's Real," "When Worlds Collide" and "Bombshell." The band also played some lesser-known tunes from their catalog, as well as some brand spankin' new ones. "Super Villain" seems to be the crowd favorite in terms of new tracks, but "V is for Vampire" also caught some attention. For me, it takes a few days to get "Super Villain" out of my head after hearing it just once. It is a pulsating, in your face (and in your head), driving, pop-meets-metal-meets-electronic smoothie of a tune. It calls back the old PM5K sound with a new finish.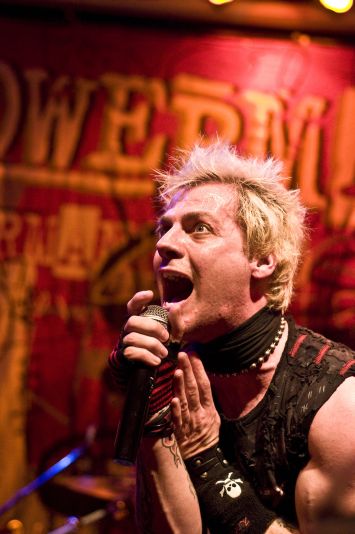 Spider of Powerman 5000 Photo by Damon Atherton
The band's sound is made fuller by the incorporation of samples and synth-tones to accompany the live instrumentation. The tone and mix was excellent that night, so "kudos" to whomever took part behind the board. Powerman's live act sounded extremely close to the record, which is something I praise bands for being able to pull off… especially those with samples and more room for error (technologically). My only criticism of the set is that at times, it ran together due to similar sounding songs or similar tempos back-to-back. This would not affect any die-hard fan, but for an outsider looking in, a little more variety would have helped mix up the feel of the night. Saying that, the band did what the band does, and they did it well.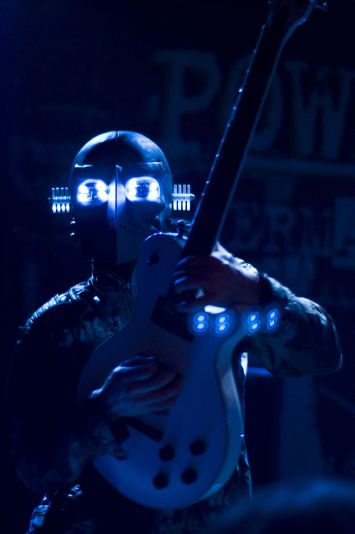 Evan9 of Powerman 50000 Photo by Damon Atherton
The conclusion of the show brought a twist to the visual element, as the band members did an encore wearing matching costumes that were topped off with light-emitting helmets. Think "Scuba Steve" (action figure from Big Daddy) only a scarier, tribal-looking, outer-spacier version thereof. Anyhow, it was interesting, and very PM5K-esque.
I enjoyed myself at the show, and wish Spider the best of luck as Powerman 5000 continues their tour and their work on a new album. Maybe we will see a return to radio-rotation and MTV, or maybe the band will continue to thrive off their rejuvenated underground following. If you read my interview with Spider, you'd know he's a pretty happy guy doing what he is doing either way, as long as he is playing music in front of people.