March 2009 Articles
Cover Story
Tim Roberts
Features
Eddy Metal
Jason Koerner
Columns
Berk Bryant
Mike Stout
Paul Moffett
Keith Clements
Martin Z. Kasdan Jr.
Eddy Metal
CD Reviews
Kevin Gibson
Hunter Embry
Hunter Embry
Tim Roberts
Bob Mitchell
Hunter Embry
Hunter Embry
Steve Morgan
Bob Mitchell
Performance Reviews
Hunter Embry
Jason Koerner
Blogs
Got Shows?
Send Them To Us
Bookmark Louisville Music News.net with these handy
social bookmarking tools:
Available RSS Feeds
- Top Picks
- Today's Music
- Editor's Blog
- Articles
Add Louisville Music News' RSS Feed to Your Yahoo!

Issue: March 2009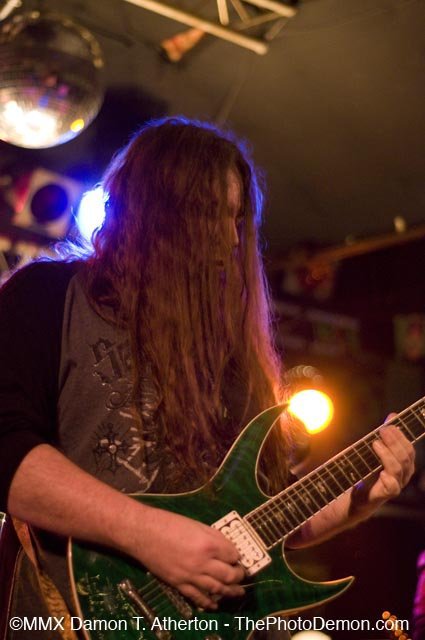 News From the Pit
Man, this last month has been crazy. First the ice storm came with all the ice-laden branches falling everywhere. I heard branches falling near me and my roommate's vehicles, so I tell him he better move his car now because it was right under a big tree. He runs out fast to move it and a huge branch lands right on his noggin. Dude comes back into the house groaning and holding his head and says "thanks for the warning..d**k!" He was okay though, just a minor cut or two.
Trees falling on my new car, no fargin power again for days, and I had a cute but drunken chick who almost burned down my bed, burned her fingers on a candle, fell into my huge fake trees and was all hung up in it like a Christmas tree ornament.
On the plus, I got to see hippie icons Cheech and Chong at Horseshoe Casino after all these years, a true stoner affair (see my review below it's a must read!). I saw a horrible set by Saliva at Phoenix Hill with perhaps the worst soundman in history! (see show review below).
Slipknot at Rupp Arena was off the hook, indeed, and was a carnival of chaos. I had a great time and Slipknot delivered a killer performance. (see review below)
Be sure to look us up online (Louisvillemusicnews.net) to check out the awesome pictures I took of Slipknot, Cheech and Chong and Pop Evil.
I went to 3 Doors Down and Seether at Broadbent Arena. Seether ended up smoking, 3 Doors Down which is just what I predicted.
The ticket giveaway thing is popular, and I have been busy trying to get you some sweet tickets, which I have, for the Avenged Sevenfold / Buckcherry / Papa Roach concert at Rupp Arena, and for you total metalheads, for legendary thrashers Carcass, and finally, I have some HedPE tickets.
I heard the Clutch show was packed bigtime and louevil's Who's Who was in attendance. I almost went but I am jamming again, so I had band practice. Still need a singer though, so If anyone knows a killer melodic singer, please send them my way. Myspace.com/eddymetalrocks
I'm outta here until next month. Remember, I love to hear from you people who read my writing, so drop me an email anytime you like. Eddymetal1@aol.com. And never be bashful about saying hello out at shows and stuff. You won't be bugging me. That kind of thing makes my day:)
The Metal Grapevine
Free Tix to Avenged Sevenfold/Buck Cherry: (Free -Ride)
For a chance to win free tickets to Avenged Sevenfold w/ Papa Roach and Buckcherry, March 27, Rupp Arena, email me on myspace.com/eddymetalrocks on Saturday March 21 at 6 p.m. sharp. Closest one to exactly 6 p.m. wins! In subject line, put "Rupp Arena Rocks!"
Free Tix to Carcass: (Free-Ride)
This is just for all-out metalheads! For a chance to win tickets to see metal legends Carcass at Headliners on March 17, message me at myspace.com/eddymetalrocks on Saturday March 14 at exactly at 6 p.m. Closest one to exactly 6 p.m. wins. So mark that calendar and in the subject line, put "Terry Harpers Carcass!"
Free Tix to HedPE: (Free-Ride)
For all you hip deejays and funk rap metal lovers, here is a show you will fargin love. HedPE is coming to town for one night at Headliners on Tuesday, April 14 and we got some tickets for you peeps, too!
Make no mistake, this band is badass! I usually don't even like rap metal, but these guys are amazing! They throw blues, metal, rap, hip hop, DJ'ing all into one wicked show. For a chance to win tickets, message me at myspace.com/eddymetalrocks on Saturday April 11 at exactly 6 p.m. Closest one to 6 p.m. wins! In subject line, put "Give me HedPE!"
Slipknot, A Carnival of Chaos:
It's been a while since I had been to Rupp Arena, so I thought I'd go see a band that I thought sucked at Ozfest several years past. Apparently when I saw Slipknot before, the soundman or system was not doing them justice at all, because this time around the venue/sound system had everything right on the nose. Plus, they had some very nice staff who let me and my friends sit together in a very cool area even though our tickets were all in different seats. That little old man was too cool.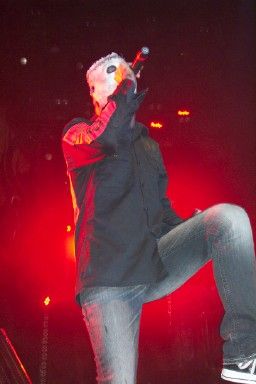 Corey Taylor of Slipknot. Photo by Eddy Burke
Trivium came on first, to my and everyone else's disappointment. I'd like to know who thought of putting a slammin' band like Trivium first, so I could properly choke them. Trivium sounded great, even if they sounded a bit different than when I met them at Jillian's years ago. They were a bit heavier then. They sounded very tight as a band and played a decent-sized set.
Trivium should have definitely have played second because the next band, Coheed & Cambria, wasn't very good. They were okay musicians, but they were boring and the crowd I was near was yelling for Slipknot!
Then Slipknot took the stage and pummeled the crowd for a good long set. They ripped into "Wait and Bleed" like a juggernaut. The sound was thunderous, fist-pounding powerful. Slipknot had masked marching band drummers running around like madmen, a great light show and their trademark insane drums made out of huge barrels and beer kegs. A crazy masked DJ was in the mix, too.
The rising huge drums were very cool. Apparently, they took a common construction lifter and mounted a crazy drum set of ridiculously large shells on it, lifted it 25 feet into the air, where it began spinning! Then masked dudes climbed up and hung on it like a demented merry-go-round of drums! The size of the drums made it sound mean combined with the ultra-low tuned guitars of Slipknot's trade. Up to 9 people were running around stage at all times, like crackheads on fire! They also had a cool vertical strobe effect going on that I haven't seen before. With the music pounding to it, it was quite a sight.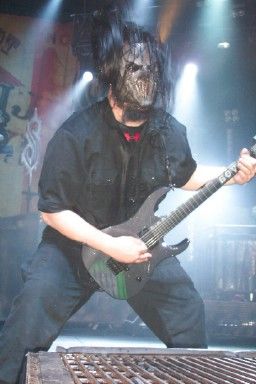 Mick Thompson of Slipknot. Photo by Eddy Burke
They played a new song called 'Dead Memories" that was jamming. And they ended a very energetic night with "Psychosocial," "Duality" and "Spit It Out."
Oh yeah, Joey Jordison's regular drum solo was pretty cool with the rising/spinning drumset a la Tommy Lee.
Corey Taylor's singing was good, but not outstanding. He held is own and didn't go off key, though.
I'm glad Rupp Arena has the cohones to book such a fun underground event;. I would never have thought that they would book a show like this, and I'm glad I was wrong. That holds hope for metal shows at Rupp this summer!
Check for some awesome pictures online at Louisvillemusicnews.net. Special thanks goes out to Amy at Roadrunner Records too.
Cheech and Chong Review:
God bless Horseshoe Casino for bringing some of my favorite comedians to this area.
I grew up on Cheech and Chong movies and everyone I knew grew up on them too. These two guys are legends in not only comedy but in the world of pot smokers worldwide (not that I do that sort of thing!). I had been anticipating this show for months and it was worth the wait. .
The place was packed, with every kind of hippie you could imagine there. Opening the show was Tommy Chong's wife Shelby, who was funnier than what I thought she would be.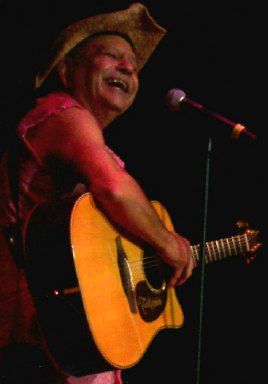 Cheech Marin. Photo by Eddy Burke
She let us all in on what it's like being married to Chong. Well, maybe a bit too much info as she said Chong's penis was like a fine wine because "you have to smell it before you put it in your mouth."
She talked about when Chong went to prison not too long ago for the lamest of reasons. Chong made and sold water pipes with his face on them. In no way did he mention weed in any way, yet police arrested him and made a big deal about it anyway. She said when the DEA swat team, complete with helicopters, came to their house banging on the door, they scared the sh*t out of her and Chong, and asked Chong if he had any marijuana in the house to which he replied "Uh, yeah, I'm Tommy Chong!"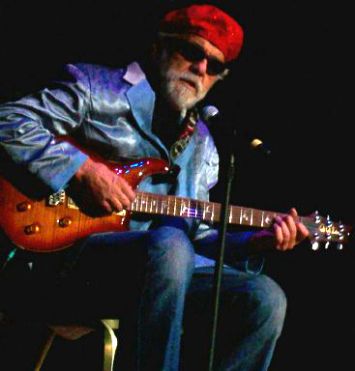 Tommy Chong. Photo by Eddy Burke
Cheech and Chong came on to a excited crowd and dove into a long performance of their classic skits, songs and characters. They started off with the meeting/driving scene from "Up In Smoke," where Cheech meets Chong and they smoke a joint of Hawaiian Mowie Wowie mixed with Labrador excrement. .I love the ending when Cheech says "Hey man, am I driving okay?" Then Chong says "I think we are parked, man." They were off the road and hit a telephone pole.
Then they went into an all-new skit called "Let's Make a Dope Deal," where Cheech plays a game show host, and Chong plays a totally burnt-out hippie contestant trying to choose one door from three concealing 500 pounds of Afghan hash, 500 lbs of weed or an angry DEA agent.
Cheech did "The Horny Astronaut" and they both did the "Dying Old Man vs Young Punk" skit. Then Chong talked about his prison experience and how he was "feeling left out that no one hit on him."
Cheech's hick cousin Red (from "Next Movie") made an appearance and said "what goes 0 to 200 in 2 seconds? My old lady on the bathroom scales!"
There was the usual funny drug talk about making a pipe out of a tampax because it has a built in filter, and Chong saying some chick once picked a big coke booger hanging out of his nose and ate it.
Chong did his "Oldest Blues Singer In The World
impression – Blind Melon Chetland – and even broke out a new tune dedicated to Ex-President Bush, called "The Dumb Motherf**ker Song." I was dying! And the guy behind me musta been on something good because he was on the floor rolling. Cheech's alter-ego Alice Bowie also made an appearance, complete with tutu and electric guitar. They did the classic skits such as the dogs Herbie and Ralph plus Margaret at the sex show (in which a midget pole vaults into a girl on his penis!). The show was very musical as well; both Cheech and Chong rocked out on guitar. Chong had a sweet Paul Reed Smith guitar and Fender amp that sounded soooo sweet. He was playing some killer blues riffs!
They played "Mexican American", and the other version "Beaners." Cheech played "Me And My Old Lady" from the movie "Things Are Tough All Over." The last song of the night was "Up In Smoke" and everyone was singing and laughing and obviously having a great time. Special thanks to Anne and Melanie at Horseshoe Casino.
Brett Michaels Coming to Horseshoe Casino:
Fans of Eighties rock need to check out this event at Horseshoe Casino on March 27. Brett may be a cheeseball, but the man does put on a great show. I was very shocked when I reviewed his performance about a year-and-a-half ago. It jammed. This show will probably sell out, so I would get my tickets ASAP unless you want to be stuck way in the back on left out all together.
3 Doors Down/Seether Review:
The first band, Safety Suit, was pretty lame and sounded like a Duran Duran reject. I went for beer during their set.
California's Hoobastank sounded pretty good as they got the show really going with 'The Reason", "Running Away" and "Out Of Control." They were very tight.
Seether always puts on a great show and this was no exception, playing all their hits. I love Shaun Morgan's voice. I could see Seether anytime and be happy. They have some amazing songwriting skills. They rocked "Breakdown", "Remedy", "Broken", "Fake It", "I Am."
Then it was time for headliners 3 Doors Down. .They weren't bad at all. It's not really my type of music but they do what they do well. The light show was rather cool and the confetti falling at the end of the set was sweet, coming off the lights the way it did. They had a huge screen behind them that showed all kinds of cool effects and stuff. The sound was pretty darned good, too.
I don't know much of their music but I know they played "Superman", "Loser", "When I'm Gone" and "Here Without You" my favorite by them. Vocalist Brad Arnold is a great singer, and is a good frontman. The true mark of a good musician is if the live performance matches the CD, and they came pretty darn close.
I like photograph concerts by a tour manager never appeared as agreed, so I'm sorry I couldn't get any pictures for this show. Special thanks to Sean Lynn at Nederlander for the last minute tickets.
Pop Evil blows away Saliva:
New band Pop Evil kicked some butt at the Phoenix Hill and is gaining fans at a record pace. The band gets better every time I see them. At first I didn't like them very much, but they have slowly won me over. It's the energy, hooks and very cool guitar riffs from Tony Greve, as well Leigh Kakaty's rockin' vocals that won me over. Greve's guitar tone was sweet and made for one of the best guitar spectacles of the night. I'm an Eighties cheeseball, so this kinda Eighties band brings back memories. The new song "Rolling Stone" and their hit "Hero" were my favorites.
The members of Pop Evil are way more entertaining than watching the guitarist from Saliva spit beer on himself all night. Dude was like a reject from "A Nightmare Before Christmas." He spit beer on the crowd and some of it got on me and in my beverage.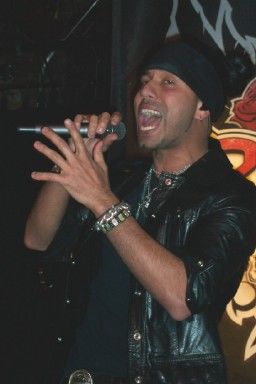 Leight Kakaty of Pop Evil. Photo by Eddy Burke
The sound for Saliva was horrible and so distorted and unneccessarily loud that people looked at each other like "WTF?" The feedback was so high pitched that my sack retreated.
It was so piercing at one point that I had to leave the room. I went up to the Phoenix Hill's experienced soundmen .and said "duuuuude this guy is an idiot!" And the horrible soundguy heard me! People in my town paid good money to hear good music, not some moron pushing the system to the point of blowing it up and deafening the audience. The sound eventually got a little better. Otherwise, I would have had to bail.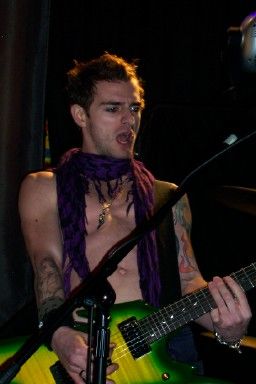 Tony Greve of Pop Evil. Photo by Eddy Burke
They started off with "Click Click Boom" with its cheeseball lyrics, then unleashed a new but unintelligibly distorted song called "How Could You." Things were sounding hideous as "Superstar" came on.
After that, things got a little better. They broke out a new tune called "Southern Girl," which was cool. They ended the night with "Always", which was their best song all night plus an encore of "Your Disease."
Pop Evil undoubtedly stole the show and pretty much saved the event.
The crowd could have been better but it was when when most of louevil had no power. Thanks for the tickets, .Kim at PHT.
Lamb Of God, Nightwish, Exodus, Kreator in May:
It's a few months away, but you should get your tickets now because these three killer Terry Harper-promoted shows of are going to be packed and possibly sold out soon.
On May 5 at Expo 5, Lamb Of God will be playing with As I Lay Dying, Children Of Bodom, God Forbid and Municipal Waste. $33 Adv./$33 DoS. All ages.
Then the very next night/ Finland's gothic melodic metal-meisters Nightwish will be back in town at Club Oasis. I saw them last time they were here and they put on a really cool show, very different and dark, with wicked keyboards and beautiful melodies. And dude's viking beard was crazy.
If you like goth and haven't seen this band before, you need to speed the $25 Adv./$28 DoS. All ages.
Then on May 14 at Headliners, old school thrash legends Exodus and Kreator will be tearing sh*t up for sure.
This is another show not to miss. I've never seen Kreator before, so I'm psyched. $20 Adv./$23 DoS. All ages.
News From The Glasspack:
The Glasspack has finished a Kinghorse (early Nineties Louisville band on Caroline Records and produced by Danzig) cover track for a Louisville Kinghorse tribute compilation set to be released on Louisville Lip Records later this year. The Glasspack is currently celebrating ten years of existence by recording a new song for a 7 inch release with Louisville label Noise Pollution Records and Louisville band Trophy Wives (ex-Coliseum/ex-Young Widows). Also in celebration of 10 years, the band is having Jack Endino re-master their first LP release, American Exhaust , which will be available in a special digital package with lots of extras from Los Angeles label Poison Tree Records. The Glasspack's first demo from 1999, .originally recorded for Man's Ruin Records and never released, will come with this package. Look for release around spring, possibly early summer.
The return of After The Fall:
About four years ago, I was booking a band called After The Fall who did very good for an original rock band. These guys rocked out and always brought a nice crowd. After a long breakup, the guys are back with a new project called Some Kind Of Saint. They are basically the same band with the same sound but with a new singer Cory Robinson.
Guitarist Justin Browning says "we get along with Cory a lot better than our old singer Josh Thomas and things aren't so stressful this time around. And we think that will show in our music and performance. We can't wait to get out there and kick some butt." They are also getting ready to head to the studio to record a five-song EP in about a month or so. You can see Some Kind Of Saint debut at Phoenix Hill Tavern on Friday, April 3 with local favorites Nova Red and And The Armed. Myspace.com/XATF
New Band Alert, Seclusion:
Seclusion is made up of four veterans of the Louisville metal scene. Stem Holder (Incursion) - Vocals, Gezuz (False/Incursion) - Guitars, Dave Wathen (Dyingkind / Factor9 / Engrind / Mindstorm) - Drums, and Tim Kiefer (Dyingkind / SonicEpitaph) - Bass. Stem and Gezuz have been jamming together and writing songs since the summer of 2002, and with the Addition of Dave and Tim, the formula is finally complete. Seclusion will be busy writing and recording over the next few months and these metal demons look forward to bringing some energy to the stage sometime this spring/summer. myspace. com/seclusion
Broken Vault Taking a Break:
Broken Vault 's drummer is going to Afghanistan for a month or two, so the band is going to take a break for a few months. But fear not. Broken Vault is not breaking up. They will be back this summer ready to rock out!
Eddy's New Project Needs Singer:
I have been asked often about playing music again over the last five years and I have finally found a project that excites me. Matt Roeder (13th Level/Inhuman) and I will be on guitar, Lee Lanham (Intak/Hearsay Theory) will be on bass, and Tyler Wentworth (Sulfate) will be on the skins. The new music will be different, and after only fuve practices, it's sounding pretty good. It's dark melodic groove metal that will appeal to metalheads and females. Not so much thrash anymore. More of a hypnotic, Type O Negative meets Five Finger Death Punch meets Iron Maiden type sound. We need a excellent singer to complete the lineup though. Call to set up an audition. 502-367-2080
Upcoming Shows
Amvet Post 9 (1567 South Shelby St.)
Saturday, April 4 – Benefit for Multiple Sclerosis: 16 Bones, Poetry Of The Dead, 7 day, Sun, Chloa of Anton Mink and Josh Napier. $1 All proceeds go to the benefit. 6 p.m.
Bulldog Cafe
Friday, March 20 – Jimmy Robbins w/ Mark Rose. $10
Sunday, March 29 – Mercy Mercedes. $8 All ages.
Club Oasis
Tuesday, March 3 – .We The Kings w/ The Maine, The Cab, There For Tomorrow and Versa Emerge. $15 Adv./$17 DoS All ages.
Expo 5
Sunday, March 15 – Thursday, w/ Bring Me The Horizon, Four Year Strong, Pierce The Veil and Cancer Bats. $20 Adv./$23 DoS. All ages.
Headliners Music Hall
Friday, March 6 – Heaven Hill, 7day, Sun (Cd Release), Hanover, MSD and And The Armed. $10 All ages.
Tuesday, March 17 – Carcass w/ Suicide Silence , Samael, Arsis, Psycroptic and Sowing Discord. 6 p.m. $25 All ages.
Sunday, March 29 – Surviving Thalia CD Release show. 7 p.m.
Saturday, April 14 – Hedpe w/ Mower. $15 Adv./$17 DoS. All ages.
Horseshoe Casino
Friday, March 27 – Brett Michaels of Poison. 7 p.m.
Phoenix Hill Tavern
Friday, March 6 – The Original Rock Showcase Series: Snake Eyed Savior, Descention, Blackroom, Adaptize, Shatterstone and Downcast from Lexington. 8 p.m. $5 Free before 9 p.m.
Friday, April 3 – .The Original Rock Showcase Series: Nova Red, Some Kind Of Saint (formerly After The Fall), And The Armed, SecondHand Grenades and September Theory. 8 p.m. $5 Free before 9 p.m.
Rupp Arena (in Lexington)
Friday, March 27 – .Avenged Sevenfold w/ Papa Roach and BuckCherry. 6:30 p.m.
Saint Andrews Pub
(Music starts at the pub at 9 p.m.)
Saturday, March 7 – Anagnorisis, Antikythera, Descention, The White Lotus, and Secretariat Featuring Alex from Deliver Us From Evil. 18+
Saturday, March 14 – .Overthrone, Hicks Road, Silent from the Struggle and September Theory. 18+
Tuesday, March 17 – Kathleen Turner Overdrive and Easy Street. 21+
Saturday, March 21 – Hyndsite, Noise Auction, Bonejinn and TBA. 18+
Saturday, March 29 – "Rock for Rescue show" for KY Humane Society. Bands T.B.A.
Uncle Pleasants
Tuesday, March 3 – Street Dogs w/Ashers and Nowhere Fast. $10 Adv./$12 DoS. All ages.
Saturday, March 7 – Madball w/ Reign Supreme, Call To Preserve, Stonecutters and Hardlife. $12 All ages.
Thursday, March 12 – Skeletonwitch w/ Misery Index, Tony Danza Tap Dance Extravaganza, Antikythera and Wurmkraut. $12 All ages.
Wednesday, March 18 – Soilwork w/ Darkane, Warbringer, Swallow The Sun, Behind The Beheaded and Succumb To Demise. 6:30 p.m. $15 All ages.
Sunday, March 22 – Taproot w/ Adakain, Dear Enemy, Resin8, And The Armed and day, Of Ruin. $12 All ages.
Thursday, April 9 – Agnostic Front w/ Ruiner, Bloody Knuckles Crew, Porosus and The Whooligans. $15 All ages.